SOL Price Analysis: As long as Solana (SOL) Holds this Trend, Prices to Rise Back Near $200.
SOL price is up nearly 28% over the last week
SOL Price is dangling on its near 3 week support trend
40MA has continued to act as support
Can Solana (SOL) Beat Ethereum in Its Own Game?
Solana (SOL) has outperformed nearly all other top 100 coins over the last few weeks as prices have risen from $70 to $220 in around 16 days. This price action has been fairly impressive as SOL is now a top 8 cryptocurrency by market cap.
Solana (SOL) is a highly functional blockchain project that aims to provide decentralized finance solutions using its highly efficient blockchain. SOL has many advantages to other blockchains such as ETH as SOL can process a massive amount of transactions for a little amount of cost.
All of these features have led many institutional investors to become bullish on the Solana ecosystem.
Over the last 3 weeks, SOL price has been holding above a support trend throughout its ride from $60 to $220. A top trend has also been forming which has rejected the price down each time SOL price managed to touch it. These trend lines have formed a pattern called an ascending broadening wedge which is a generally neutral pattern that will keep price within both trends until either one is broken. At the time of writing, Solana is fiddling with this trend as bulls attempt to keep price within it.
As long as SOL price can hold this trend, we should expect prices to rise back into the major resistance zone near $200.
Solana Analysis: SOL shoots up and could hit US$340
The Solana network's SOL token has been climbing strongly even after the problems faced by its blockchain in September 2021, and has risen more than 70% since then.
What to expect from this cryptoactive from now on and how to position yourself in it to get another high is what we'll see in today's analysis.
Let's start by looking at the weekly chart where we see a large bullish channel formed and tapering off. If we have a movement following this channel, the SOL token may still be worth US$500 dollars over the next few months.
If we analyze the current big uptrend, we see that SOL has reached all Fibonacci levels and is currently struggling to break yet another resistance, if broken we can see SOL reaching US$340 over the next few weeks.
As long as we don't break the long-term trend that formed the channel on the weekly, we shouldn't see relevant bearish movements in this asset and any strong correction that keeps the SOL above the bullish channel could be a buying opportunity in this asset thinking in the medium term.
Solana is now the fifth project in the rank of cryptocurrencies behind only Tether and Binance Coin which shows that SOL has the potential to be the top 3 as it is a much more decentralized asset than those above despite its recent problems.
If you are looking for a moment to enter this asset, it is important to pay attention to the 4-hour chart where the asset has been making a breakout movement of the LTB (downtrend line) and may make a pullback giving an opportunity to buy.
Also Read: Binance Smart Chain Successfully Implements BNB Continuous Burning Scheme
Read also: MonoX Protocol loses over R$ 150 million in hacker attack
Also read: TradingView Column: Markets correct exaggeration after Friday sell-off.
Solana(SOL) Price Appears Promising, $300 Target is Incoming Yet $500 Is Imminent
Many altcoins have gained bullish momentum and flipped the bears in the past couple of days. The bears had dragged most of the cryptos below the support levels, yet the fresh surge uplifted the price. However, Solana price following the bullish trend is testing one of the important zones. A successful breach through these levels could lead the SOL price on fire that may hit $300 by the EOY.
Solana maintained a considerable bearish trend for the whole of November and hence when the Bitcoin price ignited a trend reversal, SOL followed. At present, the asset has broken the resistance which connected all the tops in the past couple of weeks. Therefore the potential target in the short-term remains between $240 to $260. However, the upper target for the price still remains much distinct.
The asset always maintained a stable rally and recovered quickly after experiencing notable pullbacks. Currently, after attempting to breach the important resistance at $241, the asset faced a rejection multiple times. And hence formed a double bottom pattern that appears to form yet another bottom soon.
The bears seem to have been preparing to extract their profit and hence a small drop could be well in place. The corrections may prevail around the local support levels at $212. This is when the Solana price may get a nice boost to rebound with maximum strength. And eventually, uplift the price above $250 very soon. Yet $300 still remains the target to be achieved in the short term, and amid the bull run, the SOL price may rise as high as $500.
Solana price positioned for new bull rally towards $275
Solana price breaks out above bull flag, indicating uptrend continuation.
Moving and holding above $220 is essential to continue bullish momentum.
Failure to extend higher here could see new monthly lows.
Solana price has hugged the top of the Cloud (Senkou Span A) as its primary support level for the past week. The respect of Senkou Span A as support has resulted in Solana moving and closing above one of the two Ichimoku levels necessary to confirm a new uptrend.
Solana price must close above the $220 value area before testing $275
Solana price is up against its primary and final Ichimoku resistance level on the daily Ichimoku chart. The Kijun-Sen within the Ichimoku system represents medium-term support and resistance and is the primary level for intraday and intraweek trading strategies within the Ichimoku system. The Kijun-Sen at the $220 level is precisely where Solana finds itself pushing against.
A daily close of Solana price above $220 provides more protection from near-term downside movement than it does upside potential for a couple of reasons. First, a close above the Kijun-Sen would convert the Kijun-Sen from a resistance level to support. Second, because retests of breakouts from bull flags are extremely common, the combination of the Kijun-Sen and top of the bull flag create a double-support structure.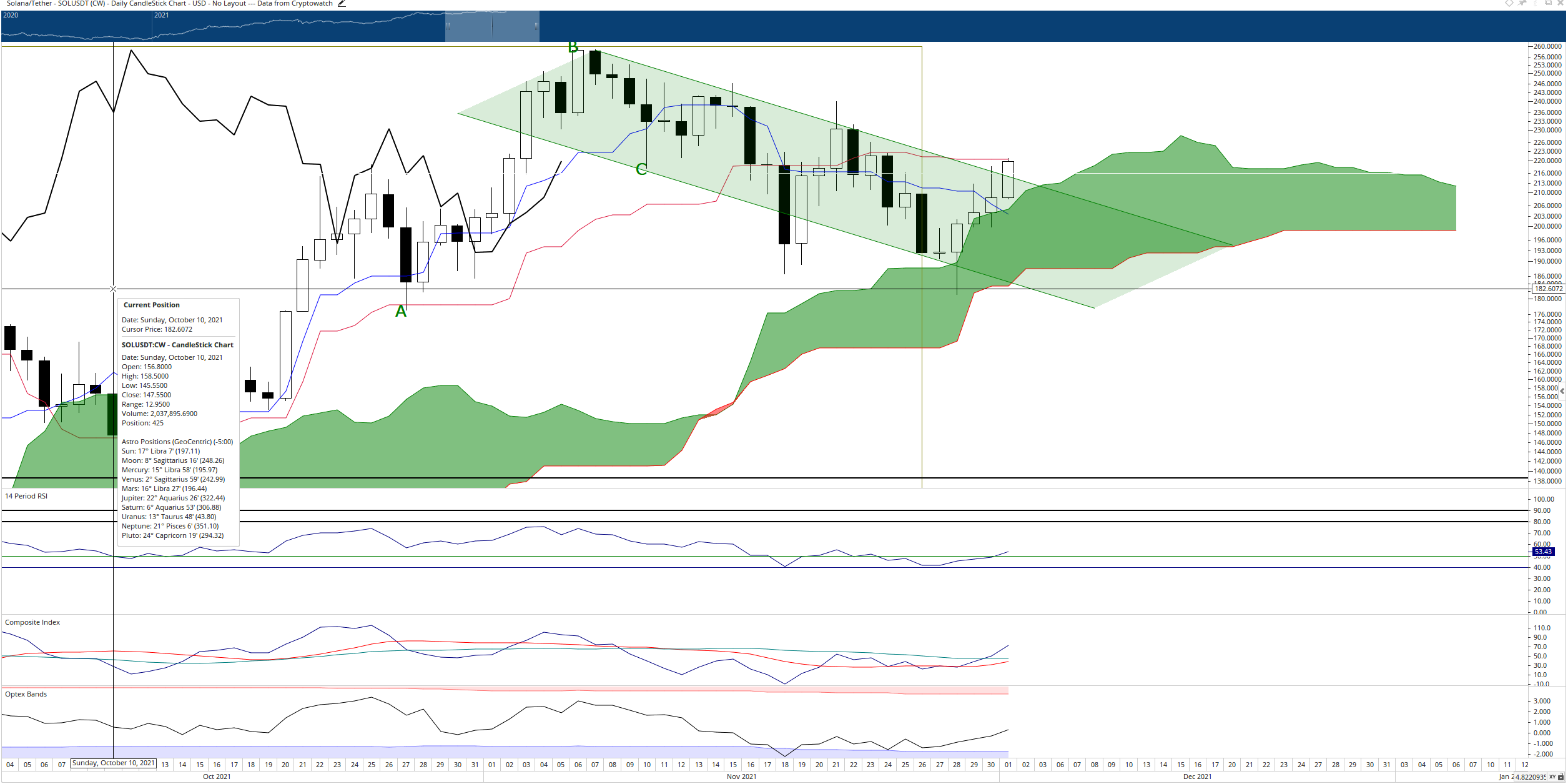 SOL/USDT Daily Ichimoku Chart
Solana price does have downside risks. The Composite Index has created a high above the previous high peak on November 21st, while the candlestick chart shows the current daily high is lower than the November 21st high. This creates a condition known as hidden bearish divergence – a warning that the current drive higher may fail.
It is essential that Solana price close above the November 21st open of $217, or the hidden bearish divergence may push Solana back into the bull flag and likely even lower to test the bottom of the Cloud (Senkou Span B) at $184.