This Emerging Altcoin Will Follow the Explosive Price Action of Solana, Predicts Top Crypto Strategist
A prominent crypto strategist and trader says that he sees one emerging altcoin following the explosive price action of smart contract platform Solana.
Pseudonymous trader Inmortal tells his 66,600 Twitter followers that he's looking at Cosmos (ATOM), a project that aims to help developers build different blockchains that can transact and exchange data, creating a decentralized internet of blockchains. According to the crypto analyst, Atom will be the next Solana (SOL), a crypto asset that has meteorically risen nearly 350% in the last 30 days, according to CoinGecko.
"FOMO (fear of missing out) will start soon. ATOM."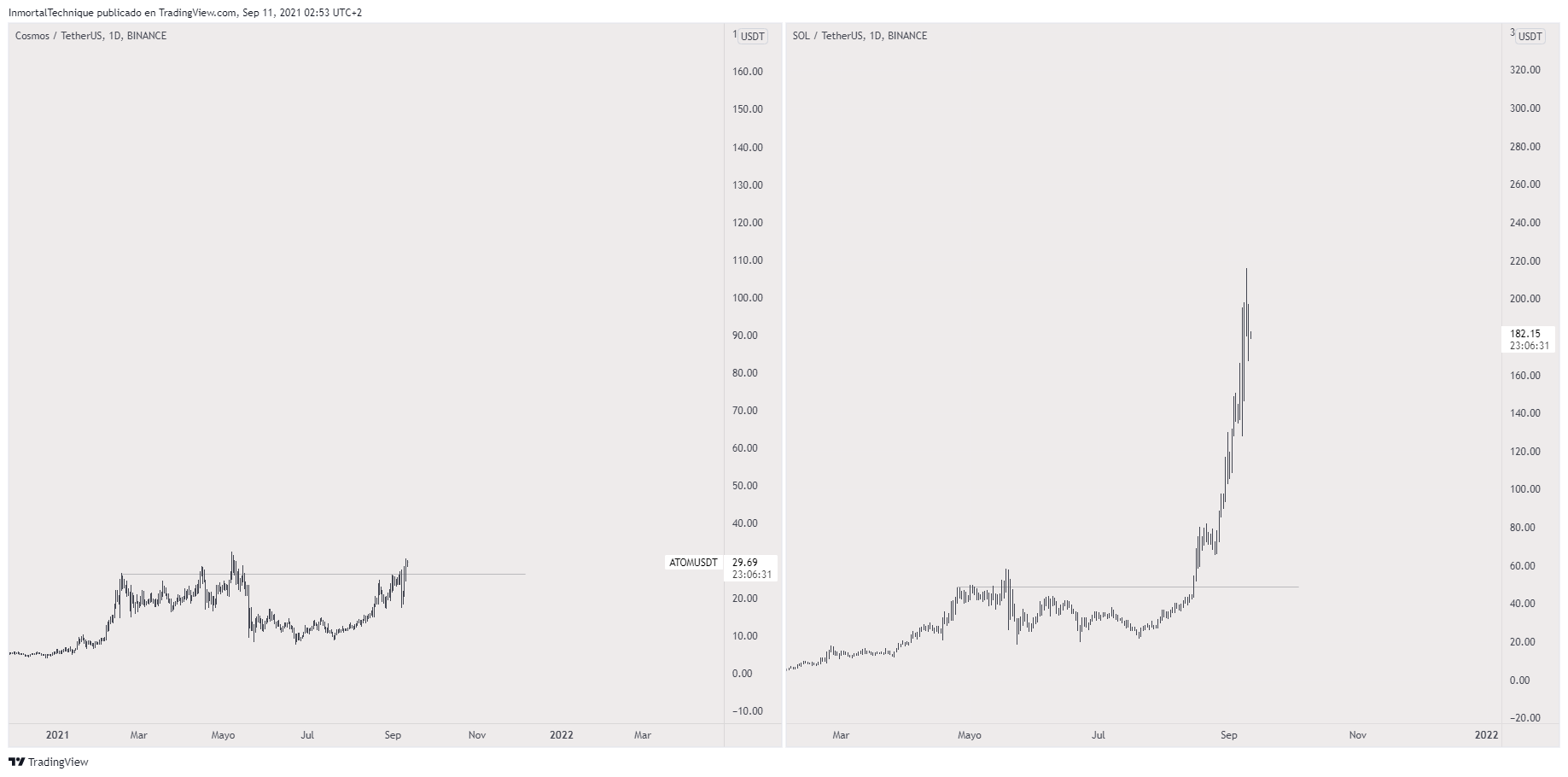 The crypto analyst is also looking at Cosmos in its Bitcoin pair (ATOM/BTC). According to Inmortal, ATOM/BTC must flip 0.00055 ($25) resistance into support to ignite a parabolic rise in value.
"One of the biggest accumulation ranges in ALT/BTC pairs, (+800 days). When ATOM finally flips this KEY level, I think we'll see some fireworks."
Should ATOM/BTC follow Inmortal's script, the pair could rise to as high as 0.002 BTC ($91.14), which represents a potential upside of over 230% from its current price of 0.0006 BTC or $27.34.
Inmortal is also keeping a close watch on the price action of Ethereum (ETH). The crypto analyst believes ETH's move below $3,400 is an opportunity to buy the dip.
"I'm seeing an opportunity here. Stop hunt + strong bounce at KEY level.
I'll buy any dips below $3,400, targeting $3,800 (Breakdown Point) for now."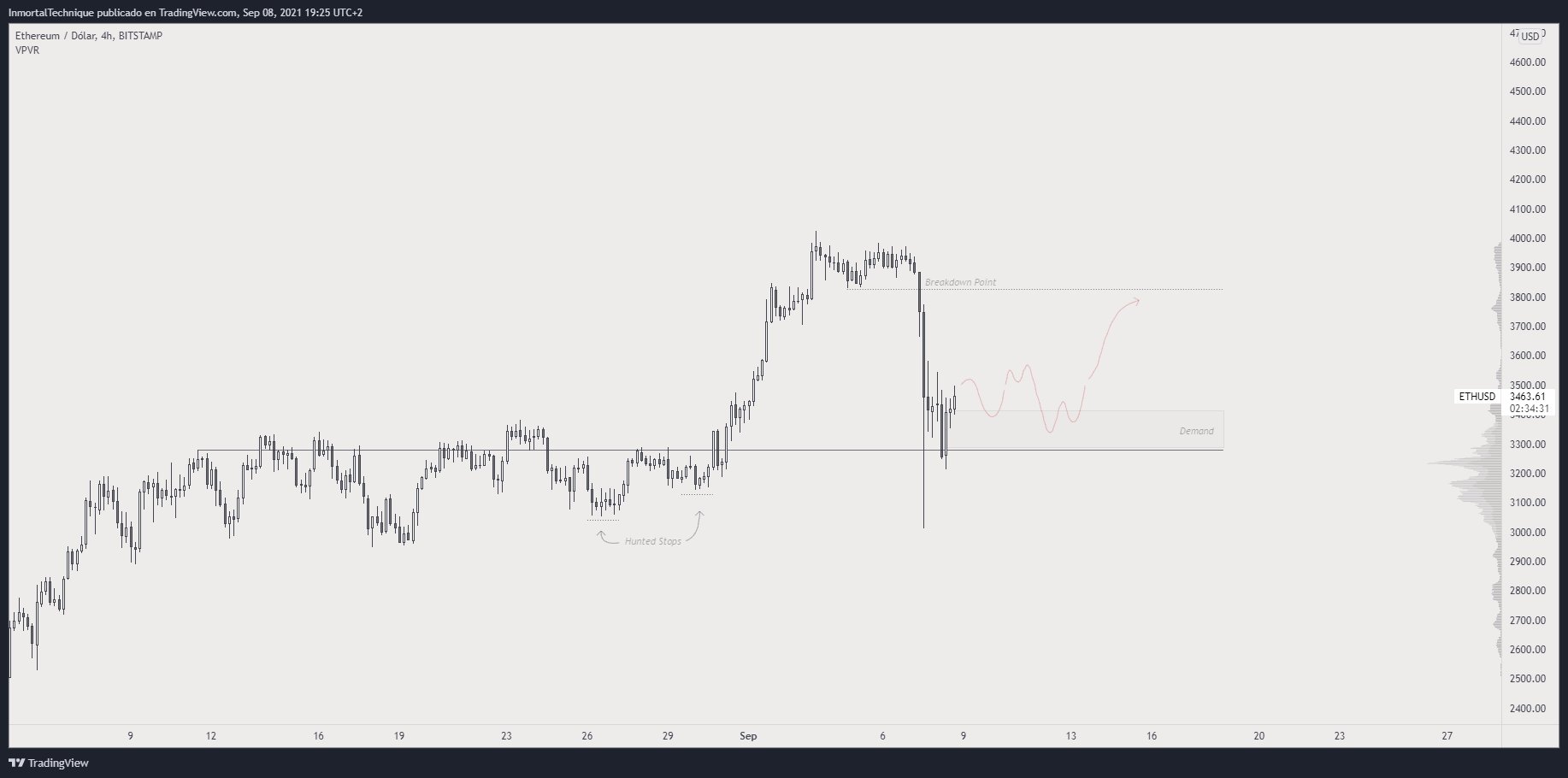 ATOM, LINK, VET, AAVE & CRV To Breakout This Week! Here's What Traders Can Expect
As Bitcoin recovers from its free-fall and trades above $65,800, altcoins too have geared up. The defi protocols ETH and BNB are up by 1.5 and 1.2% respectively. XRP too is up by 1.5%. However, ADA and SHIB have failed to pick up as they trade in red as of now.
As the digital asset market prepares for a new phase of the bull cycle, crypto expert Michal van de Poppe has identified five altcoins that he believes will perform well.
Cosmos(ATOM)
The trader tells his 144,000 YouTube subscribers in a new strategy session that he's keeping a close eye on Cosmos, a project dubbed "the internet of blockchains." Van de Poppe believes Cosmos will trade in a wide range versus Bitcoin (ATOM/BTC) before bottoming out.
He says the entire region [0.00045 BTC – 0.00037 BTC valued $29.19 – $24] is definitely what he is looking for as a potential entry point in the near future.
At the time of writing, ATOM is trading at $33.08 up by 1.5% in the last 24 hours. The resistance on the upside is at $33.4 from here.
Chainlink (LINK)
Chainlink, a decentralized oracle network, is the second altcoin on Van de Poppe's radar. Chainlink (LINK/BTC) is still in a downturn, according to the crypto researcher, but he expects the pair to start rallying early next year.
"We may be nearing the conclusion of this corrective period, and we may want to split this one up and flip some levels before continuing."
He explains that at this point, moving averages are also coming into play, resulting in this sideways motion, but once the moving averages are flipped, this is absolutely one he wants to purchase.
At the time of writing LINK is trading at $34.17 up by 0.6% in the last 24 hours. The immediate resistance on the upside is at $34.43, while the support to fall back to is at $32.83.
Curve(CRV)
The curve is the governance token of Curve Finance, a stable coin-focused decentralized exchange (DEX). The curve is exhibiting some momentum versus Bitcoin (BTC/CRV), according to the trader, but the pair must break through the barrier at 0.0001 BTC ($6.49) to continue bullishly.
At the time of writing, CRV is trading at $4.13 down by 2.8% in the last 24 hours. The immediate resistance on the upside is at $4.25 and the support to hold on to is at $4.6.
Aave(AAVE)
The loan and borrowing protocol Aave is ranked fourth on Van de Poppe's list. AAVE/BTC, according to the crypto analyst, is just one barrier away from beginning a major surge.
He says he is anticipating acceleration all the way to the highs (0.01 BTC worth $646.56) if we break through this one (0.005690 BTC worth $367.89), most likely to the opposite side of the range." We've seen this happen before."
At the time of writing, AAVE is trading at $315.88 up by 0.7% in the last 24 hours. The resistance from here is at $318 and the support is at $311.
VeChain(VET)
VeChain, a supply chain management blockchain, is the last altcoin the analyst is looking at. According to Van de Poppe, VeChain is still in a slump against Bitcoin (VET/BTC), although support at 0.0000015 BTC ($0.09) could lead to a trend reversal.
He explains that we're seeing lower highs and lower lows here, and he believes we'll see a retest at these lower boundaries. Before we start expanding into a new cycle, you want to get a retest going in this region here, but obviously, a lovely one that is experiencing those cycles.
At the time of writing, VET is trading at $0.166868 up by 3.5% in the last 24 hours. It is currently at its 24 hour high after bouncing off from the $0.155240 level.
Analyst Believes Altcoins Season Already Started, Highlighting ATOM
A crypto analyst announced altcoins season.
He highlighted ATOM, AVAX, EGLD, and SUSHI. But insisted on ATOM.
In a video posted on August 17, a crypto analyst announced altcoins season, highlighting ATOM, AVAX, EGLD, and SUSHI.
YouTuber Scott Melker who uses the pseudonym 'The Wolf Of Wall Streets' on Twitter, retweeted an old tweet that highlighted potential trade ideas on ATOM, AVAX, EGLD, and SUSHI.
I did a quick video yesterday with $BTC thought, but more importantly potential trade ideas on $ATOM $AVAX $EGLD and $SUSHI.

Still relevant today.https://t.co/E8YDJwcuje— The Wolf Of All Streets (@scottmelker) August 18, 2021
Melker's retweet comes after a series of new all-time highs from altcoins and a drop in the Bitcoin dominance metric. Regarding this, 'The Wolf Of Wall Streets' was convinced that an alt season has started.
Bitcoin's (BTC) 65% recovery from around $29,000 on July 20, to a jump to over $52,000 on September 7, helped bring fresh bullish momentum back to the crypto market and traders.
Currently, the BTC rally has delayed out around the $47,000 price level. More so, the analyst said that this phase of sideways trading allows altcoins to step forward.
According to Melker, decentralized finance (DeFi) projects are the leading altcoin gainers since last week. Notably, projects like Cosmos (ATOM), Avalanche (AVAX), Elrond (EGLD), and SushiSwap (SUSHI) hit record highs.
In addition, the crypto analyst insisted on Cosmos (ATOM). Besides, he shared a chart showing the ATOM token bullish trend. According to CoinMarketCap, the ATOM token hit a new all-time high of over $41 in the last 24-hour period. As a result, it surged by over 11% in the past 24 hours. And buy over 22% in the past 48 hours.
At press time, Cosmos (ATOM) is trading at $39.26 on CoinMarketCap. Moreover, Cosmos describes itself as a platform that solves some of the "hardest problems" facing the blockchain industry.
To specify, the project strives to provide an antidote to "slow, expensive, unscalable and environmentally harmful" proof-of-work (PoW) protocols.
ATOM, LINK, XTZ, ONE Price Programmed To Spike In The Coming Few Days!
The crypto space is currently going on with a roller coaster ride as most of the tokens are experiencing a tough time in sustaining above certain levels. No doubt the current market trend is pretty bullish, yet assets like Bitcoin, Ethereum, Cardano, etc fail to smash the immediate target. Yet among them, some altcoins showcase a huge tendency to hit higher highs in a coming couple of days.
Cosmos (ATOM)
ATOM/USD pair is showcasing immense bullish momentum after it flipped the bottom levels at $18.29. After smashing the highs at above $38, the price initiated with a healthy consolidation that also includes slight selling pressures also. And despite a minimal pullback, the ATOM price is still above $35. 
above $35.
The price with a rebound appears to have following a pattern. With a sufficient uptrend, the price quickly enters consolidation. However, after a healthy accumulation, the price pulls its next leg up towards new highs. And hence the possibility of breaking this consolidation appears more by forming yet another ATH soon.
Chainlink (LINK)
Chainlink price, currently, attempting very hard to smash the immediate resistance levels at $29.17. The price still hovers around the consolidation after the recent massive sell-offs which drained nearly $10. Yet the price is recovering bit-by-bit and could trend above $30 in the next few hours. 
Currently, the price is trending within a symmetrical triangle and approaching its peak. The price tends to explode as the peak triggers the upcoming rally. But the direction of the price momentum will not be known. And hence maintaining a positive take, the price could eventually break the upper barrier and move towards the north.
Tezos (XTZ)
The XTZ price appears to have to trend inversely parabolic by shedding more gains. It was expected that the altcoin could revisit lower lows, yet with a regaining momentum, the speculation of a bearish trend is extended to some extent. The buying pressure currently appears to have been accumulated that eased the sell-off. 
The trading volume remains has not much depleted as for the reason the price is receiving enough strength to surge. Also, a small bounce is witnessed with the RSI and the MACD is also showing ease in the selling pressure. And hence the buyers could eventually jump in any time from now to uplift the price.
Harmony (ONE)
The asset was falling into a bearish divergence for the past couple of days. However, a notable rebound prevented from incurring a further loss. The price is currently gathering immense bullish momentum as the buyers have already jumped in.
Interestingly, the trading volume also has managed to surge, creating more fluctuations in price and the trend. The volume is expected to increase very soon which may assist in the price to regain the lost positions.
Collectively, with the drop in Bitcoin dominance, many altcoins have inculcated a bullish trend. And hence, altcoins like ATOM, LINK, XTZ, ONE etc, could reach high very soon in the current bull market. Also, BTC & ETH prices which are swinging in a narrow trend could break the barriers soon.