Bearish pennant breakdown confirmed? Five things to watch in Bitcoin this week
Bitcoin (BTC) starts a new week in a precarious place — below $45,000 and below some key moving averages. What's next?
Almost a week after a cascade of leveraged position unwinding forced the market to $42,800, Bitcoin has erased most of its subsequent recovery.
The weekend produced little by way of a paradigm shift, and now, downside volatility is firmly in place. With BTC/USD down 13% in a week, Cointelegraph takes a look at five things that may help traders to anticipate what the next move could be.
Stocks due for rebound
Stocks are expected to perform better this week after selling pressure added to Bitcoin's woes in the first half of September.
With a red week behind them, expectations are that equities will now rally, continuing a trend which had characterized markets since the Coronavirus crash in March 2020.
"Expecting equities to bounce this week and provide some relief for Bitcoin," Charles Edwards, CEO of investment manager Capriole, forecast.
Bitcoin's overall relationship with macro trends has been increasingly called into question over the past year. Nonetheless, shocks to the system continue to influence BTC price action, as evidenced by the Federal Reserve Jackson Hole virtual summit earlier in September.
"The world still sees Bitcoin as a risk on asset," Edwards added in comments alongside a comparative chart.
"Almost every Bitcoin correction in 2021 has correlated with a S&P500 correction of -2% or more."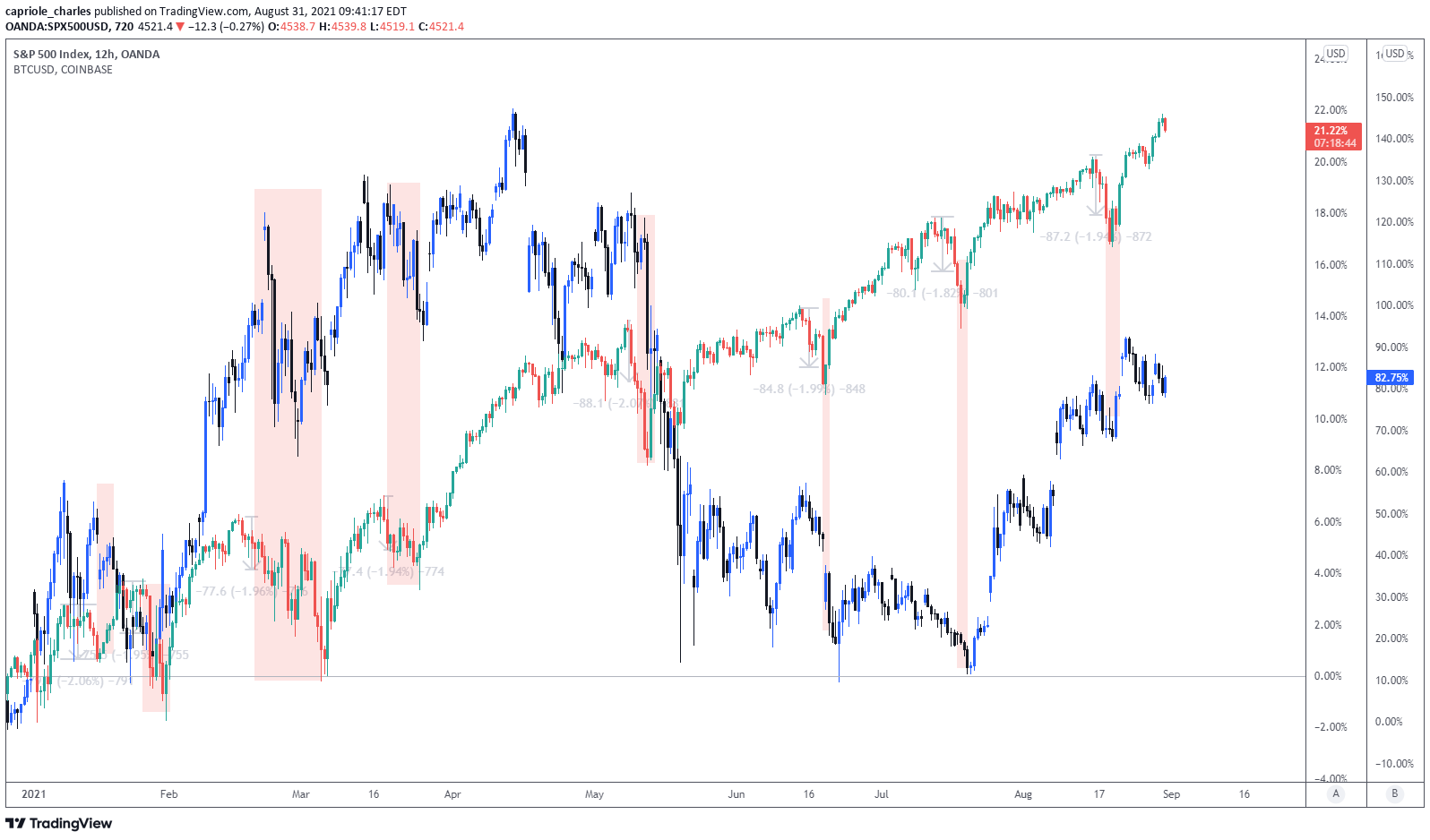 BTC/USD vs. S&P 500 annotated chart. Source: Charles Edwards/ Twitter
On the flipside, strong stocks may serve to keep the strength of the U.S. dollar in check, something which also gives Bitcoin more room to breathe.
The U.S. dollar currency index (DXY) saw a brisk move towards 93 last week before halting to consolidate its gains, a process which continues.
Spot price sags further below bullish metrics
Macro moves could be the deal breaker when it comes to this week's BTC price trajectory, forecasts argue.
After ranging over the weekend, Sunday saw last-minute volatility which ended in BTC/USD slipping below $45,000.
With spot traders hedging their bets on more downside, there has arguably never been a bigger disparity between on-chain metrics, adoption phenomena, and price.
"Stablecoin liquidity increasing, bitcoin on exchanges hit a 3-year low, normies awaken," Moskovski Capital CEO Lex Moskovski summarized.
"If macro doesn't sh*t the bed, the next leg up is programmed."
Moskovski later added that macro markets had indeed begun the week in the green and that stablecoins, not used as shorting collateral, made a clear bullish argument.
As Cointelegraph reported, current estimates eye $43,000 and $38,000 as potential price floors, with a rebound from such levels still possible despite being well below important moving averages.
September has been a historically poor-performing month for Bitcoin, and as such, price predictions favor the "real" upside to recommence from October onwards.
"Remember more often than not bitcoin has a red month in September and a big price move in Q4," popular Twitter account Lark Davis told followers Monday.
"BTC can still hit 100k by end of year."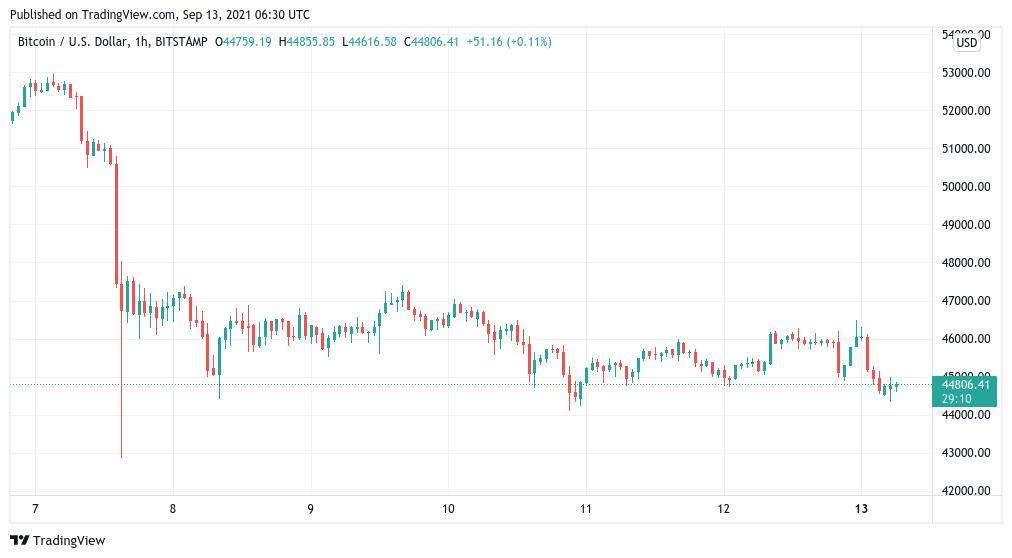 BTC/USD 1-hour candle chart (Bitstamp). Source: TradingView
Nonetheless, veteran trader Peter Brandt is sounding the alarm — at least for the time being.
"There is a name for this chart pattern. Anybody want to take a guess what it's called?" he tweeted alongside the daily chart showing what appears to be a breakdown of a bearish pennant construction.
"Dancing with 2017"
It's not all doom and gloom — when it comes to this halving cycle, Bitcoin this year is still "dancing with 2017" in terms of price gains.
That's according to data from trading platform Decentrader, which this week signals that BTC/USD in 2021 is still on track for the year after a block subsidy halving.
"Dancing with 2017 at the moment," Decentrader analyst Filbfilb said in comments over the weekend.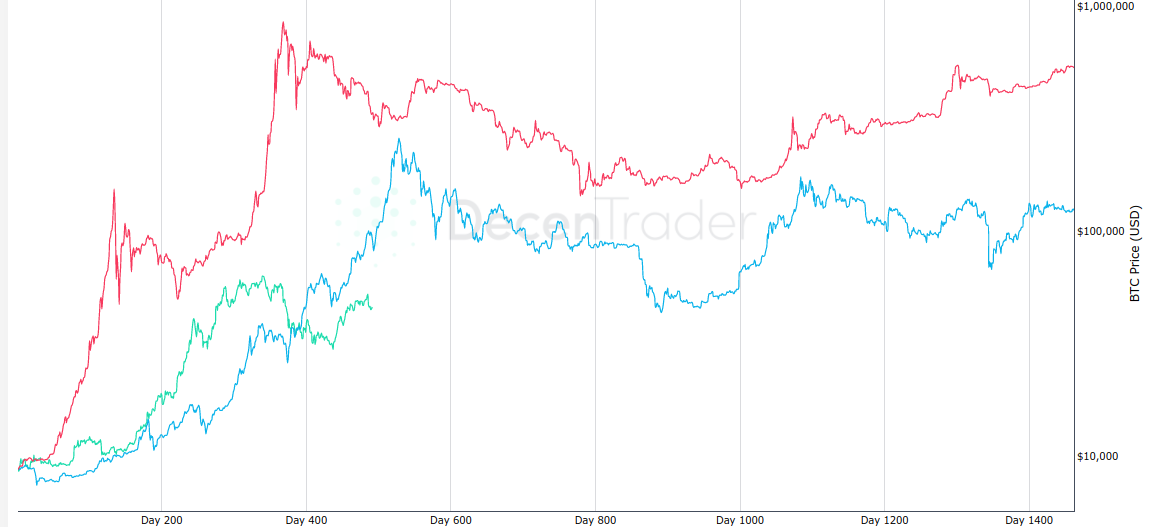 Bitcoin bull run comparison chart. Source: Decentrader
The chart shows the extent to which May's miner rout upended progress. Formerly between 2013 and 2017 gains, Bitcoin then dropped to forge a new lower paradigm in May, a trend which ultimately continues.
As Cointelegraph reported, a "double top" phenomenon remains analysts' bet for how Bitcoin will round out 2021 — just like in 2013 and 2017 — with a price dip in between correlating to May's trip to $29,000.
New all-time high for monthly illiquid supply
A feature which has set last week's price dip environment apart from previous ones is investor behavior — everyone kept buying.
Unlike the panic during episodes such as March 2020, last week saw excess supply dumped onto the market by speculators eagerly bought up by strong hands.
According to statistician Willy Woo, every class of Bitcoin investors has either added to their positions or stayed neutral through the recent turbulence.
"Whales added recently. Minnows continue to stack. 10-1000 BTC holders mainly flat," he revealed Sunday alongside data from on-chain analytics firm Glassnode.
"Reserves held publicly reducing (mainly exchanges and ETFs reducing while corporates adding)."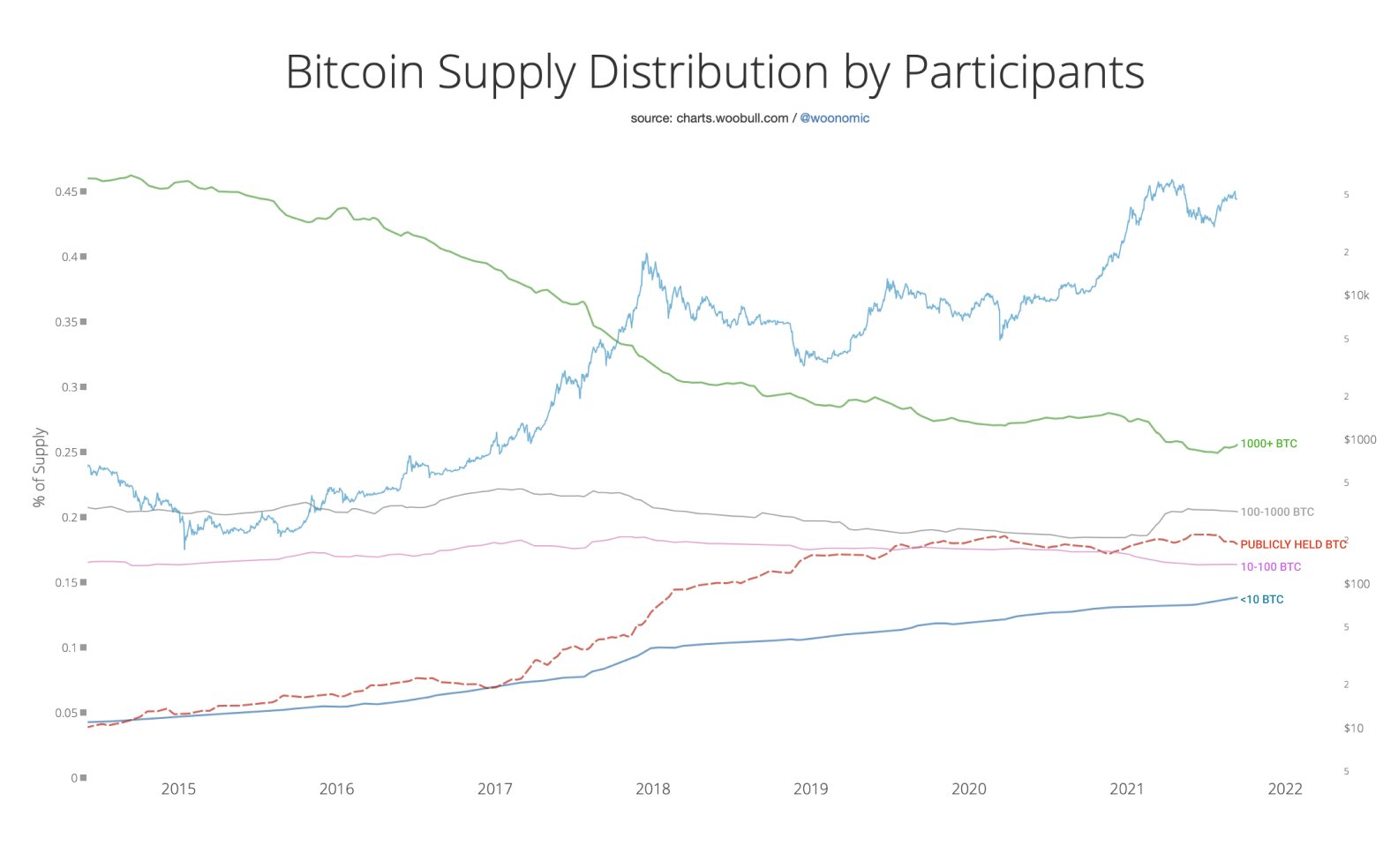 Bitcoin supply distribution chart. Source: Willy Woo. Twitter
If Bitcoin's supply is more in demand than ever, similar data reinforces the point. As analyst William Clemente noted, last week had little no impact on hodler patterns.
"93% of Bitcoin's supply hasn't moved in at least a month. This is an all-time high. Just another metric showing how bullish supply dynamics are," he commented, citing Glassnode data.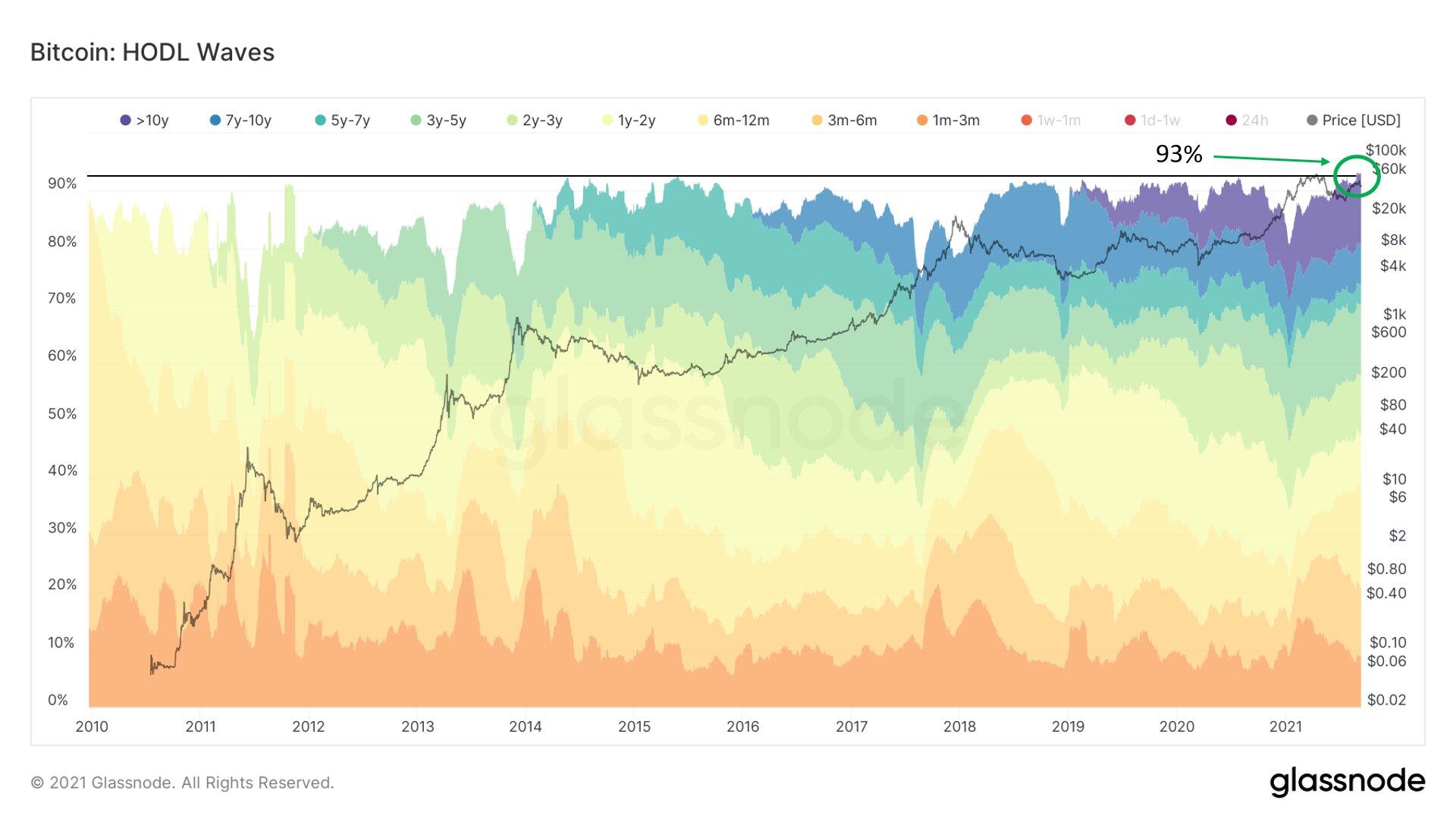 Bitcoin HODL waves annotated chart. Source: William Clemente/ Twitter
Where once was greed now comes fear…
It's all change for investor sentiment gauge, the Crypto Fear & Greed Index, which this week is posting some curious data about market emotions.
The dip to $42,800 slashed its readings from "extreme greed" to "fear," a sentiment zone which lingered all the way until Sunday.
As the weekend ended, however, the Index added some fresh "greed" to the mix — despite price action actually falling further.
At the time of writing Monday, Fear & Greed stood at 44/100 — still in "fear" territory — while BTC/USD traded below $45,000.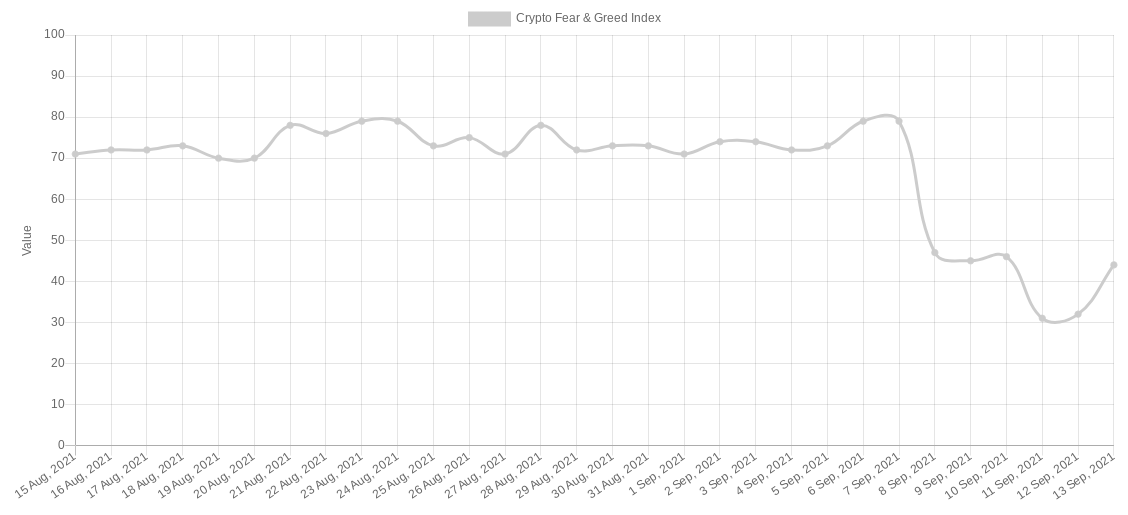 Crypto Fear & Geed Index. Source: Alternative.me
Funding rates across exchanges, being slightly positive, nonetheless do not discount the possibility of a "short squeeze" boosting price performance.
Miami Mayor, Strike's Jack Mallers discuss their take on Bitcoin as inflationary hedge
In early November, investment expert and business show host Anthony Pompliano asked which American politician would be the first to take their salary in Bitcoin.
In response, the Mayor of Miami city, Francis Suarez, expressed his willingness and asked for help. Several industry stakeholders, such as Coinbase's Brian Armstrong and the Strike company offered their expertise.
I'm going to take my next paycheck 100% in bitcoin…problem solved! @Sarasti can you help? https://t.co/v4YdPZ0tYc— Mayor Francis Suarez (@FrancisSuarez) November 2, 2021
During an episode of Pompliano's show, the investment exec interviewed both Suarez and Strike CEO Jack Mallers to learn more about getting paid in Bitcoin.
Rising prices, rising worries
Inflation was the word of the day for both interviewees, as Mallers and Suarez spoke about how they believed Bitcoin would serve as a hedge, or a new way of saving money. Mallers said he preferred to look at rising real estate prices and explained,
"If you, watching this, are not getting a 25% raise every single year, housing is getting more expensive than your earning income. So you are not making progress towards owning a home."
Mallers also spoke about Strike's feature that allowed users to be paid fully or partially in Bitcoin. In response, Suarez said,
"…particularly people that don't like Bitcoin, for whatever reason, they like to talk about the volatility, but they don't talk about the year over year gains, which is crazy. I don't understand how they can talk about one thing without the other, which is really the more relevant statistic, right?"
Suarez also suggested plans for residents to pay taxes in Bitcoin and for the government to hold BTC on its balance sheet. But regarding the link between Bitcoin adoption and inflation, he claimed,
"And with inflation certainly being under-reported – as we all know – you know, it's [Bitcoin] an important hedge, and it's becoming the base currency for many, many people."
'Tip' of the iceberg
The Twitter-Strike API integration in September caused a buzz as crypto watchers worldwide wanted to know when the app would reach them. However, as of press time, the Strike website stated that only the United States (minus New York and Hawaii) and El Salvador could support the app.
Speaking about the Twitter tips feature, Mallers said,
"And so we're working with Twitter on how to make sure that can be outside of just our service – we don't want to be the only ones supporting [it] – and how they can make it extensible to everyone in the world."
Bitcoin Traders Should Pay Close Attention to This Price Level Amid Crypto Market Pullback, Says On-Chain Analyst Will Clemente
Popular on-chain analyst Will Clemente says he's identified the new support level for Bitcoin (BTC) after the crypto market's latest Covid-induced price drop.
Clemente tells his 430,000 Twitter followers that $53,000 is the price level to keep an eye on, and it wouldn't surprise him to see the largest crypto asset by market cap tested at this support as he has yet to see any sizable flushes.
"Covid variant news isn't ideal. Yet to see any sizable amount of [liquidations] or [open interest] flush, so a wick lower is very possible.
However, STH (short-term holder) cost basis, or what I've been calling the 'on-chain bull market support band,' sits at $53,000."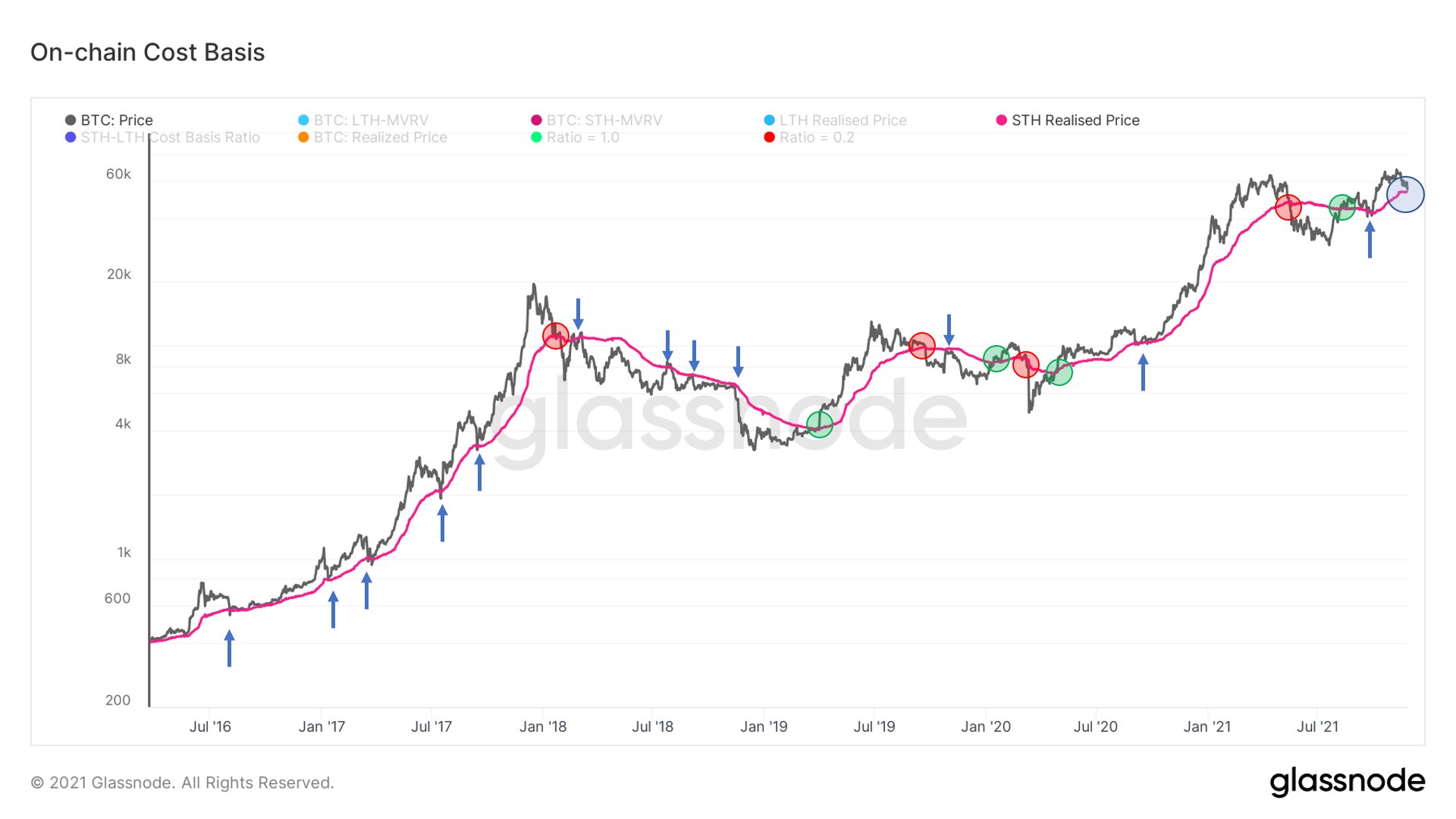 Bitcoin is exchanging hands at $54,350 at time of writing, an 8.6% decrease from its 24-hour high of $59,445.
In a new Blockware Solutions Market Intelligence Newsletter blog post, Clemente says spent output profit ratio (SOPR) data shows BTC investors are not yet ready to start selling their tokens at a loss, a signal that the support band could hold. The SOPR is an on-chain metric the indicates whether BTC holders are selling at a profit or a loss.
Clemente also says that there he's seeing a pattern where strong Bitcoin holders are absorbing selling pressure from short-term holders.
"There's a clear bullish divergence between illiquid supply shock ratio and price right now. Illiquid supply shock compares liquid entities (sell 50% of the BTC they take in) and highly liquid entities (sell 75% of the coins they take in) to illiquid entities (hold 75% of the coins they take in). This means supply is moving to entities with little history of selling. If this does start to decline I will become bearish, but for now, it is continuing a steady incline."
Clemente concludes that he's still bullish on BTC despite the recent correction, but he's ready to change his stance once he sees key on-chain metrics print clear bearish signals.
"In conclusion, if we are indeed in a bull market, the asymmetry is very skewed to the upside right now. Invalidation would be starting to close below $53,000 for several days, seeing SOPR breaking below and failing to retake 1 from the underside, as well as starting to see illiquid supply shock rolling over."
Bitcoin to Boost $98k in 4 Days, Analyst So Bullish
Analyst bullish about Bitcoin.
Bitcoin remains the favorite crypto in the space.
The crypto world is back on its feet once again and is showing no sign of slowing down. In fact, the whole crypto space market cap amounts to over $2.5 trillion. Furthermore, Bitcoin, the king of crypto assets also continues to perform aggressively in the space. As a result, traders and crypto analysts in the crypto market cannot stop thinking about the future of Bitcoin.
This made Mr. Whale, CEO of DigiWhales, react in a tweet post:
PlanB says $98K in 4 days.

Thoughts? #Bitcoin— Mr. Whale (@CryptoWhale) November 26, 2021
The post created by Mr. Whale asked the reaction of the Twitter community about the tweet made by PlanB in Bitcoin hitting the skyrocketing price of $98k in 4 days. This tweet gathered different reactions from the crypto community, with some being bullish while others say it might take some time. But of course, in the end, the market will still decide the fate of all virtual assets in the space including Bitcoin.
On the other hand, Bitcoin remains to be the favorite cryptocurrency of investors around the world. Interestingly, El Salvador President Nayib Bukele announced that it would build a Bitcoin city where investors can experience zero tax. Indeed, this news brings joy to all Bitcoin fans and investors around the world.
At the time of writing, Bitcoin trades a bullish price of over $55k with a growth rate of over +200% in the past 12 months. In addition, BTC has a huge market capitalization of over $1 trillion and a 24-hour trading volume of almost $40 billion. This market position of the crypto enables Bitcoin to be the number one crypto asset in the market.