Bitcoin tests key level for $40K BTC price dip as altcoins bleed
Bitcoin (BTC) fell further at the start of the new week as a lack of bullish momentum sparked new lows near $44,000.
Bitcoin threatens loss of $44,000 "demand zone"
Data from Cointelegraph Markets Pro and TradingView showed BTC/USD testing levels that analysts demand should stay as support.
After a weekly close below both the key 50-day and 200-day moving averages, the pair looked increasingly less likely to reclaim them on shorter timeframes.
For Cointelegraph contributor Michaël van de Poppe, the bullish crossover of the two averages, known as a "golden cross," was still on the cards. There was, however, "no guarantee" that bullish behavior would result from the event taking place.
"I think we're going to have a top of this cycle… next year, in April–May," he forecast, giving a new, further-reaching timetable for BTC/USD to see its cycle top.
In the meantime, $44,000 and $47,000 form the support and resistance levels to watch for a continuation up and down, he added.
For fellow trader and analyst Rekt Capital, $44,000 was equally important, forming the lower boundary of a "demand area" among buyers.
"The recent BTC Weekly Close wasn't technically bad as it occurred above the orange demand area. However, BTC is now dipping deeper into the demand area," he commented on an accompanying chart Monday.
"That said, this demand area still hasn't been lost. As long as the demand area holds, BTC won't see $40K."
Cardano 10% losses lead fresh altcoin rout
Altcoins fared worse than Bitcoin overnight, with the top 10 led by 11% 24-hour losses on Cardano (ADA), which fell to $2.41.
The largest altcoin, Ether (ETH), shed 6%, while the sole saving grace for investors was Polkadot's DOT, which at the time of writing was clinging to 4% upside.
"Many Altcoins have performed favourable Weekly Closes, indicating that retests should follow," Rekt Capital added about the latest moves.
"At this time, the retests are failing, coins threatening to lose key supports. But it's early in the week. Could easily turn out to be normal retest volatility."
Trader Scott Melker, meanwhile, soft-peddled concerns about Bitcoin's failing market dominance, arguing that new altcoins were artificially diluting its stance.
Bitcoin Whales Buying Activity on Rise with 254 New Whales Entering Market
More traders and institutions are buying Bitcoin prior to the potential launch of physically-backed ETFs
According to data provided by Santiment, the number of Bitcoin whales (addresses owning between 100 to 1,000 BTC) has significantly increased prior to the asset's rise back to the previous ATH. More than 250 whales appeared on the network since Sept. 11.
The increased number of Bitcoin whales is also followed by progressively increasing exchange outflows. While traders and investors move funds away from exchanges, they have no other choice but to hold them in their wallets; hence the network is experiencing an increasing number of new wealth holders.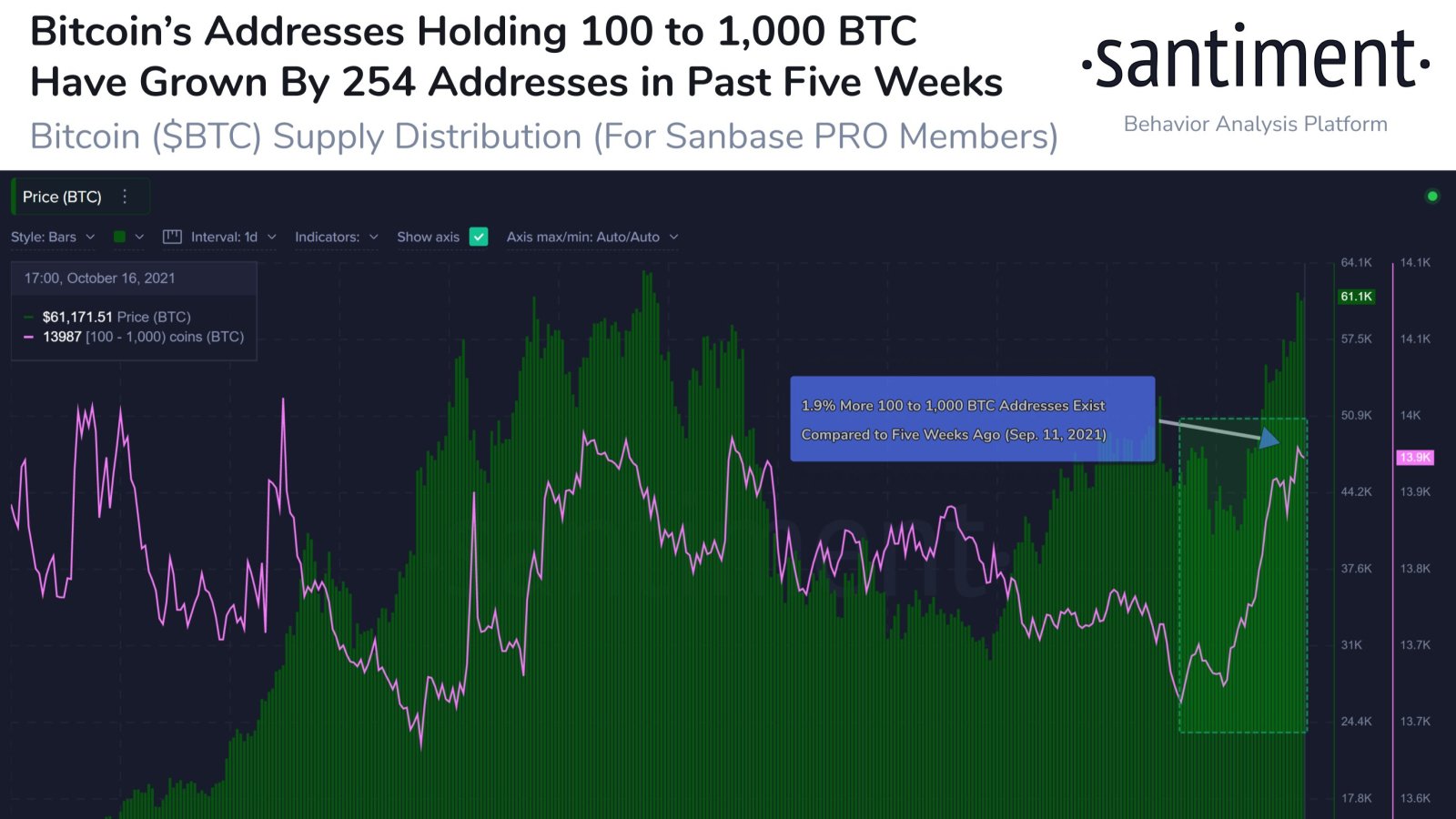 On the other hand, the increasing number of holders can be tied to the rapid and significant increase of Bitcoin's market capitalization. The current price action is followed by 40% growth, which itself attracts both institutional and retail investors.
In addition to the increasing popularity of cryptocurrency among the general public, the news of the upcoming ETF approval is a strong risk-on signal for institutional investors. Previously, U.Today reported that the market may see a strong inflow of funds right after physically-backed ETFs are approved.
According to Santiment's data, the majority of whales have held through the previous market correction and only a minority of large holders have to get rid of their coins. The current increase in the number of whales is considered rapid compared to other periods.
BTC Price Analysis: Bearish Divergence Signal On the Weekly May Cool off Intraday Longs

The long-awaited Bitcoin BTC ETF-Exchange Traded Fund is now approved by the US SEC, and it's viewed as a positive development for the entire cryptocurrency market. Analysts suggest that the crypto market could see capital flowing in, with speculations around investors moving out of Gold ETFs into Bitcoin.
Let's analyze the BTCUSDT charts for insights into the recent price action.
Bitcoin (BTC) Weekly Chart Analysis
The Bitcoin price is back on the headlines of many digital media outlets as many analysts speculate on a price surge beyond the 2021 ATH. However, while the price is pumping real hard at press time, we also want to bring your attention to bearish reversal chart patterns that could lead to temporary retraction of the recent upswing.
A prominent bearish correction signal is an impending regular bearish divergence signal on the weekly chart above, where the RSI forms a lower peak [82] compared to the price chart setting a higher peak.
We anticipate a cool off of the BTC price if the RSI value stays below level-87 in the coming week.
Bitcoin (BTC) Daily Chart Analysis
A view from the daily time frame shows the start of a bullish campaign on 01 October '21 after the RSI crossed above level-75 and has not dropped below level-25 ever since.
The Bitcoin BTC price continues to set new highs and is recently shy of the all-time high at $64854.00, as the relative strength index forms a lower peak [79] signaling a likely price pull-back to come.
We expect the upward price momentum to persist till the end of the current week, given that the RSI continues to trade above level-25.
While we are optimistic of a spike in demand for the BTC, we also suggest putting some funds on the sideline for a possible price dip which can be viewed with the RSI slumping below level-25 on the daily time frame.
Bitcoin (BTC) 4 Hr Chart Analysis
The 12 October 20:00 support [$53879] confirmed the price correction on the daily time frame setting the BTC price back into a series of higher peaks and troughs.
A recent hidden bullish divergence at press time marks an end to the 3.8% correction from this week's high.
However, a price breakdown below the hidden bullish divergence trend line would spark a rapid sell-off of the BTC price into lower price zones, perhaps around the $58k mark.
Bitcoin Price Analysis: BTC still holds above $60,000, slowly targets $65,000 next week?
Bitcoin price analysis is bullish today.
BTC/USD consolidates above $60,000.
Next significant resistance at $65,000.
Bitcoin price analysis is bullish today as consolidation was formed above $60,000 after a slight retracement yesterday from $62,000. Therefore, we expect BTC/USD to rally again over the next 24 hours and target the $65,000 next week.
The overall market traded mostly in the red over the last 24 hours. The market leader, Bitcoin, lost 0.03 percent, while Ethereum was down 1.54 percent. Meanwhile, Fantom (FTM) is the best performer, with a gain of over 12 percent.
Bitcoin price movement in the last 24 hours: Bitcoin retests $60,000 as support
BTC/USD traded in a range of $60,206.12 – $61,413.82, indicating low volatility over the last 24 hours. Trading volume has declined by 34 percent and totals $28.97 billion, while the total market cap trades around $1.145 billion, resulting in the market dominance of 46.29 percent.
BTC/USD 4-hour chart: BTC prepares for another rally?
On the 4-hour chart, we can see Bitcoin price action forming consolidation above $60,000, likely leading to another push higher next week.
Bitcoin price action has seen strong bullish momentum so far in October. After forming a strong swing low of around $41,000 at the end of September, a push higher was seen on the 1st of October.
BTC/USD reached previous resistance at $48,500 on 2nd of October, while second push higher took BTC to $56,000 on 7th of October. After another several-day consolidation, the third push higher began Wednesday, leading BTC above the $60,000 major price target.
Eventually, the Bitcoin price action briefly spiked above $62,000 on Friday, resulting in a slow retracement since. Over the last 24 hours, a consolidation above $60,000 has been established, indicating that we will likely see another move higher from there.
Bitcoin Price Analysis: Conclusion
Bitcoin price analysis is bullish today as a new local higher low was set over the last 24 hours after a slight retracement yesterday. As long as the $60,000 support holds, we expect BTC/USD to continue moving higher next week.
While waiting for Bitcoin to move further, read our guides on Metaverse wallet, Fiat wallet reviews, and NFT art finance token.