Bitcoin [BTC]: Storm settles but FUD intensifies; Healthy reset to $50K in offing?
Fear, uncertainty, and doubt, the acronym for 'FUD' in Bitcoin [BTC] especially has been a strategy to influence perception by generating negative, misleading, or false information. Even as the robust decentralized infrastructure today stands tall on the first spot, there is no stopping the enablers or the FUDsters from swaying the market. But there's hope. 
Recent analysis suggests FUD is back in the Bitcoin market. Negativity in the market has soared and crowd sentiment has hit the lowest point. According to the prominent crypto-analytic platform Santiment, FUD has hit record levels and this kind of negativity in the BTC market leads to positive outcomes after shaking off the weaker hands. 
Its tweet regarding the same read,
"Crowd FUD has hit historic levels toward Bitcoin, according to our algorithm measuring commentary volume, combined with positive vs. negative BTC scores. Severe negativity has historically led to inevitable price bounces after weak hands drop out."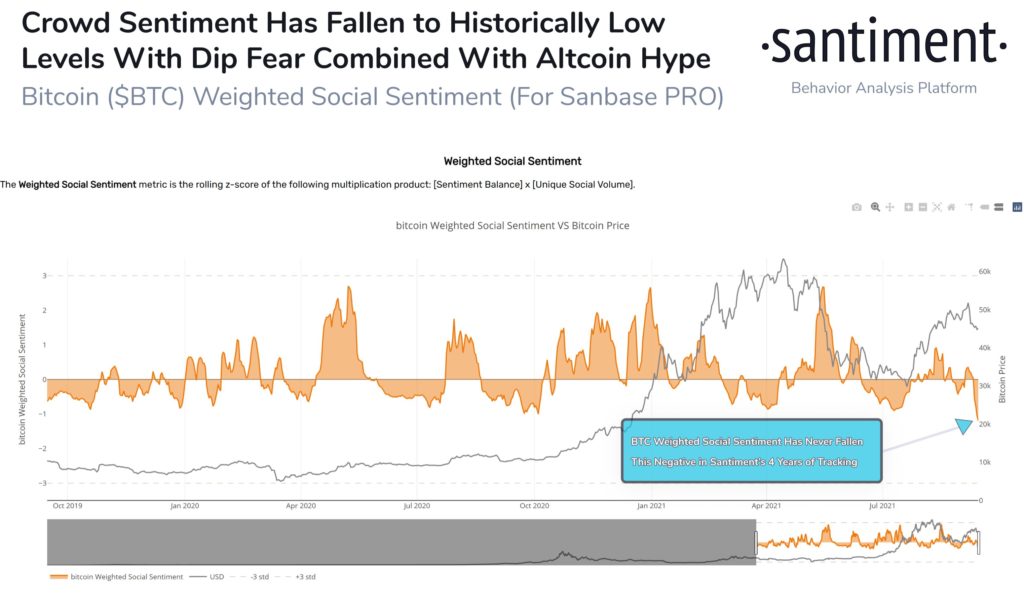 Last week, Bitcoin reached $52k after four long months. As it marked a local top, concern regarding its price correction cropped up. But these were not limited to just conversations. Price did fell, liquidations followed suit. It was during this time that FUD engulfed the market yet again. As of now upside in the BTC market appears to be limited. However, the stagnancy near the support could be brief if history repeats.
The storm has settled but there's more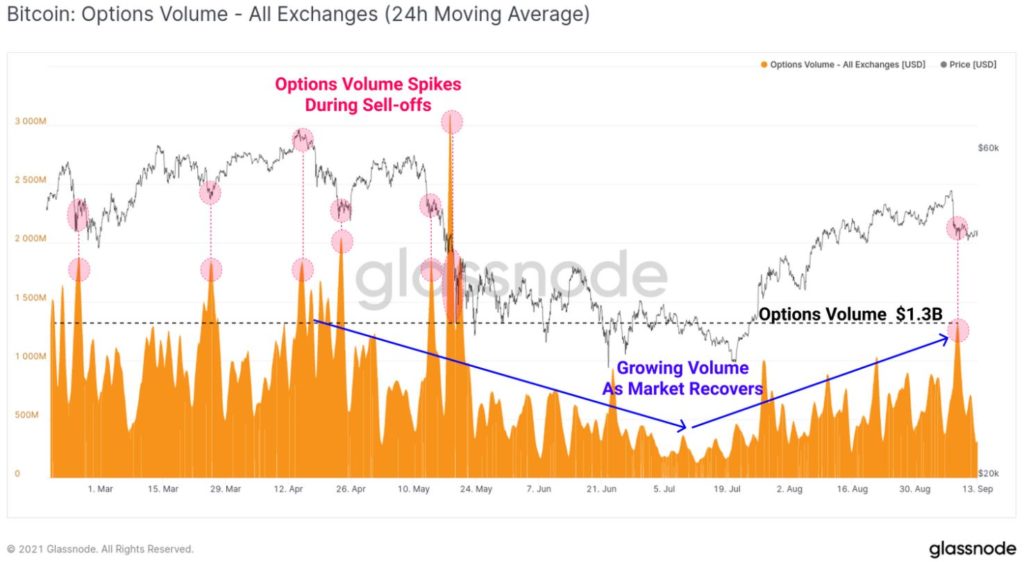 During the sell-off, BTC's Open Interest [OI] of the perpetual Futures market plunged. The funding rates also took a hit. However, over the past week, the figures for funding rates have bounced back to the positive territory even if it is yet to reach levels last seen after May's recovery from the crash.
But the development is crucial which depicted a rise in positive sentiment. Investors believe that price will pan out in the bulls' favor. To put things into perspective, there are more than 12.9k and 13.4k contracts betting Bitcoin to climb $50k and even an outlandish $100k.
According to Skew, $50k is the strike with the largest options open interest for the BTC quarterly expiry next week which makes the target point even more likely. The expiry will potentially offer more clarity on where Bitcoin is actually heading.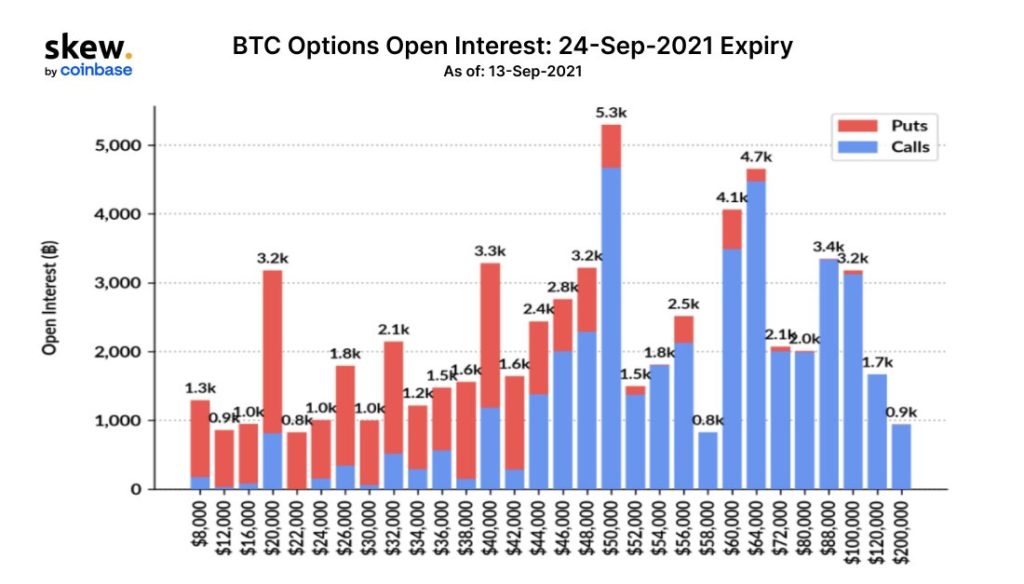 On a similar note, Arcane Research stated that the storm has settled in the market, and prices have resumed into a very tight consolidation range around the $45-46k area. Things to look promising for the futures market as well which has witnessed "a dose of healthy deleveraging, leading the bitcoin denominated open interest to decline from 360K BTC to 310K BTC."
"The most reckless bulls from Bybit have forcefully been closed out of their positions, and both the funding rates and the futures premiums have seen a healthy reset."
In Argentina, several businesses accept payments in BTC, DOGE, other cryptos
Imagine going on vacation and being able to pay both your Uber driver and Airbnb host with crypto. This sounds like a fantasy for many but is reportedly now a reality for users in Argentina.
Regional news publications announced that the crypto company Bitrefill was offering 138 prepaid cards in order to pay to different businesses. Some taking part in the initiative include Frávega, Lacoste, Dexter, Isadora, Cheeky, Airbnb, Uber, Movistar, Claro, and Personal.
Users can pay in six different cryptocurrencies, which are Bitcoin [BTC], Ether [ETH], Dogecoin [DOGE], Litecoin [LTC], Tether [USDT], and Dash [DASH]. However, in order to use the card, assets are first converted to dollars or euros, and then converted again to Argentine Pesos [ARS] to complete the transaction.
Analyzing Argentina
What does Bitrefill's initiative reveal about the state of crypto adoption in Argentina? Data may hold the answer. The Blockchain LatAm Report 2021 by Sherlock Communications stated,
"…66% of respondents were most concerned with protecting their savings. This reflects recent inflation rates in the country: 36.1% in 2020 and 53.8% in 2019, the highest in 28 years."
Furthermore, as people in Argentina are legally restricted from buying more than a small and taxable amount of U.S. dollars every month, the attraction of crypto is easy to understand. Adding to this, there are around 20 legal crypto exchanges in the country, and one of them – Ripio – hit a million users in 2020.
However, it's worth noting that there is a tax of 15% on income gained from selling digital currencies. At the last count, there were 12 Bitcoin ATMs/tellers in Argentina. Out of these, 11 were located in Buenos Aires.
Not just a shopping spree…
Apart from crypto adoption, companies are also eyeing the country as a destination for Bitcoin mining. One major reason for this is the cheap cost of electricity in Argentina, with subsidies for the same.
In October, the Canada-based Bitfarms announced that it was constructing a 210 megawatt BTC mining farm in Argentina. More than 55,000 new mining rigs are expected to be on-site. According to the Cambridge Bitcoin Electricity Consumption Index, Argentina's share of the average monthly hashrate in August 2021 was 0.05%.
Hedge Fund Billionaire Paul Tudor Jones Says Gold Losing the Race Against Crypto As Inflation Hedge
Hedge fund billionaire Paul Tudor Jones says that crypto is currently his preferred way of hedging against inflation.
In a new interview with CNBC, Jones says that crypto has acted as a great hedge as of late and is winning the race against gold.
"Crypto has been a great hedge… I said then, I said now, I've got crypto in single digits in my portfolio. I have a small trading position in our fund. I do think we're moving into an increasingly digitized world. Clearly, there's a place for crypto, and clearly, it's winning the race against gold at the moment. So yes, I would think that would also be a very good inflation hedge. It would be my preferred one over gold at the moment."
The billionaire, who heads investment management firm Tudor Investment Corporation, says that while the new Bitcoin futures exchange-traded fund (ETF) is a regulated and legitimate product, he thinks a better investment is to own physical BTC.
"I think a better way to get in would be to actually own physical Bitcoin, to take the time to learn how to own it and carry it. I think the ETF will be fine. I think the fact that it's SEC approved should give you great comfort."
The investor says that embracing Bitcoin is part of the American character and that China's refusal to do so may have economic consequences for the country in the future.
"I think crypto is here to stay. Look, this is the United States of America right? The reason we're the most dominant economic power [in] the world is because we unleash our individual entrepreneurialism and creativity. And you're seeing China do the exact opposite. That place is on, economically, a slow boat to the South Pole. As long as the US can continue to unchain our entrepreneurs, we're going to always be in the dominant position."
The Real Opportunity for Bitcoin and Crypto Will Come From This Group of Investors, Says Shark Tank Star Kevin O'Leary
Shark Tank investor Kevin O'Leary says that a group of investors could transform Bitcoin (BTC) and the crypto markets when they decide to allocate capital to the space.
In a new interview with Bitcoin bull Anthony Pompliano on The Best Business Show, the celebrity investor says that there will be a massive opportunity for crypto once sovereign funds in the Middle East invest in digital assets.ADVERTISEMENT
"The real opportunity is not with the family offices or hedge funds that operate out of the Middle East. The real money is in the actual sovereign funds in both Saudi Arabia and the United Arab Emirates. It's billions and billions and billions of dollars.
They have not allocated to crypto yet. When that happens, you'll see it reflected in the price of Bitcoin. There's no question about it. They have such long-term views in those funds, and the funds are so large."
O'Leary says that given the size and number of the funds, even a 1% allocation would have an impact on the markets.
"They generally abide by discipline and principles of risk diversification, so they may have a mandate, for example, that no stock represent more than 5% of the fund or no sector more than 20%. Those are diversification mandates that are used all around the world, and they do that there, too.
But when you're dealing with a multi-billion dollar mandate, and some of these, they're the largest pools of capital in the world. A 1% allocation is a tremendous amount of money."
The investor says at the moment, Bitcoin is the only digital asset on the sovereign funds' radar. He predicts that they could easily decide to allocate 1-3% just on BTC.
"I speak to those guys almost every day. They would immediately go to 1% to 3% on Bitcoin alone. Just Bitcoin, let alone Ethereum or any level-1 or level-2s on the chain. They haven't even thought about that. They're just thinking about Bitcoin and owning that as an asset. The amount of capital that will come into this market when the regulator approves Bitcoin as an asset or currency or a security, or whatever they're going to regulate it as is going to be unbelievable."
News Source