Solana, Cosmos Price Analysis: September 14, 2021
Solana leads altcoins into recovery after testing support at $150.
Cosmos keeps the weekly run to new all-time highs intact while bulls look forward to juping above $40.
Most altcoins continued with last week's dumping on Monday, accentuated by Bitcoin's dip below $44,000. However, Solana and a few selected crypto assets stayed in the green, posting remarkable single-digit gains.
As the market wallowed in the red, investors took advantage to buy the dip, hence starting a fresh recovery during the Asian hours on Tuesday. Bitcoin has gained ground above $45,000, but as reported, its uptrend remains shaky toward $47,000.
Meanwhile, Solana is up an impressive 7% to trade at $167. Similarly, Cosmos is trading 11.8% higher, spotting a market price value of $36.46, according to CoinGecko. Other tokens performing relatively well are Avalanche, Quant, and Tezos.
Solana:-
Solana recently secured support at $150, following a retracement from the all-time at $216. This smart contract token has been a bullish giant to watch, allowing investors to grow their investment faster and consistently.
Nonetheless, the market crash last least did not spare Solana, resulting in a gains-trimming event to $150.
Meanwhile, as expected, SOL appears to have resumed recovery this week with a bang, following from $150 to $172. At writing, Solana is teetering at $167, but the 50% Fibonacci level caps the immediate upside.
The Moving Average Convergence Divergence (MACD) will likely flip bullish in the coming sessions, especially when the 12-day EMA crosses above the 26-day EMA. Moreover, a four-hour close above the 50% Fibo and the 50 Simple Moving Average (SMA) may validate the uptrend to $180 and perhaps trigger gains past $200
On the flip side, Solana's downside is protected at $162 by the 38.2% Fibonacci level. Holding above this level would allow bulls ample time to reenergize for the trajectory to $200. Moreover, the support will prevent Solana from revisiting $150.
SOL/USD Daily Chart
Live Chart
Cosmos:-
Cosmos has ignored the market crash and selling pressure to post consistent gains in the last week. Last week, ATOM only suffered a minor setback, incurring losses from $27.5 to areas around $17.5.
Nonetheless, a 102% rally followed the dip immediately, allowing Cosmos to trade a new all-time high at $38.95. Support at $35 has been confirmed, allowing bulls to regain control.
At writing, ATOM trades at $37.5 while buyers look forward to action above $40. The MACD is highly bullish, as observed on the four-chart. A four-hour close above $40 would spike gains bringing Cosmos closer to $50.
ATOM Four-Hour Chart
Live Chart
The RSI adds credence to the bullish outlook. Note that a return into the overbought region cements the bulls' influence over the price.
One Low-Cap Altcoin Set for Massive Supply Shock As Solana Preps for Epic Rally: Crypto Analyst
A popular crypto strategist and trader is predicting a fresh price spike for smart contract platform Solana and says one low-cap altcoin is gearing up for a supply shock.
Pseudonymous crypto analyst Credible tells his 251,900 Twitter followers that he expects Solana (SOL) to ignite a massive rally after breaking out and starting a new wave of its cycle.
"SOL is leading the market and looks to have completed its macro 4th wave as a triangle. This implies we have begun the final fifth wave of SOL's first macrocycle. This is going to be epic and a taste of what we will see across the board in the coming months. Expecting $500+."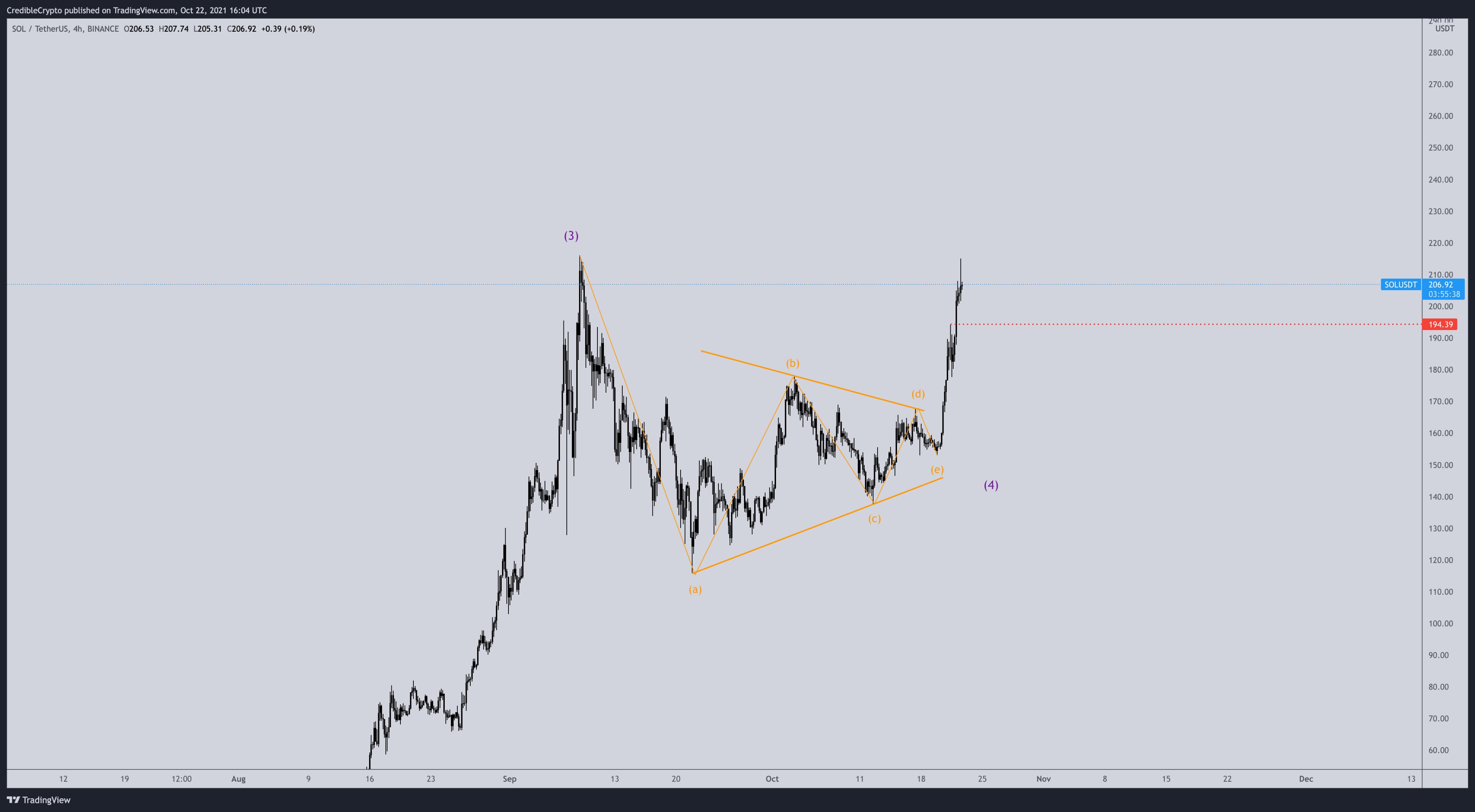 The trader relies on the Elliott Wave theory, a technical analysis approach that predicts future price action by following crowd psychology that tends to manifest in waves.
The crypto analyst is also keeping a close watch on Curve (CRV), the governance token of stablecoin-focused decentralized exchange Curve Finance. According to Credible, he expects CRV to surge as high as $6.50 now that it has taken out key resistance at $3.50.
"CRV is synergistic with CVX (Convex Finance). I can't explain the mechanics in a tweet – but when CVX goes up it increases the inherent value of CRV and when CRV goes up it increases the inherent value of CVX."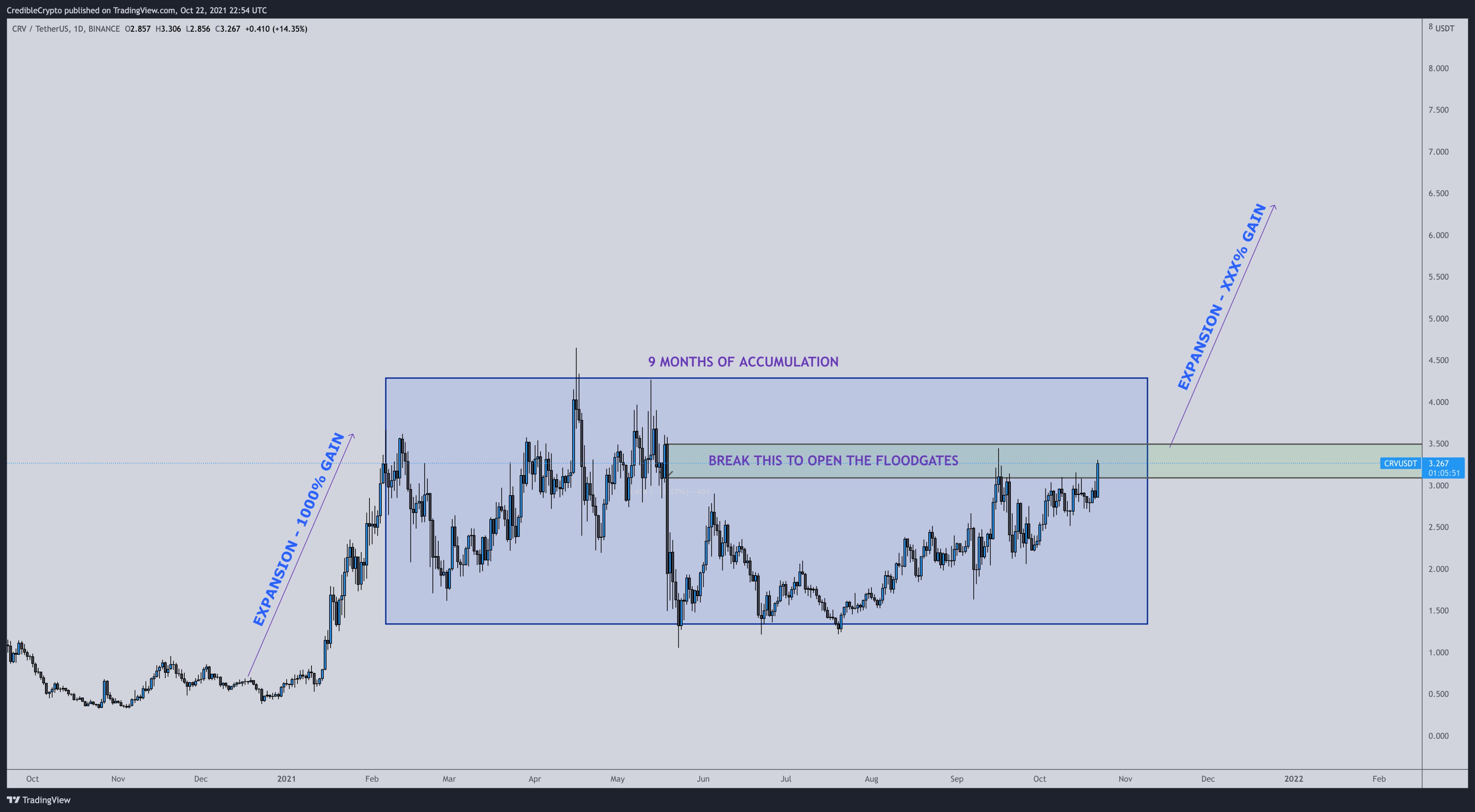 Convex Finance is a platform designed to help CRV token holders and liquidity providers earn additional interest rewards. At time of writing, CRV is trading at $3.75 while CVX is exchanging hands at $19.61, according to CoinGecko.
Credible says he's bullish on Curve because nearly 90% of its supply is locked for the coming years.
"Oh, and 89% of all circulating CRV is locked away for around 3.7 years lmao. So when we DO break out and everyone is clamoring to join in on the green candles, there is going to be a massive supply shock that sends prices even higher, faster. Get yours before it all starts… Yea so locking generates voting power – which in turn is used to boost yields for other protocols – so vote locked CRV is in high demand."

Solana (SOL) New Prediction Is Out: SOL To Outperform Bitcoin And Ethereum – How High Can It Go?
Amidst the booming crypto market, there are all kinds of bullish predictions and the latest one involves Solana (SOL).
It's been recently revealed that an important crypto trader and an analyst said that Ethereum competitor Solana is gearing up to surge by more than four times from the current level.
Smart Contracter said the following:
monthly reminder $900 sol is not a joke, it's gonna happen https://t.co/h9zN4DSxpP— Bluntz (@SmartContracter) October 21, 2021
The trader relies on the Elliot Wave theory.
eth/btc looks bullish, sol/btc looks bullish, but sol/eth also looks bullish, so naturally $sol is my largest bag and i believe it outperforms btc and eth. pic.twitter.com/gCSFAICpYk— Bluntz (@SmartContracter) October 20, 2021
It's essential to note the fact that the Elliot Wave theory is a method of identifying where assets are heading; it does this by using crowd psychology, which tends to manifest itself on charts in a series of waves.
"Monthly reminder $900 Solana (SOL) is not a joke, it's gonna happen…ETH/BTC looks bullish, SOL/BTC looks bullish, but SOL/ETH also looks bullish, so naturally SOL is my largest bag and I believe it outperforms BTC and ETH."
More SOL predictions reveal new targets for price
It's been just revealed that the prestigious analyst Michaël van de Poppe is currently analyzing the potential path ahead for Ethereum and Solana, as well as internet-scale blockchain Elrond.
The analyst is also analyzing Solana (SOL), and he is expecting the digital asset to continue its correction before it could restart its uptrend and print a new all-time high at $240.
"At this stage, jumping into Solana is quite tricky, to be honest. If you're looking at the price action, you want to look at support levels to jump into."
He also continued and explained:
"So you're looking at those ranges ($122, $97 and $78) to potentially build your position towards the next run as the assumption is that we most likely are going to get run over it in the next phase of this bull cycle."
Top Crypto Trader Says Ethereum Rival Solana Will Outshine Both Bitcoin and ETH – Here's His Target
A leading crypto trader and analyst says an Ethereum (ETH) competitor appears ready to surge by more than four times its current levels.
The trader pseudonymously named Smart Contracter tells his 174,900 Twitter followers that Solana (SOL) will outshine both ETH and Bitcoin (BTC).
His target price is now $900 – an appreciation of more than 360% from SOL's current value.
The trader, who primarily relies on Elliot Wave theory, says Solana is bullish when paired against Ethereum, which is itself bullish when paired against Bitcoin.
Elliot Wave theory is a method of identifying where assets are heading using crowd psychology, which tends to manifest itself on charts in a series of waves.
"Monthly reminder $900 Solana (SOL) is not a joke, it's gonna happen…
ETH/BTC looks bullish, SOL/BTC looks bullish, but SOL/ETH also looks bullish, so naturally SOL is my largest bag and I believe it outperforms BTC and ETH."
According to CoinGecko, Solana is trading at $192 at the time of writing, down about 10% from its September all-time high.
Smart Contracter says he believes Solana's recent resurgence is in its early days after the altcoin rose above two key levels of resistance.
"Got SOL low key breaking downtrends of two different degrees, this bad boy runs hard when it gets going and it's only just getting started here."
The top crypto trader says that last month Solana began displaying similar chart behavior to Binance Coin (BNB), which surged by over 1,600% to a record high between January and May this year.
He says that if Solana replicates BNB's pattern, a price of $900 is in the cards.
"Same vibes, same narrative…
If SOL follows the run BNB had it can go to $900."