El Salvador: Enraged Protesters burn down Bitcoin ATM
El Salvador's native newspaper La Prensa Gráfica (LPG) shared a traumatizing video on its Twitter handle, displaying the Anti-Bitcoin protests running violently with an on-fire Bitcoin ATM captured by the publication.
La actividad en el centro histórico de San Salvador transcurre sin sobresaltos mientras un cajero Chivo es consumido por el fuego tras las manifestaciones contra la bitcoinización de El Salvador. Video LPG/Michael Huezo. pic.twitter.com/fMPdWt7MNk— La Prensa Gráfica (@prensagrafica) September 15, 2021
Wednesday saw protestors taking to El Salvador's streets with signs reading, "no to dictatorship" and "we were defrauded by Bitcoin." Bitcoin ATMs, that were installed earlier this month in lieu of foreseeable Bitcoin legal tender implementation, was set on fire by the demonstrators.
UCA Poll on Bitcoin Legal Tender
Earlier this month, a poll conducted by the Central American University (UCA), a Jesuit university based in El Salvador, unveiled that most Salvadorans are against Bitcoin (BTC) legal tender adoption in the nation. The colossal proportion constituting 67.9 percent out of the 1,281 surveyed, exhibited vigorous dissent with the use of bitcoin as a legal tender. Meanwhile, 32.1% of citizens were merely okay with the decision.
UCA's survey results displayed immense discontent of the citizens with the upcoming BTC legal tender in El Salvador as well as their disapproval of the government's ignorance towards the citizens' will. According to the poll, on average, 7 out of 10, discredited the policymakers' decision and advised to revoke the BTC legal tender law. Additionally, Salvadorans conveyed concerns regarding BTC legal tender adoption leading to increased economic polarization in the nation.
"What we can see in this survey, in addition to this broad rejection of the implementation of bitcoin as legal tender, is that for the first time we found a significant disagreement between the population and decisions being made by the Legislative Assembly and the president," Reuters cited the UCA dean, Andreu Oliva. "There is a lot of concern about the possible negative effects of using bitcoin,", Oliva added.
The poll disposed of the citizens' annoyance with the government's authoritarian actions. This feeling was furthered in yesterday's protests as the demonstrators questioned President Bukele's authoritative leadership style after the country's judiciary approved him to run for a second term in office despite constitutional limits.
"It's important to say this morning: Enough already! What the government is doing is arrogant, it is authoritarianism," protester Dora Rivera told Reuters.
Legendary Trader Peter Brandt Challenges Binance with Four Questions about 88% BTC Crash
Here's what is unclear for Mr. Brandt about mysterious Bitcoin (BTC) flash-crash of Oct. 21, 2021
Prominent trader and analyst Peter Brandt has taken to Twitter to ask his four questions in the context of the flagship crypto's 88% dropdown.
What do Binance and Binance.US have in common?
First of all, Mr. Brandt challenged the character of corporate relationships between Binance and Binance.US, its unit focused on American markets.
Questions remain:
1. What is exact corp. relationship @binance w/ @BinanceUS
2. Will firm release T&S with all trades/volume/price?
3. Did firm take opposite side of client fills
4. Will firm change low to reflect actual fills
cc: @GaryGensler @CFTC @SECGov @cz_binance @IBKR pic.twitter.com/huqzZbSGIt— Peter Brandt (@PeterLBrandt) October 24, 2021
Also, Mr. Brandt asks whether Binance is planning to release detailed documents to specify statistics for trades, their volume and prices during the flash-crash.
Then, the trading legend asked about the role of the platform in taking the opposite side of a client fills.
Besides the Binance CEO and co-founder Changpeng "CZ" Zhao, Mr. Brandt mentioned the Interactive Brokers platform, U.S. watchdogs CFTC and SEC and Gary Gensler, the SEC chairman.
Most expensive "trading algorithm bug" ever?
Also, Mr. Brandt attached a screenshot of a tweet by CZ when Binance's boss warned his audience about expected volatility spikes across cryptocurrency markets.
Finally, Mr. Brandt added that he never used Binance for trading.
As covered by U.Today previously, on Oct. 21, 2021, amidst a spending rally, the Bitcoin (BTC) price briefly tanked to the $8,000 level, losing more than 88% in no time.
A similar flash-crash was registered on 26 other low-liquidity exchanges. A Binance.US representative attributed this dramatic plunge to a critical bug in third-party mechanisms by one of the platform's sophisticated institutional clients.
Dogecoin Looks Ready To Rip As Bitcoin Finds Critical Support, According to Crypto Analyst Justin Bennett
Crypto analyst Justin Bennett says that Dogecoin (DOGE) could be ready to make a run for its next critical level about 37% above current prices.
The popular analyst tells his 88,000 Twitter followers that DOGE is attempting to break out of a long descending resistance line that it has been up against since May.
"DOGE looks ready (as long as $BTC cooperates).
Just needs to get above 0.27 on a daily closing basis to open up 0.34+."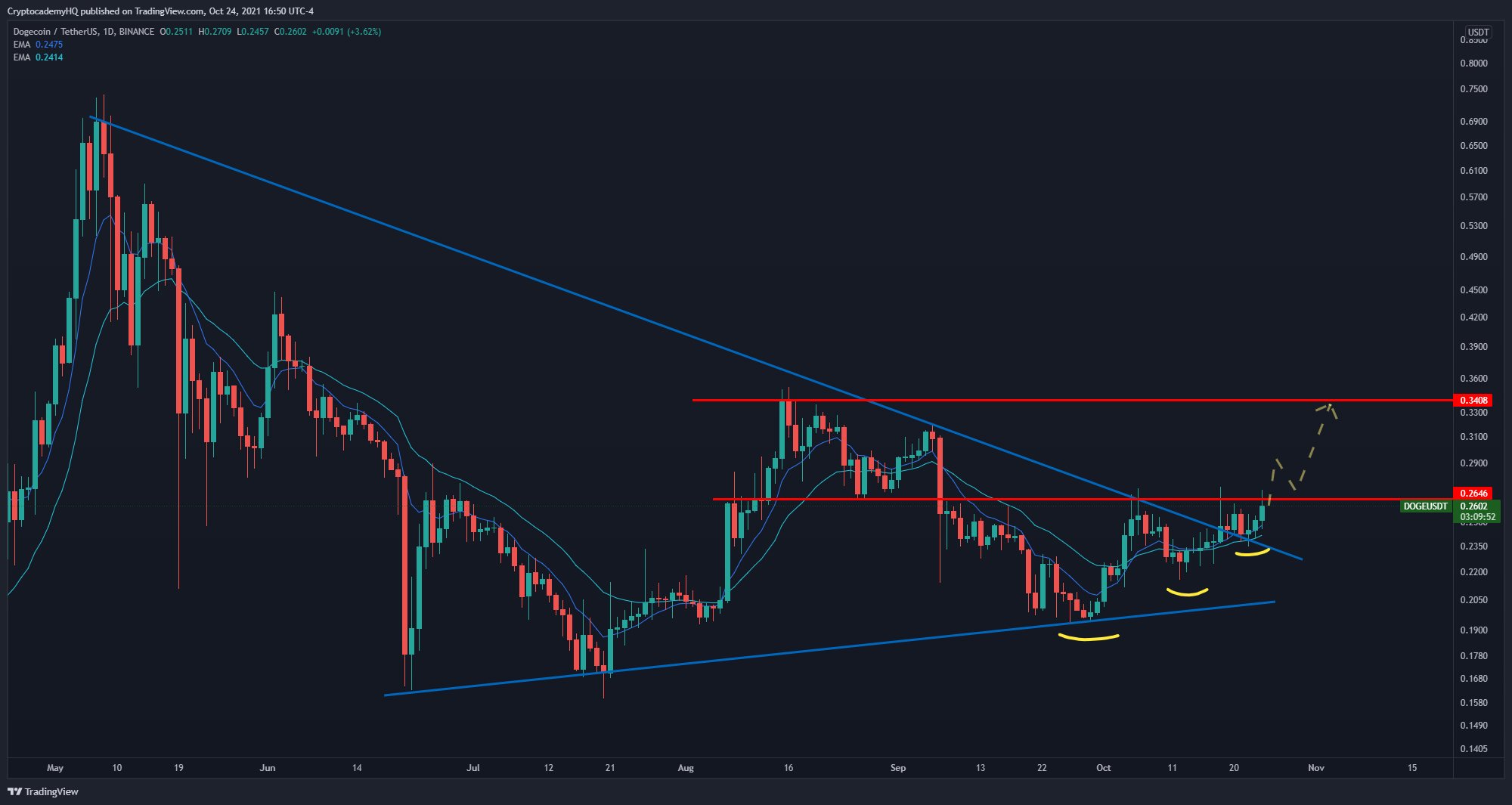 In the near term, Bennett says DOGE needs to turn the $0.26 level into support and close above $0.27 before continuing higher to his initial target of $0.34. At time of writing, Dogecoin is trading at $0.26 according to CoinGecko.
Looking at Bitcoin, the analyst says BTC's ability to maintain the $60,000 level is a major show of strength that could have big implications in the broader markets.
"Although the BTC weekly candle might not look great, it still held above $60k.
That's what I was looking for. Doesn't mean we can't see more pullback before further upside, but it does mean $60k is holding as support on a weekly closing basis.
That's huge."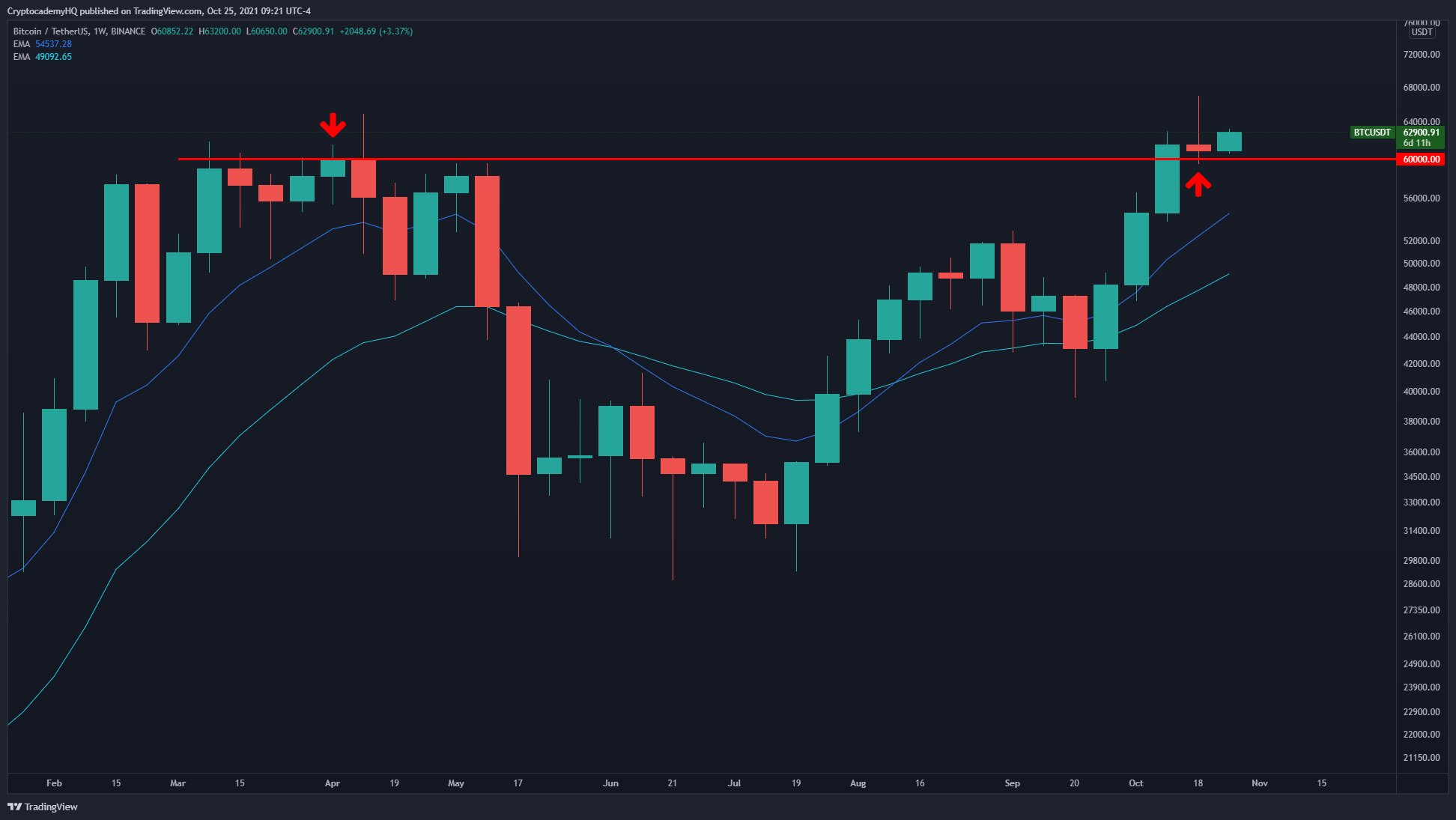 Bennett also has his eye on Bitcoin dominance, which compares BTC's market cap to the rest of the crypto markets. He says it's bounced off a support level and is currently on its way up.
"BTC.D is bouncing from 44.5% support.
Surprise, surprise."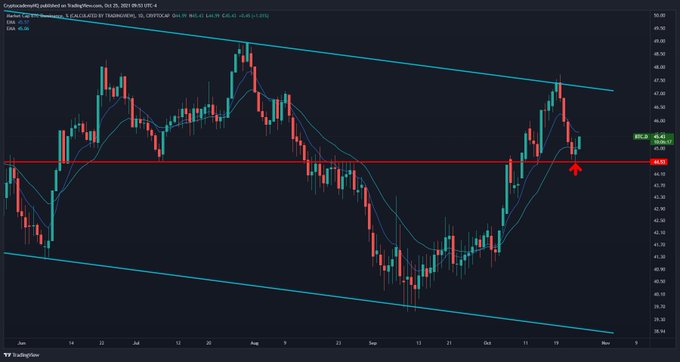 While surging Bitcoin dominance often suggests that altcoins will underperform, Bennett says this may only hold true in the short term. He says if the king crypto is looking healthy, then altcoins might take it as a signal to move up.
"This isn't necessarily a bad thing for altcoins.
Will they suffer if BTC.D heats up again?
In the short term and against BTC, yes.
But Bitcoin strength now is massively bullish for alts over the next few months.
Anybody That Does the Homework Eventually Invests in Bitcoin: SkyBridge Capital's Scaramucci
Founder of SkyBridge Capital believes that anyone who starts looking into Bitcoin seriously will end up buying
Antony Scaramucci, founder and CEO of SkyBridge Capital venture fund that has a branch investing in Bitcoin, has told CNBC that Bitcoin can eventually convert anyone who "does their homework" to invest in it.
He named several billionaires who used to be skeptical on BTC but have been into it since 2020.
Those who do their homework end up investing in bitcoin, Scaramucci says https://t.co/tDL2KPi8wJ— CNBC (@CNBC) October 25, 2021
Ray Dalio, Paul Tudor Jones, etc, have turned to Bitcoin
According to Scaramucci, Bitcoin has the power to attract even its opponents – if they begin to study BTC carefully and "do the homework" they get convinced of the great potential Bitcoin has.
He has referred to billionaire investors, such as Ray Dalio, Paul Tudor Jones and Stanley Druckenmiller – they used to be opposed to the flagship cryptocurrency and now are holding BTC in their portfolios.
Among these former Bitcoin skeptics are Shark Tank's co-hosts – Kevin O'Leary (widely known as Mr. Wonderful) and Mark Cuban, billionaire and owner of the Dallas Mavericks baseball team. He now considers Bitcoin a store of value and believes that Dogecoin is a perfect crypto for payments. The Mavericks online store accepts DOGE for tickets and merch, and, according to Cuban, people are spending thousands of USD in Dogecoin on every month. He also likes Ethereum because of smart contracts.
Here's how much Bitcoin Scaramucci holds
As part of studying BTC, Scaramucci recommended reading the BTC white paper written by Satoshi Nakamoto, the mysterious person or a team of them that created Bitcoin back in 2008-2009.
As for his own crypto holdings, Anthony Scaramucci holds over one billion USD worth of Bitcoin. He believes BTC to be digital analogue of gold.
He also believes that Ethereum and Cardano have a large potential and are going to keep rising in the future.