Vitalik Buterin on Time Magazine's 100 Most Influential People List
The list prepared by Time Magazine is a part of their annual segment that documents some of the most significant personalities of the world.
Vitalik Buterin, the founder of the second most distinguished cryptocurrency Ethereum, has been recognized by Time magazine and was recently included in their list of 100 most influential people in 2021. Buterin has been listed alongside famous world personalities, leaders, and entrepreneurs such as Tesla's Elon Musk, Jensen Huang of Nvidia, and others.
Vitalik Buterin Makes an Appearance on Time Magazine's List
Buterin has grabbed a spot on the list comprising famous dignitaries, world leaders, activists, and entrepreneurs. The list prepared by Time Magazine is a part of their annual segment that documents some of the most significant personalities of the world.
Buterin's Ethereum has garnered a profitable clientele over the few years and continues to rise high by leveraging its technology for the advancement of non-fungible tokens. NFTs have secured a distinctive niche in the world of cryptocurrency that allows consumers to experience the concept of a sole proprietorship.
Reddit Co-Founder Alex Ohanian has commented on Buterin's profile and has praised his work that helped dominate the sector of decentralized apps and encouraged the production of NFTs. Ohanian further lauded Buterin's efforts and stated that his idea of co-creating Ethereum has indeed paved contemporary ways to utilize blockchain technology.
Time is a prestigious American news magazine that has recently become more adept towards accepting crypto and bitcoin as a medium for providing subscriptions to users. The magazine in March has stated that they are looking for a chief financial officer for recruitment purposes that is proficient in cryptocurrency and blockchain technology to take charge of their finance department. In addition to that, the magazine has also ventured into the budding non-fungible token market by auctioning three of its NFTs.
Time in association with Grayscale has confirmed that it would assist in holding Bitcoin received as a payment for its education video series. Apart from that, the magazine has already started accepting crypto as an efficient mode of payment for its digital subscriptions. According to multiple reports, the magazine at present hosts 20 million active subscribers and has a consistent user base that follows its weekly updates and stories.
Time magazine was first printed in 1923. For many years the magazine had a weekly issue that became immensely popular with the masses. Owing to its success and popularity, the organization in March 2020 had launched a bi-weekly issue that publicizes multiple stories and breaking news related to world politics, entertainment, tech reviews, health, and lifestyle.
Reason Behind Ethereum (ETH) Price Surge to $12,000
Justin Bennett looks at a situation in which the price of ETH could hit $12,000.
Ethereum always follows the BTC price.
Bennett explained that a $200,000 price surge in BTC will put ETH at $12,000.
With Ethereum (ETH) breaking the $4,000 price this week, analyst Justin Bennett looks at a situation in which the price of ETH could hit $12,000. More so, the crypto has limited two-and-a-half months to travel this year. This indicates ETH has only limited time to reach the optimistic price targets.
According to CoinMarketCap, the ETH price is trading at $4,010.56 with a 24-hour trading volume of $18,093,022,938, at the time of writing.
Ethereum always follows the BTC price, however, analysts have not seen a deviation from this trend. Also, with the current market conditions, the analyst explained in his newsletter which indicators reveal that the price of the pioneer crypto will reach as high as $200K before the present cycle ends.
In case, ETH hits this price target, then ETH will surely rally over 300% in response to this. Aside from all this, Bennett explained that a $200,000 price surge in BTC will put ETH at $12,000 with the present ETHBTC levels. Added to this, the analyst views that the price of ETHBTC will surge before the end of the bull market.
According to Bennett, the price of ETHUSDT could be between $15,000 and $20,000. If the price of bitcoin breaks above $200,000 before the cycle ends, then the price of ETHUSDT will also rise.
Recent trends indicate that Ethereum may hit a new all-time high before the weekend closes, despite significant resistance toward breaking the previous all-time high. If that happens, then we will just have to wait and see what happens.
One Ethereum Competitor Is Showing Strength As Bitcoin Loses Ground, According to Crypto Trader Benjamin Cowen
Crypto analyst Benjamin Cowen says an Ethereum rival is showing strength as Bitcoin pulls back from its all-time high.
Cowen tells his 576,000 YouTube subscribers that AVAX, the native token for the smart contract platform Avalanche, is "weathering the storm relatively well."ADVERTISEMENT
The 12th-ranked asset by market cap is trading at $68.28 at time of writing, up over 5% in the past 24 hours and more than 20% in the past week, according to CoinGecko.
Cowen notes that AVAX is trading well above both its 20-week simple moving average (SMA) and 21-week exponential moving average (EMA). Taken together, the two metrics are what Cowen refers to as the "bull market support band."
"We also have some wiggle room in the sense that we are above the bull market support band of the AVAX/USD valuation. The 20-week SMA is at $35.85 and the 21-week EMA is at $43.47. What that tells you is that Avalanche has been performing pretty well for the last several weeks.
A lot of coins are right above their bull market support band, and they haven't been performing as well recently. A lot of these things can have some type of seasonality as the money ball just jumps around from project to project, and right now, clearly, AVAX is showing a decent amount of strength."
Cowen doesn't predict that AVAX will have a strong move against Bitcoin "in the next month or so," but he does say that Avalanche can increase in value in terms of its relationship to the US dollar in the short term.
Ethereum Price Forecast: ETH bulls set sights on new record high targeting $6,000
Ethereum price is gearing up for a new all-time high as two significant bullish chart patterns have transpired.
The governing technical patterns present optimistic targets at $6,015 and $6,365.
A daily close above $3,960 would add credence to the bulls' aspirations toward $6,000.
Ethereum price is hovering around a key support level which has previously acted as resistance for ETH, as the bulls catch their breath before the token resumes its rally. As long as the second-largest cryptocurrency by market capitalization holds above $3,960, a 60% surge is still on the radar.
Ethereum price eyes 60% ascent
Ethereum price has printed two major bullish technical patterns on the daily chart, an ascending parallel channel and a cup-and-handle pattern. The former chart pattern indicates that ETH has been consistently reaching higher highs and higher lows since mid-June, presenting an optimistic outlook for the token.
Based on the first prevailing chart pattern, ETH is likely to tag the upper boundary of the channel at $6,015, coinciding with the 161.8% Fibonacci extension level, representing a 48% climb.
The cup-and-handle chart pattern suggests that the projected target for Ethereum price is at $6,365, forecasting a 60% rally. While the two governing technical patterns establish an optimistic outlook for ETH, the token may be confronted by a headwind at its all-time high at $4,369, corresponding to the middle boundary of the parallel channel.
Additional hurdles may emerge at the 127.2% Fibonacci extension level at $5,092, then at the 161.8% Fibonacci extension level at $6,015.
Given the reinforcement of the two optimistic chart patterns presented on the ETH daily chart, retracements for Ethereum price may not be significant even if selling pressure arises.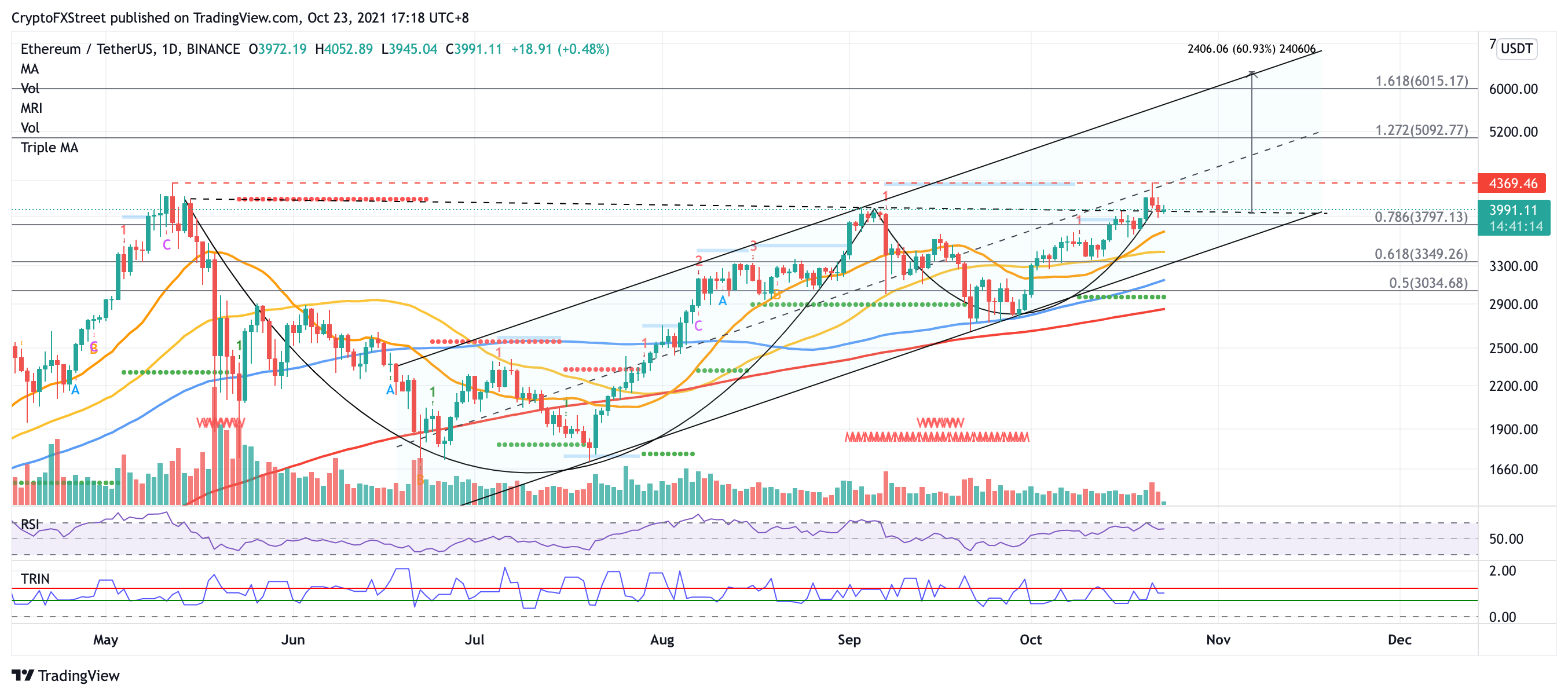 ETH/USDT daily chart
Ethereum price will discover immediate support at the support trend line at $3,960, then at the 78.6% Fibonacci retracement level at $3,797. The following line of defense will emerge at the 21-day Simple Moving Average (SMA) at $3,710, then at the 50-day SMA at $3,453 before eventually dropping toward the lower boundary of the ascending parallel channel at $3,349, which meets the 61.8% Fibonacci retracement level.
If Ethereum price fails to hold above the aforementioned levels of support, the bullish outlook may be voided, prompting ETH to plunge lower toward the 100-day SMA at $3,137.
ETH bulls should aim for a daily close above $3,960 to reinforce commitment for the bullish target to be on the horizon.