What's driving Polygon's [MATIC] retention?
Polygon (MATIC) started the bull run some days ago and is recording a considerable pullback for various reasons. The cryptocurrency started the retention movement from $1.23 and is currently trading at about $1.5.
The weekly timeframe shows a positive situation for $MATIC that is somehow following the BTC movement in the market. Next to some fundamental reasons like new projects and partnerships for Polygon, many technical indicators confirm the retention. Twitter account "RaphaelSignal" posted an analysis about the reasons for retention for MATIC. One of the most important ones is ATH in terms of active users and network revenues.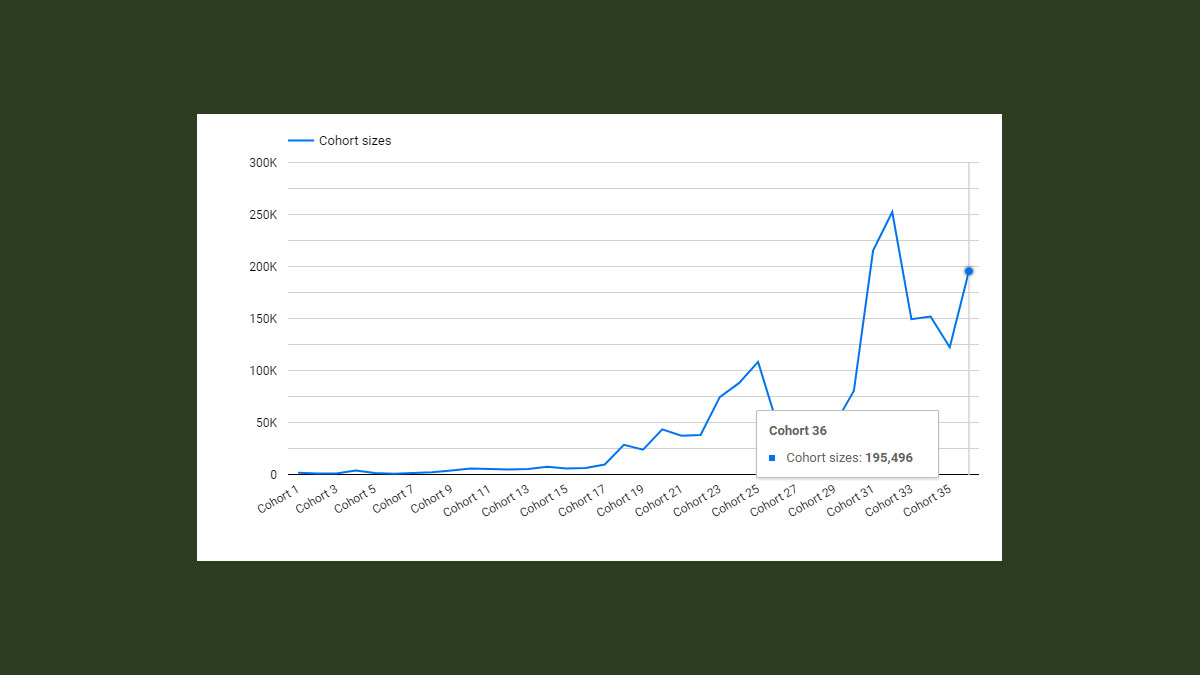 Getting Rewards for Features
Polygon is currently among the most famous and popular layer two solutions for Ethereum. The network offers numerous features and tools for both developers and end-users. Lower gas fees, faster transactions, and lots of scalability solutions are just some of the reasons people love Polygon. Many big projects like SushiSwap decided to launch a new version on this network, and many others are launching their initial versions on Polygon.
MATIC that was the previous name of the Polygon blockchain is now the native token in this network. It has many use-cases. The popularity and practical use-cases in Polygon affect the MATIC price, too. The cryptocurrency recorded an all-time high at $2.62 in May 2021 but started to decline since then. But it seems retention is happening for $MATIC, and we can expect it to go back to the previous records.
According to an analysis by RaphaelSignal on Twitter, $MATIC recorded an ATH in terms of active users and revenue on September 14th. It resulted in a breakdown in the retention metrics. The analysis examines various indicators to confirm retention. But the summary still goes back to fundamental and use-case scenarios. According to Raphael:
"I see three main drivers. Most important is the dapp ecosystem. Dapps provide the reason for users to come back. Do we see innovation? Fun? Opportunity? … Summary 2/ Related is the talent ecosystem. In addition to developers, creators are central to DAOs and NFT projects alike … Finally, network characteristics, incentives, and services."
The growing ecosystem of Polygon surely helps it attract more end-users and developers. It ultimately results in more hype around the community and the native token, MATIC. Although there are many solutions and alternatives for Ethereum, it seems that Polygon can become the dominant one if it can keep the momentum in terms of both tokenomics and network features.
Three reasons why MATIC price will breakout to a new all-time high at $4.5
MATIC price is breaking out of an ascending triangle pattern, hinting at a 150% ascent.
Transactional data shows barely any resistance level ahead for Polygon, suggesting a swift move higher.
The Layer 2 solution has been at the center of DeFi evolution, making it perfectly positioned for the upcoming bull run.
MATIC price breached a crucial resistance level that has prevented it from rallying four times over the past four months. The recent attempt seems to have an extra oomph behind it, hinting that this run-up could trigger a massive move.
Technicals scream bullish for MATIC price
MATIC price set up roughly four equal highs since June 6 and three higher lows since July 18. Connecting these swing points using trend lines shows the formation of an ascending triangle.
This technical formation forecasts a 150% ascent, determined by measuring the distance between the first swing high and low andadding this to the breakout point at $1.73, which reveals a target of $4.32.
While this move for Polygon might seem straightforward, MATIC price will face $2.04 and $2.21, two significant hurdles before it can retest its all-time high at $2.70. Clearing these blockades will open the path to the target at $4.32.
Using trend-based Fibonacci extension levels, market participants can identify pit stops where MATIC price may head into a price discovery phase. The first barrier is $3.02, which is followed by the 161.8% extension level at $4.5, just above the forecasted target.
This forecast is based on a short-to-mid-term perspective for MATIC price. The longer-term outlook reveals triple digital targets for the Layer 2 token in the upcoming bull run.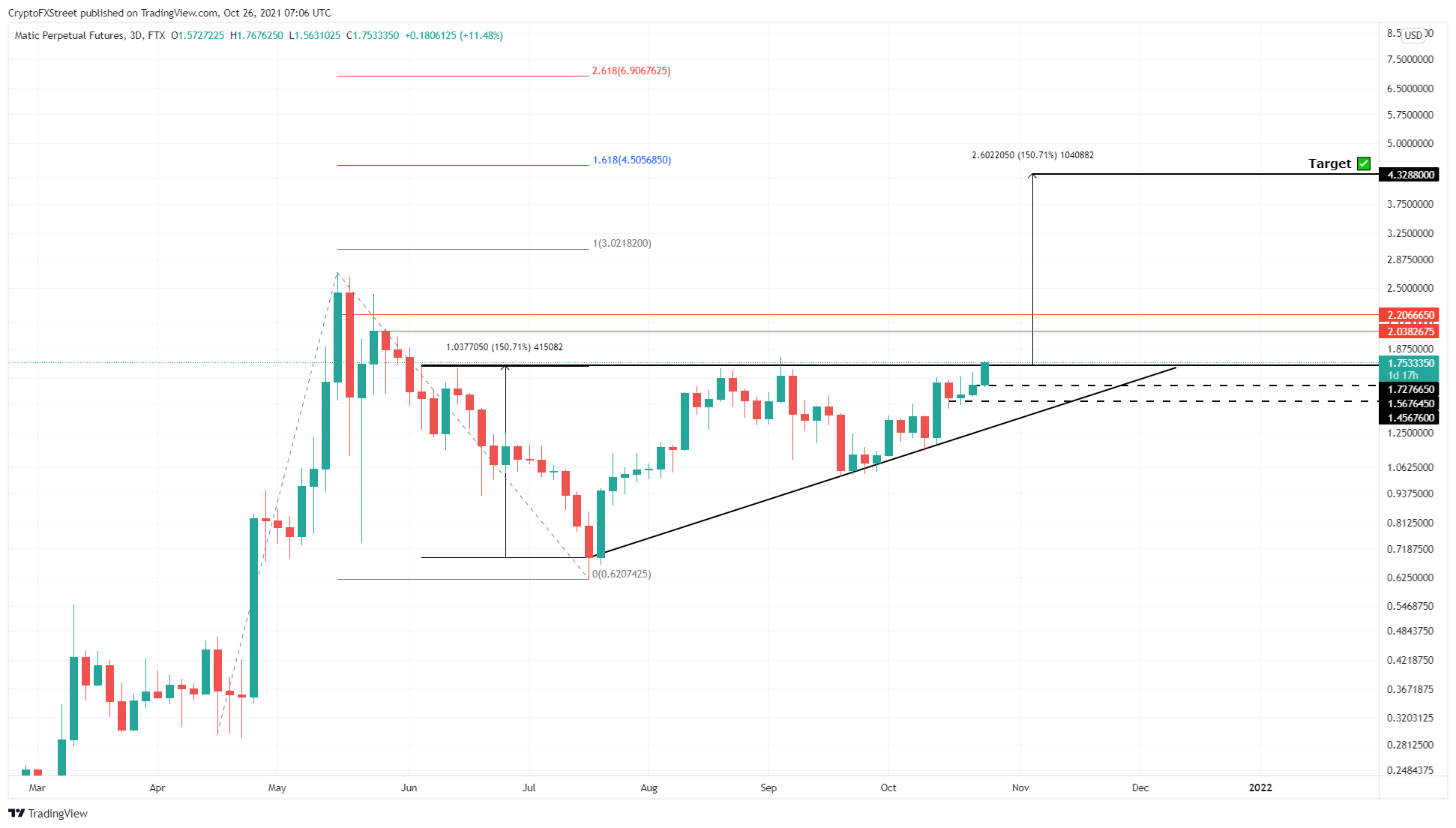 MATIC/USDT 3-day chart
On-chain metrics and growing fundamentals
Supporting the start of a massive uptrend for MATIC price is the increase in daily active addresses (DAA) joining the Polygon blockchain over the past three months. This uptick in the 7-day Moving Average (MA) of DAA suggests that investors and capital are flowing into the market, adding credence to the bullish thesis.

MATIC DAA chart
On a similar note, IntoTheBlock's Global In/Out of the Money (GIOM) model reveals that the only resistance level that will prevent an ascent in Polygon's market value is at $1.87. Here, roughly 17.54 thousand addresses purchased 135 million MATIC.
Therefore, a decisive close above $1.87 will flip these underwater investors to profitable, removing the potential sell-side pressure, allowing MATIC price to continue its ascent without anything to hold it back.
In this case, MATIC price will head straight towards its all-time high at $2.70 and beyond.

MATIC GIOM chart
The last week saw Polygon network benefit from $188 million in inflows. While the daily revenue was up 15%, the daily active addresses hit 423,000. Moreover, the Layer 2 network bridged a whopping $188 million in value.
These growing fundamentals hint nothing but bullishness for Polygon, adding a tailwind to the forecast.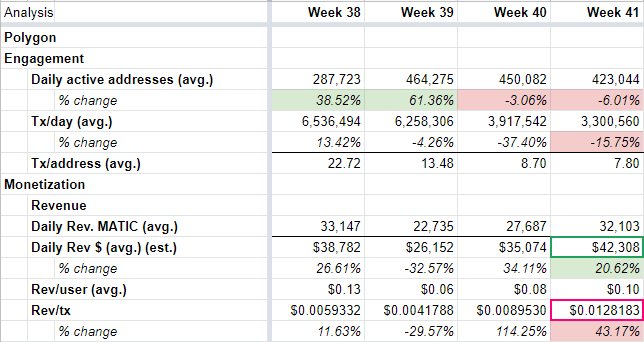 MATIC on-chain metrics chart
Polygon has been at the center of DeFi evolution. From yield farming to NFTs, MATIC has helped users reduce fee costs. Moreover, Bitwise, a popular crypto investment fund manager, has decided to offer Polygon Fund to help make scaling solutions available to investors.
Matt Hougan, Chief Investment Officer at Bitwise, stated that Ethereum's lack of scaling capabilities had muted its development around NFTs or DeFi. Adding more, Hougan revealed,
Many are working on Ethereum competitors to solve this, but Polygon has seen breakthrough traction with a uniquely complementary solution that boosts Ethereum's speed and efficiency. Investors have been asking about this rising star. With the new Bitwise Polygon Fund launching today, we're excited to continue helping investors gain access to the expanding set of opportunities emerging in crypto.
The launch of the Bitwise Polygon Fund provides strategic exposure to @0xPolygon, one of the most essential innovations behind DeFi, NFTs, and gaming. Learn more: https://t.co/j67VV8uFSI pic.twitter.com/aZO20n62mu— Bitwise (@BitwiseInvest) October 20, 2021
While things are looking up for MATIC price, a breakdown of the $1.73 support floor will signal a weakness among buyers. In this case, Polygon bears are likely to knock it down toward the $1.57 demand barrier, a breakdown of which will likely push the Layer 2 token below the ascending triangle's lower trend line, invalidating the bullish thesis. In such a situation, MATIC price could revisit the $1.47 support level.
MATIC price ready for new all-time highs as $188 million flow into Polygon
Polygon network's on-chain activity was steady with 423,000 active addresses and an inflow of over $188 million.
Daily active addresses on the Polygon network are up over 116% since September 2021.
Over 1200 projects are building in the MATIC ecosystem, and analysts are bullish on the altcoin's price.
The total number of transactions on Polygon network dropped nearly 15% due to a rise in transaction fees over the past week. This hasn't negatively impacted the network as the number of unique daily active users remained stable.
MATIC gears up for a new bull run ahead with stable on-chain activity
Ethereum and MATIC both noted a decline in the number of users due to high gas fees. The decline was slightly more significant for MATIC, however looking at "from" addresses in transactions on the network, Polygon has maintained high activity.
Over the past week, the Polygon network witnessed an inflow of $188 million. The network's revenues increased week on week; daily revenue is up 15%.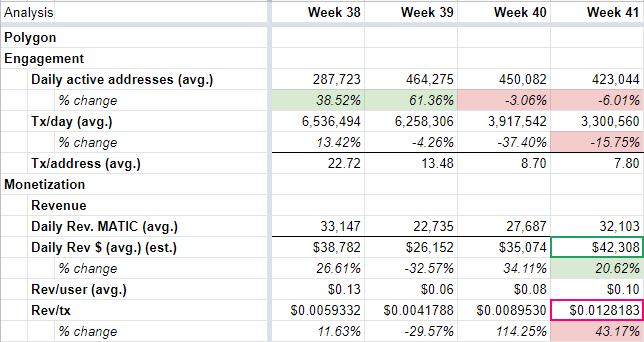 Polygon on-chain data.
Interestingly, the Polygon ecosystem has nearly 1200 teams developing their projects. MATIC's utility is expected to hit a peak once the projects go live on the blockchain network.
The world's largest crypto index fund manager, Bitwise Asset Management, recently launched its Polygon Fund. MATIC has higher exposure to professional investors. 
The launch of the Bitwise Polygon Fund provides strategic exposure to @0xPolygon, one of the most essential innovations behind DeFi, NFTs, and gaming. Learn more: https://t.co/j67VV8uFSI pic.twitter.com/aZO20n62mu— Bitwise (@BitwiseInvest) October 20, 2021
The fund is available to accredited investors with a minimum investment of $10,000. Coinbase Custody Trust Company is Bitwise's custodian for the Polygon fund. Following the launch of the new fund, MATIC price resumed its upward climb.
Of the 1200 teams developing on the network, Joe Lau, Co-founder and CTO of Alchemy, was quoted as saying:
We've been blown away by the Polygon ecosystem and the quality of its builders, so it's amazing to see just how quickly it's growing.
Pseudonymous cryptocurrency analyst @Koolaid_crypto has shared a bullish outlook on MATIC price. 
$MATIC in a nice bull flag i think 🙂 #MATIC #MATICusdt #MATICNetwork pic.twitter.com/DgbwJQpCfp— Crypto Koolaid (@Koolaid_crypto) October 22, 2021
FXStreet analysts have evaluated MATIC price and predicted that the altcoin would hit triple digits once it enters a new bull run. 
Polygon pays $2M bounty on bug which could have compromised $850M in user funds
White hat hacker Gerhard Wagner has earned $2 million after reporting a solution to a potentially costly "double-spend" bug on the Polygon network.
In an Oct. 21 blog post from Immunefi, a security service that helps facilitate bug reports in decentralized finance projects, Polygon network's Plasma Bridge was at risk of having $850 million removed by a knowledgeable hacker. According to the project, the vulnerability would have allowed attackers to exit their burn transaction from the bridge up to 223 times, quickly turning an amount like $4,500 into $1 million profi.
Immunefi reported the double-spend exploit worked by first depositing Ether (ETH) through the Plasma Bridge and starting the withdrawal process after the transaction was confirmed. A hacker could then wait a week and resubmit the same withdrawals with the exception of "a modified first byte of the branch mask." Provided the hacker was able to begin with $3.8 million, they could have potentially depleted all $850 funds from the bridge's deposit manager at the time.
Polygon agreed to pay its maximum amount for a bug bounty report — $2 million — following Wagner's initial report on Oct. 5. According to the platform, the bug has already been deployed on the mainnet after testing, Wagner has received the funds, claimed to be "the highest bounty ever paid out in history," and no user funds were lost with the exploit.
Wagner speculated on his Medium page that the bug might be due to "using someone else's code and not having a 100% understanding of what it does." He added the solution was "not very elegant" but did fix the double-spend exploit.
Before this latest $2 million payout, the largest bounty for a white hat hacker had gone towards programmer Alexander Schlindwein, who in September discovered a vulnerability in Belt Finance's protocol and was awarded $1.05 million. However, the U.S. Department of State may topple that record if a hacker is able pass on information on terrorist suspects, extremists and state-sponsored hackers — the government said it would be offering rewards of up to $10 million.