145 Million XRP Shoveled by Ripple, BitGo and Several Top Trading Venues
145 Million XRP Shoveled by Ripple, BitGo and Several Top Trading Venues
Popular DLT tracking service Whale Alert, which regularly shares the details of large crypto transfers made and received by individuals and entities, has spread the word about some more substantial XRP transactions made recently.
As per its recent posts in Twitter, over the last 12-hour period, a whopping 145 million XRP has been pushed between major crypto trading venues with the participation of Ripple Labs.
40 million coins on the move from Ripple
According to tweets shared by the crypto tracker, over the past 11 hours, several large XRP stashes worth $134,133,760 in fiat have been shifted.
The aforementioned DLT tracker noticed five large crypto transactions, in which Ripple, several digital exchanges and custodial platform BitGo took part.
Ripple sent lumps of 15 million and 25 million to its alternative RL18-VN address, which is often used to send XRP to the crypto giant's partners, clients and crypto exchanges—to be sold or to support the liquidity of the Ripple-affiliated cryptocurrency.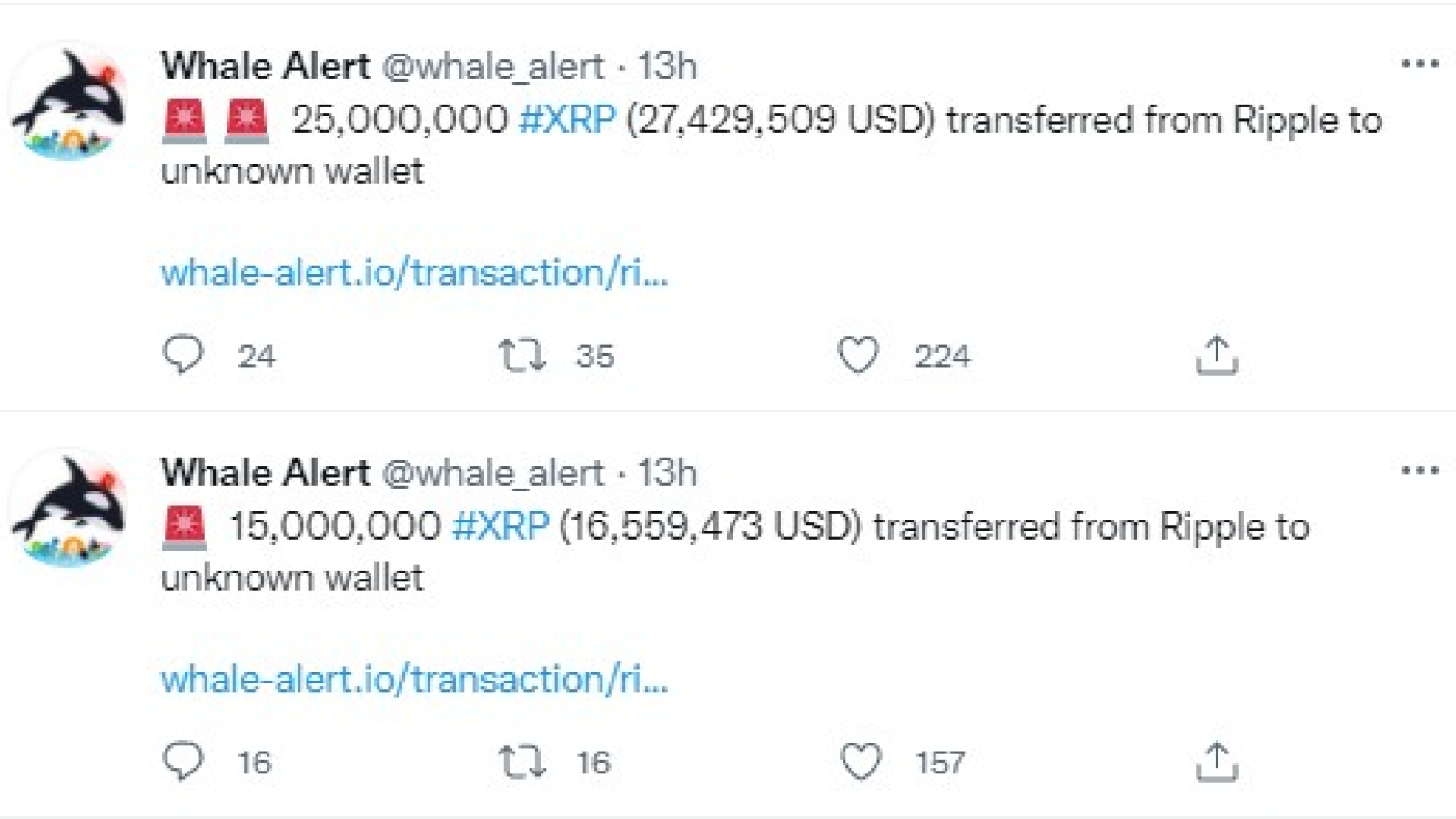 Binance and Bitstamp receive 105 million XRP
The largest transfer made here was 52,027,950 XRP. The funds were sent from the Bybit exchange to Binance.
Huobi, China's largest crypto trading platform, also sent 40 million XRP to Binance. Thus, the exchange spearheaded by Changpeng Zhao received 90 million XRP tokens.
The remaining fifth transaction was conducted by the crypto custody service BitGo as it transferred 15,000,000 XRP to Bitstamp.
🚨 🚨 🚨 🚨 🚨 52,027,952 #XRP (57,507,998 USD) transferred from unknown wallet to unknown wallethttps://t.co/D8LOM5aNth— Whale Alert (@whale_alert) September 17, 2021
Ripple empowers Paydek's expansion to LATAM and Africa
As reported by U.Today on Thursday, Ripple's DLT provider signed up another payments operator to its RippleNet network. U.K.-based Paydek is expanding its services to Africa and several countries in Latin America.
The target audience here for Paydek is freelance and on-demand workers, whose market is growing each year and, by 2023, is expected to reach $455 billion in volume.
Paydek plans to use Ripple technology to build extra payment rails in those countries and create a new infrastructure that would ensure low-cost, secure and fast payments.
XRP – Assessing the odds of it climbing past $5 in 2022
It has been a strong year for the collective crypto-market. Any asset in the top 10 would agree with this assertion, but this wouldn't be the case for XRP. While on the rankings it remains 7th, its April 2021 high of $1.966 is yet to be tested again.
From a long-term perspective, every top asset managed a new ATH over the last few months. This list includes Bitcoin, Ethereum, and Cardano. For XRP, however, its 2017 high still stands.
Consistent momentum hasn't been on its side after the SEC fiasco. Alas, structurally, its market might be undergoing a massive shift in the coming months.
However, it is important to note that the direction of XRP's price will still depend on several external factors. The following article will outline the bullish parameters which may trigger its rally.
XRP to return to the top 3?
At press time, XRP was ranked 7th on the charts with a market cap of $52 billion. Binance Coin was at 3rd with a valuation of $82 billion.
XRP hitting $82 billion on the charts would mean a spike of about 60% to $1.75. According to the market structure, this target could be extremely viable.
Taking the example of the 1-day chart – XRP has been consolidating strongly in the liquidity pocket (highlighted in the chart) over the past month. With a prominent symmetric triangle forming at press time, the potential to breach and rally towards its immediate resistance of $1.40-$1.50 is fairly high.
One confirmation can be attained from the fact that lower trading volumes have been met by declining prices, which means any trading volume spike would automatically trigger an incline.
However, XRP's reach might not only be limited to $1.40 or $1.50 anymore. The asset could be looking at the possibility of hitting its 2017 ATH by end of December and continuing its rally next year.
The monthly chart for XRP, considering it explodes in the desired direction, seems to be structurally targeting a massive breach of $10 on the chart.
Now, while such a movement is almost unfathomable, there may be a few narratives slowly swinging in XRP's favour.
Coinbase, SEC, and Warren Buffett?!
SEC started reeling in the pressure on Ripple late last year and in December 2020, it filed an action against the organization and two of its executives. XRP's value tanked during a collective bullish period and then, Coinbase announced its delisting on 19 January.
Its been 10 months since the lawsuit was filed and until now, Ripple has not been found guilty. Over the past couple of months, the momentum has shifted towards Ripple. In fact, the SEC has been ordered by Judge Sarah Netburn to offer clearer explanations as to why the Howie test applies to XRP, and not Ether and Bitcoin.
Jeremy Hogan, a vocal attorney in the XRP-SEC lawsuit, stated,
"UH-OH. The SEC is going to be forced to admit that there is nothing in an of these contracts that created an expectation of profits by purchasers of XRP. That's a big problem for the SEC."
With positive developments slowly surrounding XRP and Ripple, a part of the community believes that it is only a matter of time before XRP is re-listed on Coinbase.
Coinbase — re-list $XRP already.— David Gokhshtein (@davidgokhshtein) October 23, 2021
While both these narratives directly impact the valuation of XRP, the Warren Buffett angle might be one for the long term.
According to reports, Berkshire Hathaway has invested $500 million in Brazil-based NEO bank, which is an existing RippleNet member utilizing its ODL services.
It can be speculated that Buffett saw some form of intrinsic value in Ripple's ODL remittance services. This may have led to this massive investment.
Don't count your chickens before they hatch
Regardless of the enticing narratives, it is essential to understand that such price jumps (if only) for XRP might come over the next few months and quarters, and not weeks.
It is still important to understand market dynamics before investing in an asset that has juggled market and legal volatility for over a year. Hence, as always, Do Your Own Research because this isn't investment advice.
XRP price must reclaim crucial level to avoid bigger losses
XRP price is locked in a downtrend as a descending parallel channel pattern has emerged.
Ripple could be at risk of a 14% decline toward the lower boundary of the prevailing chart pattern if a key level fails to hold.
Key support is at $1.10, where multiple technical indicators emerge as a foothold for XRP price.
XRP price is on the edge of decline if it fails to rise above a critical resistance level, putting any chance of recovery in jeopardy. Ripple must also hold above its last line of defense to avoid dropping lower toward $1.
XRP price sealed in tight range
XRP price has been trapped within a descending parallel channel on the 12-hour chart and is at the cusp of falling further if the last foothold fails to hold. The prevailing chart pattern dictates a bearish bias on Ripple, resulting in the failed attempts of the token climbing higher.
The Arms Index (TRIN), which gauges overall market sentiment, suggests that there are currently more sellers than buyers in the market, as it flashed the reading of 1.29.
XRP price is holding onto its last line of defense at $1.10, where the 21 twelve-hour Simple Moving Average (SMA), 50 twelve-hour SMA and the ascending support trend line that formed since July 20 meet.
Failing to sustain trading above the aforementioned level of support could mean trouble for the bulls, as Ripple would be susceptible to further decline, dropping toward $1.06 next, at the 38.2% Fibonacci retracement level, then toward the 100 twelve-hour SMA at $1.05, before eventually tagging the middle boundary of the governing technical pattern at $1.04.
An increase in selling pressure could see XRP price plunge toward the 200 twelve-hour SMA at $1.01, before eventually tagging the downside trend line of the parallel channel at $0.96.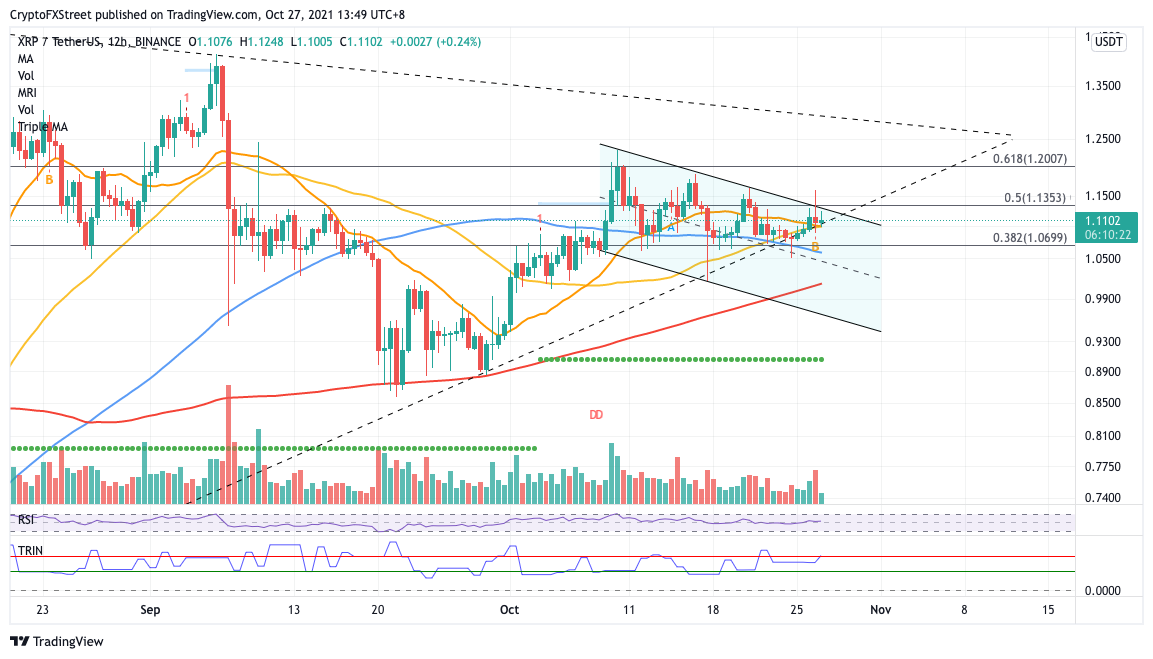 XRP/USDT 12-hour chart
However, if XRP price manages to hold above $1.10, Ripple could face resistance immediately at the upper boundary of the prevailing chart pattern at $1.12. An additional hurdle may appear at the 50% Fibonacci retracement level at $1.13. 
The bulls may need to be patient for an uptrend, as further obstacles will emerge at the October 26 high at $1.16, then at the October 16 high at $1.18, before confronting the 61.8% Fibonacci retracement level at $1.20.
Until XRP price slices above the upside trend line of the governing technical pattern, a recovery awaits. 
Coinbase CEO Claims Ripple Lawsuit is Turning Out Better, XRP Community Demands Relisting

The Ripple vs SEC lawsuit continues to drag further with both parties making key arguments. However, many crypto proponents believe Ripple has an upper hand in the case especially with the former SEC executive William Hinman's deposition and the glaring red flags on Ethereum getting a free pass with a similar business structure. Amid growing support for Ripple and against the SEC, Coinbase CEO Brian Armstrong has come out to claim Ripple is doing better in the lawsuit than expected. He said,
"The Ripple case seems to be going better than expected. Meanwhile, the SEC is realizing that attacking crypto is politically unpopular (because it harms consumers)."
When SEC first filed the lawsuit against Ripple in December, everyone proclaimed it an end of the road for the XRP token. This was mainly because it was for the first time that the SEC had also accused the founders of the project in the security lawsuit. However, as the case progressed and SEC started to go after several crypto firms claiming security law violations, people realized SEC's pure vendetta and started siding with Ripple.
Coinbase is also one of the victims of the SEC vendetta as the chief regulatory body forced the largest public crypto exchange in the US to drop plans for an unreleased USDC-pegged lending product despite the crypto exchange trying to communicate with the agency for six months.
XRP Community Wants Coinbase to Relist XRP
Ripple continues to forge new partnerships and expand its remittance business outside the US, thus the lawsuit didn't hamper Ripple's progress as more than 90% of its businesses are located outside the US. However, the native token XRP took the biggest hit from the lawsuit as the price slumped in the wake of mass delisting across the US-based exchanges. Thus, when Armstrong showed his support for Ripple, the XRP community demanded relisting.
And as a member of the #XRPcommunity I wish you would stand by us and #relistXRP.— CryptoBull (@CryptoBull2020) October 26, 2021