Chiliz price to retrace before CHZ runs up
Chiliz price is currently bouncing off the 50% Fibonacci retracement level at $0.336.
A correction to $0.323 is likely before CHZ continues to scale higher.
A breakdown of the $0.318 support floor will invalidate the bullish thesis.
Chiliz price is stuck in a tight consolidation above a crucial support floor and shows no signs of recovering from this slump. In fact, CHZ might retrace lower before heading on an uptrend.
Chiliz price awaits bulls' comeback
Chiliz price failed to hold above the 50% Fibonacci retracement level at $0.336 on September 14, which led to a pullback below it. After this failed attempt, CHZ crept above this resistance level on September 15 and is currently retesting this support barrier.
A quick rally is apparent, but it might arrive after a retracement to either the 62% Fibonacci retracement level at $0.329 or the 70.5% Fibonacci retracement level at $0.323.
This potential correction will collect the liquidity resting below the $0.329 swing low in the form of sell stops. The resulting move will allow the market makers to fill their orders, indicating that CHZ is primed for a leg-up. 
Therefore, the resulting uptrend will likely push Chiliz price to climb freely and retest the range high at $0.367.
In a bullish case, Chiliz price could make a run at the $0.381 resistance level.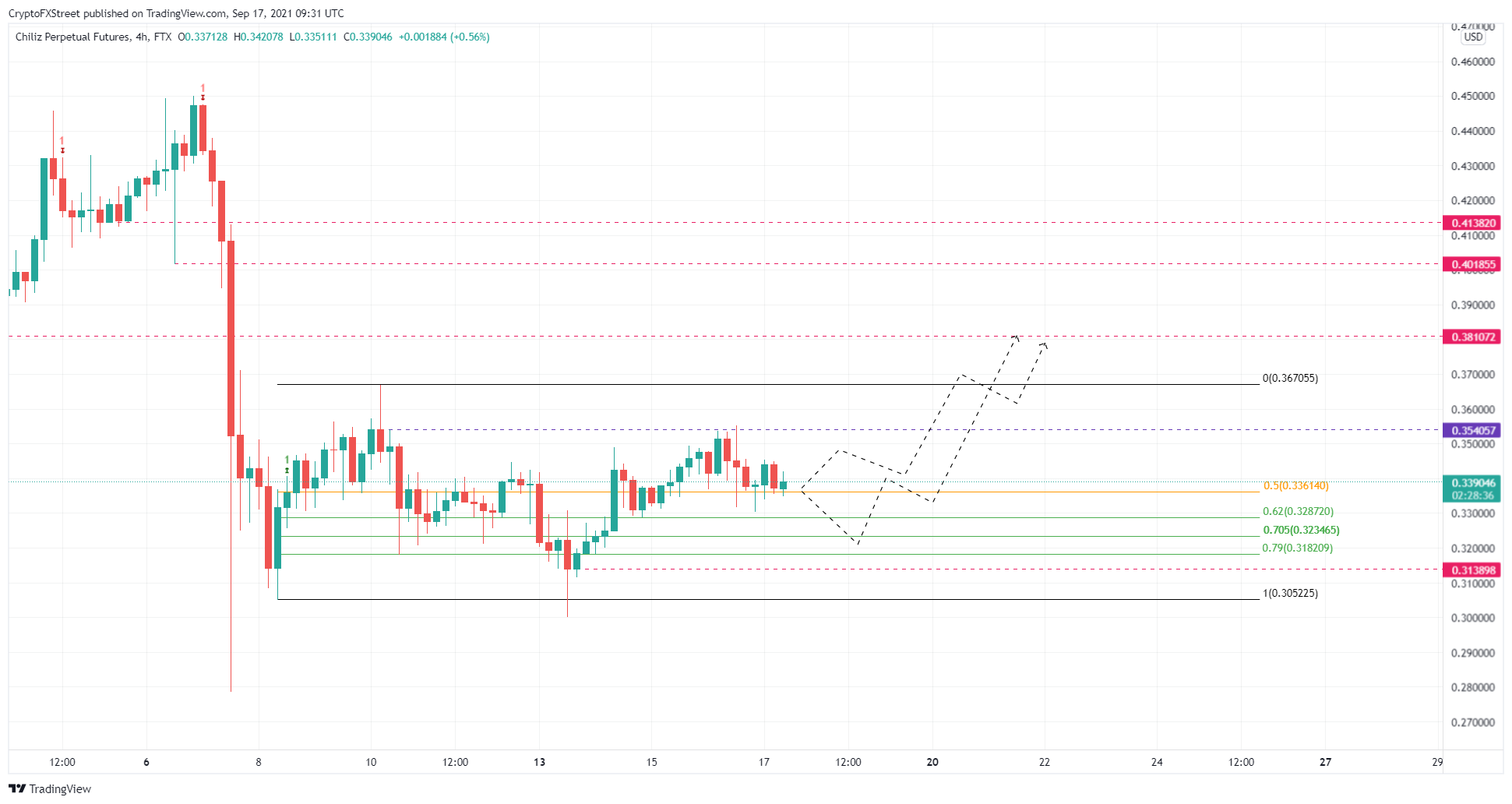 CHZ/USDT 4-hour chart
On the other hand, if the Chiliz price fails to make a comeback at the 70.5% Fibonacci retracement level at $0.323, it will indicate a weakness among buyers and increased selling pressure. In such a situation, if CHZ produces a swing low below $0.318, it will invalidate the bullish thesis.
This move could trigger Chiliz price to crash to $0.314 and even retest the range low at $0.305.
News Source
Chiliz (CHZ) and Socios Excited about Ever Expanding Roster of Partners
Alexandre Dreyfus, CEO of Chiliz (CHZ) and Socios retweeted a tweet from Marcelo Claure: When people ask what is the different between the internet and blockchain. My answer is the Internet is for transfer of information. Blockchain allows for transfer of value without intermediaries. (Hint financial systems massive disruption coming).
For those who are new, Chiliz is a currency option for blockchain-backed products and services geared towards mainstream consumers. CHZ looks at elevating everyday experiences, fan engagement in entertainment, alternative payment solutions for conventional products, and more.
Chiliz provides sports and entertainment entities with blockchain-based tools to help them engage and monetize their audiences.
CHZ is the Rocket Fuel for Socios.com. The Socios.com fan engagement platform is built from the ground up on the Chiliz blockchain infrastructure and it uses CHZ as it's exclusive on-platform currency.
Socios.com permits fans to purchase branded Fan Tokens from some of the biggest and most renowned sports teams in the world including FC Barcelona, Juventus, Paris Saint-Germain, AS Roma, Galatasaray, Atlético de Madrid, OG, CAI & UFC.
Fan Tokens bought on Socios.com permit users to influence their teams via popular vote and become eligible for engagement-based team rewards and recognition.
All Fan Tokens are minted using the Chiliz blockchain & all on-platform voting is executed as a series of smart contracts which run through the Chiliz blockchain.
Socios.com has an ever expanding roster of partners. Some of the latest announcements:
We are proud to announce that okcthunder are the latest NBA team to join the Socios.com family.
Washington Wizards recently expressed, "we are proud to announce a new official team partnership with socios, the leading global blockchain provider for the sports and entertainment industry."
Negative community response: Mr. Alex, why is the Chiliz support team not responding, why is your stock market so troubled, some of my tokens that I transferred to the same address do not appear, I have been writing for several days and you and your team do not even give an answer.
Many teams came, many partnerships and projects announced, but it had no effect. Alex stop suppressing CHZ and fan token. Now do something for CHZ and let the world talk about CHZ. We keep going backwards in the market ranking This project should be in the top 20, support CHZ.
You can still be going on to shilling your coin CHZ, but nobody is getting any FOMO after your Brazilian and Japanese whale friends got more rich in March. We gave to their hands from 0.73 cents and now waiting CHZ to go back 0.010 cents again. Then we will buy again dear Alex.
Will Chiliz Token Regain 200-DMA Line, After a Sharp Selloff?
Chiliz token witnesses a selloff from the higher level, and now the token slipped below the major moving averages of the 200-DMA line.
The crypto asset over the monthly chart is trading below all vital moving averages 20, 50, 100, and 200-Day lines, with slight sellar volume. 
The pair of CHZ/BTC is trading under minor pressure at 0.000006497 BTC with a 24-hour change of -4.02%, and the ratio of CHZ/ETH is CMP at 0.00009235 ETH with an intraday loss of -3.62%.     
Chiliz token at the monthly chart is trading on a bearish note while making lower lows and lower highs. The crypto asset is currently placed below the 20, 50, 100, and 200-DMA lines. At the same time, 20 and 50-SMA are heading for a bearish or negative crossover, creating more downside. On the other side, the volume is significant to watch in upcoming trading sessions as a declining below-average volume line.
Currently, DOGE is CMP near monthly lows, and volume activity is also lower, improving for forthcoming trading sessions. If the coin fails to regain its 200-DMA line, we can expect a short-term correction in forthcoming sessions. Support on the lower side is $0.2620 and $0.2410, whereas resistance on the higher side is $0.3425 and $0.3690.
Chiliz token is now trying to sustains, after facing a sharp selloff
Chiliz token on the weekly chart is now trying to sustains, after facing a sharp selloff. On the other side, the technical parameters are reaches near the oversold zone, and we can expect some bounce back in upcoming trading sessions. Volume at the 4-hour time frame is lower and needs to improve enormously for a strong rebound. CHZ's price is trading at $0.2868 with an intraday action of -10.93%, and the volume to market cap ratio is at 0.1461. 
Relative Strength Index (OVERSOLD): Chiliz token RSI is trading under the oversold zone over the weekly chart. The RSI is trying to rebound after a sharp fall from the higher side, and a minor pullback is expected, CMP at 29.    
Moving Average Convergence Divergence (BEARISH): The daily chart indicates a bearish trend at the 4-hour time frame. At the same time, the seller's line (red) overpowers the buyer's signal line (green), with a negative crossover.
Support levels: $0.2620 and $0.2410
Resistance levels: $0.3425 and $0.3690.
CHILIZ Price Analysis: Trying to recover after the 7 September fall.
CHZ has a circulating supply of 5,897,640,034 CHZ coins and a max. supply of 8,888,888,888 CHZ coins.
The token has shown the pattern of three inside up in the last 24 hours.
The last known price of the token, CHZ, is 0.3320 and is up by 3.26% over the last 24 hours. It has the current trading volume(s) of 302,279,203 with a gain of 43.85% over the last 24 hours. CHZ has addresses of 113,461 with the active address(es) of 655 in the last 24 hours. The chart above shows the movement of CHZ where 20 DMA has been running below it and even DMA-50 is below it. We see the token with respect to SMA's which are 20, 50 and 200 and it is SMA-200 which is ahead one(SMA-20) SMA and also above the other(SMA-50). We see an upwards pattern here where the bullish win is visible and later that is from 7 August the token has been shifted to the sidewards trend. The trend line marked shows upwards shifting and then sidewards shifting. The candles forming now are about to touch the support level from trendline at level $0.324. CHZ has provided returns of 8% on an average when ran upwards.
Its top 10 and 20 holders have more than 85% holdings and top 50 and 100 have more than 90% which makes the strong supply side of the coin.
An RSI oscillator is also present in the chart which shows the proper time to buy or sell the token. RSI for the last 5 hours shows the value of 50.522 and marks the neutral action. MA-5, MA-10 and MA-20 show the sell action. MA-100 and MA-200 show the sell action. It is MA-50 that shows the buy action.
The bull/bear power has the value of -0.0012 and shows the sell action. The high/low marks the sell action with the value of -0.0006.
The CHZ-BTC pair is trailing at the level of 0.0000007083 and the loss of 0.73% was seen whereas the CHZ-ETH pair is trailing at the level of 0.00009812 and the gain of 0.84% was seen in the last 24 hours. The volume/market cap of the token is 0.1537 and its market dominance is 0.09%.
Conclusion: The days range for the coin is 0.320339-0.347623 and presently is at 0.332031. The 24 hours high and low of the coin is 0.348 and 0.3205 respectively. We observed that the coin is going higher from $0.320 and is moving sidwards. In the coming time it will be moving higher.
It is a fine time to long the token now as SMA-20 is below SMA-50 and SMA-200
Technical Instruments:
Pivot: 0.333593
R-1: 0.335026
R-2: 0.335911
S-1: 0.332160
S-2: 0.331275
Note:
The unit is USD
SMA-20: Green colour
SMA-50: Red colour
SMA-200: Blue colour