Solana Week's Worst Performer in Top 100 After Network Restart
The smart contract platform Solana's native SOL token stood out as today's worst performer among the top 10 coins by market capitalization, as well as the week's worst in the top 100. 
The weak performance comes after what has been a rough week for Solana, with a complete network outage and subsequent restart.
At 09:53 UTC, the SOL token, ranked 7th by market capitalization, was down by nearly 13% over the past 24 hours, trading at a price of almost USD 140.
For the past seven days, the coin has now fallen by nearly 26%, the most among the 100 most valuable cryptoassets by market capitalization, per CoinGecko's ranking.
The drop over the past week coincides with the major network outage that Solana experienced on Tuesday after a massive increase in transaction load, which reportedly "flooded" the transaction processing queue.
Following the outage, Solana stakeholders moved to perform a restart of the network, which the Solana Foundation on Wednesday said should restore "full functionality" within a few hours.
Almost a day later, the foundation said on Twitter again that "several mitigations" had been deployed on the network by engineers to "increase network resiliency during periods of extreme transaction load." It added that "a detailed post mortem" report will be published in the coming weeks "as further fixes are deployed."
But with the network now up and running again, SOL's price has continued to suffer in the market, with the tokens of both of the two main competing platforms Ethereum (ETH) and Cardano (ADA), ranked as the second and third most valuable cryptoassets, by far outperforming SOL over the past week. 
At press time, ETH was up 2.4% for the past seven days, while ADA was down by 4.7% over the same period, trading at USD 3,517 and USD 2.40, respectively.
Commenting on the network outage and subsequent restart in the Solana subreddit, some Solana community members took the opportunity to question the decentralization of the network, given how one Solana stakeholder described that validators decided to "stop our nodes" and wait for "Solana Foundation's instructions" on what to do next.
"So a group of basically randos who became validators can meet in private and bring the whole thing to a screeching halt?," one Reddit user asked, while another countered that it's still "early days and new tech."
"It's awesome that the requestors were able to test the environment to this level of stress," the same user added.
Meanwhile, on September 16, the Solana Status Twitter account announced that DYN, "the DNS provider of explorer.solana.com, and several Solana.com domains & endpoints, is currently experiencing an outage." This does not impact the blockchain, they said, while the block explorer remains accessible at solscan.io.
Solana and its native SOL token have seen a rapid growth this year, with SOL rising more than 5,374% on a 1-year basis.
The Solana platform has also seen exponential growth in the total value locked (TVL) in decentralized finance (DeFi) projects on the platform, with a rise from USD 1.22bn on August 1, to USD 9.25bn as of today, per DeFi tracking site Defi llama. 
One Low-Cap Altcoin Set for Massive Supply Shock As Solana Preps for Epic Rally: Crypto Analyst
A popular crypto strategist and trader is predicting a fresh price spike for smart contract platform Solana and says one low-cap altcoin is gearing up for a supply shock.
Pseudonymous crypto analyst Credible tells his 251,900 Twitter followers that he expects Solana (SOL) to ignite a massive rally after breaking out and starting a new wave of its cycle.
"SOL is leading the market and looks to have completed its macro 4th wave as a triangle. This implies we have begun the final fifth wave of SOL's first macrocycle. This is going to be epic and a taste of what we will see across the board in the coming months. Expecting $500+."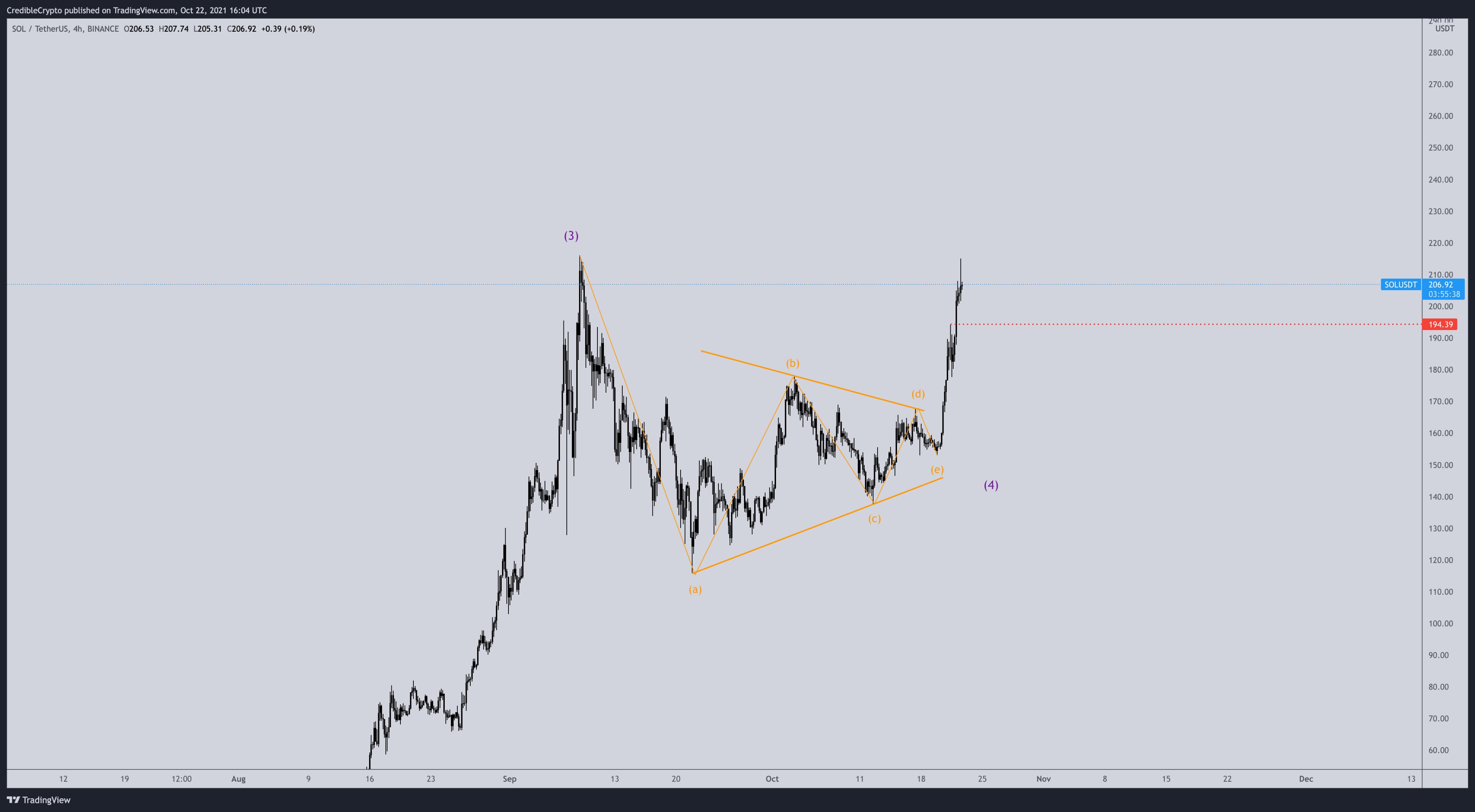 The trader relies on the Elliott Wave theory, a technical analysis approach that predicts future price action by following crowd psychology that tends to manifest in waves.
The crypto analyst is also keeping a close watch on Curve (CRV), the governance token of stablecoin-focused decentralized exchange Curve Finance. According to Credible, he expects CRV to surge as high as $6.50 now that it has taken out key resistance at $3.50.
"CRV is synergistic with CVX (Convex Finance). I can't explain the mechanics in a tweet – but when CVX goes up it increases the inherent value of CRV and when CRV goes up it increases the inherent value of CVX."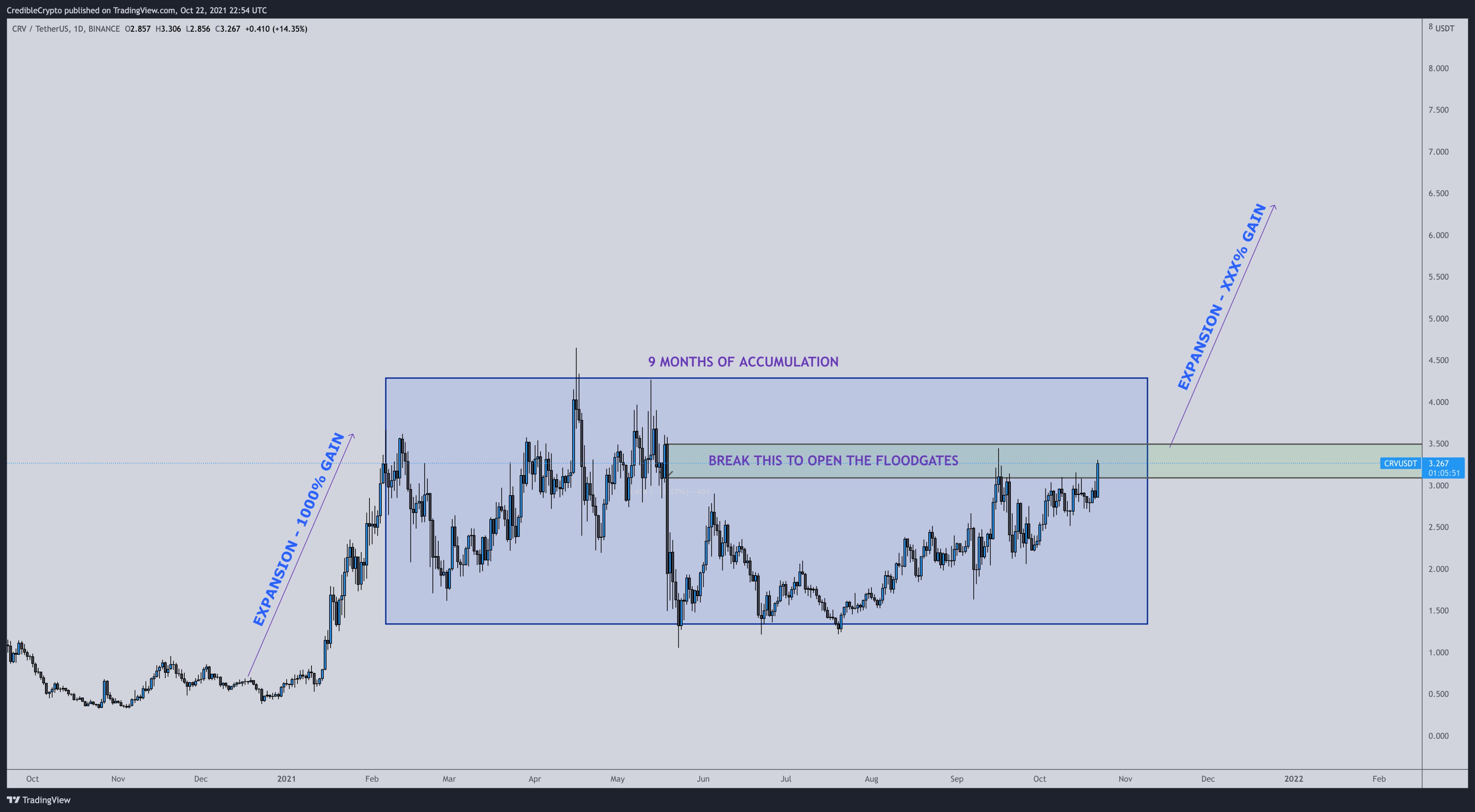 Convex Finance is a platform designed to help CRV token holders and liquidity providers earn additional interest rewards. At time of writing, CRV is trading at $3.75 while CVX is exchanging hands at $19.61, according to CoinGecko.
Credible says he's bullish on Curve because nearly 90% of its supply is locked for the coming years.
"Oh, and 89% of all circulating CRV is locked away for around 3.7 years lmao. So when we DO break out and everyone is clamoring to join in on the green candles, there is going to be a massive supply shock that sends prices even higher, faster. Get yours before it all starts… Yea so locking generates voting power – which in turn is used to boost yields for other protocols – so vote locked CRV is in high demand."

Solana (SOL) New Prediction Is Out: SOL To Outperform Bitcoin And Ethereum – How High Can It Go?
Amidst the booming crypto market, there are all kinds of bullish predictions and the latest one involves Solana (SOL).
It's been recently revealed that an important crypto trader and an analyst said that Ethereum competitor Solana is gearing up to surge by more than four times from the current level.
Smart Contracter said the following:
monthly reminder $900 sol is not a joke, it's gonna happen https://t.co/h9zN4DSxpP— Bluntz (@SmartContracter) October 21, 2021
The trader relies on the Elliot Wave theory.
eth/btc looks bullish, sol/btc looks bullish, but sol/eth also looks bullish, so naturally $sol is my largest bag and i believe it outperforms btc and eth. pic.twitter.com/gCSFAICpYk— Bluntz (@SmartContracter) October 20, 2021
It's essential to note the fact that the Elliot Wave theory is a method of identifying where assets are heading; it does this by using crowd psychology, which tends to manifest itself on charts in a series of waves.
"Monthly reminder $900 Solana (SOL) is not a joke, it's gonna happen…ETH/BTC looks bullish, SOL/BTC looks bullish, but SOL/ETH also looks bullish, so naturally SOL is my largest bag and I believe it outperforms BTC and ETH."
More SOL predictions reveal new targets for price
It's been just revealed that the prestigious analyst Michaël van de Poppe is currently analyzing the potential path ahead for Ethereum and Solana, as well as internet-scale blockchain Elrond.
The analyst is also analyzing Solana (SOL), and he is expecting the digital asset to continue its correction before it could restart its uptrend and print a new all-time high at $240.
"At this stage, jumping into Solana is quite tricky, to be honest. If you're looking at the price action, you want to look at support levels to jump into."
He also continued and explained:
"So you're looking at those ranges ($122, $97 and $78) to potentially build your position towards the next run as the assumption is that we most likely are going to get run over it in the next phase of this bull cycle."
Top Crypto Trader Says Ethereum Rival Solana Will Outshine Both Bitcoin and ETH – Here's His Target
A leading crypto trader and analyst says an Ethereum (ETH) competitor appears ready to surge by more than four times its current levels.
The trader pseudonymously named Smart Contracter tells his 174,900 Twitter followers that Solana (SOL) will outshine both ETH and Bitcoin (BTC).
His target price is now $900 – an appreciation of more than 360% from SOL's current value.
The trader, who primarily relies on Elliot Wave theory, says Solana is bullish when paired against Ethereum, which is itself bullish when paired against Bitcoin.
Elliot Wave theory is a method of identifying where assets are heading using crowd psychology, which tends to manifest itself on charts in a series of waves.
"Monthly reminder $900 Solana (SOL) is not a joke, it's gonna happen…
ETH/BTC looks bullish, SOL/BTC looks bullish, but SOL/ETH also looks bullish, so naturally SOL is my largest bag and I believe it outperforms BTC and ETH."
According to CoinGecko, Solana is trading at $192 at the time of writing, down about 10% from its September all-time high.
Smart Contracter says he believes Solana's recent resurgence is in its early days after the altcoin rose above two key levels of resistance.
"Got SOL low key breaking downtrends of two different degrees, this bad boy runs hard when it gets going and it's only just getting started here."
The top crypto trader says that last month Solana began displaying similar chart behavior to Binance Coin (BNB), which surged by over 1,600% to a record high between January and May this year.
He says that if Solana replicates BNB's pattern, a price of $900 is in the cards.
"Same vibes, same narrative…
If SOL follows the run BNB had it can go to $900."