A rally for Chainlink might be fueled by these key factors
Some blockchains take the "slow and steady wins the race" approach while others believe in surging exponentially in one go. It won't be wrong to say that Chainlink falls in the former category.
Chainlink, the market's 14th ranked alt, has been one of the projects stepping on the toes of cutting-edge technology. The altcoin has been at the forefront of industry collaborations and integrations, each of which has played a pivotal role in its growth.
Right now, LINK's price is struggling again. What is it that could potentially pump the alt?
Gaming boom, booming price?
Many tokens have had a pleasing fate amid speculations of a gaming summer a couple of months ago. In fact, top tokens in the gaming space like Axie Infinity, Enjin Coin, Decentraland, and The Sandbox have also seen noteworthy gains in the past.
So, it only made sense to jump on the bandwagon and reap the advantages of the same. Luckily, Chainlink's price feeds and VRF (Verifiable Random Function) solutions happened to be in the right place at the right time during the play-to-earn blockchain gaming boom.
Furthermore, recently, Chainlink solutions were integrated into CryptoZoon and Legends of Bezogia. The first one is an advanced network of professional nodes sourcing data about market prices. The second one is a top-notch random number generator on blockchain with support for smart contracts.
LINK is an old player in the space and a large-cap alt. Thus, these integrations and technical advancements have the potential to power its growth further.
Metrics painting a bullish picture?
Of late, Chainlink has been struggling for a pump more than other large-cap alts and some of the L1 DeFi coins. However, all hope wasn't lost as LINK recently broke north with good trade volumes to reclaim the $30-mark after retesting the $29-resistance for the 3rd time. 
Despite high trade volumes that supported this movement, the altcoin couldn't hold the $30-level and saw an almost 5% dip, at press time.
However, on the upside, LINK's network growth has been on a healthy trajectory since mid-July, establishing higher highs and higher lows. The bullish bias is there as long as there's no major deviation of network growth v price.
Finally, LINK's daily active addresses bounced off the 3-month low in mid-July and have been gradually increasing since.
This was indicative of healthy network activity as DAA stabilized and market participants started to come back in. However, the MVRV 7-day highlighted that all short-term holders are in profit at the moment – Something that could incentivize them to take some profits.
Thus, while metrics flashed some bullish signals, it would ultimately come down to Chainlink's technology and ecosystem-centric developments. These will be key to LINK's rally going forward.
Chainlink to present buy opportunity before LINK rises to $38
Chainlink price could create an extremely bullish entry opportunity.
An over 40% gain over the present value is likely.
Chainlink, like all cryptocurrencies, is at the mercy of Bitcoin's post ETF hype price action.
Chainlink price could create one of the most sought-after bullish entry setups in Point and Figure analysis: the Bullish Catapult. However, buyers must keep Chainlink above a certain price threshold, or the pattern will be invalidated.
Chainlink price targets an entry at $29.50 to begin launch towards $38
Chainlink price on the Point and Figure chart below displays clear examples of whipsawing price action and general indecision. First, a triple-top formed at $28.50, followed by a bullish entry alert at $29. However, sellers took control and created a new column of Os (the current O-column). At first glance, it looks like a continuation of indecision – but it is, in fact, a setup for the Bullish Catapult pattern.
A Bullish Catapult pattern forms off of a triple-top and then a following double-top pattern. The Bullish Catapult is so sought after because of the nature in which it traps short sellers. The theory is that the initial spike following the entry is generated mainly by a short squeeze and other trapped shorts. For Chainlink price, the entry is at $29.50. The vertical profit target method in Point and Figure analysis identifies $38 as the target following the breakout.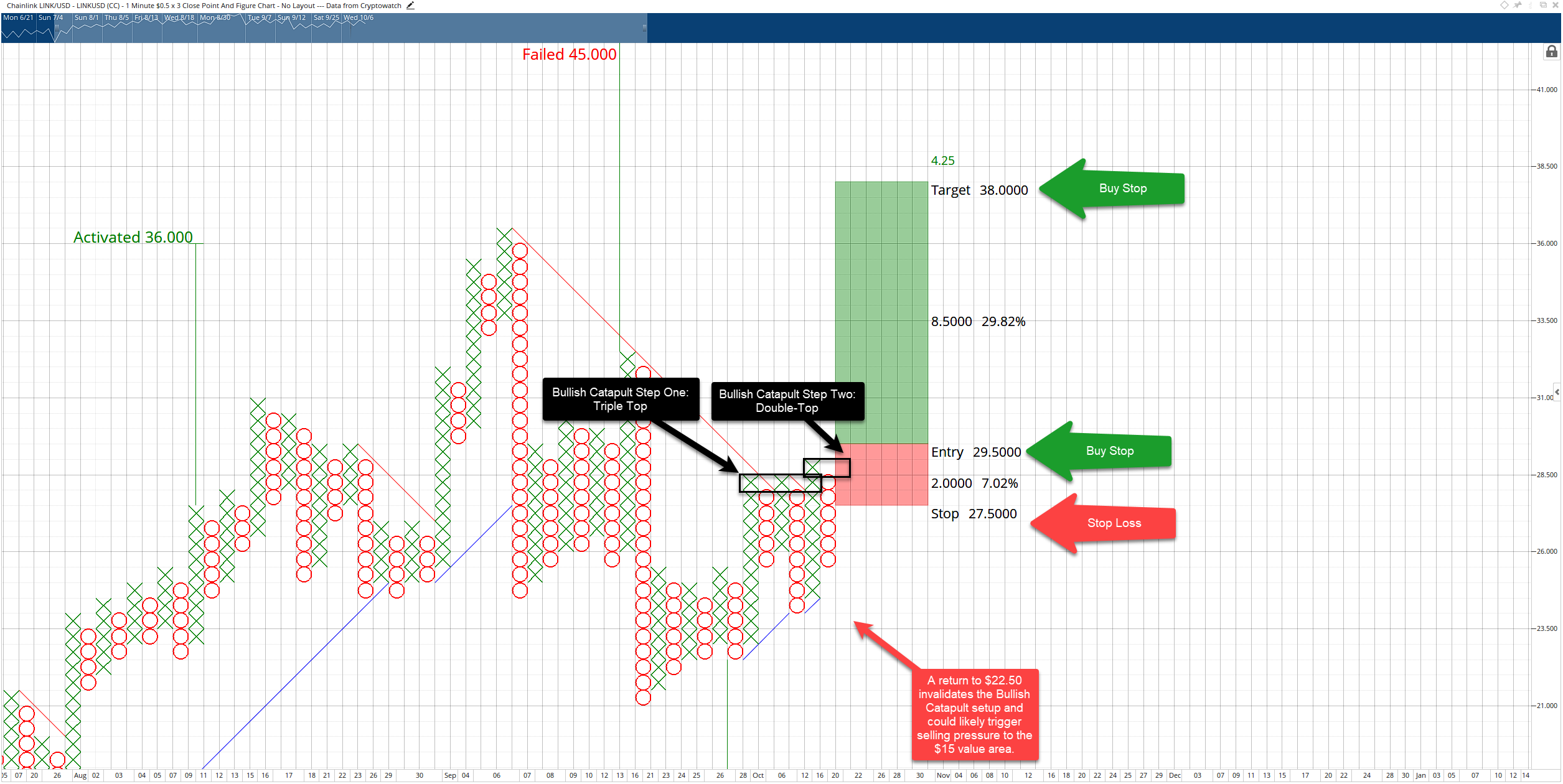 LINK/USD $0.50/3-box Reversal Point and Figure Chart
However, the bullish breakout is contingent on how Bitcoin will react to the first trading day of the futures ETF that launched on Tuesday. If buyers can sustain Bitcoin's price action, then Chainlink will have a high probability of hitting the $38 level. On the other hand, if sellers come in, then Chainlink is under threat of returning to the $15 value area.
If Chainlink price returns to $22.50 or lower, the Bullish Catapult setup is invalidated.
Whales Accumulate Huge Chunk of LINK! A Massive Chainlink Price Action Awaits!
Chainlink Whales Stock Up LINK Amid Strong Bullish Sentiments!
The ongoing quarter of 2021 is looking historically bullish for the entire crypto space. With a display of a significant number of green candles, the broader crypto market reclaimed the $2.5 trillion market cap. Meanwhile, Chainlink's recovery has been consistent over the last month, as whales have accumulated a huge chunk of LINK tokens. With groundbreaking collaborations, the altcoin is preparing for massive price action ahead!
Chainlink Whales Busy Accumulating!
According to the recent reports of Santiment, large wallet addresses with 1 million to 10 million have bought 167.7 million tokens worth $431 million. Hence, 25% of the total circulating supply is locked by whales now. Despite the LINK price being highly volatile over the last 4 months, whale traders have accumulated ATH of 16.8% of the total link supply during the recent price drop. Increasing scarcity in the asset will uplift the price momentum in the coming days.
🔗🐳 #Chainlink sits at a modest $25.70, but whale traders are staying busy & adding to their bags. Addresses with 1M to 10M $LINK now own 167.7M tokens worth $431M. In the last 4 months, through this volatility, these whales have added 15.2% more $LINK. https://t.co/MJcXwUTvz0 pic.twitter.com/N8xqjE240s— Santiment (@santimentfeed) October 19, 2021
On the other hand, the altcoin is working on more collaborations and upgrades to further boost the price action. In the past 24 hours, the platform has collaborated with three prestigious tech firms.
Chainlink partnered with POCOLAND to help traders to purchase characters, items, and types of equipment in its digital market space.
Dreams Quest announced its collaborations with multiple Chainlink services to integrate its dynamic NFT gaming experience. 
On the same day, Chainlink partnered with BaconDAO. This integration will facilitate a verifiably tamper-proof source of randomness on-chain. 
Chainlink Price Analysis:
The Chainlink price is trading at $25.90 with 0.96% gains in the last 24 hours. Observing the 4-hour chart, the altcoin formed an M-shaped pattern and is on the verge of breaking down. However, in September 2021, the altcoin twice formed a W pattern. But, the asset failed to breakout to the next level. Hence, as RSI and MACD factors are indicating bullish signals, the asset could consolidate for some time now before starting with an uptrend.
Collectively, with an increase in bullish sentiments, the price could surpass the crucial resistance above $33 to make its way for the new ATH. On the contrary, if the pattern continues the altcoin could settle at $21.24 levels.  Overall with a surge in whale accumulation and reduction in sell-off pressure the altcoin could boom to new milestones soon. 
Chainlink Whales Now Hold $431 Million in LINK, Having Bought Dip: Details
Recent on-chain data shows that large holders of crypto have added 15.2% of LINK supply to their holdings, buying on the dip.
Santiment on-chain data vendor has taken to Twitter to share that crypto whales continue to acquire LINK on the dip, adding over 15% of the LINK supply to their holdings in the past several months.
"Whale traders are staying busy"
The Santiment team has tweeted that while the 17th-biggest cryptocurrency, Chainlink, is trading at the $25.70 low, large cryptocurrency investors and traders, known as whales, have been buying the dip.
Over the past four months, they have purchased 15.2% of the LINK supply, despite the volatility demonstrated by the coin. The highest peak reached by LINK in this period was $34.78 on Sept. 6 and the lowest level hit by the token was $13.78 on July 13.
Now, wallets with 1-10 million LINK own a whopping 167.7 million tokens. That is the equivalent of $431 million. Overall, these wallets now hold 16.8% of the LINK supply.
🔗🐳 #Chainlink sits at a modest $25.70, but whale traders are staying busy & adding to their bags. Addresses with 1M to 10M $LINK now own 167.7M tokens worth $431M. In the last 4 months, through this volatility, these whales have added 15.2% more $LINK. https://t.co/MJcXwUTvz0 pic.twitter.com/N8xqjE240s— Santiment (@santimentfeed) October 19, 2021
Top 10 LINK whales hold 62.7% of supply
Earlier, Santiment reported that the top 10 Chainlink whales were unwilling to hold their crypto riches for a long time and kept redistributing their LINK stashes to investors with smaller wallets.
LINK is around 51% below its all-time high of $52 reached in May of this year, trading at $25.70 at the moment. As it happened, LINK dropped 73.72%, declining to a $13.70 low in June.
On Sept. 15, a partnership between Chainlink and Cardano was announced during Cardano Summit 2021. The largest proof-of-stake (PoS) blockchain plans to leverage Chainlink oracles for building advanced smart contracts.
However, that did not have any effect on the LINK price.