Institutional investors are increasingly interested in bitcoin according to a Fidelity study
The appetite of institutional investors for Bitcoin continues to increase according to the latest Fidelity study entitled " THE INSTITUTIONAL INVESTOR DIGITAL ASSETS STUDY ". 52% of respondents said they have a position in bitcoin or some other digital asset.
For most of these investors, current cryptocurrency market conditions have catalyzed their choice to invest in this asset class. According to the study report, European investors have a more progressive view of digital assets than American investors when comparing their responses to different categories of survey questions. But, Asians are far ahead of their Western counterparts in terms of acceptance of digital currencies. Almost 70% of them, invest in cryptocurrencies.
This study has just confirmed a global trend where institutions from all over the world are seriously starting to look into the possibility of buying bitcoin. According to the results of a survey conducted by the Russian Association of Forex Traders (AFD) of 502 investors to test their behavior vis-à-vis cryptocurrencies, 77% responded that bitcoin is a better investment than other other traditional asset classes.
The demand for bitcoin and cryptos is growing …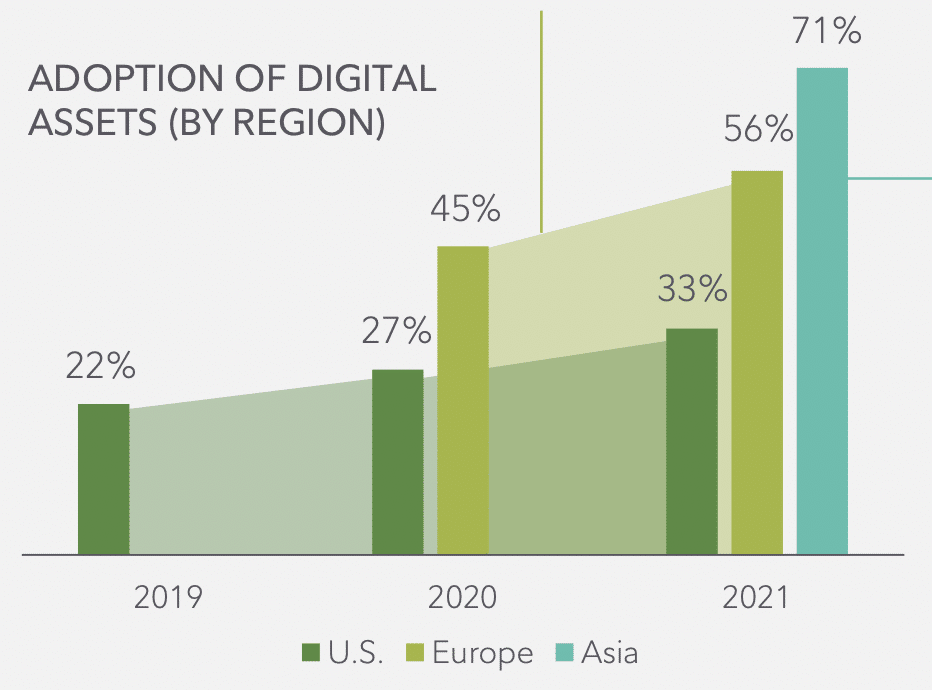 The pace of digital asset adoption has increased to a fairly significant level over the past two years. The adoption rate of cryptocurrencies rose from 27% to 33% in the United States between 2020 and 2021. Even more growing in Europe, the adoption of cryptos has increased from 45% to 56 during this same period. In Asia, where data is only collected for this year, adoption is 71%.
The statistics are expected to be even bigger for years to come as investors are very vocal in their desire to keep investing in cryptocurrencies. According to the Fidelity report, the intention to purchase digital goods for the coming years is 60% for American investors, 75% for Europeans and 80% for Asians. The perception of institutional investors confirms this desire for investment. 70% of the 1,100 investors surveyed have a neutral to positive perception of digital assets.
As for the type of investment, the trend is contrasted between regions. The study tells us that in the United States, investors surveyed increasingly prefer investment products to direct purchases of digital assets. While in Europe and Asia, the opposite is true. Investors in these regions prefer the direct purchase of digital assets than investing in investment products.
Bitcoin is the most purchased cryptocurrency by investors. 21% of the 33% of US investors who hold cryptos own BTC wallets. In Asia and Europe, the digital asset portfolios of these investors are made up of 45% and 46% of bitcoin investments, respectively. Ethereum comes next with 10% Holders in the United States, 27% in Europe and 22% in Asia. After that, we have cryptocurrencies like Litecoin, XRP, Bitcoin Cash and Binance Coin.
Return as the main motive for investing

Importantly, in this year's survey, almost nine in ten respondents said they find digital assets attractive (86%). All this interest in cryptocurrencies is mainly due to one factor: the profitability of these products. 43% of investors said they were attracted to cryptocurrencies because they have a high potential for growth in the future.
The technological innovation at the base of these assets is driving profitability with nearly 39% of the interviewees who share this feeling. Its decorrelation with other financial assets completes the podium with 37% of the total survey participants.
Volatility: The biggest barrier to entry!
There is no doubt that volatility is the biggest scourge facing digital assets. This is something that makes investors a bit confused about investing in this asset class. According to data provided by the study, 54% of respondents find price volatility to be the biggest barrier to cryptocurrency adoption. After the volatility issue, the lack of fundamental data to assess an appropriate value is the second thorn that hinders the attractiveness of the sector with 44% of interviewees who think so.
Other elements that critics of bitcoin talk about quite often can be found in the list of barriers to entry. Regulatory framework, protection against loss, market manipulation are other repelling factors identified by the 1,100 survey participants.
In conclusion, bitcoin and other cryptocurrencies are in the process of becoming a normal class for investors even if the sector still has to resolve to improve some small negative points. But, when you consider that modern economies will not be immune to the scourge of inflation and that cryptocurrencies represent a good hedge, adoption should continue to increase in the years to come.
Bitcoin Price Analysis: BTC breaks above $65,000 all-time high, further upside to follow today?
Bitcoin price analysis is bullish.
BTC/USD set a new all-time high at $67,000 yesterday.
Slight retracement to retest $65,000 as support overnight.
Bitcoin price analysis is bullish today as a higher low has been set after a retest of $65,000 as support. Therefore, we expect BTC/USD to continue higher over the next 24 hours.
The cryptocurrency market traded with strong bullish momentum over the last 24 hours. Bitcoin gained 3.12 percent, while Ethereum gained 12.35 percent. Meanwhile, Solana (SOL) continues to dominate the market, with a gain of 20 percent.
Bitcoin price movement in the last 24 hours: Bitcoin sets new all-time high at $67,000
BTC/USD traded in a range of $63,807.96 – $66,930.39, indicating substantial volatility over the last 24 hours. Trading volume has increased by 34.33 percent and totals $49.2 billion, while the total market cap trades around $1.24 trillion, resulting in the market dominance of 46.29 percent.
BTC/USD 4-hour chart: BTC to reach $68,000 today?
On the 4-hour chart, we can see Bitcoin price slightly retracing overnight as bulls prepare for another push higher today.
Bitcoin price action has seen steady growth so far in October. After a several-week consolidation above $41,000 at the end of September, a strong push higher was seen on the 1st of October.
Since then, BTC/USD has seen steady growth with several higher highs and lows set. From the previous major swing low of $41,000 to the current swing high of $67,000, BTC has gained around 63 percent.
Yesterday, the previous all-time high of $65.000 was broken clearly, further indicating strength for the momentum. Overnight a slight retracement back to the $65,000 mark was seen as bears looked to retest it as support, likely before further upside is seen today.
Bitcoin Price Analysis: Conclusion
Bitcoin price analysis is bullish as a slightly higher low has been set after a retest of $65,000 previous resistance as support. Therefore, we expect BTC/USD to continue higher over the next 24 hours.
While waiting for Fantom to move further, read our guides on LTC wallets, Gero wallets, and  DeFi wallets.
PayPal co-founder suggests he's underinvested in Bitcoin while it records new ATH
Bitcoin [BTC] did it once again. The asset broke its own record and caught the attention of the entire globe. Amidst this, PayPal's co-founder, Peter Thiel expressed his angst over being "underinvested" in the world's largest cryptocurrency.
The crypto industry as a whole garnered immense popularity over the last couple of years. From being closely regarded as an instrument that carries out illicit activities, to being adopted by governments across the globe, Bitcoin has certainly come a long way. Now, with a market cap of $1.2 trillion, Bitcoin stands as one of the most prominent currencies in the world.
Earlier today, BTC pushed past its previous all-time high of $64,899 and managed to hit a new high of $66,930.39. While BTC HODLers rejoiced this surge, an array of people were rather disappointed that they hadn't poured in their money into the king coin. One of them was PayPal's co-founder Peter Thiel.
PayPal's co-founder talks crypto
During a recent interview, PayPal's Thiel revealed why he felt underinvested in the asset. He added,
"You're supposed to just buy Bitcoin. I feel like I've been underinvested in it."
The latest move of Bitcoin was lauded by the entire market. Speaking about the effects of BTC's ongoing rally, the PayPal co-founder suggested that "we are at a complete bankruptcy moment for the central banks."
An array of people took to Twitter and made their own predictions about Bitcoin. While some suggested that BTC was slated to endure a major fall, a few others noted that the coin could be aiming for $70K. Tesla's Elon Musk had a rather bizarre prediction for the coin.
The Tesla CEO's latest tweet read,
pic.twitter.com/pCO0wNNZtz— Elon Musk (@elonmusk) October 21, 2021
Bitcoin's rally certainly paved the way for several altcoins hitting new highs. Ethereum PETH], the second-largest cryptocurrency followed the footsteps of BTC and managed to hit an all-time high of $4,366.
PayPal has played a major role in the crypto-verse in the last year. From opening doors to crypto and constantly remaining bullish about it, has pushed several assets to a new level.
This Catalyst Could Trigger Long-Term Bitcoin Rally
Bitcoin is surrounded by all kinds of optimistic predictions these days especially since the king coin managed to smash through all-time highs the other day.
At the moment of writing this article, BTC is trading in the green, and the king coin is priced at $65,933.90.
This trigger could boost Bitcoin
Popular analyst Benjamin Cowen just said that one overlooked catalyst could ignite a big long-term rally for Bitcoin (BTC).
During a new strategy session, the analyst analyzes the dollar index (DXY), which compares the US dollar against a basket of other major fiat currencies.
As the online publication the Daily Hodl highlighted, a weaker dollar can often imply higher prices in many assets.
He also said that one thing that could put extra bullish energy behind Bitcoin is the DXY beginning a macro trend downward.
Cowen explained that the DXY is potentially on the edge of a bearish trend as it gets rejected from its 100-week simple moving average (SMA).
"Ideally speaking, in order to really be the best conditions for Bitcoin, we'd like to see this keep coming on down. This would be the best condition for Bitcoin and here's the crazy thing when you talk about the US dollar currency index… Look at the actual macro range."
He said that despite a rising DXY during the majority of Bitcoin's lifetime, the king has still managed to maintain a long-term bullish structure.
The analyst is also analyzing what could happen if the DXY eventually entered a more considerable downtrend.
"The dollar has more or less moved up during that time. It's moved up, but there were a couple of key times when the dollar was moving down and that corresponded to Bitcoin bull markets."
He continued and said the following:
"Imagine what Bitcoin could do if the dollar ended up coming back down… I think that would be incredibly bullish for Bitcoin."