Solana Bullish Prediction Is Out: SOL To Hit $250
Solana (SOL) has been making a lot of headlines, and the coin continues to shine despite the market correction.
Solana has been booming in popularity lately. It's been growing more and more popular among crypto investors, and this has a result in the fact that it's threatening the more established crypto assets.
The digital asset management company CoinShares notes that Solana is seeing more inflows than Bitcoin and Ethereum during the week, which ended on September 13th.
During the past period, when the crypto market has been seeing a significant correction, Solana defied the trend.
SOL in the crypto market
At the moment of writing this article, SOL is trading in the green and the coin is priced at $162.72.
The digital asset is up by more than 16% in the past 24 hours.
The price of this digital asset surged a lot and recorded close to $50 million in inflows compared to Bitcoin's $0.2 million and Ethereum's $6.3 million.
"During last week's price falls, Solana's price was a stalwart, outperforming a basket of the top 10 digital assets by 34%, having risen 24% week-on-week. This was reflected with inflows, dwarfing any other digital asset, totaling almost US$50m."
As Cointelegraph notes, SOL's price extended its slide recently as a major network outage over the past week hit traders' confidence as we already revealed.
"The SOL/USD exchange rate fell up to 13.27% to its intraday low of $133.53 in a corrective trend that began after it topped out near $221.38 on Sept 9," according to the notes revealed by the online publication.
They continued and explained that as a result, SOL's price has crashed by almost 40% since its all-time high last week – but it's also important to note that it tripled its value in the past 30 days.
Here's What's Next for Ethereum, Solana and Elrond, According to Crypto Trader Michaël van de Poppe
Crypto analyst and trader Michaël van de Poppe is plotting the potential path ahead for smart contract platforms Ethereum and Solana, as well as internet-scale blockchain Elrond.
In a new strategy session, Van de Poppe tells his 135,000 YouTube subscribers that he expects Ethereum (ETH) to respect its immediate resistance at $3,900 one more time before finally breaking out.
"At this stage, we're facing resistance for the third time assuming that we might be getting a rally like this (move to $4,000) before we correct a little bit and continue running after the corrective move has taken place on Bitcoin and ETH. In that case, probably around $4,000 we can still hit."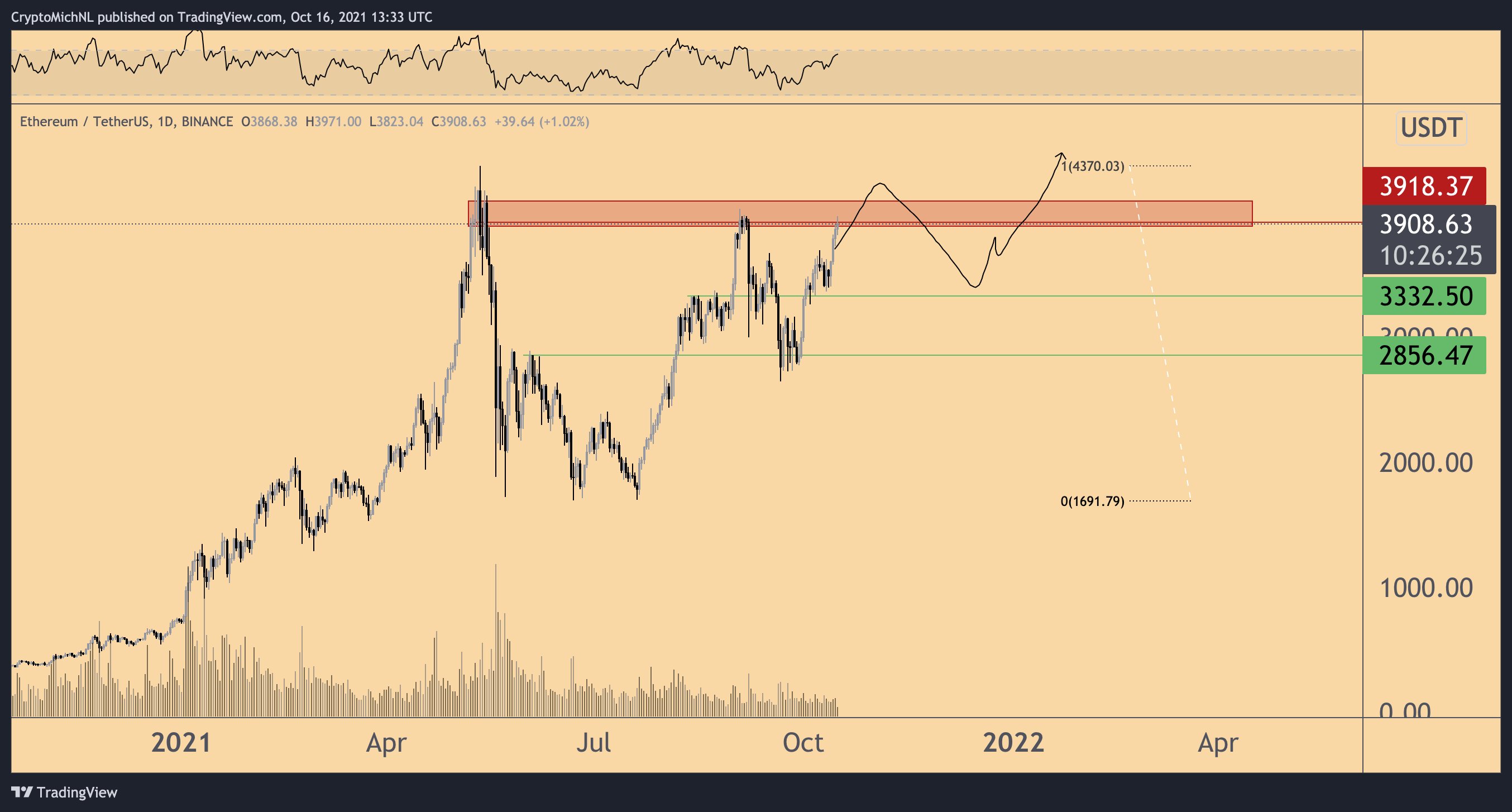 Looking at Solana (SOL), the crypto strategist expects the seventh-largest crypto asset to continue its correction before it could restart its uptrend and print a new all-time high at $240.
"At this stage, jumping into Solana is quite tricky, to be honest. If you're looking at the price action, you want to look at support levels to jump into. So you're looking at those ranges ($122, $97 and $78) to potentially build your position towards the next run as the assumption is that we most likely are going to get run over it in the next phase of this bull cycle."
The last coin on the trader's radar is Elrond against Bitcoin (EGLD/BTC), which he says is poised to print a higher low at its current trading value of 0.0036 BTC, worth $222.87.
"First point of interest hit on EGLD."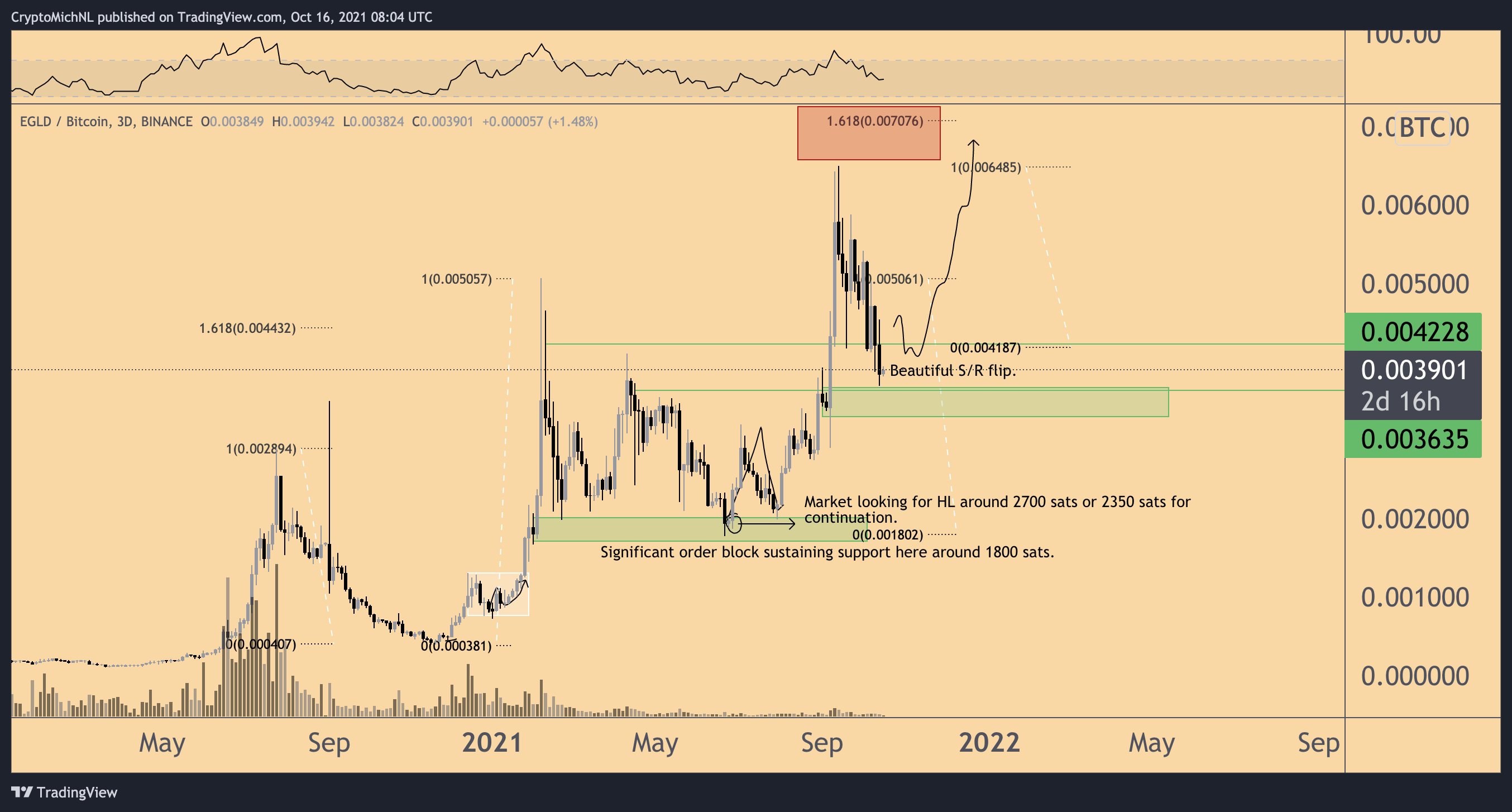 According to the trader's chart, the EGLD/BTC looks ready to ignite a rally to a new all-time at 0.007 BTC ($433.36), marking a potential upside of over 94% from current prices.
Solana price could still hit $200 despite bulls losing the grip
Solana price sees bulls fleeing the scene, as favorable tailwinds from Bitcoin breaking $60,000 do not seem to add further support.
SOL price is getting squeezed against the ascending trend line, where bulls try to support their uptrend.
A breakout looks ready to pop above the yellow ascending top line and could see $200 by the end of this week.
Solana (SOL) price attempted to break above the orange descending top line last Friday, helped by the positive spillover effect from Bitcoin, and that is keeping further upside muted in SOL price action.
But the breakout did not materialize and resulted in a bull trap, and now bulls look to scramble to defend the ascending trend line forming a pennant that looks to break either way. With the uptrend and the Relative Strength Index (RSI) nowhere near overbought, expect the breakout still to favor the bulls and further upside in SOL price action.
Solana price sees bulls defending the ascending side of the pennant
Solana price favored the upside and rode along with the Bitcoin rally to break the orange descending top line at $175. But the break turned into a small bull trap and price in SOL faded back below the top line. A short-term ascending trend line has formed a pennant and already withstood three tests to the downside. Expect bulls to still defend this trend line.
By doing so, SOL price will attract more buyers into the price action. With the RSI at 54, buyers have no reason not to add more Solana coins to their portfolio. Expect entries at $157-$158, which will build momentum for a breakthrough in the top line again, with a first target at $180 for short-term profit-taking.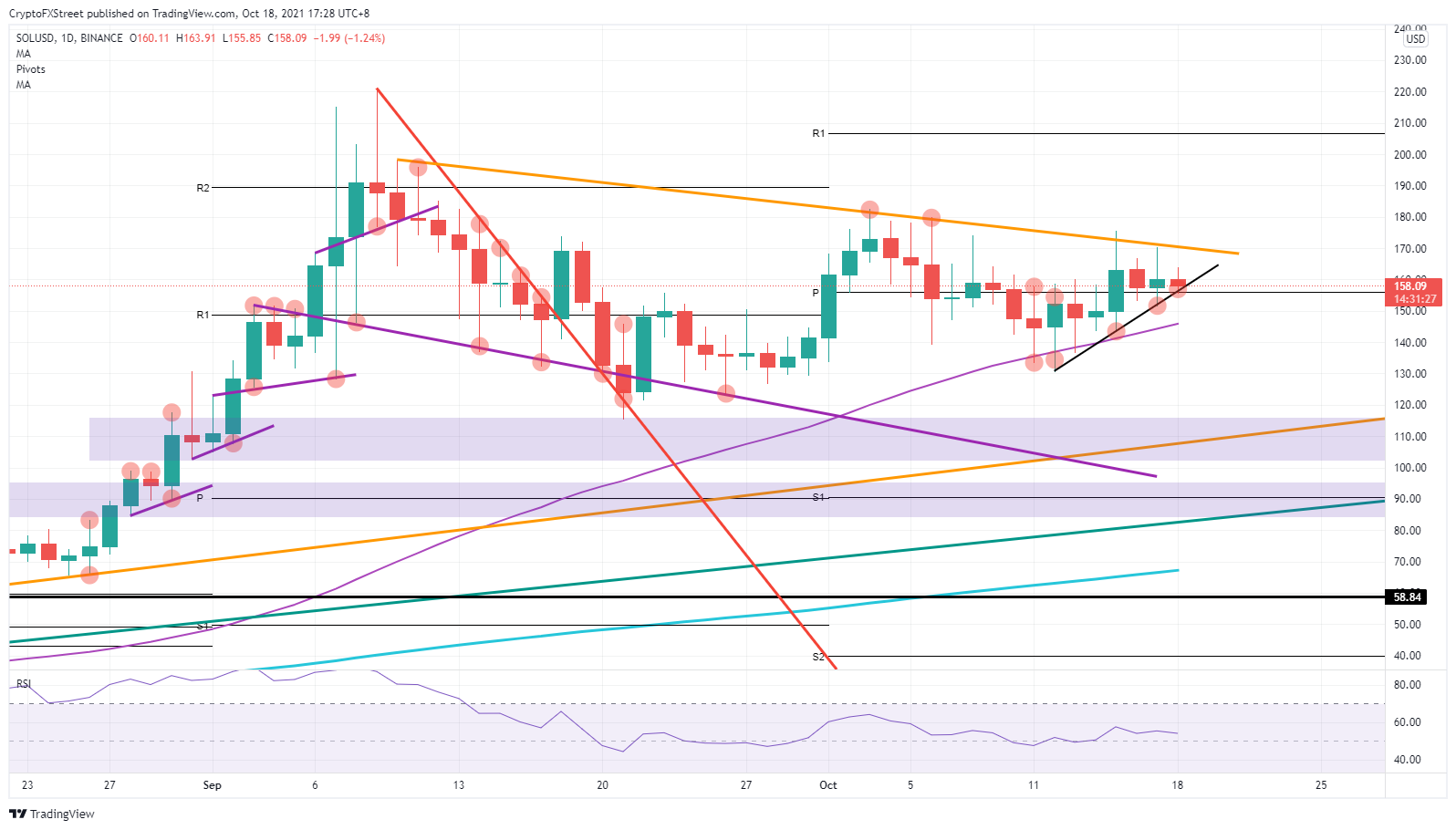 SOL/USD daily chart
SOL price hitting $180 will prove to be a tipping point. If Bitcoin price could be on the route towards new all-time highs, expect some positive spillover effects again on Solana price action, as seen last Friday. Bulls will try to add another 20% in Solana towards $200. 
Should the ascending trend line not hold, expect a break lower with the 200-day Simple Moving Average (SMA) to come in at $145. Another leg lower would target $130, with a retest of the low of October. Market sentiment could turn to the downside if Bitcoin started to fade in the wake of new all-time highs.
Solana (SOL) Could Outperform All Digital Assets
There are all kinds of juicy predictions about the price of Solana these days. It's been just revealed that an important analyst and trader believes that SOL could outperform all the other digital assets.
The trader known as Cantering Clark posted online a snapshot of a collection of different cryptos throughout the day.
He noted that even while Bitcoin was receiving all of the attention during its rally past $60,000, SOL quietly outperformed the rest of the market.
"There are so many reasons to have been long SOL to this point. Are you seeing the trend yet? Even on a day where Bitcoin is the main show, Sol is outperforming. Fast horse."
Bitcoin bullish moves
He also addressed Bitcoin's bullish moves and he said that the upcoming ETF is the main catalyst for the king coin.
"How many people are going to get long as hell thinking each confirmation is going to yield a higher result? I believe in the inefficiency of this market. ETF = ATH"
According to Canterin Clark, altcoins to underperform compared to BTC.
"If you think Bitcoin is going to break the ATH soon and you are also positioned heavily in alts, maybe rethink that…Because when Bitcoin breaks the ATH alts are going to get cut down. So yes, the post absolutely makes sense."
At the moment of writing this article, BTC is trading in the green, and the digital asset is priced at $61,862.93.
Bitcoin to reach new ATH
Bitcoin could soon reach new ATHs, and analysts are expecting to see the king coin continue to explode.
Crypto analyst Benjamin Cowen said that Bitcoin bears are worried as BTC's technicals continue to look more and more bullish.
Not too long ago, Cowen said that traders that have been anticipating a bear market ever since the king coin suffered a correction back in May are running out of ways to justify it on the chart.