Shiba Inu price is on the brink of a breakout to $0.00001115
Shiba Inu price made a new low in its existence last week.
SHIB bulls used that correction for a buy-up towards a new high since July.
A few essential technical elements got reconquered by buyers and should provide support in the coming week.
Shiba Inu (SHIB) formed the perfect scenario for a bull trap two weeks ago. In the week after that, price action made new lows in the existence of Shiba Inu, and buyers have used the lucrative move for picking up some Shiba Inu for their portfolio and longs in SHIB.
Shiba Inu price made a new high since the summer and look to add another 30%
Shiba Inu price is back in favor of the buyers after the love between the bulls and SHIB was at an all-time low since the bull trap from two weeks ago. Bulls go lured into buying SHIB at  $0.00000760. The week after that, in a failed attempt to run price action back towards the dotted descending trend line or the R1 monthly pivot at $0.00000900. Instead, buyers got washed out of their long positions, and the price retreated below $0.00000550. 
This event allowed buyers to step in and buy some SHIB at a very attractive discount. This renewed love between Shiba Inu and bulls got confirmed this week with some solid buying into the price action, resulting in a new high since July.
SHIB/USD weekly chart
It will be essential to see if buyers can keep price action above the dotted descending trend line next week. A close above there this week would be helpful as a launching point towards $0.00001115. That is the first fundamental level of importance and has not been adequately tested yet, although there have been several resistances from previous months around this level.  
If sellers cannot close this above $0.00000760, expect another bull trap is taking effect and could see buyers pulling their funds out of Shiba Inu again, leaving the price action in the hands of sellers. A retest of $0.00000500 would be inevitable then.
Shiba Inu Price Prediction: SHIB at edge of 20% ascent if bulls conquer last hurdle
Shiba Inu price is preparing for a 20% rally once it overcomes one last obstacle.
SHIB needs to slice above the prevailing chart pattern's neckline at $0.00002946 before ascending to the October 7 high.
If Shiba Inu falls below $0.00002712, the token would fall back into a consolidation pattern, continuing to trend sideways.
Shiba Inu price continues to consolidate as it moves sideways following the tremendous bull run earlier this month. SHIB has presented a buying opportunity as it edges closer to a 20% rally following the emergence of a bullish technical pattern.
Shiba Inu price awaits climb toward $0.00003543
Shiba Inu price has formed an inverse head-and-shoulders pattern on the 4-hour chart. The prevailing technical pattern suggests a 20% breakout toward $0.00003543, the October 7 high, once SHIB surges above the neckline of the chart pattern at $0.00002946. Until the dog-themed token is able to slice above this one last obstacle, it may continue to trend sideways.
Adding credence to the bullish outlook is the break above the descending resistance trend line that formed since the swing high on October 7. However, before Shiba Inu price could reach the aforementioned optimistic target, there remain two major hurdles: the October 13 high and the October 11 high at $0.00003073 and $0.00003200, respectively.
Shiba Inu price appears to be also devising a symmetrical triangle pattern, with a measured 42% rally if SHIB makes a decisive move toward the upside. Although the token broke above the resistance trend line, it appears to be hovering around the topside trend line of the triangle pattern.
A spike in buy orders could see Shiba Inu price slice above the inverse head-and-shoulders neckline and eventually prepare for a 20% rally.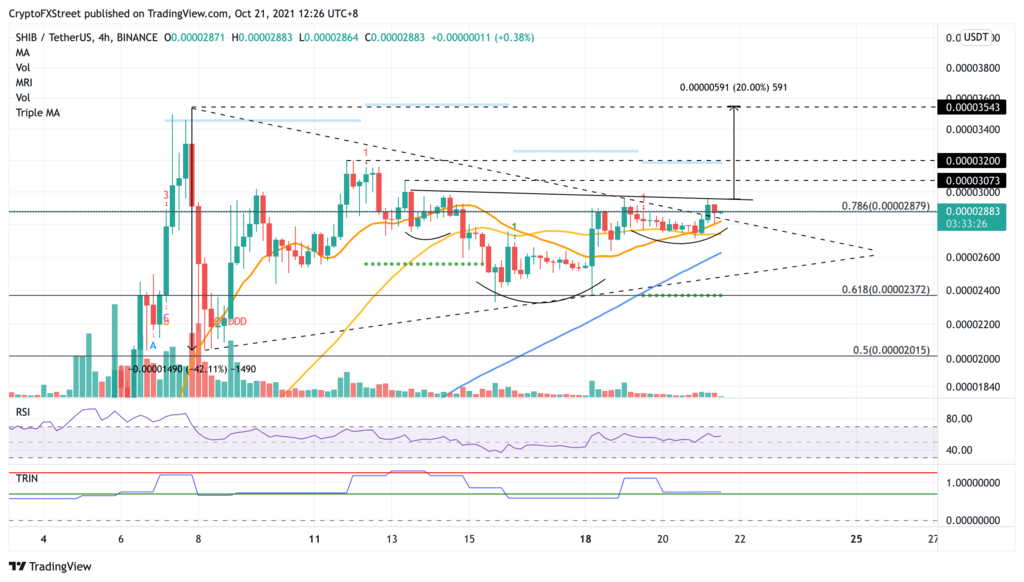 SHIB/USDT 4-hour chart
However, if SHIB suffers weakness and sees its momentum flip to the downside, Shiba Inu price could drop toward the prevailing chart pattern's right shoulder, ruining the bullish outlook.
The first line of defense for Shiba Inu price is at the descending trend line, which coincides with the 21 four-hour Simple Moving Average (SMA) at $0.00002826. Additional support will emerge at the 50 four-hour SMA at $0.00002739, before dropping to the right shoulder's low at $0.00002712. Should SHIB tumble below this level, the token would devastate bulls as the token falls back into the symmetrical triangle pattern, indicating further consolidation.
Additional selling pressure could see Shiba Inu price collapse toward the 100 four-hour SMA at $0.00002626, before descending further, tagging the ascending support trend line at $0.00002497.
Shiba Inu price stares at 15% breakout as SHIB loses directional bias
Shiba Inu price is currently grappling with a crucial support level at $0.0000279.
SHIB could drop 15% to collect liquidity resting below the swing lows around $0.0000237.
Since there is no apparent directional bias, a resurgence of buyers could lead to a retest of $0.0000322.
Shiba Inu price is stuck in a range since it set up the October 7 swing high. As SHIB currently sits on the mid-point of this range, it shows no directionality whatsoever. Therefore, a breakdown of the 50% Fibonacci retracement level could lead to a drop or an upswing if the buyers decide to make a comeback.
Shiba Inu price at inflection point
Shiba Inu price seems to be stuck in a range after its 66% ascent between October 6 and October 7. The trading range extends from $0.0000326 to $0.0000206 and SHIB is trading above the mid-point at $0.0000279.
Since Shiba Inu price has no sense of direction, it could head either way. Therefore, investors need to wait for confirmation.
Assuming a bullish outlook, SHIB needs to bounce off the 50% Fibonacci retracement level at $0.0000279 and produce a decisive 4-hour candlestick close above $0.0000297 to have a chance at retesting the $0.0000322 hurdle. This ascent would constitute a 15% advance from the current position. In a highly bullish case, SHIB could rise to retest the range high at $0.0000353.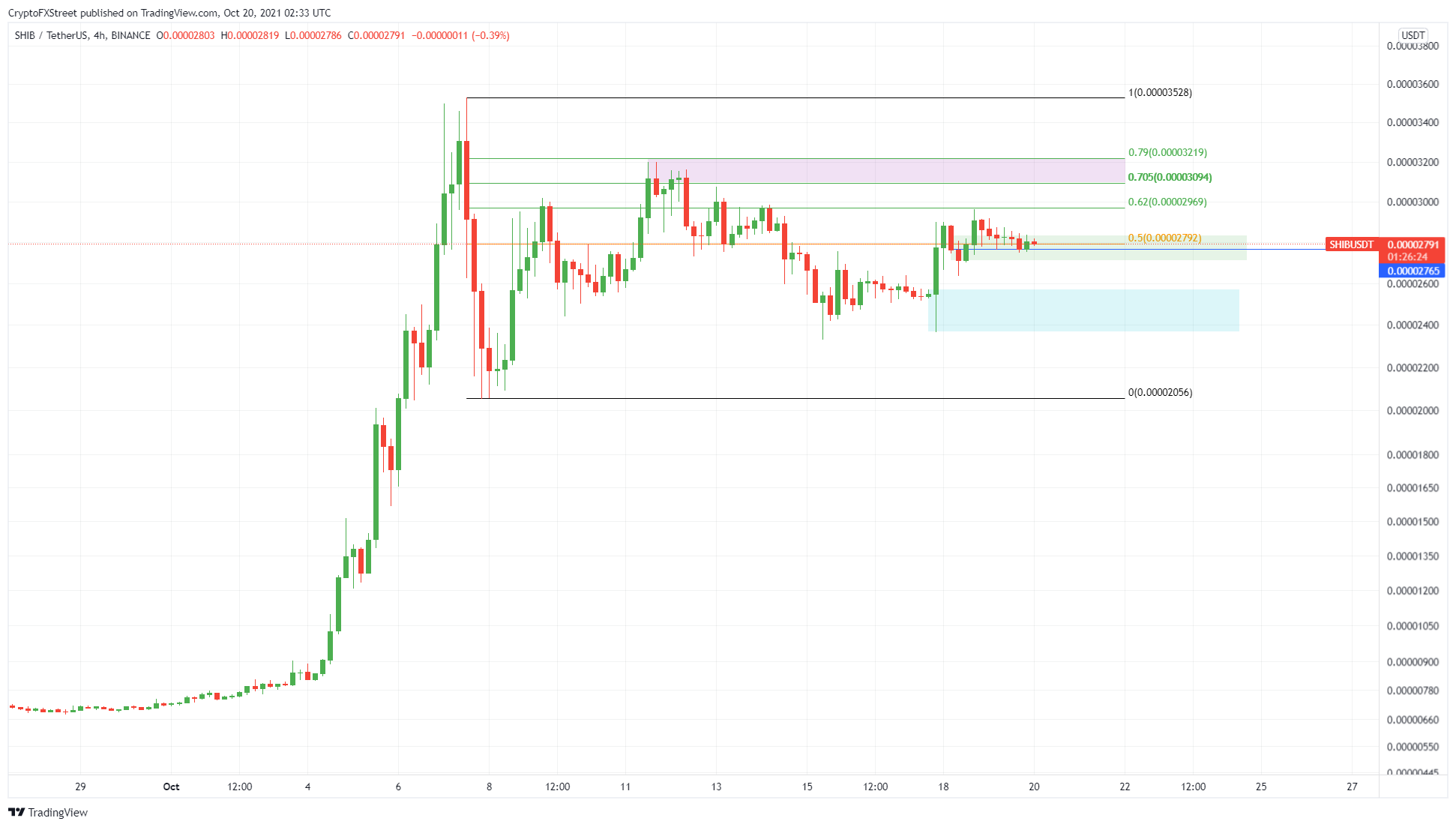 SHIB/USDT 4-hour chart
However, if Shiba Inu price fails to hold above the 50% Fibonacci retracement level at $0.0000279 and produces a decisive close below $0.0000271, it will confirm the start of a downtrend.
In this case, market participants can expect Shiba Inu price to head 15% lower and collect the liquidity resting below the $0.0000237 support levels.
This Shiba Inu On-Chain Metric Could Signal Future Price Rallies: Crypto Analytics Firm Santiment
Digital asset analytics firm Santiment says that traders should keep a close eye on one on-chain metric that can potentially signal major rallies for meme crypto asset Shib Inu (SHIB)
Santiment tells its 109,100 Twitter followers to watch the number of SHIB whale transactions exceeding $100,000.
"When these transactions come in bunches, price rises generally follow."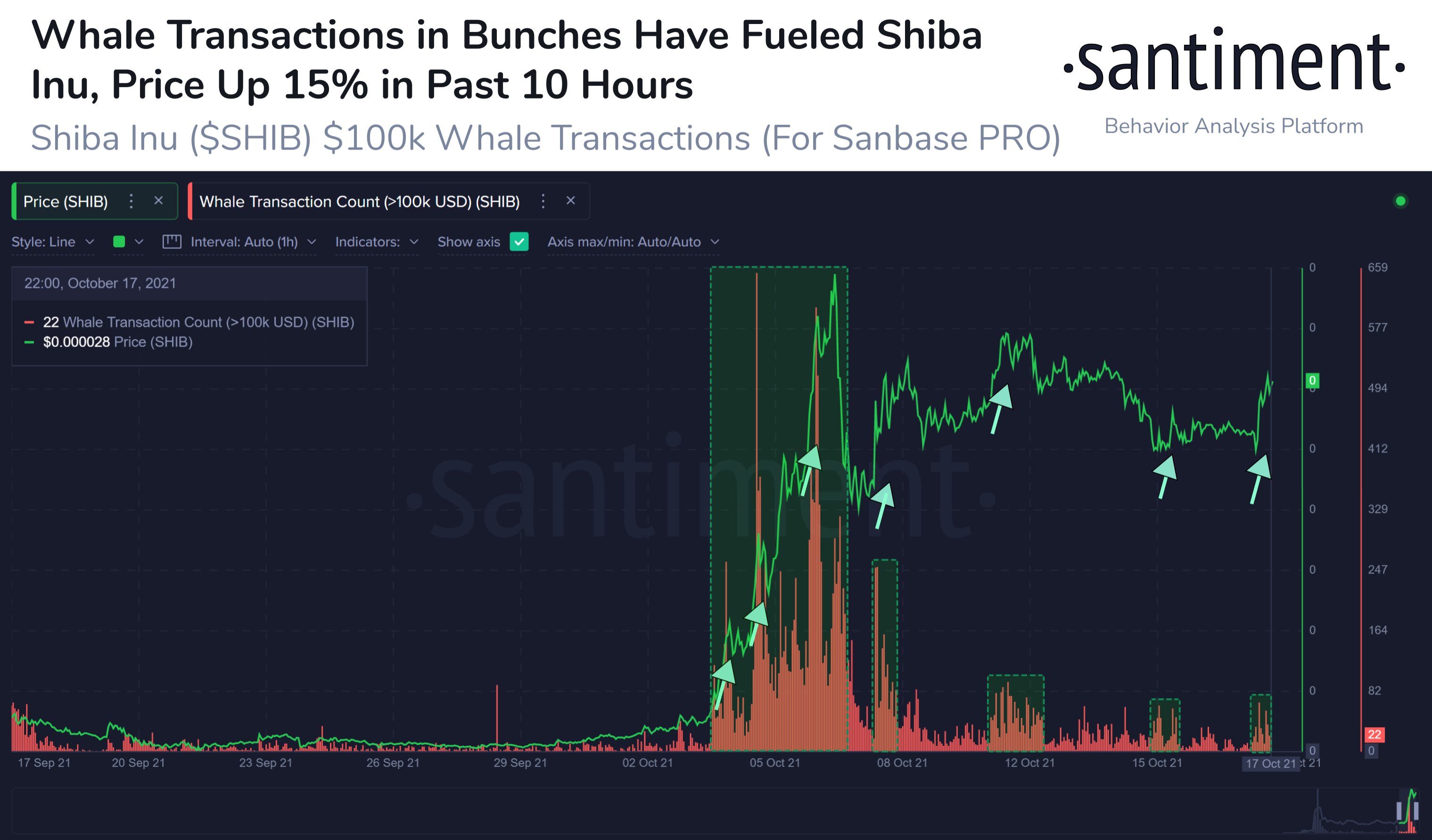 Shiba Inu is exchanging hands at $0.000028 at time of writing, up 112.4% in the past two weeks, according to CoinGecko.
SHIB received a boost last month when Coinbase added support for the Ethereum-based memecoin across all platforms. Earlier this month, Tesla CEO Elon Musk tweeted a photo of his Shiba Inu puppy, igniting another rally for the Dogecoin (DOGE) competitor.
Santiment is also looking at Ethereum (ETH), noting that miners have added over $2.2 billion worth of ETH in the last few months.
"Ethereum has returned above $3,900 for the first time in about six weeks, and an interesting phenomenon has been the absurdly rising miners' balance.
In the past three months, miners have added 580,000 ETH to their currently held 658,000."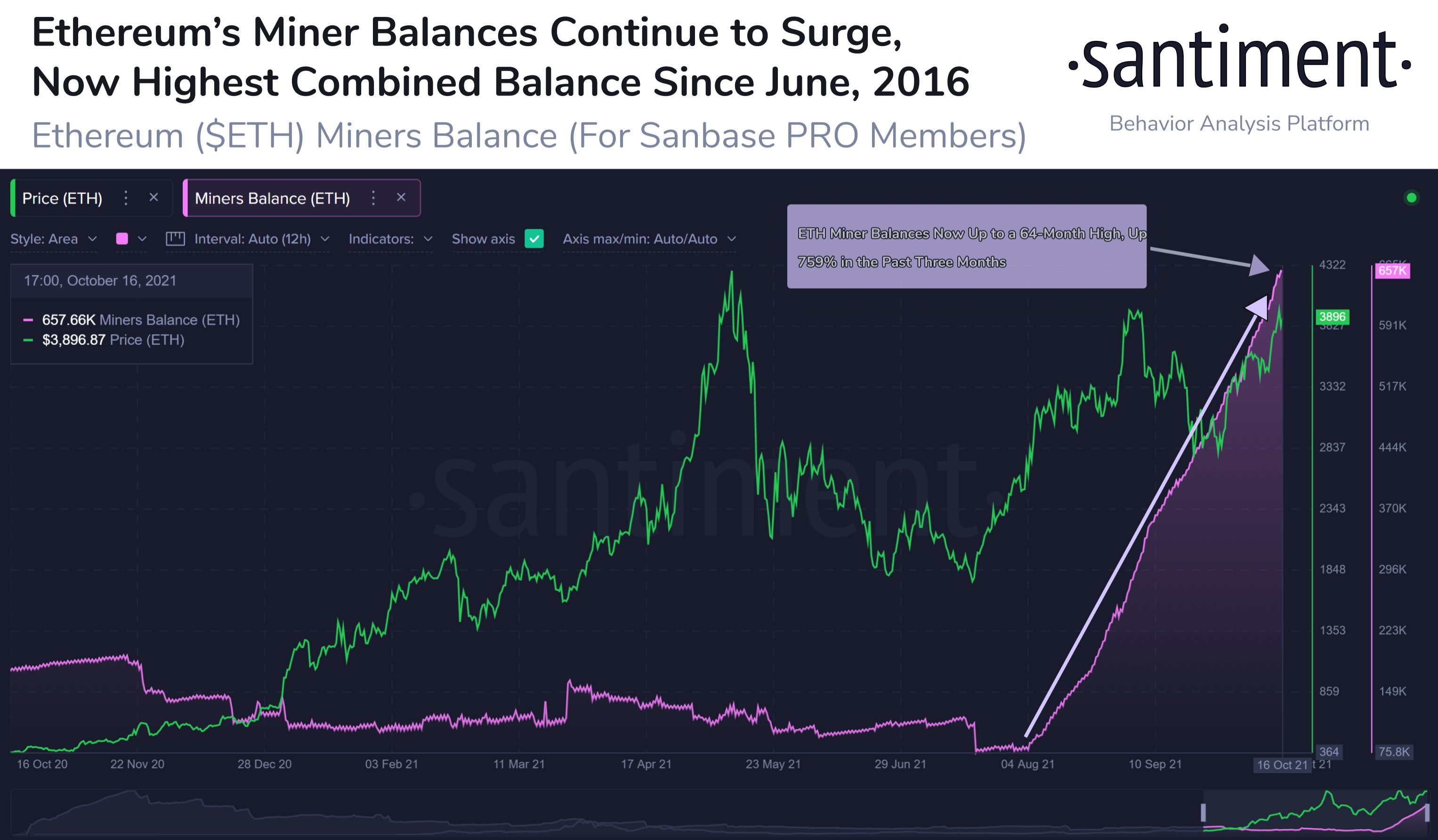 As for Bitcoin (BTC), the crypto analytics firm says that the number of addresses with a balance between 100-1,000 BTC continues to be in an uptrend.
"The number of Bitcoin addresses holding between 100 to 1,000 BTC has grown substantially over the past five weeks.
254 more of these whale addresses now exist compared to five weeks ago, which is a notable 1.9% increase in this short time period."