Stellar Lumens (XLM) Blockchain Powers RealtyBits Investment Platform
Stellar expressed: "Did you know that you can invest in all kinds of alternative assets on Realty Bits? Real estate, energy, startups – YC-backed Realty Bits even lets you invest in other ycombinator companies.
For clarity, Traditional investments are those invested in well-known asset types with the exception of capital appreciation, dividends and earnings from interest. There are generally three types of traditional investments: stocks, bonds and cash or cash equivalents (those assets that can be easily converted to cash, such as a money market account or bank certificate of deposit).
An alternative investment is a financial asset which does not fall into one of the three traditional investment categories. Alternative investments are complex and are not heavily regulated. For this reason, several alternative asset investments are held by institutional investors or accredited, high-net-worth individuals.
An alternative income is anything, which you do not earn through your day job. This could be money that you earn from home business, earned interest and dividends, monetary gifts, or money obtained from bank bonuses, credit card bonuses, or other sources of free money.
These days' investors are looking for alternative income from alternative investment. Traditionally, if an investor had to invest in a private asset, the investor had to first seek out the sponsoring party, mostly the private equity manager, for the particular asset. This will further evolve into an investment process between multiple parties which is arduous, slow, and expensive. In addition, the current tools and technology that is used to facilitate this process are often manual and do not sync well across different systems.
After identifying the pain points affecting investors and sponsors, RealtyBits landed on Stellar as the solution to power their hybrid on-chain and off-chain system.
RealtyBits powers alternative asset marketplaces on top of the Stellar network. RealtyBits Inc, is a marketplace infrastructure provider for private asset investing. It connects verified sponsors and investors to directly transact with each other in a secure and compliant way. Sponsors make use of custom dashboards to manage their cap-tables in real-time and investors through the life of the asset, while investors can browse listed offerings and invest in them freely on the RealtyBits platform.
Umed Latifov, CEO and Co-founder Realtybits expressed: "We realized that Stellar was the best fit for what we wanted to do, because it specializes in financial assets, in asset ownership and efficiency of transfer."
The best part is that users do not even need to know that the Stellar blockchain is what powers the RealtyBits platform. By taking advantage of Horizon, the API for interacting with the Stellar network, RealtyBits lets sponsors and investors take full advantage of Stellar's payment features while navigating via a user-friendly interface at the same time.
News Source
XLM May Get in Trouble If XRP Deemed a Security: XRP Researcher
A researcher from the XRP community believes that XLM and Stellar may get in trouble should the SEC deem XRP a security
Researcher Leonidaz Hadjiloizou has posted a tweet, in which is asks the opinion of the XRP community about which side in the Ripple-SEC legal battle the company's co-founder and former CTO Jed McCaleb would take, if he were to do it.
According to Hadjiloizou, should the SEC win and XRP is deemed a security, then Jed and his company Stellar which he created as a rival to Ripple will be in for hard times. If the court rules that XRP is a security, then McCaleb broke the law by selling these potentially unregistered securities – 9 billion of them that he received from Ripple as compensation as part of the Settlement Agreement.
What is most likely? Jed testifies as an expert witness for Ripple or the SEC?

PS1:If he believed XRP is a security then he broke the law by selling unregistered securities after the lawsuit was filed.

PS2:XLM might get in trouble if XRP is deemed a security on a technical lvl.— Leonidas (@LeoHadjiloizou) October 16, 2021
Besides, Hadjiloizou says that if XRP is announced a security, then the native token of Jed's Stellar, XLM, may also get in trouble and, perhaps, face similar accusations.
So far, no legal action has been filed by the SEC against Jed McCaleb, even though he co-founded Ripple Labs together with Chris Larsen. The latter and the CEO Brad Garlinghouse, along with Ripple Labs, are the defendants in this legal case of the SEC against Ripple.
Jed has been selling his 9 billion XRP in parts, however, he has not sold any coins since September 1.
A New Initiative is Launched by Stellar to Accelerate Blockchain Education
Stellar Development Foundation launched a new initiative with a considerable focus on blockchain education. The new so-called Stellar Next-Gen is focused on helping tomorrow's business leaders and developers.
It's clear that these developers and business leaders will be chosen from those who are interested in blockchain technology and work in the industry. Universities and various education centers will world with SDF in this initiative. The new initiative is toward the goal of SDF to create access to the global financial system for everyone.
Another Opportunity for Blockchain Lovers
Many small teams and junior developers are looking for opportunities to enter the blockchain industry. Many of them have big ideas, and many are looking for some help from experienced teams and companies. Stellar Development Foundation is among the big supporters of new teams and ideas in technology. It has many initiatives and funds for supporting new faces.
The latest announcement from the Foundation is toward this goal, too. Another initiative, this time, focused on blockchain education. Stellar Next-Gen is a new initiative from SDF that works in partnership with universities around the world.
One of the biggest goals of Stellar Next-Gen is to support academic programs and organizations around the world. Some of the examples are Blockchain at Berkeley, University College of London's Centre of Blockchain Technologies, and the National University of Singapore's Fintech Lab. Another goal is focused on underrepresented groups. SDF wants to help communities around the world find easier access to educational material of the blockchain industry. The Foundation sponsors student hackathons to help younger developers.

Creating an inclusive community is among the top priorities of SDF Next-Gen. Denelle Dixon, the CEO and Executive Director of the Stellar Development Foundation, said:
"To build a more inclusive financial system, we have to provide students of all backgrounds the opportunity to learn the ins-and-outs of blockchain technology." They must be empowered to see themselves as part of the solution. This initiative builds on our ongoing work with universities and organizations to make sure the next generation of builders is equipped with the information, tools, and mentorship they need."
The latest initiative from SDF won't be the last program to support new faces in the industry. The Foundation is committed to attracting more developers and ideas to the community, especially the Stellar community. There will be more events and learning programs that are focused on every developer or manager that is interested in blockchain technology.
Stellar to boost network utility with new Matching Fund as XLM edges closer to breakout
XLM price is stuck between $0.342 and $0.318 barriers as it ponders on a directional bias.
Stellar launches the Matching Fund to help early-stage companies interested in building on the XLM blockchain.
A decisive close above $0.342 and $0.355 will open the path for a retest of $0.426.
XLM price has been consolidating since the October 6 rally. In fact, Stellar looks to be on a slow downswing. Due to this development, the altcoin has slid between a stiff resistance level and a stable support floor. Therefore, XLM price needs to shatter either of the barriers to kick-start a move.
Stellar launches the Matching Fund
The Stellar Development Foundation (SDF) has been on a roll as it recently announced the partnership with MoneyGram on October 6 and also revealed the launch of Matching Fund on October 8.
This development from SDF comes as an extension of its strategic venture-style investments to help grow the Stellar ecosystem. Matching Fund falls within the purview of the Enterprise Fund and will invest in or fund early-stage companies that are in the pre-Series B level and are building on the Stellar blockchain.
The blog stated,
The Matching Fund will match up to $500,000 USD in investment made by a lead investor in a company and processes deals through an expedited process.
Moreover, the Enterprise Fund will continue to support investments across all stages but shift to later stage investments up to Series E (pre-IPO).
With Ripple/XRP, its main rival facing the SEC, Stellar/XLM has received a wide birth to make headway in the remittance industry. Stellar is making good use of this freeway as it recently announced a partnership with MoneyGram, who broke off the collaboration after the SEC sued Ripple.
XLM price vies to head higher
XLM price rose roughly 15% on October 6 on the MoneyGram announcement and sliced through the $0.342 resistance barrier. This uptrend set up equal highs at $0.358. However, soon after the local top, Stellar buyers failed to sustain this ascent, leading to a downswing to $0.325.
Therefore, the $0.342 and $0.358 barriers currently serve as resistance barriers, and XLM price needs to overcome these to have any upswing opportunities.
A decisive close above $0.342 will be an initial confirmation that the buyers are interested, but a 12-hour candlestick close above $0.358 will set up a higher high and indicate the start of a new uptrend. In this case, XLM price could rally and tag the $0.426 supply level, constituting a 26% ascent from the current position.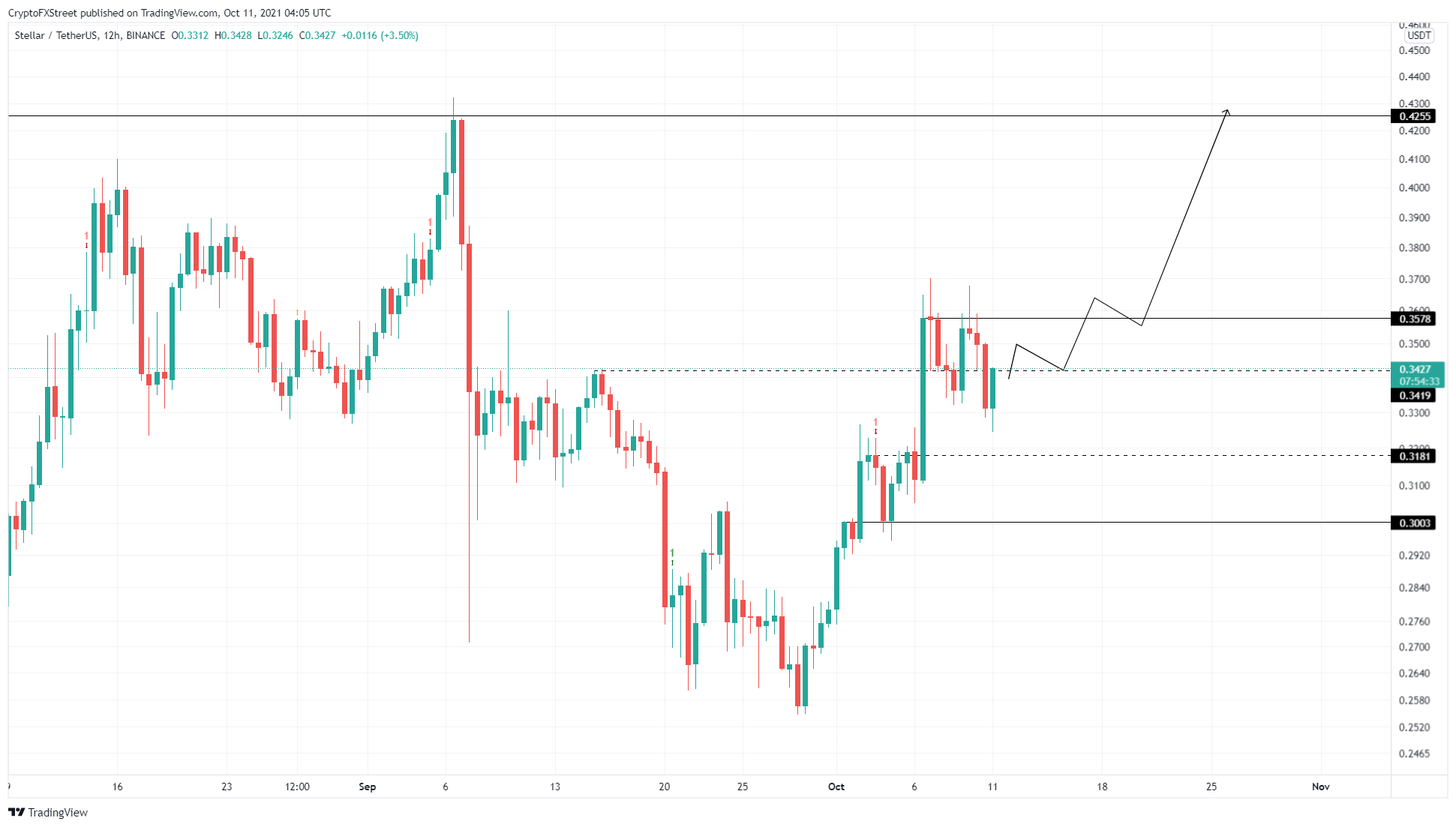 XLM/USDT 12-hour chart
While things are looking good for XLM price, a failure to slice through $0.342 and $0.358 will reveal a weakness among buyers or absence of buying pressure. In such a scenario, Stellar will likely revisit $0.300, a breakdown of which will invalidate the bullish thesis.