Top Crypto Analyst Predicts Deep Correction for Bitcoin and Ethereum, Pulls Out of Altcoin Positions
A prominent crypto strategist and trader says he's pulling out of his altcoin positions as he believes Bitcoin and Ethereum are poised for a deep correction.
The pseudonymous trader, known in the industry as Smart Contracter, tells his 165,600 followers that he sees Bitcoin (BTC) dropping below $40,000 while Ethereum (ETH) could slide below $3,000.
"Took profit on a whole lot of my alt positions despite how bullish I think they may look. I think BTC and ETH are both about to put in deeper C waves, correcting the 5 wave rises they both had from the July lows and a push down to $36,000 and $2,600 respectively will affect everything."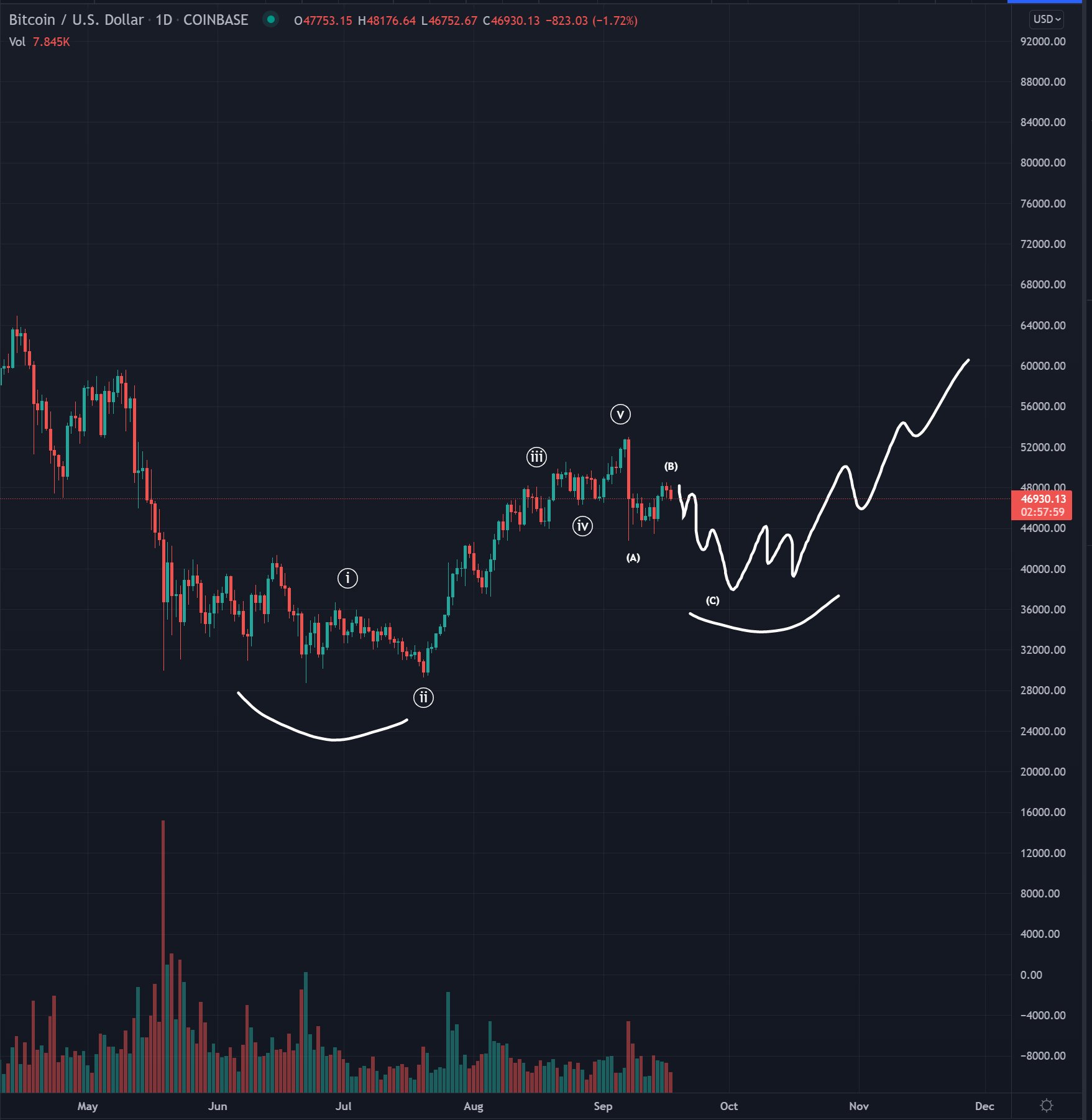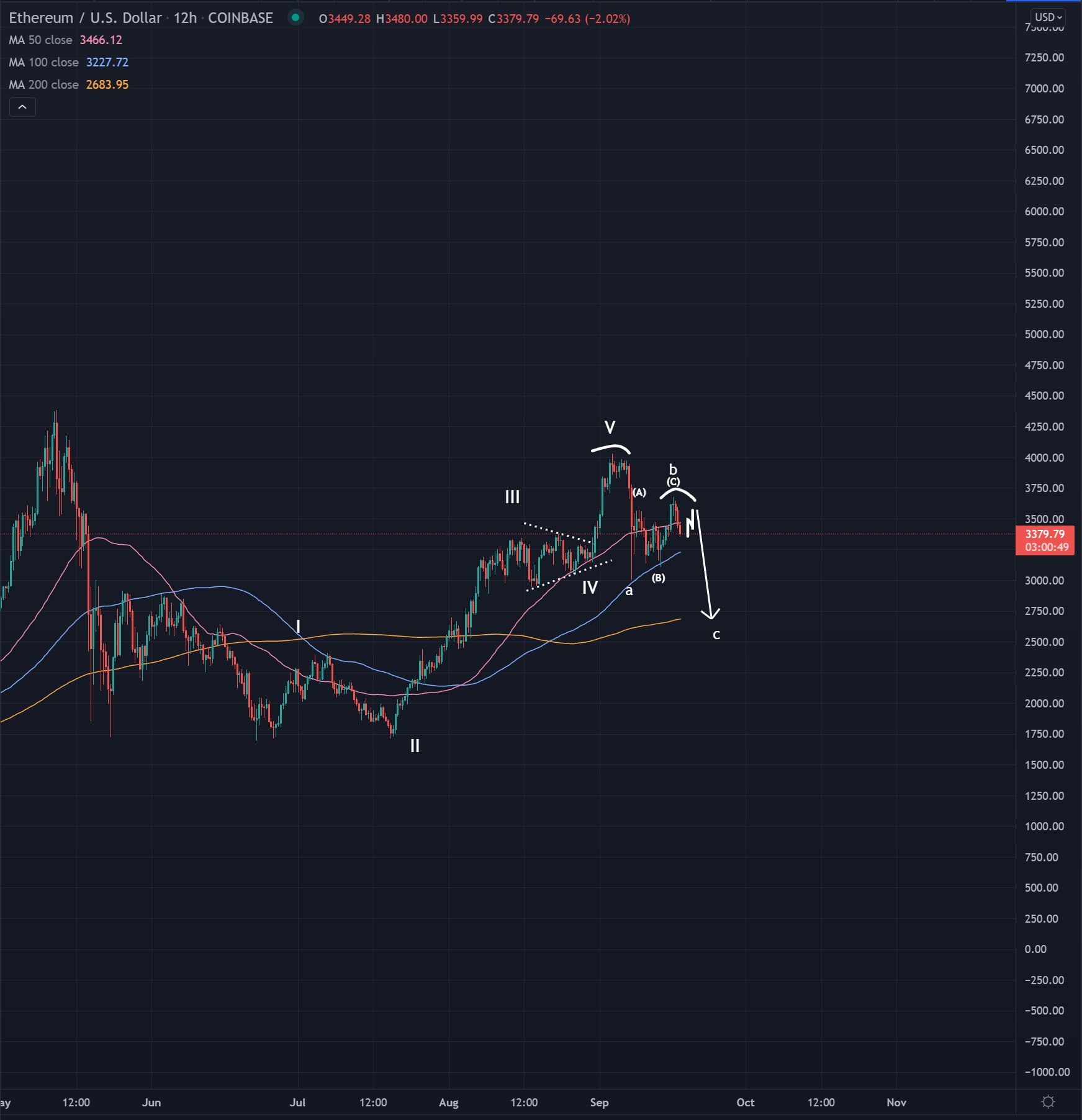 Smart Contracter relies on the Elliott Wave theory, a technical analysis approach that forecasts future price action by following the psychology of market participants that tends to manifest in waves. According to the theory, an asset goes through a significant leg down (ABC wave) after completing a five-wave cycle in an uptrend.
Recently, Smart Contracter said that he's looking at Solana (SOL) and Ethereum competitor Avalanche (AVAX) for possible rallies. The other coins on his radar are Synthetix (SNX), a cryptocurrency that powers the trading of synthetic assets, and Curve (CRV), the governance token of stablecoin decentralized exchange Curve Finance.
While Smart Contracter is short-term bearish on Bitcoin, fellow crypto analyst Michaël van de Poppe believes BTC is on the verge of igniting a rally to $50,000 after holding the key support level above $47,000.
"Still pretty much fine for Bitcoin."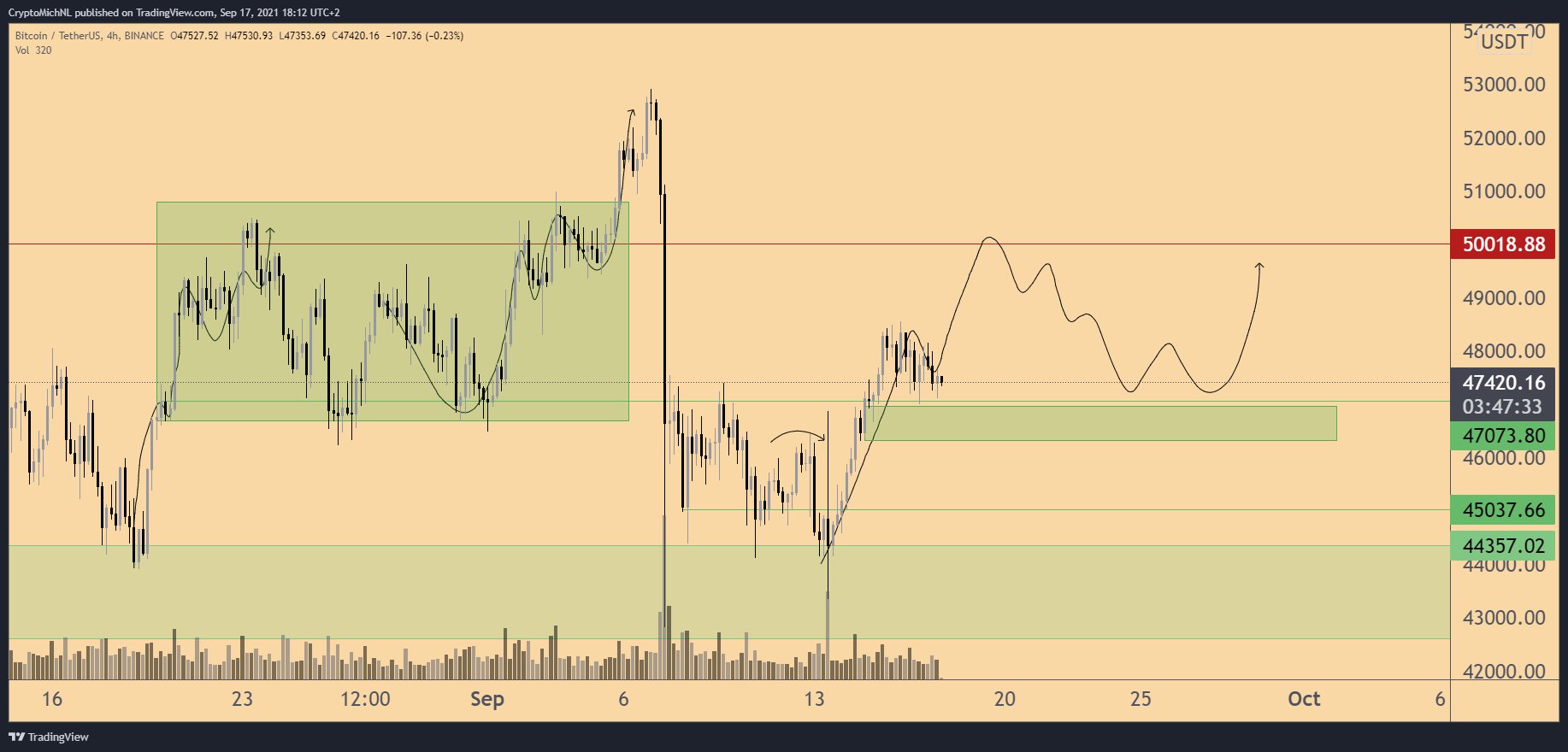 Bitcoin Dipped to $60K Losing $7K Since Tuesday's ATH (Market Watch)
Bitcoin lost more than $7,000 in a few days and dipped below $60,000. Ethereum also went down hard after failing to chart a new ATH.
Following the past several days of surging higher and higher, BTC corrected hard in the past 24 hours and even dipped below $60,000 briefly. Most altcoins followed suit, and the entire market cap lost more than $150 billion since its peak earlier this week.
Bitcoin Lost $7K in Days
The main focus in the cryptocurrency space in the past week or so was on the first-ever Bitcoin Futures ETF going live in the United States on Tuesday. The euphoria for such a long-anticipated product propelled a massive price surge for the digital asset, which broke above its April ATH and charted a new one a day later at $67,000.
However, it failed to remain there, and the bears started to push it south gradually. As reported yesterday, BTC dropped to $63,000, but the correction was far from over.
In the past 24 hours, the cryptocurrency kept losing value. This time, it fell to just under $60,000. As such, it meant that BTC had declined by more than $7,000 in a matter of days.
As of now, it has bounced off and recovered some ground. Nevertheless, it's still 4% down on the day, and its market capitalization is below $1.150 trillion.
Alts Also See Red
The alternative coins have followed their leader south. Ethereum was close to breaking its own ATH at nearly $4,400 a few days back but failed and dropped to $3,900 yesterday. As of now, ETH stands at just over $4,000, but it's still 3% down in a day.
Solana was also inches away from painting a fresh all-time high. Now, though, SOL trades at $200. Binance Coin, Cardano, Ripple, Polkadot, and Terra are also in the red.
Minor gains are evident from Dogecoin, Avalanche, and Chainlink. More increases come from Huobi Token (11%), Fantom (11%), Curve DAO Token (10%), Harmony (9%), and OKB (7.5%).
In contrast, OMG Network, Flow, The Graph, SushiSwap, Stacks, and ICON have lost the most in a day.
The cryptocurrency market cap is down to $2.530 trillion, meaning it has shed off $150 billion since the peak two days ago.
This crypto soars higher than Bitcoin and Ethereum
The price of bitcoin is now approaching its all-time high on April 14, when this crypto was valued at $ 64,800, and shows no signs of slowing down. Meanwhile, all kinds of other digital assets, from Ethereum to Dogecoin, are reaching impressive heights as well.
Behind the scenes, however, one coin is stealthily gaining traction and outperforming the big names in the cryptosphere. RBIS, the native token of the ArbiSmart platform, has quietly continued its ascent, maintaining a steady increasing trajectory, since its launch in 2019. It has already risen by 662% and analysts are forecasting an increase of up to 40 times the current price of 'by 2023.
A lucrative and low-risk strategy
The ArbiSmart platform performs automated cryptocurrency arbitrage. This means that it takes advantage of temporary price disparities, which are brief moments when a digital asset is available at different prices on multiple exchanges, at the same time.
ArbiSmart, connected to 35 exchanges, searches for disparities on hundreds of crypto-assets, simultaneously. When it finds a price difference, the algorithm generates a profit by buying the asset on the lower priced exchange, then instantly selling it on the higher priced one, before that the gap has not had time to close.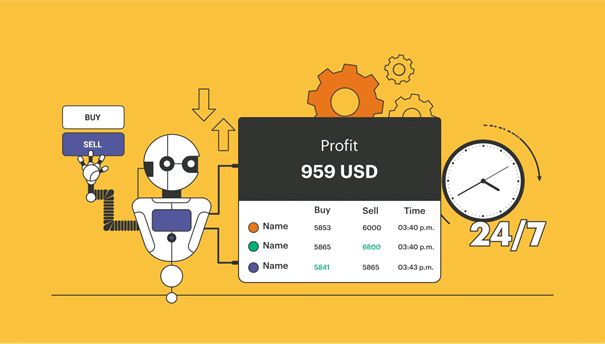 Because price disparities occur as well in a rising or falling market, ArbiSmart provides valuable hedge against a crash. If the market suddenly plunges and the recovery ends abruptly, your crypto will not lose its value, but instead will continue to generate a steady and reliable profit.
From the user's point of view, nothing could be simpler. Just register, make a deposit and that's it. Once you've deposited fiat or crypto, the algorithm does everything else. Your capital is automatically converted into RBIS and put to work, 24/7, to trade crypto-arbitrage. Profits start at 10.8% per year (0.9% per month) and reach up to 45% per year (3.75% per month) depending on the size of the investment.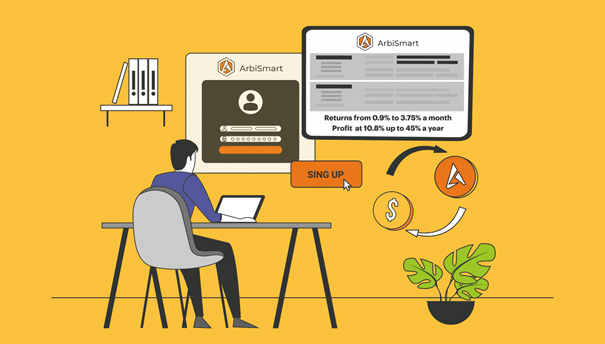 A considerable and stable profit
Since price differences between exchanges occur consistently in both a bull market and a bear market, you can anticipate your annual rate of return against crypto arbitrage with a high level of accuracy. Using ArbiSmart's yield calculator, you can see exactly how much you will earn over a given period, starting from a given deposit amount, taking into account compound interest and the changing value of the RBIS token.
In addition to profits of up to 45% per year through cryptocurrency arbitrage and compound interest, passive income can also be collected for the provision of liquidity. By locking your capital in a closed savings account for a predetermined period, you can earn up to 1% per day, just for having stored your funds on the platform.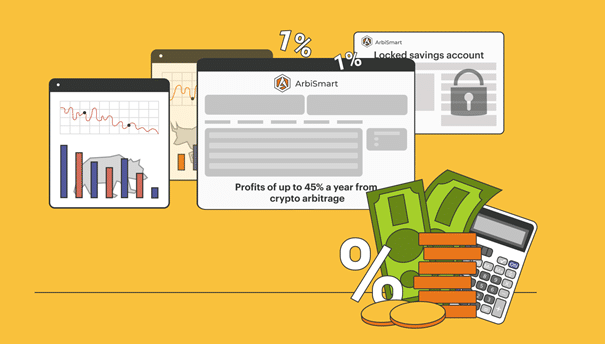 ArbiSmart also offers huge capital gains. The RBIS token has already reached more than 6 times its starting price and its value is expected to soar in the coming months.
Growing demand globally
In 2020 ArbiSmart's annual growth was 150% and so far 2021 has seen growth of 550%. During this time, the development team has not been idle. Major infrastructure upgrades have been implemented, and from Q4 2021 to Q1 2022, a series of new RBIS utilities are launched, including an interest-earning crypto and fiat currency wallet, yield farming as well as a crypto credit card.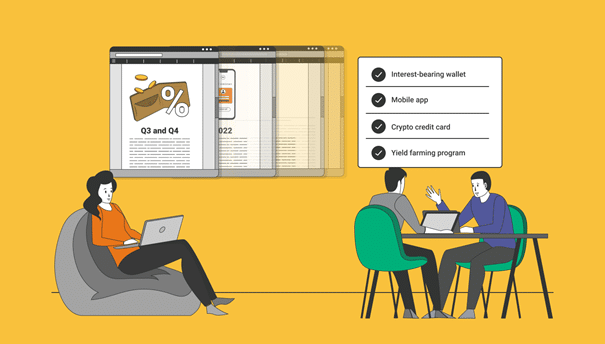 The fourth quarter of 2021 will also be marked by another event likely to increase the demand for tokens: the listing of the RBIS. Once globally tradable, RBIS will become accessible to people for whom this token was inaccessible due to ArbiSmart's European license. These include people whose account registration has been refused because regulatory requirements have not been met, residents of countries where ArbiSmart cannot accept customers, and people who wish to remain anonymous and do not not provide KYC (Know Your Customer) documents.
As demand for the token climbs this quarter, with the introduction of new RBIS utilities and listing on global cryptocurrency exchanges, the limited supply of tokens, the total of which is permanently capped at 450M, will decrease.
Whether in a bullish or bearish market, RBIS has proven to be a solid and lucrative investment opportunity, and in the coming weeks, the value of the token is likely to jump significantly. So it seems like now is the best time to buy, before the price of RBIS goes up further. Buy RBIS today.
If bitcoin doesn't need banks, should I buy bitcoin ETFs?
The launch of the first US Bitcoin ETF, the ProShares Bitcoin Strategy ETF (ticker: BITO) helped propel bitcoin to new all-time highs.
This was a milestone for the asset management industry, further integrating Bitcoin into traditional finance.
A big question raised this week was whether it's worth buying a bitcoin ETF, especially one that is tied to futures (not spot).
That's the issue that some members of the investment community may have been struggling with since the fund's launch on Tuesday. With the expectation that there are more such products on the horizon, let's try to better understand the advantages and disadvantages of investing in a bitcoin ETF.
A first advantage, especially for those who do not have enough time or knowledge to minimally actively manage their investments. Actively managed BITO provides exposure to bitcoin without having to worry about "storage", using so-called private keys and/or digital wallets to do so.
On the other hand, the best and most economical way to own bitcoin or other cryptocurrency is directly, and yet, traditional brokerages offer relatively low fees compared to administration and custody fees charged by ETFs.
The ProShares ETF proved to be the 2nd most traded fund launch on record, with more than 24 million shares changing hands on the 1st day, and reached $1.2 billion in assets after just 2 trading days.
futures
The head of the SEC (the US CVM), Gary Gensler, has suggested that a futures-linked bitcoin ETF offers better investor protections than an ETF that is backed by spot cryptocurrencies.
A key criticism of a bitcoin futures ETF is that managing futures contracts can be expensive compared to direct ownership.
Futures are contracts that give the buyer exposure to the price movements of an asset, usually with monthly expiration dates.
A future ETF involves the cost of "rolling over" contracts that expire soon into future months, which would likely be passed on to the end user.
Also, when the prices of a futures contract are higher for futures months contracts, the market is said to be in contango. That is, you will pay more to exit the expiring contract and enter the new one.
On the other hand, when shorter-term contracts cost more than longer-term contracts, this is called backwardation.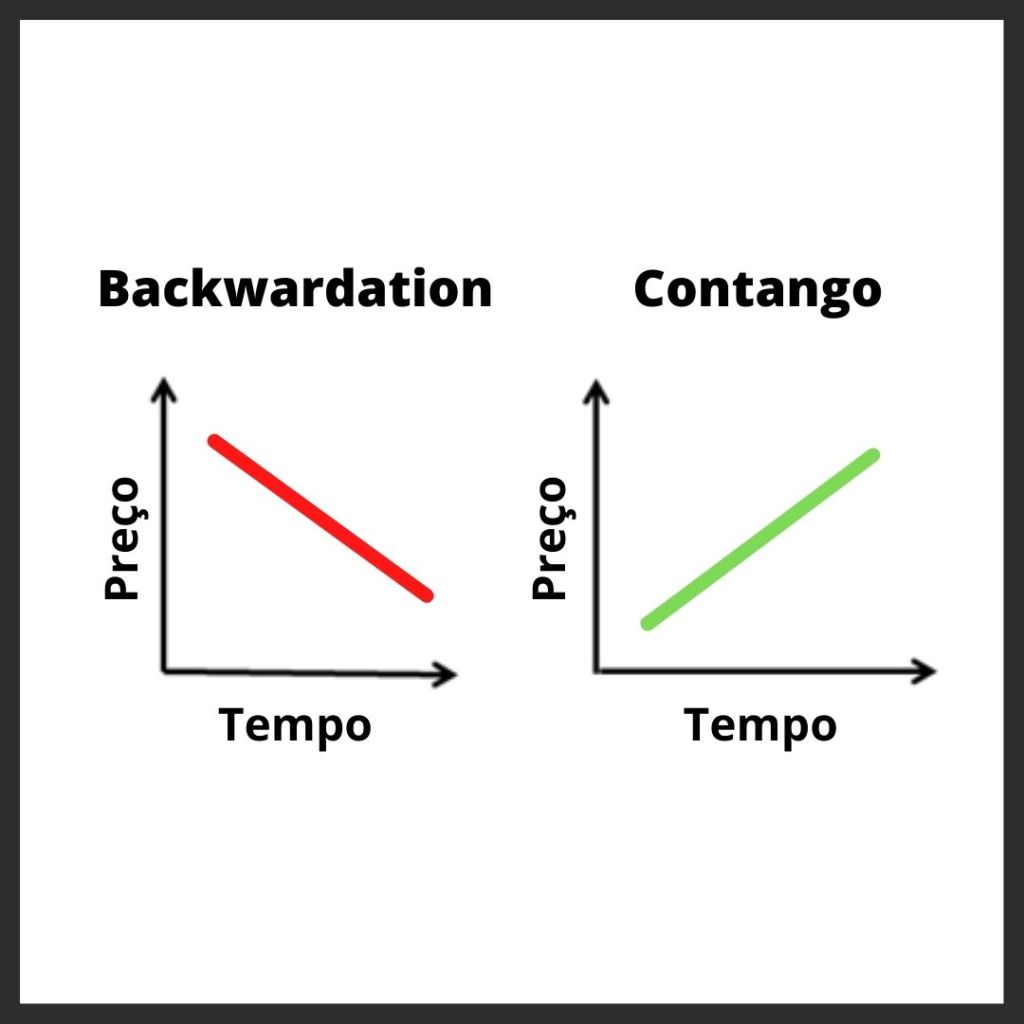 For those who don't feel confident going to a brokerage or owning their own private keys, the bitcoin ETF can be a good place to start. But, it should be kept in mind that it also has its costs and risks.
"Veterans are not buying" ("Veterans are not buying")
Despite the hype about the debut of the first Bitcoin-linked ETF, many proven crypto enthusiasts aren't planning to buy it anytime soon.
This move was a big step for the traditional market. But bitcoin's central goal is still to bypass Wall Street and democratize the financial sector.
Some Bitcoin advocates claim that the ETF, in some terms, defeats Bitcoin's fundamental purpose: autonomy and ownership.
Cathie Wood of Ark Investment Management said she did not buy the BITO fund on its first trading day because she wants to better understand the tax ramifications of ETF futures exposures first.
Despite all this, it is worth reinforcing several positive points in favor of ETFs, such as: you do not need to worry about their custody, the ease of portfolio planning, the simple way to manage investments, the security involved (since the custody is usually done by specialized companies), among other points.
In summary, it is not possible to say in a binary way whether the bitcoin ETF is or is not a good investment alternative. It all depends on your investor profile, your intentions and objectives when investing in bitcoin, and your strategy.