Bitcoin Is Taking The Real Estate Industry By Storm As Major New York City Company Now Accepts BTC
Bitcoin adoption is on the rise. Major industries are starting to realize that this is not something that they can overlook and it'll go away. So they are now taking the initiative to incorporate crypto payments onto their services. After making the rounds through legal tender acceptance in El Salvador, bitcoin adoption has now headed into New York. This time debuting in the New York real estate market.
A major real estate company in New York City announced that it was selling some of its prime estate properties for bitcoin, and opened up the sale to buyers from all over, including China and Hong Kong.
Buying Real Estate With Bitcoin
Magnum Real Estate Group is a company that is based in New York City, USA. The company recently announced the sale of a three-store retail condo space. In a move that is a first for commercial real estate in the country, the company announced that it would be accepting BTC as payments for this property. The company in this move also opened the sale up to buyers from anywhere in the world.
The properties valued at $29 million, if sold for bitcoin, would be the most valuable real estate ever purchased using bitcoin. The sale would be processed by payments processor Bitpay for a 1% transaction fee. And the amount would be paid in the equivalent bitcoin amount at the time of the purchase.
Bitcoin, Ethereum, Terra, Cardano Price Analysis ‒ 2 December Morning Prediction
Major coin prices recede after a global market cap efflux of 1.78%.
Bitcoin prices fall below $57K after a 1.45% value drop.
Ethereum suffers a blow of 4.00% in the last 24-hours.
Crypto favorites Terra (LUNA) and Cardano (ADA) see gains of 12.13% and 8.06%, respectively.
After witnessing a blow of 1.78% value drop, the global market cap has suffered a $0.06T loss after a recent efflux. The trading volume has dropped by 6.46% and is on a losing streak as the global market cap drops.
The decreasing market cap is due to the small but not unnoticeable; price drops among the various cryptocurrencies that sit among the top ten. Seeing slightly bearish runs and displaying red charts, Bitcoin, Ethereum, and Binance have recorded sudden value drops.
Is Apple Planning For Bitcoin Payments! Will BTC Network Volume Eclipse Visa And Mastercard Payments?
In an acute inflationary atmosphere, numerous cryptocurrency projects seem to be more appealing to investors. Possible threats of US inflation and the prevailing pandemic situation prompt investors to espouse Bitcoin payments. On the other hand, the network has been thriving hard to outstrip the network volumes of Visa and Mastercard. 
The global crypto market cap raised its bar to the new highs on, as investors gush into Bitcoin investments as Federal Reserve chairman Jerome Powell made remarks on tapering of monthly bond purchases to occur a couple of weeks before than expected. This move would further result in a hike in the interest rates, resulting in hyperinflation. 
Apple to Adopt Bitcoin Payments?
The reputed tech firms might lookout for investment opportunities that would help manage their purchasing power. Notably, top companies with significant cash reserves such as Apple ($191 billion), Google ($168 billion), Microsoft ($137 billion), Amazon ($86 billion), Facebook ($86 billion), and Oracle ($39 billion) might shift their gears to Crypto investments. Moreover, crypto market insight platform Bitcoin Archive is been optimistic about Apple's adoption of Bitcoin payments. 
Yes, @Apple is getting into #Bitcoin payments – just join the dots 🤷🏻‍♂️— Bitcoin Archive 🗄🚀🌔 (@BTC_Archive) December 1, 2021
However, crypto analyst Venturefounds recently made remarks on loss of purchasing power by $102 billion in retaliation of record break inflation rate in the US. Hence, possibilities are quite high that top-tier tech firms would soon roll out a red carpet to the Bitcoin payment adoption. 
On the other hand, the Report of Blockdata confirms Bitcoin's progressive move against PayPal, Visa, and Mastercard payments. Bitcoin network acclaimed an evaluated average of $489 billion per quarter in 2021. Besides Visa, Mastercard, and PayPal payments have recorded network volume worth $3.2 trillion, $1.8 trillion, and $302 billion respectively. However, the platform has been optimistic about the massive growth of Bitcoin's payment network. 
Collectively, investors all across the globe appear to be FOMO-ing Bitcoin. Hence, the flagship asset and other revolutionary cryptocurrency projects would experience sustainable growth in the near future. Especially, the platform has dragged more than 60 to 70% of investments during uncertainties such as pandemic and global financial crises.  
Bitcoin tests traders' nerves as analyst reissues $400K BTC price forecast
Bitcoin (BTC) was on repeat on Dec. 2 as markets watched another attack on $60,000 end in defeat.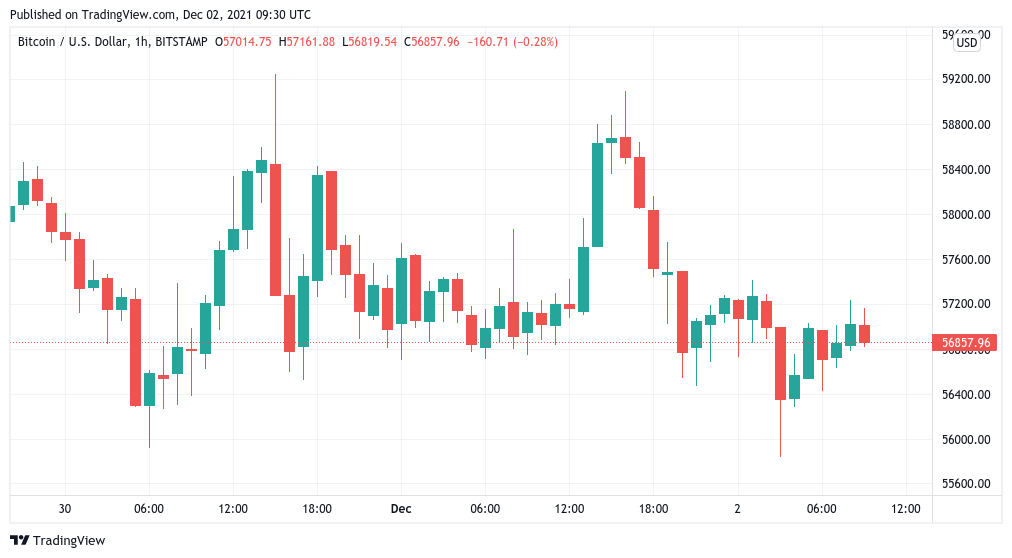 BTC/USD 1-hour candle chart (Bitstamp). Source: TradingView
"Nothing has changed"
Data from Cointelegraph Markets Pro and TradingView showed BTC/USD back at $57,000 Thursday, having come full circle in 24 hours.
The pair had briefly hit $59,000 into the Wall Street open the day prior, this failing to hold as another round of macro triggers skewed sentiment to the downside once more.
Bitcoin thus fell in line with stocks reacting, it seemed, to continued concern over the new coronavirus omicron variant. The S&P 500 ended the day down 1.2%.
With a sense of frustration pervading crypto markets, analysts took the opportunity to reassert a longer-range perspective.
"It's very simple. Below $60K I've remained cautious/bearish as I'd like to see that area flip," Cointelegraph contributor Michaël van de Poppe summarized.
"Levels to watch for buys; $53K-54K zone and $47-50K zones for Bitcoin. When to buy altcoins? December. Nothing has changed past weeks."
Those buy target lows were accompanied by renewed predictions for this cycle's bullish peak, which, as in April this year, place BTC/USD at up to $400,000.
Fellow analyst TechDev, eyeing Fibonacci levels on the two-week chart, also described Thursday as "another day to zoom out."
Open interest stays near all-time highs
On exchanges, open interest, meanwhile, remained a source of concern due to its sheer volume relative to price action.
Data from on-chain analytics firm Glassnode showed open interest on Bitcoin futures recently matching its second-highest levels in history, nearing its April record.
"At some point, this open interest is going to get flushed out one direction or the other," analyst William Clemente commented.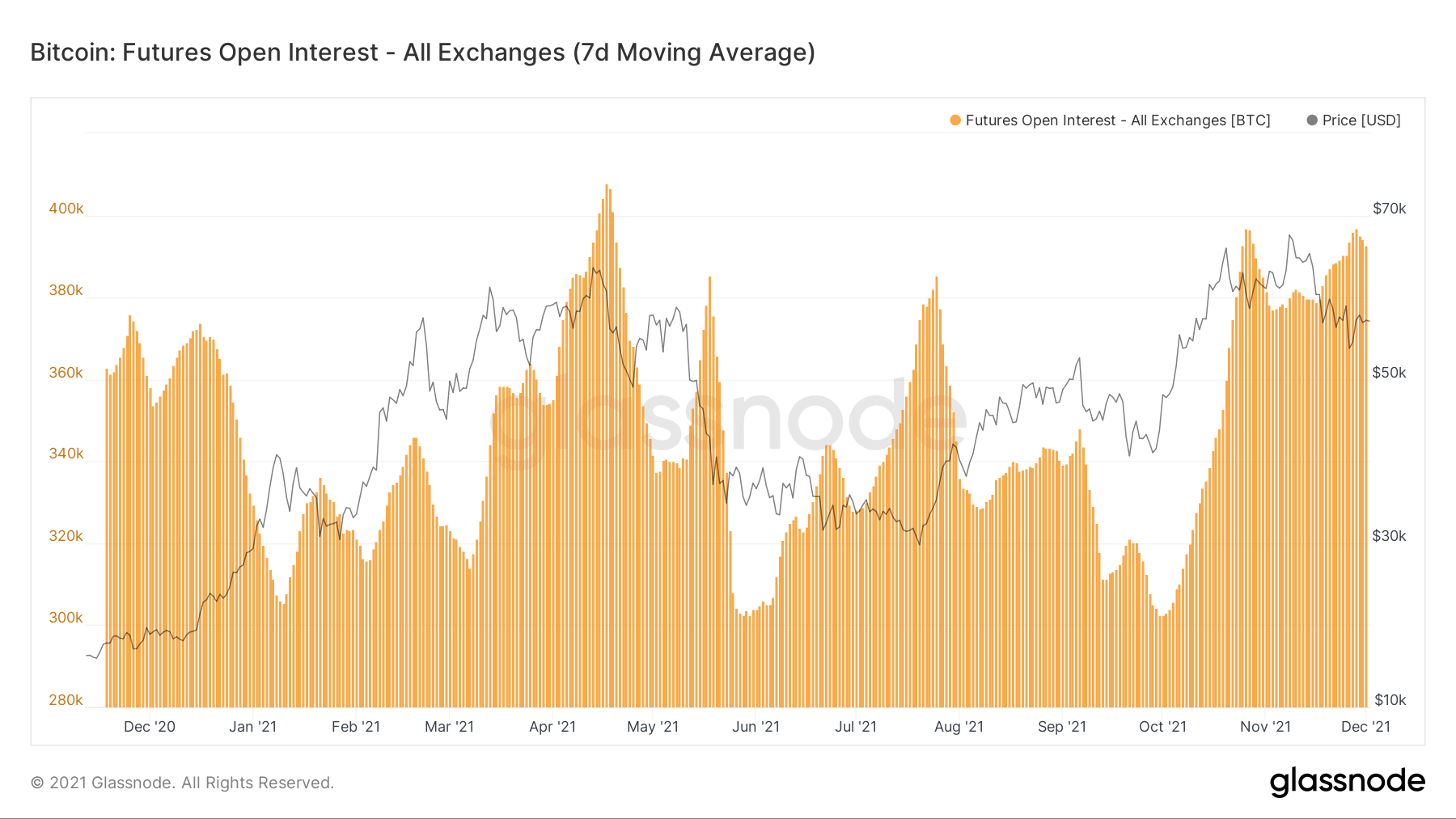 Bitcoin futures open interest 7-day moving average chart. Source: William Clemente/Twitter
With cyclical price action characterizing the week, the mood thus stayed favoring an ultimate exit up or down, with derivatives structures being "reset" as a result.
Funding rates were mostly neutral across exchanges Thursday.