Crypto Analyst Scott Melker Calls Bitcoin Trading a 'Game of Inches,' Predicts Two Altcoins Ready To Bounce
Crypto strategist and trader Scott Melker calls Bitcoin trading is a "game of inches" as he sees a bounce on the horizon for two altcoins.
Melker tells his 573,800 followers on Twitter that he expects Bitcoin to continue grinding upward en route to his target at $52,956.27.
"BTC trading can be a game of inches. The Walmart fake news almost caused my stop to be swept – missed by about $30.
Now the price is up 10%, and I'm 10x leveraged on top.
Not bad."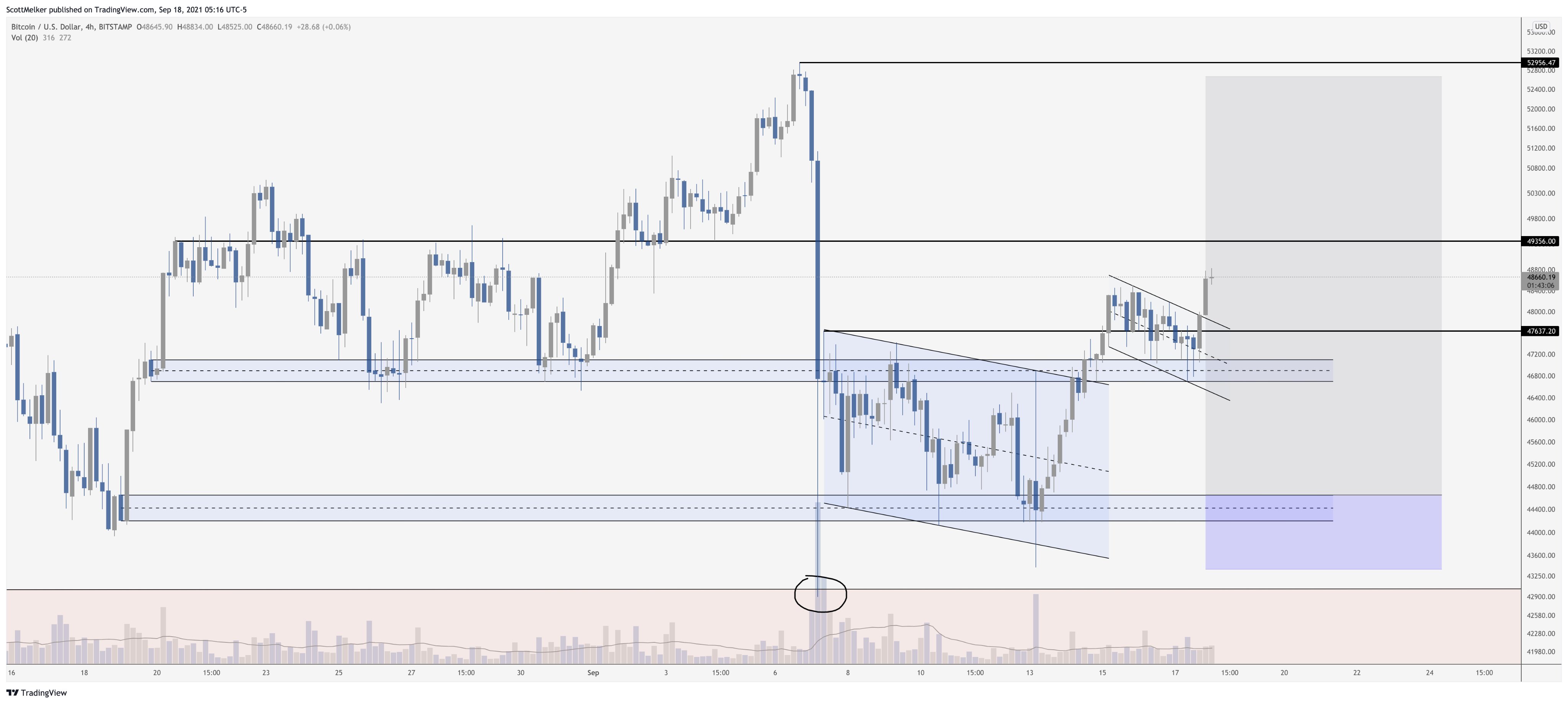 Melker adds that he continues to be long-term bullish on Bitcoin based on its fundamentals.
"The charts are a meme. We all love the charts. They're great for trading but at the very end of the day, Bitcoin is going to go up because [it's a] deflationary asset in an inflationary world. There's no reason to ever be bearish on Bitcoin long term."
Looking at other crypto assets, one altcoin on Melker's radar is blockchain-based operating system Tron (TRX). The crypto trader expects Tron to slightly pull back before taking out its immediate resistance at $0.11 and rallying to $0.18.
"What you want is to see some sort of flagging here ($0.09) and then up and buy it at this area ($0.11) and even off these highs ($0.12)."
Next up is supply-chain management platform VeChain (VET), which the crypto strategist says must breach its immediate resistance to ignite a surge above $0.27.
"I really want to be above $0.15 at this point… That's such a key resistance… VET is such a huge project, real partnerships. It's going to do exceptionally well."
Former Wall Street Banker Partners With Ethereum Competitor for New $1,500,000,000 Crypto Fund
A former Citigroup executive is shaking up the crypto investment space with a $1.5 billion venture, partnering with a leading layer 1 altcoin project.
Hivemind Capital Partners is an investment firm founded by Matt Zhang, a 14-year Citigroup Inc veteran. In a press release, Zhang announces Hivemind's mission to provide solutions to early blockchain entrepreneurs through the creation of a new "tailor-made crypto investment platform."
"We believe blockchain technology is a paradigm shift, and we are still in the early innings. Our mission is to provide start-to-finish capital and infrastructure solutions to visionary entrepreneurs and category-defining crypto projects.
The traditional asset management model is not designed to do this, which is why we are building a tailor-made crypto investment platform from the ground up that also offers the infrastructure institutional investors need for risk management, compliance and security."
Hivemind is partnering with payments and decentralized finance (DeFi)-focused blockchain Algorand (ALGO) as a "strategic partner to provide technology capability and network ecosystem infrastructure."
"We believe that Algorand is the preeminent blockchain protocol that allows institutional and corporate users to connect with the decentralized economy. With the explosive growth of the digital asset space, people tend to forget how early the crypto economy still is. We want to team up with partners who have the patience to build an enduring business."
However, Zhang notes that Hivemind is exploring partnerships with other layer 1 blockchains as the project progresses.
"We are also in active discussions to form partnerships with a number of other leading layer-1 networks. The goal is to build a multi-chain world to let our investors see the best opportunities across the entire crypto ecosystem."
ALGO, trading at $1.82 at time of writing, is up nearly 12% on the day. The payments blockchain has interest from other large investors lately, including an endorsement from American financier Anthony Scaramucci last month.
Jack Dorsey Steps Down as Twitter CEO
Jack Dorsey has reportedly decided to step down as the chief executive officer of Twitter.
The price of Twitter shares shot up by double digits as news broke that the CEO of the social media giant – Jack Dorsey – has decided to quit.
CNBC reported, and later was confirmed by Jack Dorsey himself on twitter, the breaking news about Jack Dorsey's decision to step down as the chief executive officer of Twitter.
The news comes as somewhat of a surprise at the moment, given the support Dorsey had. Last year, reports emerged that Paul Singer – billionaire investor and founder of Elliot Management Corp, wanted to replace Dorsey.
Shortly after, though, it became clear that he will remain at his position, which was regarded as positive news for Bitcoin supporters since Dorsey is among the most well-known proponents of the primary cryptocurrency.
In the past, he has repeatedly outlined BTC's merits and even suggested during the 2021 Bitcoin Conference that he would quit being the CEO of Twitter and Square if BTC needed him, which raises the question of whether he has done precisely that.
Nevertheless, there will be many questions inside the community about what will happen to the relationship between Twitter and Bitcoin. The social media giant has been highly supportive of the cryptocurrency, including allowing BTC tips.
Separately, the news about Dorsey's stepping down as Twitter CEO propelled a price surge for the company's shares, which opened 10% higher than the last close.
MicroStrategy Buys $414 Million Worth of Bitcoin
MicroStrategy has announced another massive Bitcoin purchase
Business intelligence firm MicroStrategy has wowed the cryptocurrency community with yet another massive Bitcoin purchase. 
The company announced Monday that it had bought an additional 7,008 Bitcoins at an average price of approximately $59,187 per coin since the beginning of October.
MicroStrategy's Bitcoin riches have now swelled to 121,044 coins, whose average purchase price is $29,534.
The company currently holds roughly 0.64% of Bitcoin's total circulating supply.
Bitcoin did not budge on the announcement as it continues to flatline just above the $57,000 level.
As reported by U.Today, the flagship cryptocurrency has managed to partially recover from the violent sell-off that took place on Monday.