Dogecoin price reaches key support, suggesting a 40% rebound for DOGE
Dogecoin price is currently hovering above the $0.213 support barrier.
A retest of $0.193 is plausible before DOGE sparks an ascent to $0.268.
A decisive close below $0.179 will invalidate the bullish thesis.
Dogecoin price has been lacking volatility for the past 11 days, but the recent sell-off seems to have reintroduced it, leading to a breakdown of the immediate support floor. While a bounce from the current position is likely, investors should be wary of another downswing.
Dogecoin price waits for buyers' comeback
Dogecoin price has been on a downward sloping consolidation since September 8 but broke out to the downside as of September 20, slicing through the $0.230 support floor. Currently, DOGE is hovering above the $0.213 demand barrier and shows signs of recovery.
If BTC shows strength, DOGE may kick-start a new uptrend from this platform. In case of a no-go, market participants can expect the meme-themed cryptocurrency to slice through $0.213 and make its way toward $0.193. In some cases, the market makers might briefly dip below this floor to collect liquidity, signaling the possible start of a new uptrend.
The resulting uptrend is likely to smash through the incoming resistance barriers and make a run at the $0.268 ceiling. This climb would represent a 40% ascent.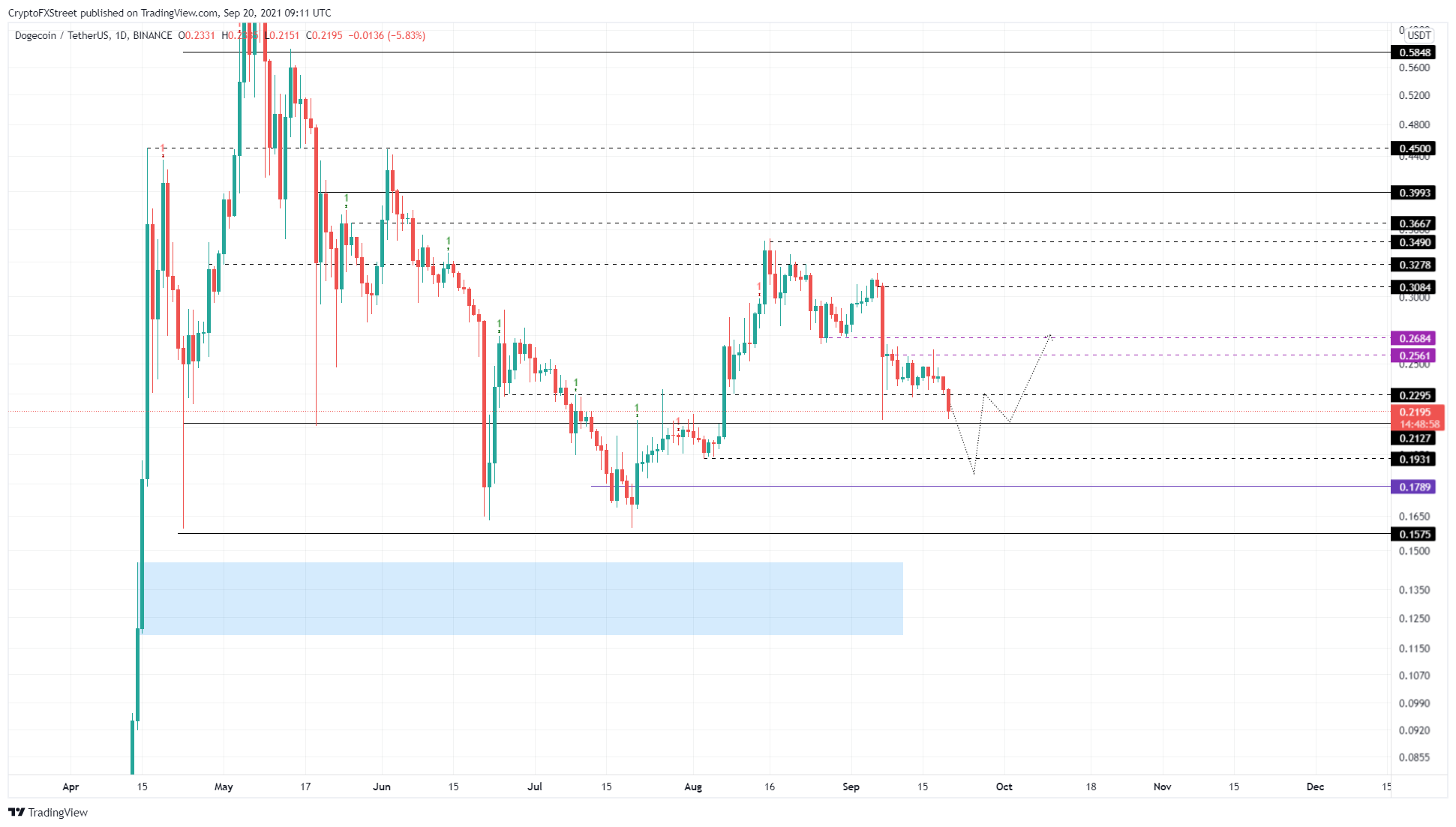 DOGE/USDT 1-day chart
Regardless of the support floors, if Bitcoin price fails to muster the strength and face the bulls, Dogecoin price will continue to remain weak, especially if DOGE breaks below the $0.193 support platform. This move will indicate an increased selling activity among holders and panic.
Such a move might push Dogecoin price to retest the $0.179 barrier, a breakdown of which will invalidate the bullish thesis and potentially trigger further descent to $0.158.
Dogecoin Price Analysis: DOGE breaks September low, finds support at $0.186
Dogecoin price analysis is bearish today.
DOGE/USD lost over 18 percent from the last high.
Support was found at $0.186.
Dogecoin price analysis is bearish today as we expect further tests of downside to follow after a slight recovery from the $0.186 low. Likely, DOGE/USD will not react higher for long as sellers are still strong in the market.
The market overall saw bearish momentum return over the last 24 hours. The market leader, Bitcoin, declined by 7.56 percent, while Ethereum lost almost 9 percent. Meanwhile, Dogecoin (DOGE) follows, with a loss of a little over 5 percent.
Dogecoin price movement in the last 24 hours: Dogecoin drops overnight, finds support at $0.186
DOGE/USD traded in a range of $0.1954 – $0.2288, indicating strong volatility over the last 24 hours. Trading volume has increased by 87.15 percent, totaling $2.36 billion, while the total market cap trades around $26.88 billion, ranking the coin in 10th place overall.
DOGE/USD 4-hour chart: DOGE looks to recover today's loss
On the 4-hour chart, we can see the Dogecoin price action reacting higher after further downside was rejected over the last hours.
Dogecoin price has seen continuous decline so far in November. After a spike to $0.34 at the end of September, DOGE/USD saw a strong reversal over the following days.
Since then, a series of lower lows and highs have been set until the $0.215 mark was reached on the 18th of November. The support prevented further downside for more than a week, while lower highs were still being set.
Yesterday, we saw the Dogecoin price set lower high again before starting to rapidly move lower. The $0.215 support was finally broken earlier today, leading to the $0.186 set as the new low. Over the past hours, a slight reaction higher followed, however, we should see DOGE/USD retest the low later today. 
Dogecoin Price Analysis: Conclusion
Dogecoin price analysis is bearish today as we expect further downside to be tested after the current reaction higher ends. Likely we will see DOGE/USD look to retest the newly set low as sellers are still active.
While waiting for Dogecoin to move further, see our articles on the Best Crypto Wallet 2021, Decred Wallet, and Ripple vs SEC.
Whales Are Buying Dogecoin According to Smart-Contract Activity
Dogecoin on-chain activity suggests that traders might be trying to enter the coin at lows
The smart contract activity is one of the indirect ways of determining the number of actions that take place on-chain of one or another asset. In the case of Dogecoin, it has entered the top 10 most actively used smart contracts on the Ethereum chain. 
According to the provided data, Doge took 7th place among the most actively interacted smart contracts on the chain. The meme-coin shared the top with coins like Binance Smart Chain, Binance USD and Chia Coin.
📰 #Dogecoin is on the top of most used smart contracts by the top 1000 BSC wallets

🐳 Whales are buying dips. How about you #DogeArmy ?

Source: https://t.co/IwpiW9WTip#DoOnlyGoodEveryday pic.twitter.com/IRe1pPD334— WhaleStats – the top 1000 Ethereum richlist (@WhaleStats) November 26, 2021
The usage of smart contracts usually implies increased buying activity since, in order to utilize a coin's smart contract, users have to own a certain amount of tokens or coins.
While Doge's on-chain data suggest that more people are starting to use it, the market data suggests the opposite. According to TradingView, Doge/USD trading pairs are losing up to 10% of their value.
At today's low, Doge reached 15% in certain hours and tested the $0.188 support. The last time Dogecoin was trading at the same level was back at the end of September. Rapid growth in coins' value was followed by the overall bullish cycle on the cryptocurrency market.
Elon Musk Acts on Behalf of Dogecoin Holders, Grabs the Attention of Binance CEO Changpeng Zhao
Elon Musk has grabbed Binance CEO Changpeng Zhao's attention on Twitter as Dogecoin (DOGE) holders face withdrawal issues on the world's largest exchange.
Binance suspended the withdrawal of DOGE on its platform on November 11th due to an issue caused by an upgrade. The exchange says it is suspending withdrawal transactions for up to 14 days as it continues to resolve the problem.
"The root cause is a technical issue during the recent upgrade process that caused old transactions to be resent to 1,674 users.
Since the incident occurred, DOGE Network has been providing us with support, but we have to rebuild the wallet entirely, which is causing a delay that we expect may last another week or so. It's a long and complex process, but the team is working hard."
In a series of tweets, Musk gave Zhao his take on Binance's DOGE withdrawal suspension, calling the situation "shady." Zhao apologized for the inconvenience while pointing to the technical nature of the issue. Zhao then took the opportunity to cast some shade himself.
Elon, we are pretty certain it is an issue with the latest #doge wallet. We are in communications with the devs. Apologies for any inconvenience that may have caused you.

What happened here? 👀https://t.co/g2J50zqbEu— CZ 🔶 Binance (@cz_binance) November 23, 2021
Binance also says that it is working to fix the problem and clarifies that the issue is "not shady."
The company acknowledges that users are upset they cannot withdraw their DOGE coins, but assures Musk that it is working to resolve the issue and will provide round-the-clock customer support to affected users.
Hey @elonmusk – no, not shady – just frustrating and we're working on it – details here ⬇️https://t.co/hCJWRLrnee— Binance (@binance) November 23, 2021
The Tesla CEO says that he is not a Binance user and is just voicing concern on behalf of other Dogecoin holders.
"I don't use Binance (tried at one point, but signup was too many hoops to jump through), so no inconvenience to me personally. Just raising this issue on behalf of other Doge holders."