Jed McCaleb's XRP Sales in September Still Amount to Zero. Is He Done Selling?
Ripple co-founder has still not resumed his XRP sales since the start of September, according to the recent analytics data
As per the data provided by the XRPscan, since September 1, former Ripple chief technology officer, who also helped found the company, has not sold a single XRP.
His XRP wallet still contains the same amount of Ripple-affiliated crypto as back at the start of the month – 709,911,475.983699 XRP.
Jed McCaleb has not resumed XRP sales
Since the last tranche from Ripple Labs, when Jed received 174,862,720, not a single transaction was made from his "tacostand" address, carrying a several-million-XRP lump to a crypto exchange to convert it to fiat. That transaction from Ripple was worth $210 million back on that day, according to the coin's price.
This lavish amount of crypto came from Ripple on September 1. The previous one was received by Jed exactly one month before and constituted 182,370,308 XRP. Until September 1, he had been selling 8,489,328 and 9,080,265 XRP lumps on a daily basis.
Jed sold 198.3 million XRP coins throughout August, overall.
Has Jed spent the entire 9 billion XRP?
Jed left Ripple Labs in 2013 (back then known as OpenCoin) as it wanted to take the company in a different direction from the other co-founders. He was given a compensation of a whopping nine billion XRP for his services as the company's first CTO and for helping to co-found it.
Jed went on to set up a rivalling DLT firm Stellar to develop his own ideas. He was prohibited from selling his massive XRP stash at once by the contract and instead he agreed to sell his XRP in small portions regularly.
Selling 2.6 billion in eight months
According to the blockchain data provided by XRPscan, overall, Jed McCaleb has sold 2.6 billion XRP in 2021. In January he had 3.4 billion coins on his wallet. Now, as of September 1, the "tacostand" balance equals 709.9 million XRP.
Besides, as reported by U.Today earlier, the Ripple wallet that had been transferring XRP to Jed's address on a regular basis is now empty.
According to the website, created by the XRP community to mark the progress of Jed selling his XRP stash, he is likely to run out of XRP either March 6 next year (in 166 days) or by May 15 next year (236 days to go), depending on the pace he will be selling at. If he decides to resume selling.
XRP drops below $1
Earlier today, the sixth largest cryptocurrency XRP began dropping from the $1.06 price mark and gradually plunged below $1. After hitting a low at $0.8895, the coin began to recover. At the time of writing this, XRP is sitting at $0.9295, according to the data provided by CoinMarketCap.
Original Source :u.today
XRP explodes more than 44% from flash crash lows, move to $2 upcoming
XRP price was annihilated during the Saturday flash-crash.
Massive recovery post-sell-off is likely a sign of reversing fortunes for XRP.
Follow through by bulls necessary to regain momentum higher.
XRP price action was sitting on the precipice of an impending flash-crash long before Saturday's sell-off occurred. The price levels XRP hit for the lows were expected as well. A new uptrend for XRP is likely to start next week.
XRP price collapsed from $0.92 to $0.57 but managed to close at $0.85
XRP price is positioned for a massive rally post-flash-crash. The daily and weekly candlesticks have likely developed one of the most substantial bear traps in XRP's history. FOMO will be piling into this cryptocurrency very soon, especially if XRP returns to the $1.00 value area.
Because XRP has already triggered the price levels previously forecasted, the move has been made, and XRP can begin its next leg higher. To do that, XRP price must first close at or above the daily Kijun-Sen at $0.98. To achieve an undeniable bullish breakout, XRP needs a daily close at $1.21. If $1.21 is reached, the projected target range is the $2.00 value area, followed by the $3.35 price level.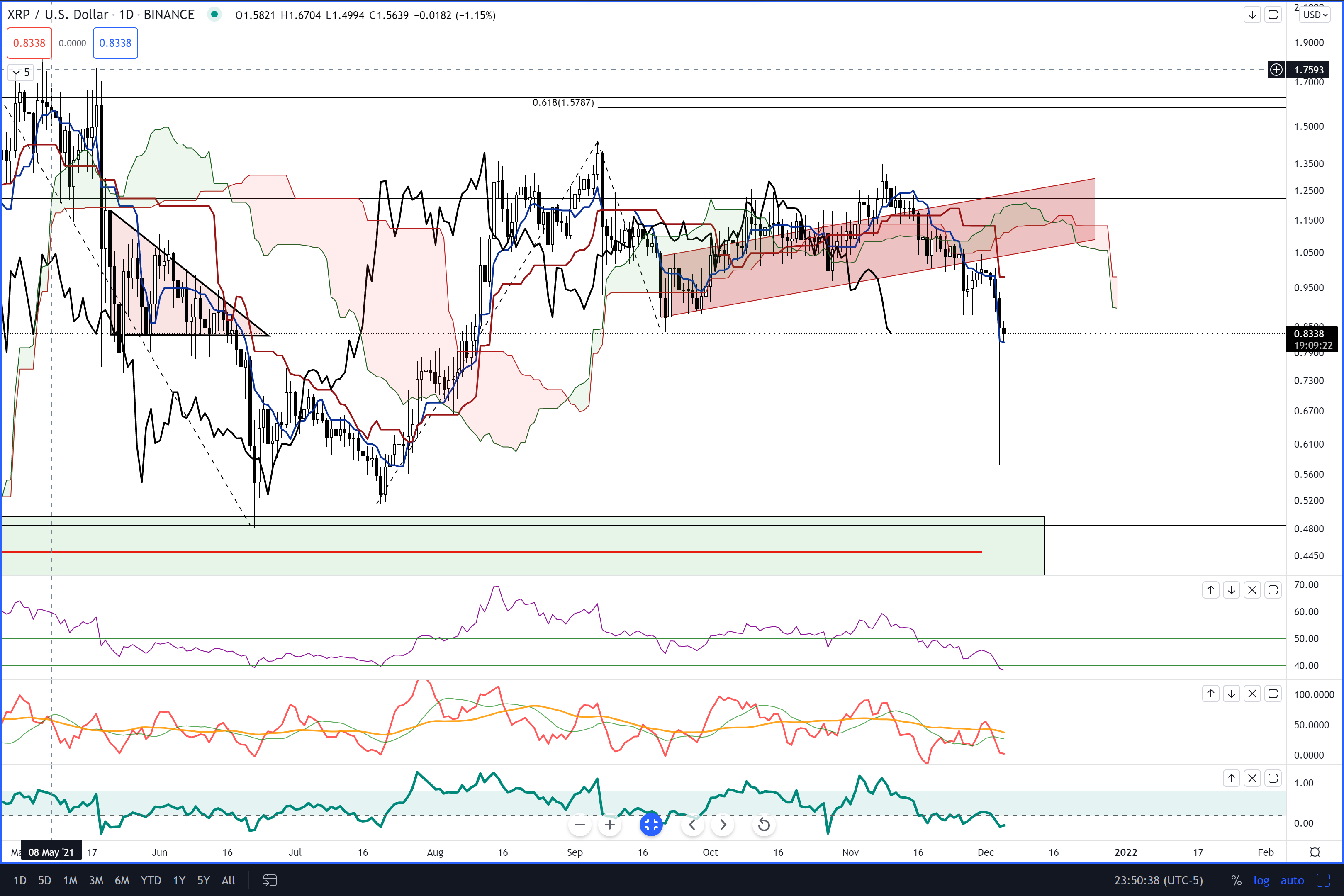 XRP/USDT Daily Ichimoku Chart
However, downside risks remain. XRP has the cloud of Ripple's SEC debacle hanging over it, and any hints of continued uncertainty or a negative outlook for Ripple may weigh heavily on how XRP trades. The downside risk for XRP price is the 2021 Volume Point Of Control at $0.45.
XRP Weekly Forecast December 6 — 10, 2021
XRP/USD end the trading week at 0.9439 and continue to move within the correction and the bullish channel. Moving averages indicate a bullish trend. Prices are again testing the area between the signal lines, which indicates pressure from buyers and a potential continuation of the growth of the cryptocurrency from the current levels. At the moment, we should expect an attempt to develop a correction and a test of the support area near 0.7205. Where can we expect a rebound again and a continuation of the rise of the cryptocurrency to the area above the level of 1.5505.
XRP Weekly Forecast December 6 — 10, 2021
An additional signal in favor of the growth of XRP quotes in the current trading week December 6 — 10, 2021 will be a test of the support line on the relative strength index (RSI). The second signal will be a rebound from the lower border of the bullish channel. Cancellation of the growth option for the Ripple cryptocurrency will be a fall in prices and a breakdown of the 0.6505 area. This will indicate a breakdown of the support area and a continued fall in XRP/USD quotes with a target below the level of 0.5505. Confirmation of the growth of the cryptocurrency will be the breakdown of the resistance area and the closing of quotations above the 1.3595 area.
XRP Weekly Forecast December 6 — 10, 2021 suggests an attempt to test the support level near the 0.7205 area. Where can we expect the continued growth of quotations with a potential target at the level of 1.5505. An additional signal in favor of a rise in XRP value will be a test of the trend line on the relative strength index (RSI). Cancellation of the cryptocurrency growth option will be a breakdown of the 0.6505 area. This will indicate a continued decline with a target below 0.5505.
XRP Price Prediction 2022: Market Analysis and Opinions
A 2021 XRP price prediction that puts the token on track to hit $5 by 2026 is still in play, according to crypto experts and trading professionals. Ever since the launch of Ripple's Xrapid and Xcurrent, XRP token price hasn't looked back.
Over the year, XRP has proven many of its naysayers wrong. The token can be credited for the ongoing transformation of the more significant cryptocurrency industry to a playground of institutional players. XRP is already threatening the decade-long dominance of bitcoin.
XRP Price Prediction | Introduction
Between 2020 and 2021, XRP grew prices at an average rate of 50%. At the time of writing this XRP price prediction, the token was trading at $0.984619, according to data curated on CoinMarketCap. The XRP ecosystem boasts a market cap of more than $46 billion, fully diluted to nearly $98 billion. 
Assuming XRP will continue booking a 50% rate of growth in the next years, and the rate will fall to 25% beyond that, XRP could still be on track to hit a majority of projections. From some perspective, bitcoin has enjoyed a 100% growth rate on average for a decade – the highest of the market.
If we are to base this XRP price prediction solely on its trailing growth rate, the tokens expected growth figures appear reasonable. Now applying a proven price prediction formula, we can determine how big XRP could get in 2022.    
XRP Price Prediction: Technical Analysis
High volatility is a common occurrence among cryptocurrencies, and XRP is not an exception. Some historical data will help you build a XRP price prediction.
In 2020, XRP was below $0.20 at the beginning of the year and touched the highest point of the year at just above $0.80. Yet, XRP failed to establish reliable support in the area, leaving prices tumbling down to the lowest recorded levels year. At the close of the trading year, XRP had managed to find footing to settle at just below $0.40.
Fast forward to 2021, the price action exhibited wild price action fuelled by high buy and sell volumes, as if buyers and sellers collaborated to find out when and where to buy XRP. Prices picked at $1.40 before taking the dip to a low of $0.57 in a span of three months.
It's well-known that most cryptocurrencies copy movements of bitcoin. Thus, most ups and downs of XRP repeated bitcoin trends. Still, some instances show divergence in the direction of both cryptos. Around the month of July, Ripple was tied in a vicious battle trying to push the testimony of a former SEC director.
XRP looks ready for a major correction after setting up a consolidated effort to test the limits of the resistance level at $1. The recent rally powered by a strong bullish showing had pushed XRP up without a major pullback, making the anticipated retracement highly likely.
| | | | |
| --- | --- | --- | --- |
| Month | Low Price | High Price | Adjusted Close |
| November 2021 | 0.90 | 1.35 | 1 |
| October 2021 | 0.95 | 1.23 | 1.11 |
| September 2021 | 0.84 | 1.41 | 0.95 |
| August 2021 | 0.70 | 1.35 | 1.19 |
| July 2021 | 0.52 | 0.77 | 0.75 |
| June 2021 | 0.51 | 1.10 | 0.71 |
| May 2021 | 0.65 | 1.76 | 1.05 |
The coin has rallied for a whopping 70% in less than ten months, starting at $0.43. This run-up pushed XRP to register a 2021 all-time high at $1.84. As impressive as this rally is, during the climb, XRP was not hit with any significant opposing forces and major downswing.
From a big picture perspective, XRP coin saw an exponential run-up, which gives enough reason for the correction that followed, sending the price tumbling down to $0.5291. An increase in profit-taking is likely also likely to knock the Ripple token further down to the immediate support at $0.8905.
If this level fails to hold, XRP will slide lower and tag the next barrier at $0.6086. Traders should anticipate the bears to dig deeper, however, and retest the 50% retracement level at $0.53. This downswing is where bullish actors are likely to step in and try to cauterize the wound.
XRP is likely to find massive support and potential upswing around a buy zone around $0.8623. While the stage looks set to crumble for XRP, there is a chance the coin could fall on good fortunes and witness a spurt of buy orders that propel XRP to pierce through the range high at $1.2878.
XRP Price Prediction: Market Opinions
The market has taken investors on a roller-coaster ride throughout 2021, as initial pessimism about XRP price prediction prospects gave way to a relief rally. As a new year inches closer, XRP looks able to finish in the green, although the recent price action just barely pushed its way to positive territory.
Many of the early and peak-price investors have had a tough time dealing with the unpredictable volatility in XRP prices. The question many are trying to answer: is there room for further Ripple price growth in 2022? The community seems united in an optimistic view, but the timelines are conflicting. 
WalletInvestor
WalletInvestor shows that the XRP price forecast for the next year shows the token is primed for profit-taking following a test of $1.593. This forecast might as well be a guide to where to buy XRP since this project can only mean XRP is currently treading on a last-minute buy opportunity. XRP looks strong ahead of 2022, and the sentiments driving the markets are firmly on the token's good side. The only thing remaining is a burst of buyer activity. 
PricePrediction.net
PricePrediction XRP price forecast for December – January shows a critical link at $1.02 that presents a buy signal. The forecast reveals XRP could see record gains if token holders band together to pierce 2021 to date high by March. Investors eying a selling opportunity at the high of $1.14 should reconsider as the XRP price forecast for the rest of the year shows the advance could see a test of $1.7 by December 2022. 
Gov.Capital
Gov.Capital's forecast for the next year proposes the Ripple token is on the cusp of a solid rally for $1.5677 with a year. Eyeing an upswing that could set the stage for decisive price action in 2022, investors are mounting pressure on XRP to make a comeback to the top 3 in the market. This projection shows bullish momentum thriving amid buyers aligning en route to challenge $5.452 within the next five years.  
DigitalCoin
DigitalCoin XRP price prediction for the next year shows the tightening spree is over as all eyes look up to the looming test of $1.66 in 2022. XRP bullish momentum is projected to restart pending a breakout of $1 to recover 2018 losses. Tension mounts as XRP inches closer to $1, which could make or break this XRP coin price prediction, as investor appetite pressures XRP prices to find a catalyst for a breakout. 
CoinCodex
CoinCodex price forecast for XRP coin is bearish as failed breakouts spur sell-off, thereby deteriorating the mood of buyers, risking further drop. This XRP price forecast for December – January shows market sentiments are not growing enough to keep up with price targets. The token keeps weakening, but on a positive note, the XRP price might be providing a buying opportunity as it spirals lower to $0.91.  
TradingBeasts
TradingBeasts shows XRP strengthening in its XRP price forecast for December – January. The forecast eyes on a bullish trading price in January as the token regains its fighting spirit. A modest recovery justifies a XRP price forecast for the rest of the year that seeks to exhibit strength and book a test of $1.70 by December 2022. The Ripple token could gain on renewed speculations as investors await a breakout. 
Crypto Ground
Crypto Ground XRP coin price prediction concludes the coin is running on speculations. The sellers will bear the brunt as buyers look poised to set the tone by jump-starting a return to the demand zone. This XRP price forecast for December – January shows excitement among traders is building at $1. Sentiments lead the way for a bullish XRP price forecast for the rest of the year, which could climax at $1.85 by December 2022. 
Changelly
Changelly projects XRP will remain on the winning side in 2022, as it finds the catalyst for a test of $3.84. Speculation rules, but concerns could delay this price forecast. The profit-taking sentiment remains in the driver seat as traders look to inflict maximum weight on the rally. This XRP price forecast for the next years determines this crypto will advance heading to untested territory, which could make or break the strength of buyers. 
Cryptocurrency Experts and Influencers
Conservative XRP coin price prediction narratives say the cryptocurrency will reach $2 by 2022. Some experts are more bullish, while others are hesitant to make XRP coin price prediction a price and a date, but instead, point to the trend of consistent value growth.
Vince Prince, for starters, offers an XRP price prediction 2025, anticipating the cryptocurrency to advance heading into $1 territory. The forecast places a lot of emphasis on the buying opportunity at $0.95. This XRP price forecast for the next year eyes a profit-taking target at $1.80 as XRP is sent back into corrective mode by mid-March 2022. All in all, XRP prediction is on the brink of turning bullish. 
Yonsfx XRP price forecast for the rest of the year sets a buying opportunity at $0.9167. This prediction places XRP at a critical point as recovery plateaus. The coin needs to make a comeback and push the price to fresh highs as it aims to covert $1.02 to support. This level is significant because a breakout failure here could send XRP coiling up into consolidation mode. 
GJMRealEstate anticipates XRP attempt to retest $1.14 as the downside risk increases. XRP needs to clear one of two major hurdles to cement a bullish XRP price forecast for the rest of the year. The bulls are saddled up, rattled by speculation of another rather to retest, and maybe conquer, $1.7127. The project draws strength from the fact that prices are looking to stabilize as buyers prepare for take-off in 2022.
The XRP prediction that points to $1 as the make or break of XRP is collaborated by crypto expert Filip L., who determines the crypto is under intense pressure. XRP prices hint at a bullish outlook with a 40% potential to crack the pending resistance level. This XRP price prediction offers plenty of reasoning why the Ripple token will crack $1 in 2022 as headwinds fade away and buy signals foreshadow the bearish risks. 
Latest News and Happenings Concerning XRP
For the longest time now, the SEC has been entangled with Ripple in a case that could determine the future of XRP. The suit is against Ripple CEO Brad Garlinghouse, and co-founder Chris Larsen concerning $1.3 billion worth of XRP tokens sold. 
The argument by the SEC claiming that the sale of XRP was an unregistered securities offering has many investors rattled. Big cryptocurrency investors like Kevin O'Leary are kept off XRP until the case is determined and encouraging investors to keep off until litigation is finalized. 
In the past, news from the SEC concerning Ripple and its token has set the price into a free-fall. The Ripple executives are basing their defense on the argument that XRP is not a security, which not only has implications for this token but many others in the industry.
So far, experts believe the suit will be decided in Ripple's favor. The FinTech has been making great strides in the case, and this kind of good news could be the final signal of XRP making explosive moves in 2022. Every XRP prediction has this case as its weakness. 
Ripple CEO expects the case will reach a conclusion in 2022. An end to this long-standing feud could be a major catalyst for XRP. For this reason, investing in the token prior to a settlement of the case has been regarded as a precarious investment. 
Things have been progressing smoothly despite the slow-moving judicial process. The market has witnessed and reacted to both parties tabling accusations against the other. The fortunes of XRP price prediction 2025 have moved with the developments of the case, so the idea of a conclusion around the corner is welcomed. 
FAQ:
What Is XRP?
XRP is the native token to the Ripple ecosystem, including Xrapid and Xcurrent. It is primarily used in money transfers and payments of platform fees. Institutions users hold XRP for a faster, reliable source of liquidity on demand.
Is XRP a Good Investment?
XRP has defied big odds and consistently beat expectations since opening up to institutional clients. Investors are banking on the end of the SEC suit to keep fuelling a bullish XRP coin price prediction, citing strong price action despite regulatory uncertainties.
How to Buy XRP?
First, determine where to buy XRP. Next, determine what you wish to give in exchange for XRP. Most exchanges offer support for fiat currencies, but XRP can be exchanged for cryptocurrencies like bitcoin or stablecoins like USDT.
Where to Buy XRP?
There are a lot of options where to buy XRP. The easiest option is to buy XRP on a cryptocurrency exchange. Buying XRP from an exchange is the most secure and safest way. Besides, you have a much better chance to buy XRP against your native currency. If you are not sure what to choose you can check our articles with Binance review, Coinbase review, Crypto.com review, and others on the section with exchanges review.
What Will Be the XRP Price by 2022?
With all the challenges XRP is facing in 2021, it still managed to outperform most of its peers. All of this adds another dimension to our XRP prediction, which suggests a median price target of $1.5 as the most like XRP price by 2022.
What Will Be the XRP Price by 2025?
XRP price prediction 2025 shows price could nearly quadruple to become one of the most valuable, biggest-earning cryptocurrencies in the market. This XRP coin price prediction considers merits, in part because the current threat exerts such a strong influence on the realization of the $5 prediction.
XRP Price Prediction: Verdict
The native token of the Ripple ecosystem has been on fire. The phenomenal growth was exemplified during the cryptocurrency boom of 2018 when it peaked above $1.1, and this XRP price prediction determines a retest at this level is likely.
However, multiple broad market factors could affect this positive outlook, including bear market fears in 2022, Ripple's long struggle against the SEC and other government watchdogs, and broader regulatory changes that affect the cryptocurrency market.
Note: This post was originally published on 5 June 2021 and has been totally updated for the completeness and veracity of the content on 3 December 2021