MATIC price enters bear triangle with potential 10% drop
MATIC price action has reversed to the downside during the weekend.
Global sentiment rolling over is causing headwinds for MATIC.
If $1.20 breaks to the downside, expect MATIC to shed 10% of its value.
Polygon (MATIC) was on the path to recovery when price action rolled over this weekend. MATIC price bounced off a red descending trend line and has pushed Polygon to the downside quite quickly. Market turmoil this Monday is causing headwinds for all cryptocurrencies as investors flee to safe havens.
MATIC price is hanging by a thread and stands to lose 10% of its market value
MATIC price was on the right trajectory last week with a recovery to the upside. The monthly pivot at $1.34 never really held nicely on its supporting role, and sellers were each time able to get some price action below that pivot. Add to that element the red descending trend line from September 7, and bulls got trapped in a few false breakouts that each time got met with heavy selling action. 
Market sentiment this Monday is not helping either. With index futures firmly in the red for the start of this week, cryptocurrencies are on the chopping block and are being kicked out of portfolios in what looks like a rotation toward more defensive assets.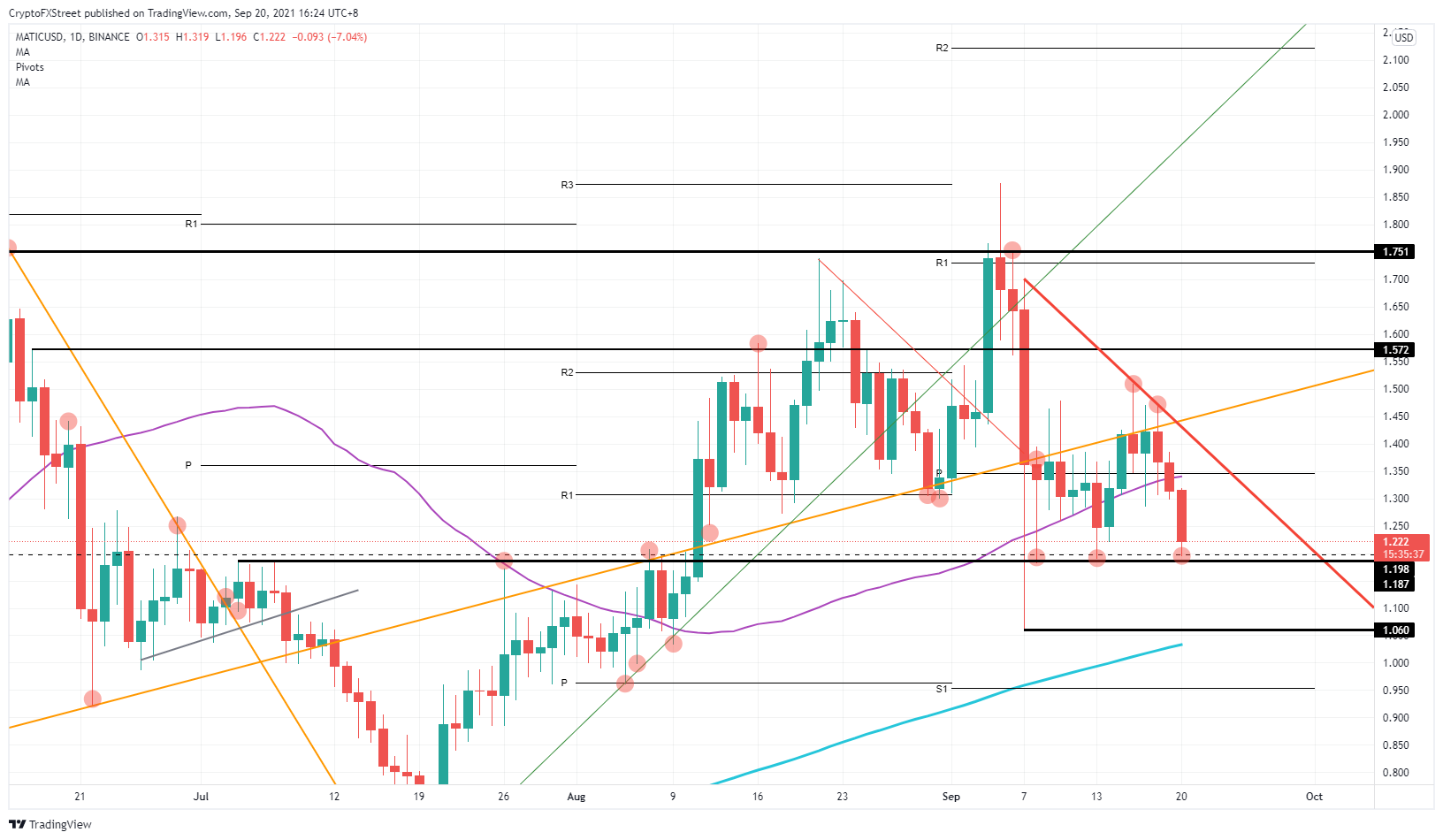 Expect another push from sellers on $1.20. That level holds great importance, going back to July 4 and having had three solid September tests. It is a support that looks to withstand some attacks from sellers, but it will just be a matter of how long. Expect that when indices push lower, cryptocurrencies will follow suit, and $1.20 will break. The following support to look for is at $1.06. Price action got picked up there by buyers on September 7, and just below the 200-day Simple Moving Average (SMA) comes in, which will add additional support.
Should buyers still defend $1.20, expect a return to the red descending trend line and the pivot level at $1.34. These two elements will form a double resistance level and might limit any further upside for bulls in the short term.
Here's how Polygon boosting utility can impact MATIC's rally
The market has had high hopes from the Polygon network, more so, after it overshadowed the Ethereum network as the former's active addresses briefly flipped ETH's.
While the network's growth has been commendable, the layer-2 solution that connects Ethereum to other blockchains, saw considerable roadblocks after the network's validators recommended raising transaction fees to tackle the spike in spam transactions.
What changes?
After Polygon's co-founder Sandeep Nailwal, made the recommendation, the network saw a drastic decline in its on-chain activity. Daily average transaction volume on Polygon dropped from over 6 million to under 3 million, an over 50% fall.
Nonetheless, Polygon still captured the highest share of total value locked on Ethereum bridges. In the last week, the number of wallets on Polygon increased sharply and reached about 97.7 million wallets, which caused the gap with Binance Smart Chain to plummet to about 695,000 wallets.
In fact, Polygon has maintained its dominance over Arbitrum and Optimism in terms of TVL in Ethereum bridges despite the decline. However, Polygon's Total Value Locked had fallen by 8.3% to $4.46 billion over the last week. The main reason came from DEXs when TVL decreased significantly from the beginning of September.
However, all in all, since the network maintained its dominance as daily transactions fell, traders still expected a bullish impact on MATIC's price.
Price still on crossroads
After three recent fakeouts for a breakout since September, MATIC seemed to be underperforming price-wise. After reaching a multi-month high of $1.79 on September 5, the alt made lower lows while teasing the market with a potential breakout.
Nonetheless, the asset has maintained above the crucial $1.2 level all through October. In fact, MATIC had 5.76% daily gains at the time of writing but was down 1.54% weekly. While on the price front, MATIC didn't seem to be making any big moves, the network strengthening utility could boost price action.
Network strengthening utility
Recently, Polygon Studios, the gaming, and development arm of Polygon, partnered with Unicly (UNIC), a protocol that combines, fractionalizes, and facilitates NFT trading. This partnership is expected to enable NFT projects built on Polygon to be eligible for whitelisting and receive incentives through UNIC rewards.
Amid the NFT boom, one striking trend was the high social anticipation around protocols that added a utility layer to NFTs. With this partnership, Polygon also looks set to boost the network's utility. In fact, Unicly could further provide solutions to Ethereum's gas fee problem which again pumps the network.
Based on these developments it could be anticipated that MATIC might break out especially, after consolidating for over a week. However, MATIC's low trade volumes and low social anticipation amid growing network developments still acted as a roadblock. 
MATIC Price Prediction: Polygon bulls ready for new all-time high at $3
---
MATIC price is forming a bull pennant, hinting at a bullish outlook.
A decisive close above the upper trend line at $1.54 will signal the start of a new uptrend.
If Polygon breaks below $0.73, it will invalidate the bullish thesis.
MATIC price has been consolidating since it set up a swing low on April 19. This coiling up phase comes after Polygon took off exponentially. Going forward, investors can expect a similar run-up due to the formation of a bullish continuation pattern.
MATIC price ready to double
MATIC price rose roughly 100% and began its consolidation, giving rise to a bullish pennant. This continuation pattern consists of an explosive move, typically known as a flag pole, followed by a consolidation in the form of a pennant.
A breakout from the pennant phase pushes the price in the same direction as before, allowing the asset to continue its trend, hence the namesake. However, for MATIC price, the flag pole was on a 100% ascent, and the consolidation phase consists of three higher lows since April 19 and two lower highs since its all-time high at $2.70 on May 19. 
A decisive close above $1.54 will forecast a 100% move to $3.10, obtained by measuring the flag pole's height and adding it to the breakout point. From its current position, MATIC price has an opportunity to double and set up a new all-time high.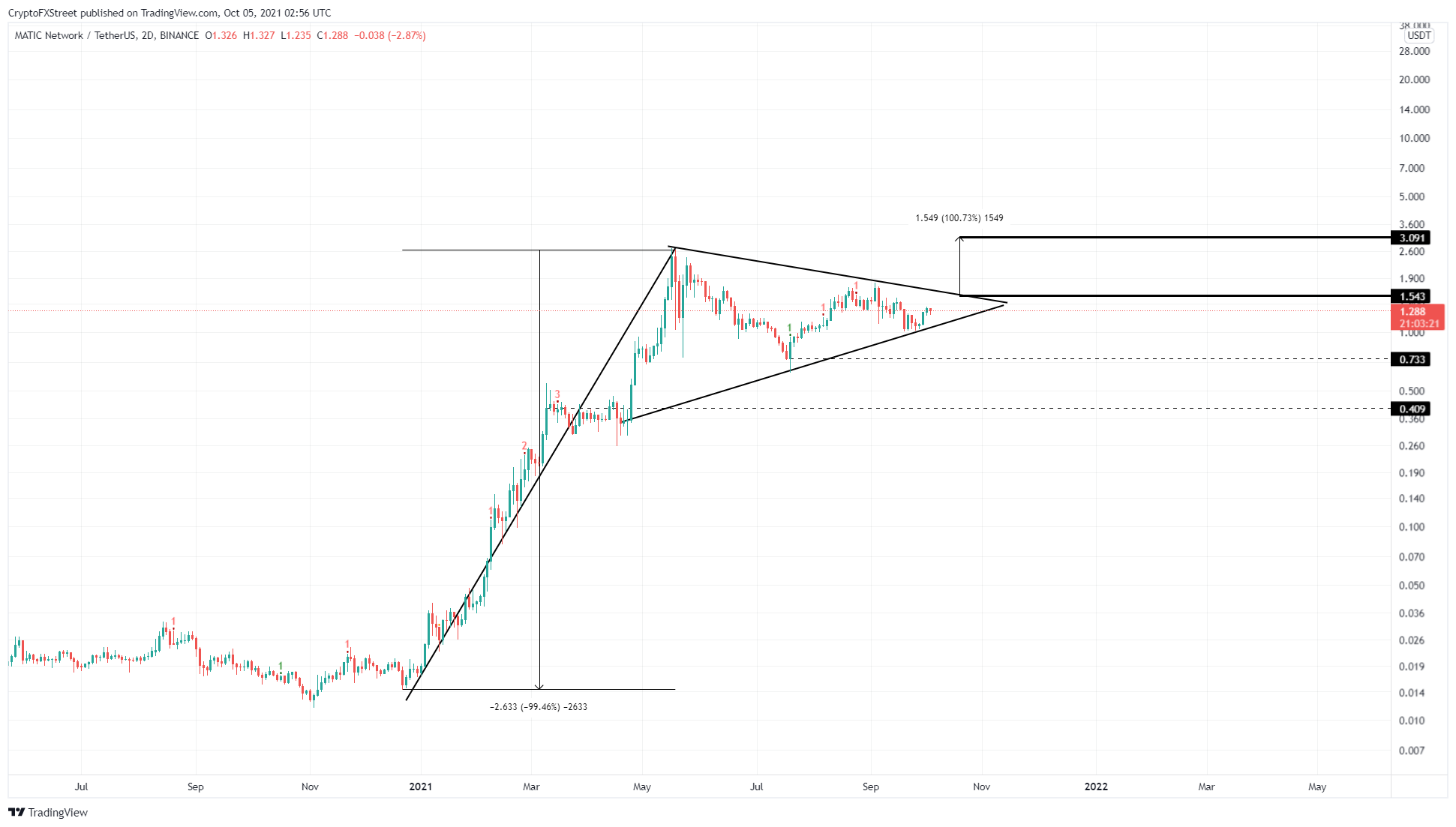 MATIC/USDT 2-day chart
While things are looking up for MATIC price from a technical standpoint, a breakdown of the pennant's lower trend line will delay the uptrend. The resulting breakout could head lower to retest the $0.73 support floor.
If Polygon breaks below this demand barrier, it will invalidate the bullish thesis and might potentially trigger a descent to $0.41.
Matic Price to hit $1.75 in the next leg up! Launch on Bitfinex to be the Catalyst?
MATIC has been attempting to reclaim the momentum it gained during its previous bull run after the larger market sell-off on September 7. Lower highs did indicate a bullish trend, but purchasers were unable to keep prices above specific levels.
If another higher high is formed, the present run up from $1.20 could have favourable consequences. In the event of a closure below the 23.6 percent Fibonacci line, bulls would lose their lead. MATIC was trading at $1.38 at the time of writing, down 6.8% in the last 24 hours.
Matic Price Action
MATIC was able to rise back up the charts and break above its 50% Fibonacci barrier after forming a double bottom around $1.20. MATIC retraced to a defensive line of $1.30 and bounced back shortly after that, creating an impulsive wave.
If MATIC is able to reverse course from the 38.2 percent Fibonacci barrier and close above $1.50, a positive conclusion is still feasible. The best-case scenario would be a piercing above the 61.8 percent Fibonacci barrier. A drop back to $1.20, on the other hand, would negate this view and increase the likelihood of another low.
Matic to spike above $1.75?
Popular Analyst Altcoin Sherpa on Twitter made a bullish case for MATIC. He says, although the token is consolidating right now, huge gains are immanent in the next run. He predicts for MATIC to break above $1.75 in the next leg up.
$MATIC: This one is consolidating. The next time it makes a run at $1.75 I think it breaks it. Still lots of good fundamentals around this. #MATIC pic.twitter.com/XyliEOFIfv— Altcoin Sherpa (@AltcoinSherpa) September 18, 2021
Matic on Bitfinex soon!
In a recent tweet, Polygon announced that MATIC token is set to launch on Bitfinex soon. It has been one of the oldest and most liquid exchanges.
The company adds, Users will be able to access MATIC across all major top-tier exchanges, including Coinbase and Binance, thanks to the integration with Bitfinex.
2/2 With the addition of @Bitfinex, $MATIC's global reach will expand to users who'll be able to access it across all major top-tier exchanges such as @Coinbase & @Binance.— Polygon | $MATIC (@0xPolygon) September 17, 2021