VeChain stands to lose another 25% of its market value
VeChain's pennant broke to the downside this weekend.
The descent accelerated today with general market sentiment rolling over.
Buyers need to defend $0.095. Otherwise, another 25% devaluation might occur for VeChain.
VeChain price (VET) was moving sideways last week with price action stuck in a pennant. On Sunday, the pennant got broken to the downside. That break lower turned into a sell-off on Monday, with buyers defending $0.095. If sellers can run prices below that level, expect another 25% of price value to be lost for VET.
VeChain's bulls are vigilant of any breaks below $0.095
VeChain had been stuck in a pennant last week. Sentiment shifted to the downside as VeChain could not stay above the 55-day and 200-day Simple Moving Averages (SMAs). Price action dipped further lower and got squeezed against the green ascending short-term trend line that buyers were watching to keep the pennant in place. That failed on Sunday when market sentiment shifted to the downside for cryptocurrencies in general. 
Price action was quickly attracted to $0.095 – a level that has held significant importance since March 20 and has been tested on several occasions to both the upside and the downside. The level has been used already several times as support and resistance. With buyers defending this level for now, an upturn is still possible, but it will be essential to see how market sentiment in cryptocurrencies will behave today.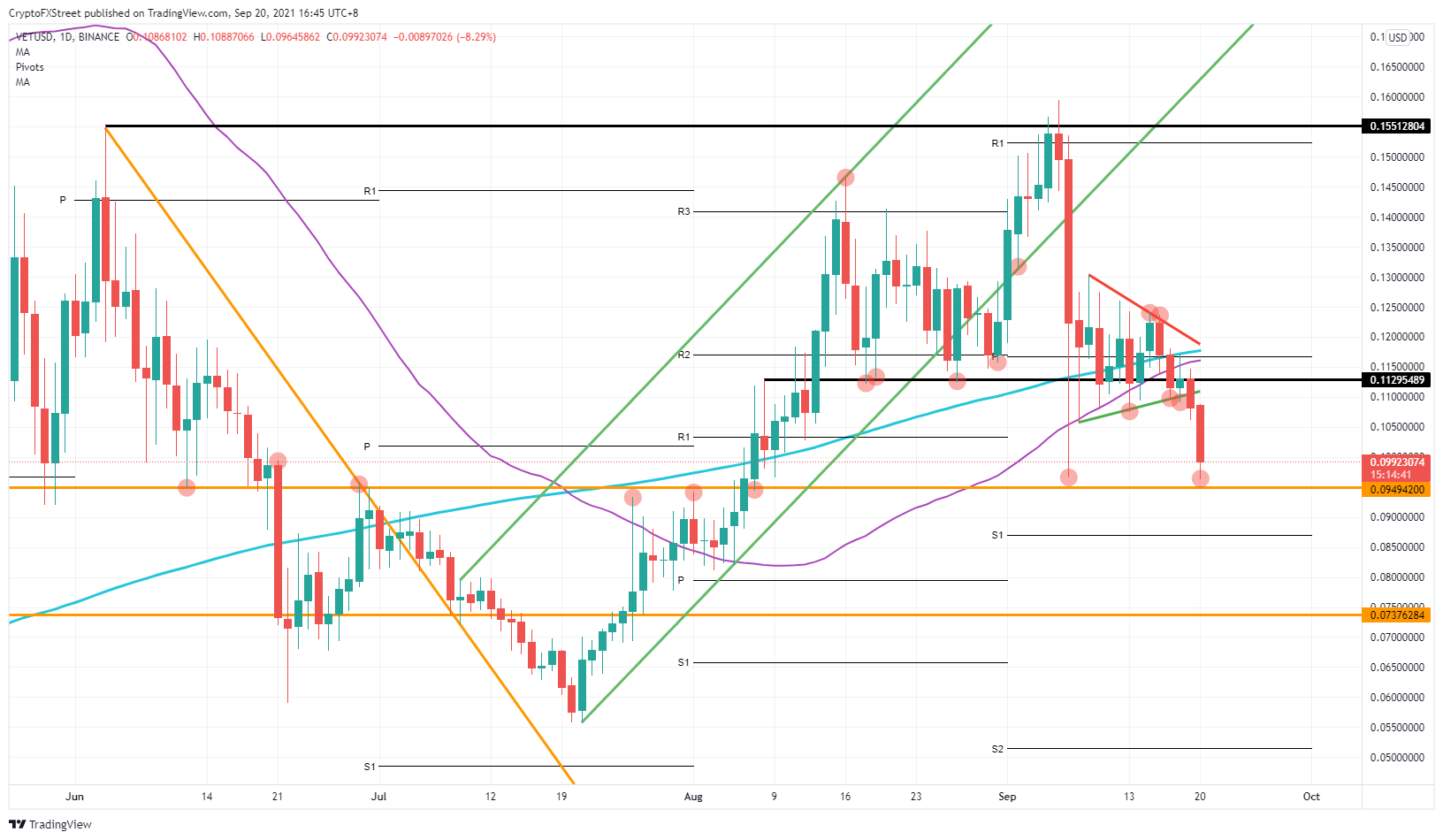 VET/USD daily chart
In case sentiment continues even further in a negative direction, expect a break of $0.095 to the downside. The next real barrier of any support is $0.074, or 25% lower than the current price level. The monthly S1 support level at $0.087 can hold some supporting character, but there is not much historical relevance to this level. 
Should bulls go in full and push sellers out of their shorts, expect a return toward $0.113.
VeChain (VET) Stake Holders Have Spoken Mainnet Upgrade by End of October
VeChain's stakeholders have spoken. The all-stakeholder vote to implement the first phase of PoA2.0 on the VeChainThor mainnet has ended with an overwhelming majority of 737 voting of 'Agree' Thank you for taking part! Mainnet will be upgraded by the end of Oct.
Community Response: When Coinbase listing? Look – VET is on Binance and what is currently #1 Crypto Exchange? Why would we need Coinbase listing when we are already on the Top.
Excellent work team. Are you able to provide an estimate of a completed POA 2.0 upgrade? Even if a loose estimate? End of October they said. I think the end of October only refers to this particular step in the upgrade, not the entire POA2.0 migration.
Vexchange=done, poa2.0=done, price=0.12 Seems 0.26 is the top. I enjoyed the ride.
The all-stakeholder vote to implement the first phase of PoA2.0 on the VeChainThor Mainnet has ended with an overwhelming majority of 737 voting of 'Agree.'
What are the direct benefits for enterprises after Phase one is launched on Mainnet? What difference does it make for your node? Is it more security or more TPS? Now we are getting somewhere.
Otherwise, Sunny Lu, CEO and Founder of VeChain stated "Everything is connected or to be connected." BMW x DHL x VeChain.
The good news is that DHL has chosen the VeChainThor blockchain for their NFT collection. As a trend pioneer, DHL China has permitted everyone to customize the DHL mascot and mint it as a NFT on the VeChainThor blockchain.
Community Response: You're not an NFT company man, begin announcing supply chain contracts.
This is just the beginning of a robust eNFT ecosystem and VeChain are looking forward to future collabs with the DHL team.
You are not an NFT company man, start announcing supply chain contracts.
$VET prediction for short – mid-term is looking really bullish. Bullish cross 20 and 55 EMA in daily time frame.
Was expecting something a little more exciting than this. Is it really worth announcing? Shows a good partnership with DHL China but that's about it. Who would want to customise and mint the DHL Mascot? At least provide some substance to the 'news.'
VeChain has a growing expertise from years of live commercial use cases, which ensures that VeChain will play an ever more vital role in tackling the challenges of global food equality in delivering United Nations SDGs. Apart from this, VeChain has been doing a lot in terms of improving the competitive advantage for sustainable brands. The possibilities with VeChain are improved because of its capabilities to create and deploy smart contracts on VeChain.
News Source
Top Crypto Analyst Unveils Massive Polkadot Prediction, Issues Cardano, Solana and VeChain Price Alert
Crypto strategist Michaël van de Poppe is extremely bullish on Polkadot (DOT), while warning several popular altcoins may face further corrections.
The trader and analyst tells his 442,000 Twitter followers that DOT appears "programmed" to rise above $100 in the current market cycle.
Using a Fibonacci extension model, he outlines $75 and $115 as potential targets.
"If we assume that the area around $37 is going to hold as we are into a bull cycle, you could wonder whether you could be getting into the markets already or whether there's a retest. So you derive a potential scenario of potential lows and potential gains. So for you, the [upside] targets are $75 to $115…
If you analyze the fact that we are going to sustain at around $38, then the potential loss and invalidation is this previous low at $32."
As for Cardano (ADA), Van de Poppe says the fifth-largest crypto asset by market cap is sending bearish signals on the Bitcoin (BTC) chart.
"Cardano against Bitcoin is showing heavy run-up, bearish divergence here, and currently showing weakness resulting in overall downwards momentum."
The cryptocurrency analyst says that a buying opportunity may present itself if support around 0.00002930 BTC holds, which is worth about at $1.75 at time of publishing.
"The crucial area that I want to see sustained is overall this level [at $1.75]. If that is going to hold here, which I might find tricky, then I'm looking for anything in these regions for potential long entries.
If that one is lost, I think we're going to look at the area around 0.0000150 BTC [$0.90] and 0.00002 [$1.19] BTC before we're going to get bullish all over again."
Next up, Van de Poppe says he expects Solana (SOL) to experience "heavy correction." According to the crypto analyst, the ideal opportunity would be after Solana corrects by about 67%, falling to around the 0.00135 BTC level on the SOL/BTC chart, which is currently valued at $80.40.
"Solana, same picture. Heavy correction most likely going to take place.
I practically have one area that I'm looking at to buy Solana at this point. It's this region (0.00135 BTC). I'm not interested in Solana until there. That's a corrective move of 67%."
The cryptocurrency analyst also looks at supply chain management blockchain VeChain (VET), which he says is trending downwards.
"What we can see in this cycle too is that we are making lower highs [and] lower lows. And we are also rejecting previous support for resistance all the time."
According to Van de Poppe, the "best potential entry point" on the VET/BTC chart is either the 0.00000110 BTC level or at 0.00000150 BTC, worth $0.066 and $0.089, respectively.
"Best potential entry point for me is around 0.00000110 BTC [$0.066]. I'm looking at an entry point in this region. If we get there in November and December, that would be absolutely amazing if that is going to be hit.
Second one – that's this entire zone that we have here. We dipped in it already and that is the zone around 0.00000150 BTC [$0.089]."
VeChain Price Analysis: VET spike back to $0.123, will the resistance hold?
VeChain price analysis is bearish today.
VET/USD spiked back to $0.123 major resistance.
Bullish momentum has slowed down over the past hours.
VeChain price analysis is bearish today as the $0.123 major resistance was reached after a very strong rally over the last 24 hours. Therefore, we expect VET/USD bulls to be exhausted and a retracement is needed next.
The overall market traded in the green over the last 24 hours, with Bitcoin up by 4.91 percent. Meanwhile, Ethereum is up by 5.42 percent, while VeChain (VET) is in the middle of the pack, with a gain of 13.6 percent.
VeChain price movement in the last 24 hours: VeChain spikes back to $0.123
VET/USD traded in a range of $0.1053 – $0.1224, indicating strong volatility over the last 24 hours. Trading volume has increased by 73.5 percent and totals $762.68 billion, while the total market cap trades around $7.73 billion, ranking the coin in 24th place overall.
VET/USD 4-hour chart: VET to retrace next?
On the 4-hour chart, we can see the VeChain price slowing down after reaching the $0.123 resistance, indicating an upcoming reversal.
VeChain price saw a strong beginning of October. A sharp rally from the previous major swing high of $0.082 was seen on the 1st of October, leading to a new high at $0.116.
From there, VET/USD consolidated for several days until another spike higher was seen on the 9th of October, reaching the $0.123 mark this time. What followed was a swift retracement of around 18 percent to the $0.101 mark.
Further downside was rejected on Tuesday, reversing VET/USD back to the upside after some consolidation. Since then, the VeChain price has seen a strong rally higher as the $0.123 major swing high is tested again.
VeChain Price Analysis: Conclusion
VeChain price analysis is bearish for the next 24 hours as bullish momentum is exhausted after a strong rally back to the $0.123 mark over the last 24 hours. Therefore, we expect VET/USD to retrace some of the gains and look to set a higher low.
While waiting for VeChain to move further, read our guides on Best NFT marketplaces, NFT history and development, as well as NFT Music.