Dogecoin Could Be Accepted by Movie Theater Giant AMC
Movie giant AMC is considering accepting Dogecoin
AMC CEO Adam Aron asked his Twitter followers on Tuesday about whether or not the world's largest movie theater chain should accept meme cryptocurrency Dogecoin.
I sincerely want to hear your opinion, via this Twitter Poll. By year-end 2021, AMC will take Bitcoin, Etherum, Litecoin and Bitcoin Cash for online payments. I hear from many on my Twitter feed we should accept Dogecoin too. Do you think AMC should explore accepting Dogecoin?— Adam Aron (@CEOAdam) September 21, 2021
As of 6:31 p.m. UTC, 32,253 users have voted, with 72.7% of them being in favor of the idea. 11.5% of those who have cast their vote believe that adding the joke coin as a new payment option would be "a waste of effort."

The question comes less than a week after Aron announced that AMC would start accepting Ethereum, Bitcoin Cash and Litecoin for movie tickets alongside Bitcoin by the end of 2021.RelatedSurvey Shows Why Walmart Should Accept Bitcoin (For Real)Because of its incredible rally, Dogecoin has made significant strides in terms of merchant adoption, with major companies of the likes of Newegg and SpaceX moving the needle.
In May, Tesla CEO Elon Musk used a Twitter poll to find out whether or not his followers wanted the e-car maker to accept the Bitcoin parody.
Do you want Tesla to accept Doge?— Elon Musk (@elonmusk) May 11, 2021
Despite the "Yes" option receiving 78.2 percent of the vote, Tesla is yet to embrace Dogecoin after it unexpectedly suspended Bitcoin payments due to climate-related concerns. 
Dogecoin price locked in downtrend as DOGE bears take the wheel
Dogecoin price is locked within a bearish continuation pattern as buyers are nowhere to be found.
Unless DOGE escapes above $0.208, the meme token could continue to trend lower.
Slicing below $0.176 might spell even more trouble for the bulls.
Dogecoin price is sealed in a consolidation pattern as DOGE fails to galvanize investors' enthusiasm. Until the canine-themed token is able to overcome a flurry of obstacles with the final hurdle at $0.23, the meme token may continue to be trapped within a downtrend.
Dogecoin price confined in tight range
Dogecoin price is trapped within a descending parallel channel on the 4-hour chart, as DOGE continues to print lower highs and lower lows. The meme token is attempting to recover following the swing low at $0.186 on November 26 but is confronted with the first area of resistance at the middle boundary of the governing technical pattern at $0.208.
Unless Dogecoin price is able to slice above the aforementioned hurdle, DOGE may continue to consolidate. The dog-themed token may discover its first line of defense at the 78.6% Fibonacci retracement level at $0.199, then at the September 26 low at $0.193.
An additional foothold may arise at the local bottom at $0.186 before Dogecoin price tags the lower boundary of the prevailing chart pattern at $0.176.
Investors should note that if DOGE falls below the downside trend line of the parallel channel, an ultimate bearish narrative of a 22% downswing toward $0.137 may be unraveled for Dogecoin price, a pessimistic target given by the governing technical pattern.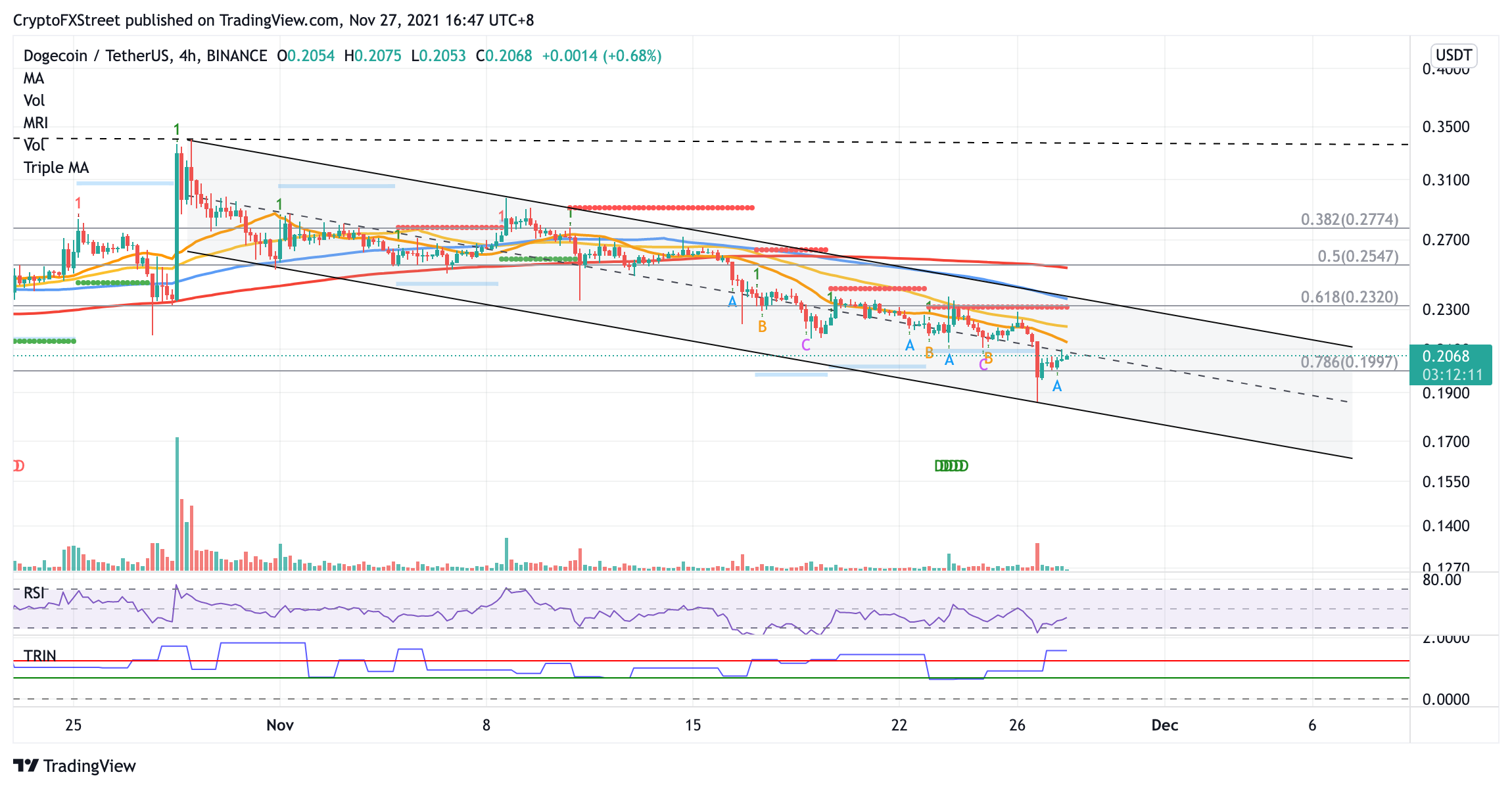 DOGE/USDT 4-hour chart
To reverse the period of sluggish performance, DOGE bulls should aim to slice above the middle boundary of the prevailing chart pattern at $0.208. Additional resistances may appear at the 21 four-hour Simple Moving Average (SMA) at $0.213, then at the 50 four-hour SMA at $0.221.
Another stiff hurdle may emerge at the 61.8% Fibonacci retracement level at $0.232, coinciding with the resistance line given by the Momentum Reversal Indicator (MRI) and the upper boundary of the parallel channel.
Escaping above the topside trend line of the governing technical pattern could see the meme token's momentum shift to the upside, potentially targeting bigger aspirations. However, Dogecoin price must also overcome the 100 four-hour SMA at $0.236 and the 200 four-hour SMA which intersects with the 50% retracement level at $0.254 for an attempt to recuperate recent losses. 
Dogecoin Price Analysis: DOGE breaks September low, finds support at $0.186
Dogecoin price analysis is bearish today.
DOGE/USD lost over 18 percent from the last high.
Support was found at $0.186.
Dogecoin price analysis is bearish today as we expect further tests of downside to follow after a slight recovery from the $0.186 low. Likely, DOGE/USD will not react higher for long as sellers are still strong in the market.
The market overall saw bearish momentum return over the last 24 hours. The market leader, Bitcoin, declined by 7.56 percent, while Ethereum lost almost 9 percent. Meanwhile, Dogecoin (DOGE) follows, with a loss of a little over 5 percent.
Dogecoin price movement in the last 24 hours: Dogecoin drops overnight, finds support at $0.186
DOGE/USD traded in a range of $0.1954 – $0.2288, indicating strong volatility over the last 24 hours. Trading volume has increased by 87.15 percent, totaling $2.36 billion, while the total market cap trades around $26.88 billion, ranking the coin in 10th place overall.
DOGE/USD 4-hour chart: DOGE looks to recover today's loss
On the 4-hour chart, we can see the Dogecoin price action reacting higher after further downside was rejected over the last hours.
Dogecoin price has seen continuous decline so far in November. After a spike to $0.34 at the end of September, DOGE/USD saw a strong reversal over the following days.
Since then, a series of lower lows and highs have been set until the $0.215 mark was reached on the 18th of November. The support prevented further downside for more than a week, while lower highs were still being set.
Yesterday, we saw the Dogecoin price set lower high again before starting to rapidly move lower. The $0.215 support was finally broken earlier today, leading to the $0.186 set as the new low. Over the past hours, a slight reaction higher followed, however, we should see DOGE/USD retest the low later today. 
Dogecoin Price Analysis: Conclusion
Dogecoin price analysis is bearish today as we expect further downside to be tested after the current reaction higher ends. Likely we will see DOGE/USD look to retest the newly set low as sellers are still active.
While waiting for Dogecoin to move further, see our articles on the Best Crypto Wallet 2021, Decred Wallet, and Ripple vs SEC.
Whales Are Buying Dogecoin According to Smart-Contract Activity
Dogecoin on-chain activity suggests that traders might be trying to enter the coin at lows
The smart contract activity is one of the indirect ways of determining the number of actions that take place on-chain of one or another asset. In the case of Dogecoin, it has entered the top 10 most actively used smart contracts on the Ethereum chain. 
According to the provided data, Doge took 7th place among the most actively interacted smart contracts on the chain. The meme-coin shared the top with coins like Binance Smart Chain, Binance USD and Chia Coin.
📰 #Dogecoin is on the top of most used smart contracts by the top 1000 BSC wallets

🐳 Whales are buying dips. How about you #DogeArmy ?

Source: https://t.co/IwpiW9WTip#DoOnlyGoodEveryday pic.twitter.com/IRe1pPD334— WhaleStats – the top 1000 Ethereum richlist (@WhaleStats) November 26, 2021
The usage of smart contracts usually implies increased buying activity since, in order to utilize a coin's smart contract, users have to own a certain amount of tokens or coins.
While Doge's on-chain data suggest that more people are starting to use it, the market data suggests the opposite. According to TradingView, Doge/USD trading pairs are losing up to 10% of their value.
At today's low, Doge reached 15% in certain hours and tested the $0.188 support. The last time Dogecoin was trading at the same level was back at the end of September. Rapid growth in coins' value was followed by the overall bullish cycle on the cryptocurrency market.