Regulatory concerns force Binance to end derivative trading in Australia
Binance exchange to end derivatives trading in Australia, December.
Number one crypto exchange, Binance, has announced it would be halting its derivatives offerings (Futures and Options Trading) by December.
This is as regulatory clampdown against the top exchange firm pressures it to stop providing some of its services, with users in Australia being the latest victim.
Binance users who trade derivatives in the country have 90 days to reduce and close their positions on options, futures, and leveraged tokens.
"Users will be able to top-up margin balances to prevent margin calls and liquidations, but they will not be able to increase or open new positions," the statement read.
In Binance exchange announcement on Tuesday, the firm said by Dec 23, users will no longer be able to reduce their positions manually, and all remaining open positions will be closed automatically.
Regulatory concern? Why Binance is closing derivative trading in Australia
A spokesperson of the exchange failed to attribute recent clampdown and continuous strikes from regulators as their reason for closing derivative trading in Australia.
Instead, the person said it's simply a strategy for improvement.
"We proactively review our product offerings and activities on an ongoing basis, against user demand, evolving regulatory requirements and future opportunities, to determine changes and improvements," the spokesperson said in an interview.
However, the exchange in its release stated that it made the move amid its attempts to "have greater collaboration with the regulators."
However, halting derivative trading in Australia comes after August's restrictions on options, margin products, and leveraged tokens where new accounts were barred from engaging in the country.
The embattled Binance brand has repeatedly been under fire from regulators globally, including in the U.S., where it has been accused of insider trading, among other accusations. This led to multiple internal changes in several branches.
Changpeng Zhao, CEO of Binance, recently said the exchange would look for a new headquarters and improve its structure.
Spanish football icon Iniesta lands in trouble for promoting Binance
Iniesta, a footballing legend, posted on social media promotional materials for Binance, including photos of him using the exchange.
This landed him in trouble with the Spanish financial markets regulator, but the player and Binance have since then cleared the misunderstanding.
---
Sports and cryptocurrencies seem to be a match made in heaven, with exchanges paying incredible figures to land sport branding deals. For one Spanish footballing icon, his first involvement with a cryptocurrency exchange has landed him in trouble with a financial markets regulator. Iniesta, a former Barcelona F.C midfield legend, promoted Binance on social media, but the regulator thinks his posts were irresponsible and could mislead his fans.
Iniesta posted on Twitter recently that he was learning to trade cryptocurrencies on Binance, complete with photos of him using the Binance platform.
Estoy aprendiendo cómo empezar con las criptomonedas con @BinanceES #BinanceForAll

I'm learning how to get started with crypto with @binance #BinanceForAll pic.twitter.com/3Km58KrnPG— Andrés Iniesta (@andresiniesta8) November 24, 2021
This could have gone down as just another sports icon taking to cryptocurrencies, but it didn't. The Spanish National Securities Market Commission was quick to respond to the footballer, reminding him that he has a responsibility to explain to his 25 million followers the risks involved in cryptocurrency investing.
"Cryptoassets, as non-regulated products, have some relevant risks," the Commission reminded Iniesta.
Speaking to London-based Financial Times, the regulator noted that it was concerned about celebrities advertising digital assets without warning their fans of the risks. Many of these fans are not aware of the regulations relevant to this market and whether their investments are protected by the law.
The watchdog added:
All this led us last night to say to Iniesta, whom we admire and who has brought us great joy, please, before recommending this, tell your followers of the risks; this is also your responsibility.
Iniesta played for Spanish giants Barcelona for one and a half decades before moving on in 2018 and is considered one of the greatest midfielders of all time. He scored the winning goal in the 2010 World Cup in South Africa to help Spain win the tournament for the first time ever.
Currently, he plays for Vissel Kobe in the Japanese J1 league. The football club is owned by Japanese e-commerce giant Rakuten, which itself owns a cryptocurrency exchange.
Binance goes all out to target sports fans
Iniesta wasn't the only footballer who was pushing Binance on social media. Raul Jimenez, who plays for English club Wolverhampton Wanderers; Luis Suarez, who plays for Spanish club Atletico Madrid; and Colombian player James Rodriguez all posted photos using Binance. Combined, the four have 64 million Twitter followers.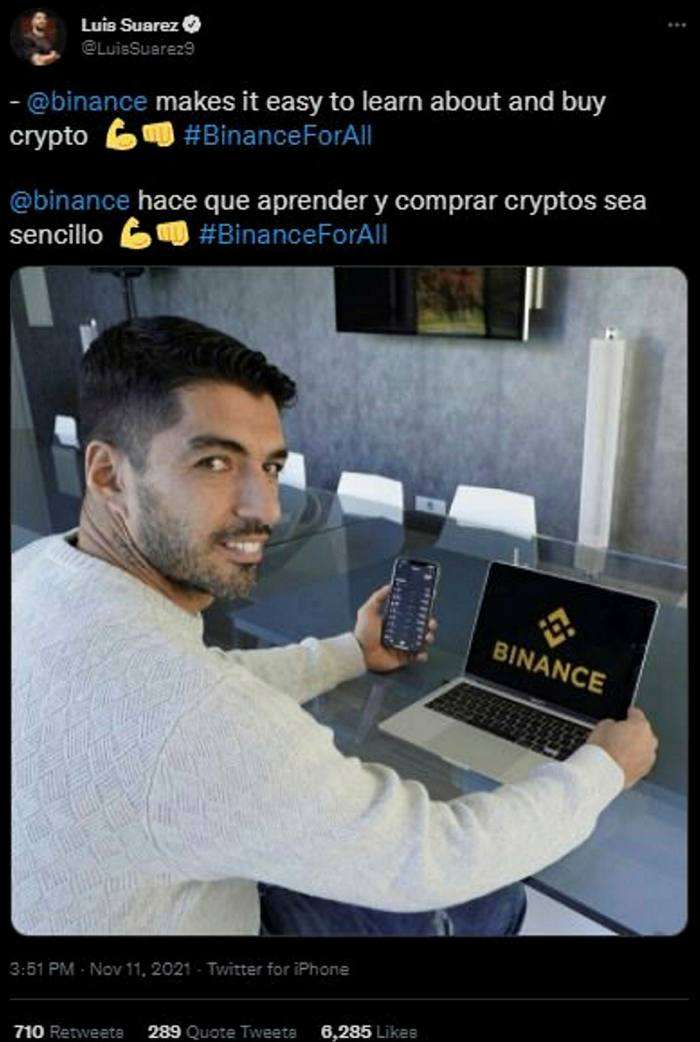 However, none of them indicated that the post was part of a paid partnership.
Binance claims that this was all down to a misunderstanding between the exchange and the players. The exchange told the Financial Times that it has a policy in which it requests that all their celebrity endorsements be clearly marked as ads.
As the exchange and the players denied malice, the Spanish securities regulator issued a warning:
What we are saying to the influencers, to celebrities, and everyone else is 'Please take care, you are recommending, in exchange for money, investment in unregulated products that have additional risks to [the]public'.
Just In: Binance Bridge Closes Down, Is FibSwap A New Viable Replacement?
Reports say that Binance just closed Binance Bridge down.
Expectedly, it was shut down last November 25, 2021, at 8 AM UTC.
However, a new project is rising as an alternative to Binance Bridge – FibSwap.
Binance just closed its cross-chain bridge down last November 25, 2021, at 8 AM UTC.
For those who are not familiar with Binance Bridge, it is a method to move crypto assets between different chains. This is quite significant, as interoperability between chains is crucial in the crypto space. More so, the closing of the bridge will restrict the to-and-from movement of cross-chain assets; hence, making it difficult for traders to swap tokens. The repercussions of this action by Binance Smart Chain have caused a lot of strain on the industry and will have resulted in an increase in the fragmentation of the crypto ecosystem.
Potential Problems That May Arise From This Shutdown
With Binance shutting their bridge down, this will impose many restrictions on people who hold assets on-chain. People will likely have more incentive to hold their assets on a centralized exchange, due to the fact that there are more barriers being put in place. The problem with this is that there is a trend of token holders that are moving on decentralized exchanges, because of the lack of trust they have towards centralized exchanges.
However, history only tells us that when a door closes, a window opens. The crypto space is an ever-evolving space and everyday new projects are offering more robust and optimized services making older platforms somehow obsolete.
While the biggest crypto company in the world is closing a door, there is another project that has opened a window. FibSwap, a multi-chain, decentralized exchange has emerged as a viable replacement to Binance Bridge with its robust set of features — including the ability to swap tokens from one chain to another with the click of a button. It is infinitely faster, quicker, and simpler to use too.
FibSwap — The Disruptive DEX
FibSwap DEX employs what is called the IMBS Protocol — an "interoperable multichain bridge system", powered by FibSwap Smart Algorithm that creates a bridge between two chains for seamless swapping of cross-chain assets. The USP of the project includes the lowest gas fees on the market and its unique lowest fee swap aggregator.
The project offers a variety of features, including:
$FIBO – $FIBO is a utility token that helps lower gas fees across all chains and gives its holders the exact transaction costs.
Ease of Use – Swapping tokens on FibSwap is made simpler, and users can swap their tokens as easily on the cross-chain as on a single chain DEX like Uniswap and PancakeSwap.
10 Second Swap – Swapping an ERC-20 token to a BE-P20 token can be done in 10 seconds.
A Trusted DEX – A safe and secure place to trade crypto assets in a decentralized environment.
All these factors and features allow FibSwap to present a robust alternative to Binance Bridge with its extremely fast and low-cost swapping of tokens.
Binance Coin Price An Inch Away From Its ATH, Will BNB Price Hit $1K By EOY
After a slight flip from the bearish divergence, for a couple of days, the market appears to have fallen into the same well. Most of the altcoins including the dominant crypto Bitcoin are slumping down, yet trying hard to jump above $58K. However, after BTC & ETH, the 3rd largest crypto Binance coin is making a very drastic move without any noise and may hit its previous ATH well before both of them. 
BNB price always preferred to be low-key with massive volatility so that the asset diminishes the distance to the ATH. The asset was still attempting hard to recover the losses incurred from May, yet the September drain dragged the asset below $350. However, without wasting much time, the Binance coin initiated with a strong upward trajectory to ignite a bull run towards its ATH. 
BNB Price Analysis
Considering the recent moves made by the asset, one of the popular analysts believes the price to hit $750- $850 in the short-term. However, the potential target still remains around $1000 as predicted ever since the beginning of the bull run during the first half of 2021.
.
The upward trajectory can be clearly seen in the chart mentioned by the analyst ever since the trend flipped at the beginning of Q4. In an attempt to smash the ATH, the BNB price got rejected multiple times around $660. Yet sustained much above the 200-day MA and the uptrend line. And hence after a minute retest, the price may break through the newly formed resistance levels close to $660.
With a strong pierce through these levels, new ATH beyond $700 may be quite possible. Moreover, maintaining the current pace, the BNB price may also achieve the targets close to $800. And hence the yearly target for Binance Coin price still remains intact at $1000 and the possibilities of achieving appear to be more compared to BTC price or ETH price.