Top 3 Price Prediction Bitcoin, Ethereum, Ripple: Alts rebound while BTC tends to its wounds
Bitcoin price closes above the August 1 swing high at $42,599, indicating the end of descent for now.
Ethereum price shows signs of life after a close above $3,011 support floor but is not in the clear area yet.
Ripple price needs to climb above the $1.01 demand barrier to enter the safe zone.
Bitcoin price suffered a brutal setback as it dropped from being extremely close to a crucial psychological level to slicing through a stable support floor. Despite the sudden downtick, BTC bulls have stepped in and kick-started what seems to be a recovery.
Bitcoin price awaits confirmation of a new uptrend
Bitcoin price dipped into the demand zone, ranging from $38,207 to $42,206 on September 21, but the resurgence of buying pressure pushed it back. At the time of writing, BTC is trading well above the upper limit of the said support area. 
A further increase in bid orders will likely push the pioneer cryptocurrency to the $44,705 resistance level. Breaching this barrier will open the path to a critical supply ceiling at $46,833. While this area will be tough to overcome, doing so will open the way to the $50,000 psychological level.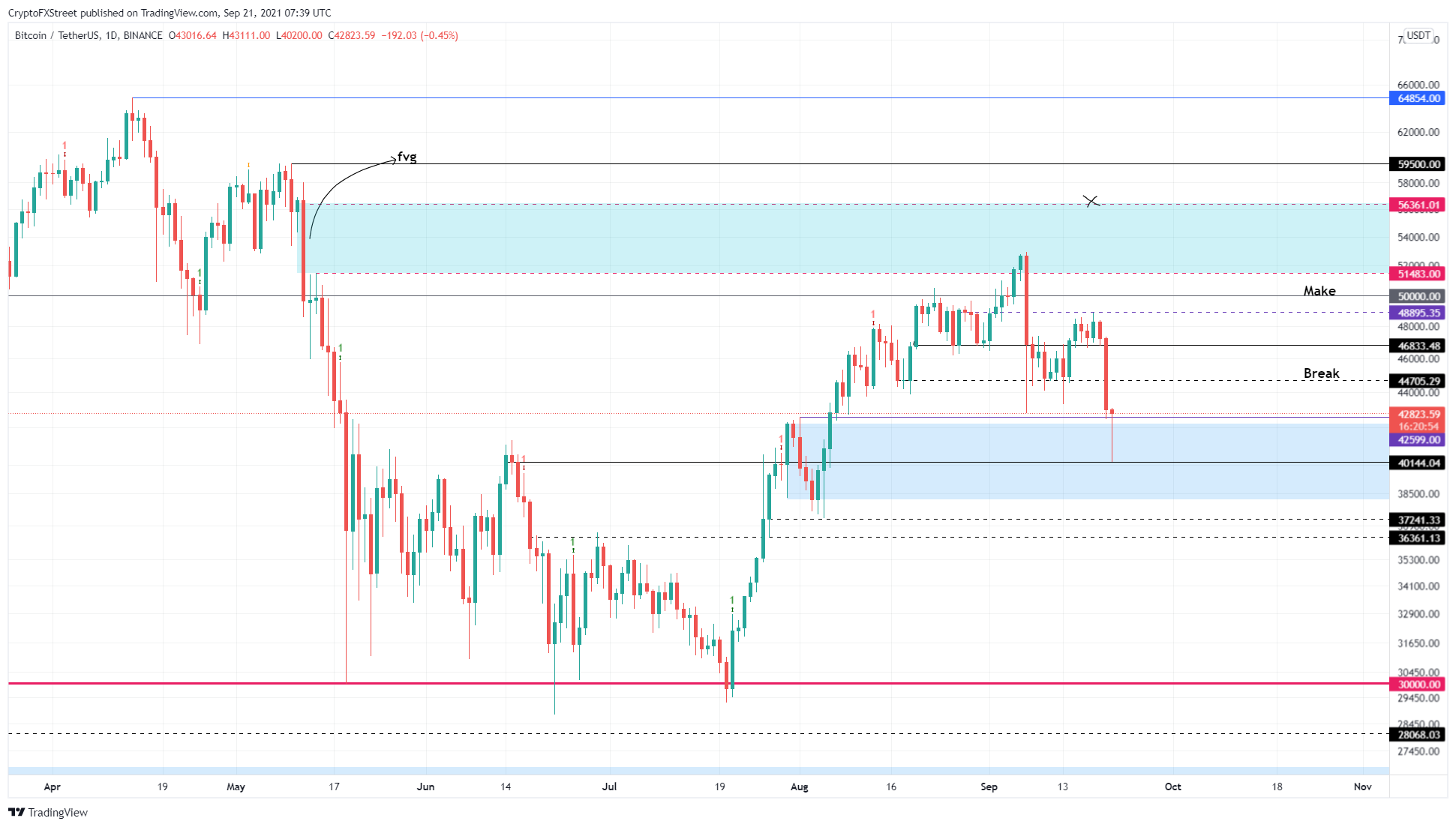 BTC/USDT 1-day chart
Regardless of the recovery seen over the past 10 hours, if BTC fails to produce a daily close above $42,206, it will indicate a weakness among the bidders. In this case, market participants can expect Bitcoin price to consolidate within the demand zone, ranging from $38,207 to $42,206. 
However, a breakdown of $38,207 will invalidate the bullish thesis and potentially trigger a steep descent.
Ethereum price tries to enter the safe zone
Ethereum price was on a healthy uptrend after the September 7 crash, but things turned around quickly when BTC fell. ETH dropped straight through the demand zone, extending from $3,015 to $3,338. 
However, unlike the big crypto, Ethereum price closed below the lower limit of the said barrier at $3,015. ETH is trying to climb back up, but this area contains huge consolidation candles, so it will be extremely hard for a short-term spike in buying pressure to breach this.
Clearing the $3,223 hurdle will be the first confirmation signal that an uptrend is on its way. Only a decisive close above $3,338 will reveal that further upside is possible.
In the case that the smart-contract token does follow through, it will encounter the $3,429 ceiling. Following this, ETH needs to compete and rise past the September 16 swing high at $3,676.
If the buying pressure persists, investors can expect Ethereum price to make a run at the Fair Value Gap (FVG), ranging from $3,716 to $4,071.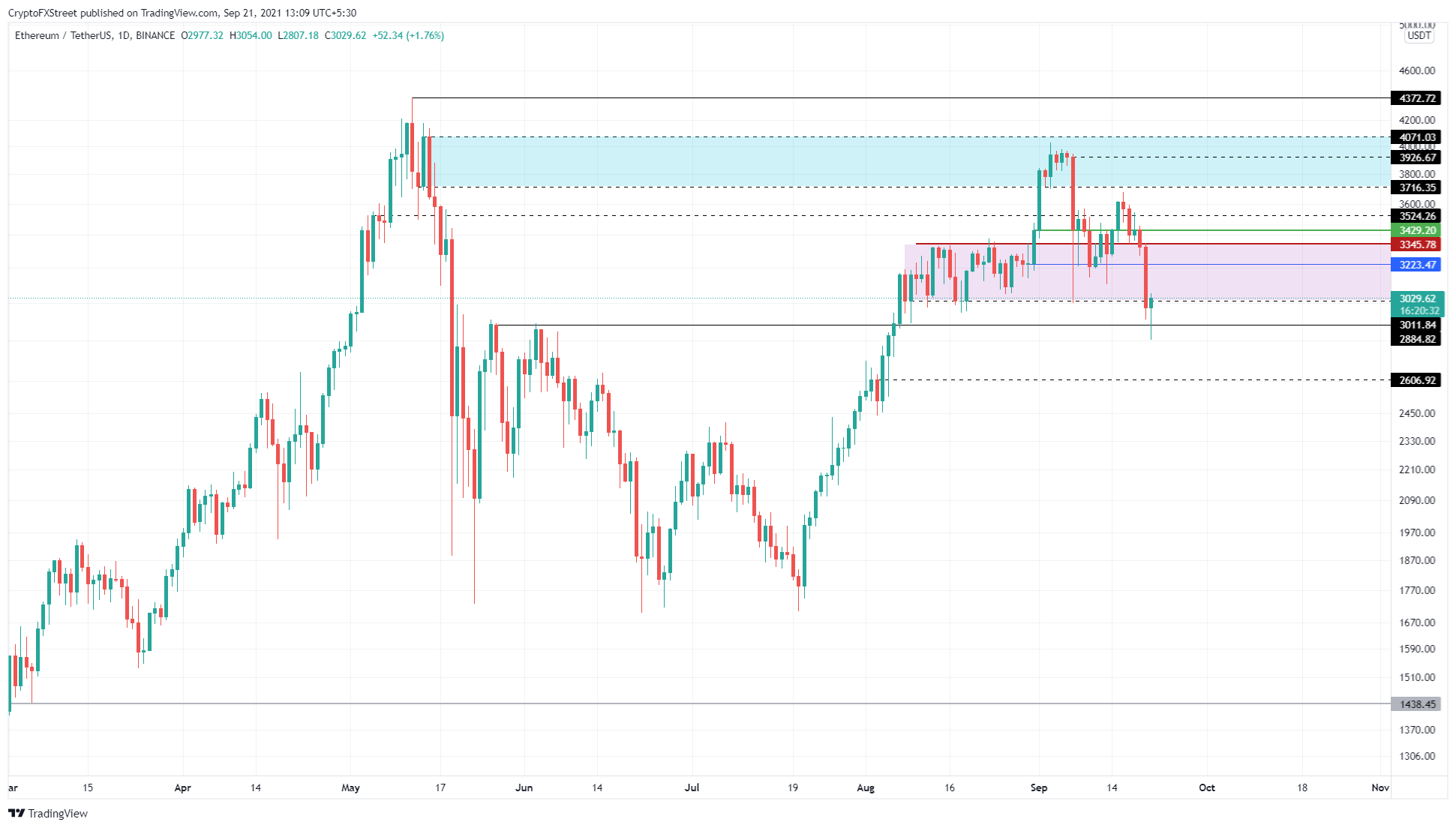 ETH/USDT 1-day chart
On the other hand, if Ethereum price fails to scale the demand zone, stretching from $3,015 to $3,338. It will reveal an increased selling pressure and knock ETH down to $2,884. A decisive close below this barrier will create another lower low, signaling the invalidation of the bullish thesis.
Such a move also opens the path for potential crashes.
Ripple price in the same boat as Ethereum
Ripple price also sliced through a demand zone ranging from $1.012 to $0.964 during the crash witnessed on September 20-21. At the time of writing, XRP price is trading just above the lower limit of the said support area at $0.964.
A potential spike in buying pressure that pushes the remittance token to produce a decisive close above $1.012 will confirm the resurgence of bulls. This development might trigger a FOMO among buyers who want to get in on the recovery rally and push XRP price to the immediate hurdle at $1.09.
Clearing this level will leave the bulls to retest the $1.267 resistance ceiling. This climb would constitute a 35% ascent from the current position.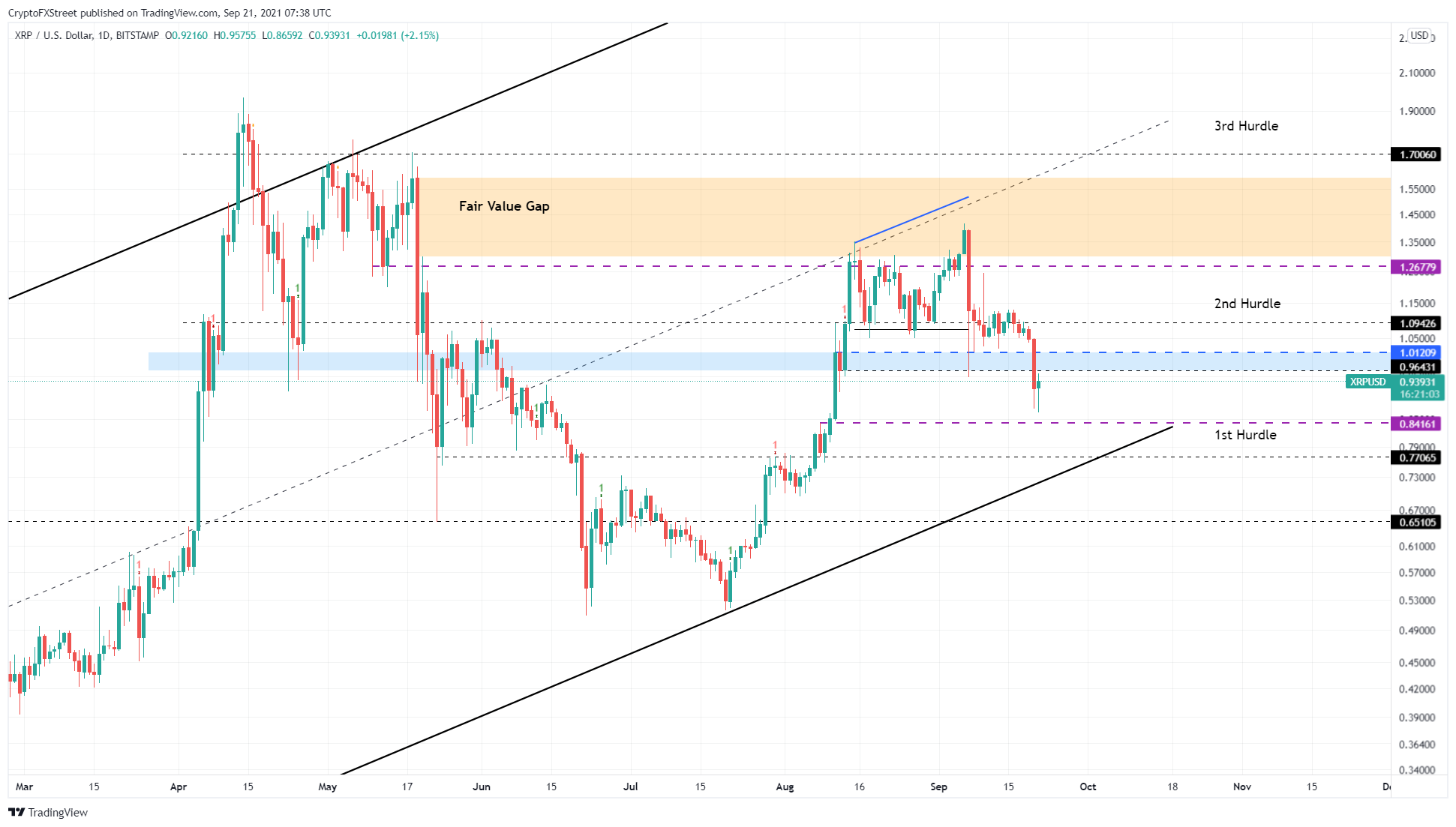 XRP/USD 1-day chart
While many altcoins are recovering quickly, things are not looking great for Ripple price. A continuation of the downtrend, leading to a breakdown of the $0.846 support floor, will set a lower low and invalidate the bullish thesis.
Such a move will allow the bears to knock the XRP price down to $0.771.
Ethereum Price Analysis: ETH rejects further downside at $4,000, moves into consolidation?
Ethereum price analysis is bullish today.
ETH/USD set another higher low at $4,000 overnight.
Upside is currently tested again.
Ethereum price analysis is bullish today as we saw a higher low set above $4,000, leading to a slight recovery so far today. Likely, ETH/USD will continue higher over the next 24 hours as bears are exhausted after a strong selloff on Friday.
The cryptocurrency market saw bearish momentum return again, with Bitcoin down by 1.3 percent. Ethereum follows, with a loss of 1.09 percent, with the rest of the top altcoins performing even worse.
Ethereum price movement in the last 24 hours: Ethereum drops again, finds support around $4,000
ETH/USD traded in a range of $3,990.68 – $4,162.30, indicating strong volatility over the last 24 hours. Trading volume has declined by 30.49 percent, totaling $13.36 billion, while the total market cap trades around $486.6 billion, resulting in a market dominance of 19.82 percent.
ETH/USD 4-hour chart: ETH recovers again
On the 4-hour chart, we can see the Ethereum price moving higher again today as bulls are eager to test upside after a higher low set overnight.
Ethereum price has seen strong volatility this week. After dropping more than 15 percent last week, support was found around $3,950. Further higher low was set early this week, resulting in more upside reached later.
A strong higher high at $4,550 was set on Thursday, indicating that the overall market structure has turned bullish again. However, a strong spike lower followed on Friday, leading ETH slightly below the $3,950 previous major swing low.
Since then, the Ethereum price has retraced to retest the $4,200 mark as resistance before starting to move lower yesterday. Overnight, rejection for further downside was seen around $4,000, leading to some bullish momentum returning again Today.
Ethereum Price Analysis: Conclusion
Ethereum price analysis is bullish today as we expect more upside to follow over the next 24 hours after a higher low was set around $4,000 yesterday. Alternatively, ETH/USD could start to consolidate in an increasingly tighter range if a lower high is set later today.
While waiting for Ethereum to move further, see our articles on the Best Crypto Wallet 2021, Decred Wallet, and Ripple vs SEC.
Despite All The FUD, Ethereum (ETH) Price Stands Strong Above $4000!
The Ethereum price after breaking the symmetrical triangle towards the north and was on the verge to hit the immediate resistance at $4742. However, a huge plunge dragged the price just below $4000 and it recovered within no time. Currently, the ETH price is swelling and trending again above $4100 that may march beyond $4250. 
At the press time, the 2nd largest crypto is sustaining above $4100 and may test one of the important resistance zones at around $4250. Yet before marching towards the highs close to ATH, the possibilities of the asset revisiting levels below $4000 surface the waters. And hence providing a good opportunity for the traders to enter the trade at a discounted price.
The asset's ascending parallel channel appears to be still intact and hence as per a popular analyst, the ETH price may revisit the lower zone of the channel again.
The analyst feels the asset may revist to the liquidity zone in between $3880 and $3671 in the upcoming days. Also, Ethereum may get the required strength and boost on revisiting these levels. As the levels around $3700 – $3600 are a good buy-zone for the asset. Therefore the price may reverse the trend as it hits the lower trend line.
The flip may still be pretty challenging as the ETH price initially needs to break the downtrend line by surpassing $4190. After sustaining successfully above these levels, Ethereum may range in the upper zone of the channel. This is when the actual bull run may initiate as to surpass the middle line, the price needs to form a new ATH.
Vitalik Buterin has a new proposal to reduce gas fees for Layer 2 scaling options
The new EIP-4488, co-written by Vitalik Buterin, is seeking to bring down gas fees for Layer 2 scaling options, but is a temporary solution.
It will achieve this by reducing transaction calldata cost and capping the total transaction calldata in a block.
---
Ethereum's high transaction costs have been well-documented, and have been a key factor in the rise of Ethereum killers. One of the solutions that seemed to be working was the Layer 2 scaling options that leverage Ethereum's security but cut down on costs. Even these have become increasingly expensive in recent months, however. Vitalik Buterin has come up with a new proposal that is seeking to keep the gas fees for L2s low, but it can only be temporary.
EIP-4488 – Vitalik Buterin's short-term fix
In his new Ethereum Improvement Proposal (EIP) 4488, Buterin recognizes that while the Layer 2 solutions have lowered the costs by a great margin, they are still not low enough for mass adoption.
"Hence, a short-term solution to further cut costs for rollups, and to incentivize an ecosystem-wide transition to a rollup-centric Ethereum, is desired," he noted.
Layer 2 scaling options for Ethereum, such as Polygon, mainly rely on either Optimistic Rollups or zero-knowledge (ZK)-Rollups. Together with sharding, they are the primary method that Ethereum 2.0 will leverage to scale.
Rollups (both the ZK and optimistic family) exist and continue to make great progress. While sharding is still coming along fast, we do NOT depend on sharding to achieve 1000+ on-chain TPS.

And in eth2, the scaling gains of sharding and rollups *multiply*.— vitalik.eth (@VitalikButerin) May 21, 2020
Optimism family of rollups lowers fees on Ethereum by 3-8x, while ZK-Rollups, which have better data compression and can avoid including signatures, have fees 40-100x lower than the base layer.
Though much lower, these fees are still way too expensive for many users, Buterin acknowledges. In the long term, sharding will solve this challenge.
"However, data sharding will still take a considerable amount of time to finish implementing and deploying. Hence, a short-term solution to further cut costs for rollups, and to incentivize an ecosystem-wide transition to a rollup-centric Ethereum, is desired," he noted.
EIP-4488 will provide a solution by decreasing the calldata gas cost. This is the compressed transaction data component from rollups running at scale once it's committed to the main Ethereum chain.
Looks like Ethereum may soon effectively have a 1MB blocksize limit!

This is part of the process to lower the gas cost of data by around 5 times, to make rollups cheaperhttps://t.co/W98cePpnKP— BitMEX Research (@BitMEXResearch) November 26, 2021
Decreasing the calldata gas cost by itself would present a new security concern. It would, in turn, increase the maximum block size from about 1.9 MB to 10 MB. "This would push the Ethereum p2p networking layer to unprecedented levels of strain and risk breaking the network," Buterin notes.
As such, just decreasing the calldata gas cost won't do. EIP-4488 solves this by adding a limit for the total transaction calldata that can be in a block.
The proposal would be a backward-compatible gas repricing that would require a scheduled network upgrade.
Ethereum users wouldn't be affected and would continue to operate without any changes. The miners, as well, would continue to operate unaffected. But they will now have to adhere to a new rule that bars them from adding new transactions to a block when the total calldata size reaches the maximum.