Dogecoin among top choice for AMC crypto payments
CEO of AMC asks crypto Twitter whether the American movie theatre chain should accept the meme coin for online payments.
Nearly 70% of the responses were positive, of the 114,642 votes.
Dogecoin has been gearing up for a bullish breakout as DOGE has become popular as the meme coin for athletes.
AMC Theatres recently announced that the theatre chain would start accepting Bitcoin, Ethereum, Litecoin and Bitcoin Cash by the end of 2021.
70% of survey respondents ask for Dogecoin to be added as an online payment option
Dogecoin recently garnered attention from athletes and traders on crypto Twitter as a favorite among meme coins. Football clubs and athletes have embraced the cryptocurrency. 
Paul Pierce, a former American basketball player, shared his purchase of Dogecoin in March 2021, with 4 million fans and followers on crypto Twitter. 
Dogecoin about to hit buy now— Paul Pierce (@paulpierce34) March 16, 2021
Earlier today Adam Aron, CEO of AMC, an American movie theatre chain headquartered in Kansas, asked 171,100 Twitter followers if AMC should explore adding Dogecoin as an online payment option. 
I sincerely want to hear your opinion, via this Twitter Poll. By year-end 2021, AMC will take Bitcoin, Etherum, Litecoin and Bitcoin Cash for online payments. I hear from many on my Twitter feed we should accept Dogecoin too. Do you think AMC should explore accepting Dogecoin?— Adam Aron (@CEOAdam) September 21, 2021
Nearly 70% of respondents favored adding the meme coin to the list of Bitcoin, Ethereum, Litecoin and Bitcoin Cash that AMC has considered adding before the end of 2021.
David Gokhshtein, CEO of PAC protocol and Gokhshtein Media, responded in the affirmative, asking Aron to let people use Dogecoin.
Hey @CEOAdam — let the people use $DOGE. https://t.co/7NnRpUkb7P— David Gokhshtein (@davidgokhshtein) September 21, 2021
Analysts anticipate a bullish breakout in DOGE, following Shiba Inu's upward climb and the high correlation between the two meme coins.
Pseudonymous cryptocurrency trader and analyst @Pentosh1 expects a rally in DOGE.
Too tired to play it tonight and take any new positions but after the 40% SHIB pump it looks like $DOGE is starting too. Imo prob hits magnet but nothing as drastic as $SHIB pic.twitter.com/HYAX2gQWFb— 🧸🔫🐧Pent◎shi Wont DM You (@Pentosh1) September 17, 2021
The analyst has admitted that he did not own DOGE when he shared a bullish outlook for the altcoin's price. With rising utility in the cryptocurrency ecosystem and sports, DOGE is poised to breakout in the long run. 
What are the chances for Dogecoin, Shiba Inu to be rescued by immediate recovery
Just like large-cap coins, the state of the market's meme-coins too has been in dire straits over the past few hours. DOGE and SHIB had in fact shed more value in the past day when compared to the past 7-days in total.
Despite the massive dip, both the meme-coins were seen exhibiting signs of recovery, at press time. As can be seen from the chart attached below, the past three odd hours have fairly been good for both these coins.
DOGE managed to pull up its socks and register two green candles in the aforementioned timeframe. SHIBA's recovery, on the other hand, looked even more concrete as it successfully managed to register three-successive green candles on its hourly chart.
Interestingly, their volumes too [depicted below the candlesticks] have been decently high over the last couple of hours. Thus, indicating that a fair share of participants has indeed started "buying the dip."
So, will they start barking louder now?
Less than a week back SHIB broke above its descending channel and registered consecutive green candles. It however did dunk in value right after. The latest dip, in retrospect, didn't seem to be too deep.
On the daily chart, SHIB was seen trading slightly below the 61.8% Fibonacci level, at the time of writing. If it continues to project green candles over the next couple of hours, it would manage to reclaim $0.00003798 as support.
However, if it fails to do so, then SHIB could fall to a level as low as $0.00002413. In such a scenario if bears manage to gain control over bulls, then HODLers can expect this coin to revisit any level around $0.00000648.
DOGE's prospects, on the contrary, looked slightly bleak. Over the past day, the largest meme-coin had broken below most of its supports and was seen trading at a level reminiscent of what was recorded way back in July. Earlier during the day it, in fact, crawled to a low level that was last seen only in April.
So, if the downtrend continues for DOGE on its charts, and it manages to break below its $0.158 support level, then there are high chances of it paying a visit to $0.101.
Nonetheless, it managed to uphold its green-candle trend on the lower timeframe, it would gradually be able to negate its losses and inch back to $0.2 after crossing $0.182.
Community 'pats'
Well, the community usually plays a key role in helping meme-coins recover. At the time of writing, the sentiment data from Santiment projected quite an interesting trend.
Over the last couple of hours, DOGE mentions on social media have, by and large, been positive. In fact, the positive sentiment has successfully been able to out shadow the negative sentiment. If the trend heads in the same direction, then community members might successfully be able to aid the coin recovery, despite the sluggishness on its price chart.
A similar trend was observed with SHIB too. Now, this essentially means that the community members are still backing both DOGE and SHIB, despite whatever has happened over the past few hours.
Well, even though meme-coins usually tread on Bitcoin and other large-cap alts' pre-carved path, they've managed to defy that trend a host of times in the recent past. So, irrespective of the state of the broader market at this stage, these two coins might end up surprising market participants. The odds of their recovery seem to slightly outweigh the odds of them continuing with their respective downtrends at this point.
Dogecoin falls 36% and rallies as DOGE looks for massive reversal to $0.39
Dogecoin price dips below key $0.18 value area.
Key resistance levels continue to drop and add pressure to any upside momentum.
Failure to hold $0.18 could spell disaster.
Dogecoin price action has tested levels below the final support zone at $0.18. The early Saturday AM crypto crash sent Dogecoin in a free-fall below key support, but it has recovered a large amount of that crash. As a result, Dogecoin is still under threat of returning to single-digit levels.
Dogecoin price collapses over 40%
Dogecoin price has traded below the weekly Tenkan-Sen and Kijun-Sen for the past five consecutive weeks. During that time, it has tested the primary support level at the $0.18 level several times, but sellers have failed to step in to push Dogecoin off a cliff. As time has moved on, the near-term Ichimoku levels have crept closer and lower.
The road higher for Dogecoin is extremely difficult, and buyers who want to wait for a conservative entry will have a long wait ahead of them.
A conservative buy entry is at the $0.27 price level. If Dogecoin has a weekly candlestick close at or above $0.27, then that means it has closed above the weekly Tenkan-Sen, Kijun-Sen, and 2021 Volume Point Of Control. The Chikou Span will still be below the candlesticks and the close will still be below the Cloud, but a close at or above $0.27 begins the process of moving higher.
Dogecoin price will need to close, at a minimum, at $0.39 to fulfill all the requirements for an Ideal Bullish Ichimoku Breakout entry. While that does seem like a significant distance away, Dogecoin has made many massive moves higher than that in the past.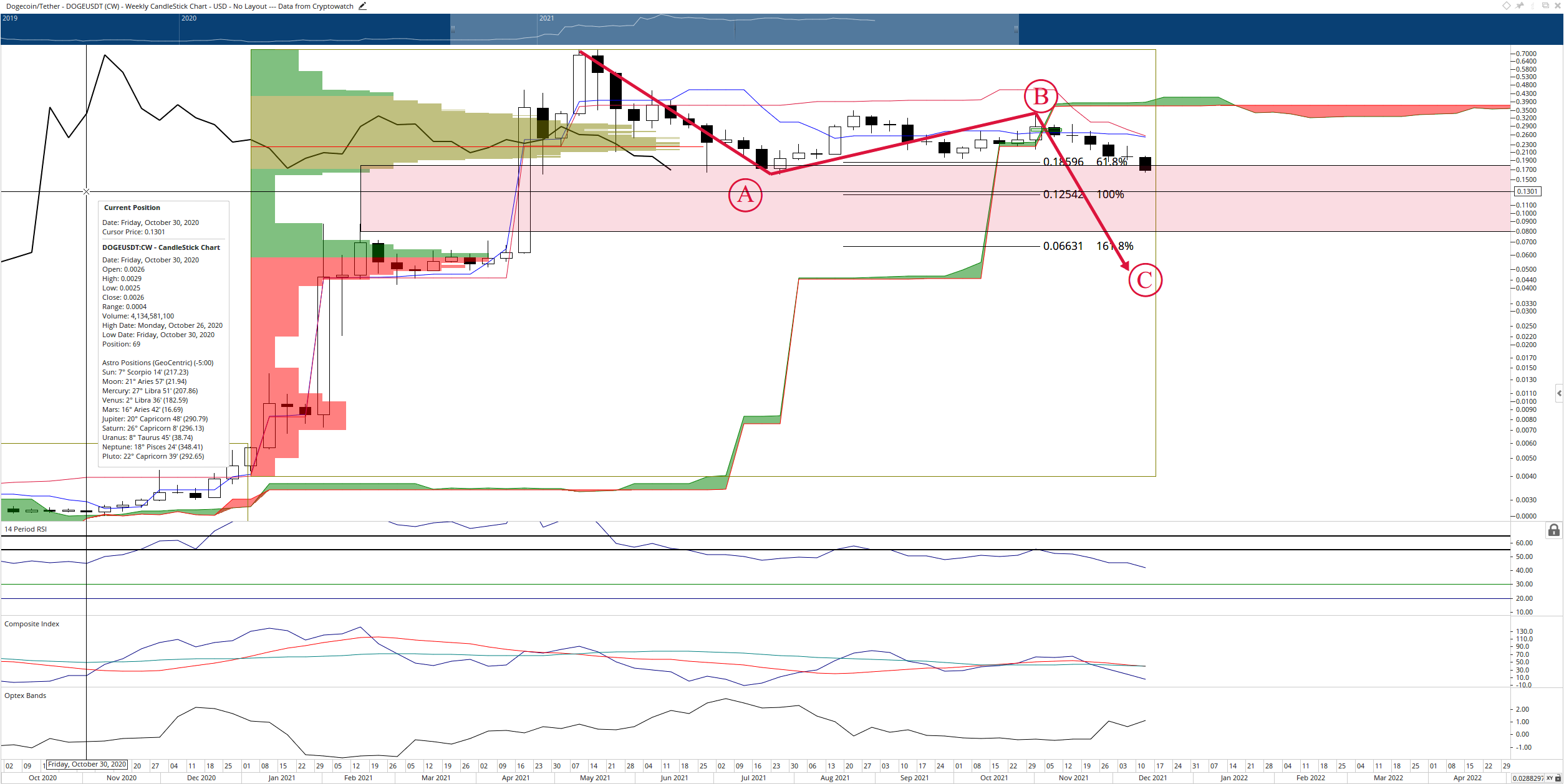 DOGE/USDT Weekly Ichimoku Chart
Downside risks, however, remain. The large, long, red rectangle on the chart represents the thinnest part of the 2021 Volume Profile. If Dogecoin has a daily or weekly candlestick close below the $0.175 price level, a flash-crash to the next high volume node at $0.08 is very likely.
Dogecoin Forecast December 3, 2021
DOGE/USD are traded at the level of 0.2080 and continue to move as part of the correction and the downward channel. There is also a potential for the formation of the "Head and Shoulders" reversal pattern. Moving averages indicate a short-term bearish trend for Dogecoin. Prices are again testing the area between the signal lines, which indicates pressure from the sellers of the asset and a potential continuation of the fall from the current levels. At the moment, we should expect an attempt to develop a correction in the value of a digital asset and a test of the support level near the 0.1945 area. Where can we expect a rebound upward again and a continuation of the rise in the Dogecoin rate with a potential target above the level of 0.2655.
Dogecoin Forecast December 3, 2021
A strong signal in favor of raising the DOGE/USD quotes will be a rebound from the support line on the relative strength index (RSI). The second signal will be a rebound from the lower border of the "Head and Shoulders" reversal pattern. Cancellation of the option to raise the coin will be a fall in the value of the asset and a breakdown of the 0.1705 area. This will indicate a breakdown of the support area and a continued fall in the cryptocurrency rate with a potential target below the level of 0.1435. With the breakdown of the resistance area and closing of quotations above the level of 0.2485, we should expect confirmation of the development of a bullish trend in Dogecoin.
Dogecoin Forecast December 3, 2021 suggests an attempt to correct and test the support area near the level of 0.1945. Where can we expect a rebound and continued growth in DOGE/USD to the area above the level of 0.2655. An additional signal in favor of a rise in Dogecoin will be a test of the trend line on the relative strength index (RSI). Cancellation of the growth option will be a fall and a breakdown of the 0.1705 area. This will indicate a continued decline in cryptocurrency with a target below the level of 0.1435.