Extreme Fear Among Bitcoin Investors for the First Time in Two Months
The Bitcoin Fear and Greed Index plunged to 21, showing a state of "extreme fear" among the crypto community.
The Bitcoin Fear and Greed Index, which reveals the crypto community's general feelings towards the primary cryptocurrency, has gone into an "extreme fear" territory for the first time since the end of July. This comes as the digital asset's price dropped by $8,000 in just a few days.
Extreme Fear Among BTC Investors
The latest developments of the financial market, especially the recent Evergrande debt crisis in China, caused a major setback for the digital asset industry. As a result, bitcoin's price plunged massively to below $40,000, which became the lowest price tag since early April. Somewhat expectedly, similar developments have caused a rapid change in the community's sentiment on the asset.
The Bitcoin Fear and Greed Index confirms these expectations. The popular metric that determines the general feelings towards BTC has dropped to a state of "extreme fear." The last time it dived to such a low level was on July 21st when bitcoin dipped below $30,000.
The results of the index range from 0 – extreme fear to 100 – extreme greed as today's number stands at 21. What typically causes swings of the metric is the price of the cryptocurrency. However, various other factors such as volatility, market volume, social media, surveys, trends, and dominance also play an essential role.
The Fear and Greed Index measures not only the crypto community's behavior towards bitcoin but also towards other digital assets. Ethereum's situation, for example, is not much different as it has entered a "fear" territory (27), coinciding with ETH's drop below $3,000.
What Does 'Extreme Fear' Actually Mean?
While the phrase "extreme fear" might sound like a concern to most people dealing with digital assets, it is not always the case. Many experts in the field believe that bitcoin being in this state is actually a good buying opportunity. After all, the Oracle of Omaha – Warren Buffett – previously advised that investors should be greedy when the crowd is fearful and vice-versa.
It seems that one of the largest bitcoin whales is also a believer in this theory as he took advantage of the current dip to accumulate another sizeable portion of the cryptocurrency.
Bitcoin Tops $63K on Strong ETF Debut and Grayscale Filing
The flagship cryptocurrency is just a hair's breadth away from reclaiming its previous lifetime peak
The Bitcoin price has revisited the $63,000 price level once again, reaching an intraday high of $63,337 on the Bitstamp exchange.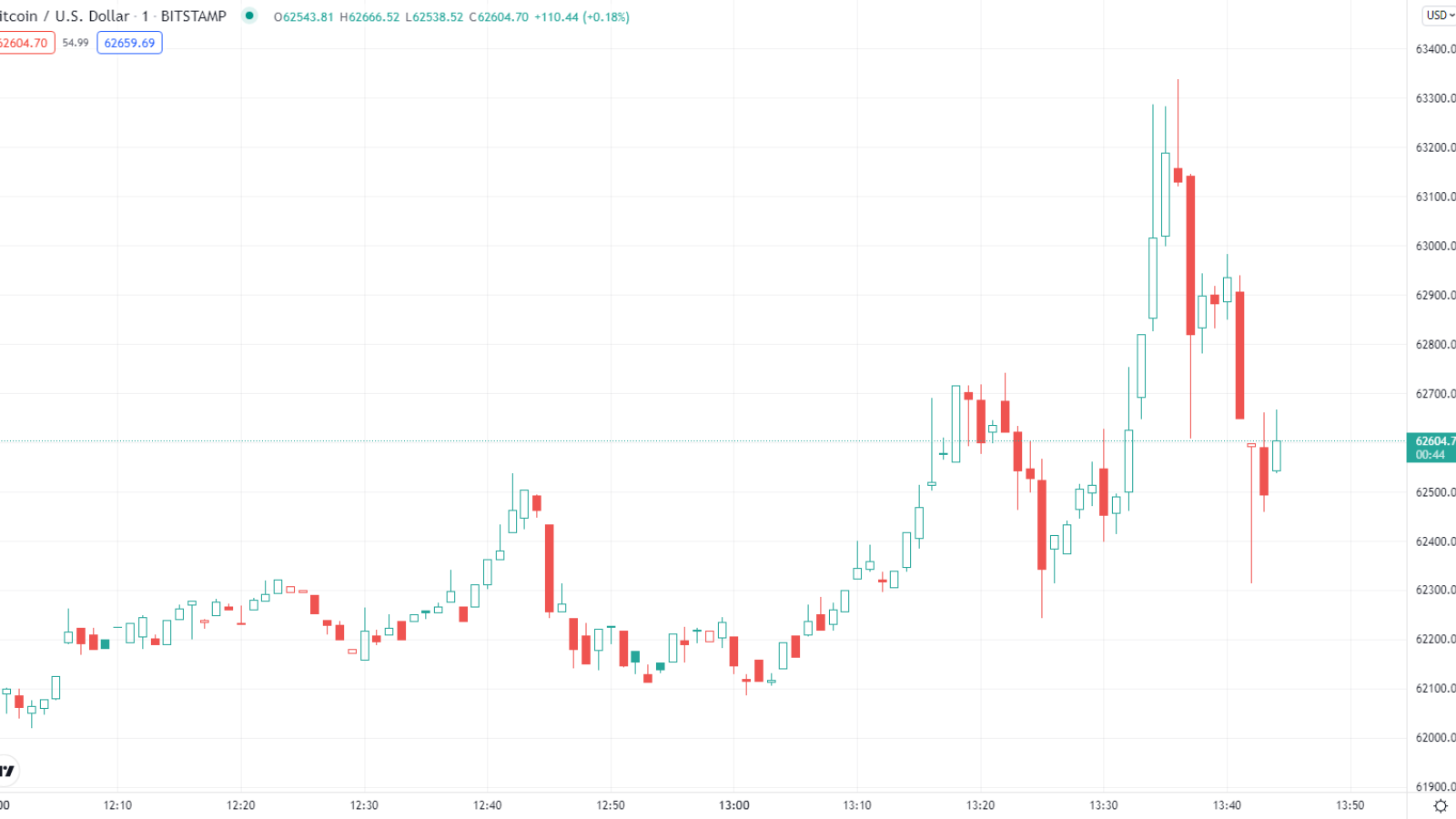 Bitcoin is now roughly 2% away from reclaiming its current all-time high of $64,804 set in mid-April on the day the Coinbase exchange went public.

The world's largest cryptocurrency is stealing the spotlight following the much-anticipated launch of the very first Bitcoin futures exchange-traded fund.

ETF provider ProShares rang the opening bell at the New York Stock Exchange right before the ETF made its debut to much fanfare.
ProShares's futures-based Bitcoin ETF has traded a staggering $320 million during its first 30 minutes of trading. James Seyffart of Bloomberg Intelligence described this level of demand as "insane."
Billionaire CEO of Starwood Capital Group Explains Why He Holds Bitcoin and Ethereum
In a recent interview, American billionaire Barry Sternlicht revealed that his crypto portfolio consists of Bitcoin and Ethereum, saying both assets offer their own significant advantages over the competition. 
According to his bio, Sternlicht is "Chairman & CEO of Starwood Capital Group, the private alternative investment firm he formed in 1991 that is focused on global real estate, hotel management, oil and gas, and energy infrastructure." He also serves as "Chairman of Starwood Property Trust (NYSE: STWD), a leading diversified finance company, as well as Senior Advisor of Invitation Homes (NYSE: INVH), the largest publicly traded investor, owner and operator of single-family homes in the U.S." His firm "currently manages over $95B of assets on behalf of its high net worth and institutional partners."
During an interview with CNBC's "Squawk Box" on October 13, Sternlicht said that he had invested in cryptoassets as a safeguard against the money-printing tactics of governments around the world. 
"Gold is kind of worthless," says Barry Sternlicht. "The reason I own #bitcoin is because the U.S. government and every government in western hemisphere is printing money now to the end of time and this is a finite amount of something and it can be traded globally." pic.twitter.com/72zYQTjF0y— Squawk Box (@SquawkCNBC) October 13, 2021
As reported by The Daily Hodl, Sternlicht said:
The reason I own BTC is because the US government and every government in the Western hemisphere is printing money now until the end of time, And this is a finite amount of something, and it can be traded globally and people have fiat currencies whether it's in Nigeria or… Bolivia or wherever, you can move into something that the world has accepted as a substitute for gold.
Sternlicht also pushed back on the notion that Bitcoin was "worthless" as a store of value asset, particularly referencing comments made by JPMorgan CEO Jamie Dimon. The Starwood Capital CEO argued that applying the same logic to precious metals would find gold and silver worthless as well:
What Jamie Dimon talked about, I mean gold is kind of worthless too, silver [as well], they have some industrial uses, but they're minor.
Sternlicht called Bitcoin "a dumb coin" since it has "no real purpose other than a store of value, and it's a little crazily volatile."
He then explained why he also owns Ethereum ($ETH):
"So Ether, which is right below it, I own some of that. That's a programmable Bitcoin, and then there are tons of other coins that are built off of that system… I've become very interested in blockchain technology as a whole, the digital ledger is going to change everything…"
Popular Analyst Sets Price Targets for Bitcoin, Ethereum, and Solana
The crypto market has been wobbly over the last 24 hours. Despite mild volatility, Bitcoin has held above $60K, ETH has been trading above the $3700 level after a slight dip. BNB despite the coin burn is still thriving at the $480 level.
Amidst this market action, Three price prediction charts for Bitcoin, Ethereum, and Solana are working like "pure magic," according to macro specialist Raoul Pal, and they give positive predictions for the tokens. He speaks of which in the new Crypto banter podcast.
Bitcoin(BTC)
The Real Vision's co-founder and CEO compare Bitcoin's current market cycle to that of 2012-13, predicting a price goal of more than $250,000 at the end of this bull run.
He says he has been using the chart for over a year and it's been nothing short of miraculous. It provides a very clear aim, and it's worked wonders.
" It Gave Me The Courage To Keep Adding During The Bear Market, Knowing That "We Know How This Plays Out." He Added.
At the time of writing Ethereum Price is trading at $3812 up by 1.9% in the last 24 hours.
Ethereum (ETH)
The former Goldman Sachs executive then puts up another graph that compares the price trajectory of Ethereum from 2016 to that of Bitcoin from 2011 to 2019.
He further shows how Ethereum stacks up against Bitcoin in 2017. It's been a lot of fun. In fact, I have this as a real-time chart on Bloomberg, and it's virtually accurate to the day right now [because] it's so close he says.
At the time of writing, BTC is trading at $62317 up by 1.9% in the last 24 hours.
Solana (SOL)
Finally, Pal provides a graph that illustrates how Solana (SOL), a smart contract platform, is following the same path that Ethereum did in 2016-2017, which, if it continues, will put SOL above $800 in April 2022.
He explains that at the moment, the price of Ethereum is nearly the same as the price of Bitcoin in 2017. and here's Solana at the same price as ETH, expanding quicker as a network, but with the same chart. It's insane.
At the time of writing, Solana is trading at $157.72 up by 0.1% in the last 24 hours.