Polygon [MATIC] is back and how! What's next?
Multiple on-chain activities and metrics show that Polygon is experiencing growth that may result in a price increase for the $MATIC token, too. The Twitter account, RaphaelSignal posted a new analysis about activities and metrics on Polygon.
It details many metrics mainly focusing on the increased active users. Besides, the comparison of Polygon usage with Ethereum usage shows this layer-two solution may gradually replace the current dominant player of the smart contract industry.
Moving to the Top again?
Polygon is one of the most famous layer-two solutions for Ethereum. It has been very successful in attracting both end-users and developers by providing attractive solutions in terms of scalability and gas fees. Currently, many big projects have migrated to the new solution and brought many users to this network. The native token, $MATIC, experienced considerable growth and may start a bull run again. The latest data shows that on-chain activities are increasing on this network that may result in more growth and even price increase.
RaphaelSignal tweeted about Polygon yesterday:
"$MATIC smashes previous ATHs, increasing active users 17.16% week over week. DAU: 207,719 (+17.16%)- Tx/day: 5.76mm (-13.28%) – Revenue/day: $30.6k (-47.43%) – Cost/tx: $0.0053 (-39.37%)"
The main metric that Raphael focuses on in the thread is active users. The data shows that active users on Polygon are increasing for the 3rd consecutive week. In the last week, about 207,719 new users joined this network. According to the data, Polygon's DAU is about 40.54% of Ethereum.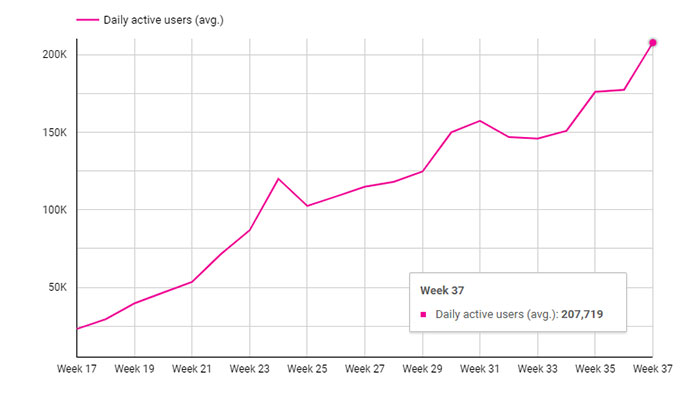 Not all metrics are on the rise for Polygon and MATIC. The report shows that the daily transactions took a dip. It resulted in a decline in week-over-week revenues. Another interesting metric is cost/tx that is still winging but in the last week showed a decline. It resulted in many projects providing no-fee transactions for their users.
One of the most important metrics that show more growth potentials for Polygon is NFT usage. NFT scene is attracting more and more users and artists to Polygon. Raphael says, for example, the active traders on Opensea have increased 741.94% from July to August 2021.
After all, it seems that Polygon is still on the growth path, successfully attracting more users and projects. With NFTs still on the rise, we can expect this sector to help Polygon's growth because of fewer costs for artists to join the movement. Raphael predicts that Polygon can become a hotbed for NFT innovation.
MATIC price rally hits the pause button while Polygon bulls still eye $2.50
MATIC price has been trying to break $1.75 to the upside.
Polygon bulls tried to get price action above the orange ascending trend line but failed.
Expect to see another attempt for a breakout soon, after this rally takes a breather and new buyers get into Polygon.
Polygon (MATIC) price has seen bulls trying to break above the orange ascending trend line, but the attempt got rejected at $1.75. Since then, MATIC price action came off the boil a little bit and offered some profit-taking at the higher levels, providing now some entry points at $1.40.
Expect momentum to build further in favor of bulls with a break and consolidation above the orange ascending trend line and next to the break above $1.75. 
MATIC price sees RSI pointing to the next phase of the rally
MATIC price saw a bullish breakout and rejection at $1.75. Bulls tried to break above the orange ascending trend line and a historical resistance level, but the price started to fade during the days after that. Bulls took profit at $1.75 but are impatient to lift MATIC price another leg higher, as the Relative Strength Index already shows that buyers are coming back in again after barely hitting the oversold barrier. 
MATIC price will see price action continue to evolve in favor of the bulls further. The next attempt will be one where the price will consolidate above the orange ascending trend line and thus build further volume to break the $1.75 resistance level. Once that breaks, expect more bulls to be added to the rally, as MATIC price proves to finally break out of the resistance that has kept MATIC price action muted since the beginning of June.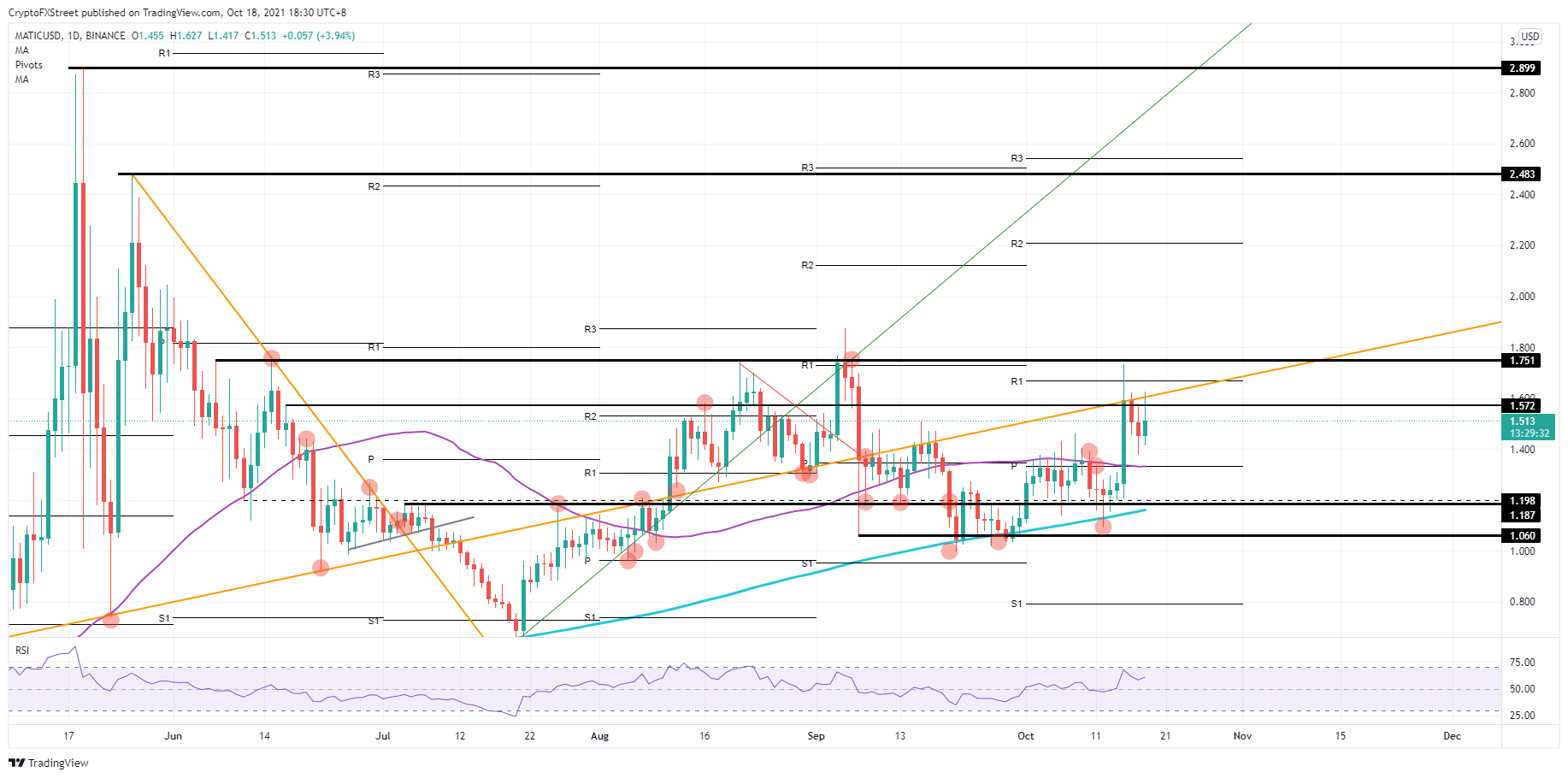 MATIC/USD daily chart
MATIC price will be lifted higher by the new buyers coming in on the break above $1.75 and the favorable tailwind currently present in cryptocurrencies. The recovery in the stock markets last week has also helped lift investors sentiment back towards riskier assets. Faithful bulls could see profits running up towards $2.50, or a 45% return, depending on their entry.
Should market sentiment turn for the worse and tailwinds in cryptocurrencies start to fade, expect more bears to come in. The RSI would show some heavy profit-taking in MATIC price, and a quick break towards $1.06 would be the expected outcome. Should bears be able to consolidate even below the 200-day Simple Moving Average (SMA), expect a retest of the low of July, at $0.62.
Is Polygon MATIC back in the race? Is $2 incoming?
Polygon announced an increase in gas fees this week, following which the price plummeted dramatically. Nonetheless, the cryptocurrency has recovered by 28 percent in the last 24 hours, rising from $1.25 to $1.60.
The increase happened after the Korean cryptocurrency market Upbit announced that MATIC coin was now available for purchase and trade. The price rose from roughly $1.23 to $1.63, but then levelled off and is presently falling. 
On Polygon, the average price of gas has climbed to almost 56 Gwei. Although a 2900 percent increase in commission seemed startling, it was still considerably less expensive than conducting a transaction on Layer 1 Ethereum, which cost tens of dollars instead of a fifth of a penny.
According to pivot points research, the token's resistance levels following the $1.65 mark are at $2.00. If the stock takes a negative reversal, though, sellers may face resistance near $1.30 or $1.00.
Furthermore, when compared to the previous several months, the daily chart shows a massive increase in volume. In addition, the $1.65 breakout might attract more buyers.
The MATIC Token is currently trading at $1.55, and has surged by 0.7 percent in the last 24 hours.
Survey shows crypto traders are most bullish on polygon and other cryptos!
The Real Vision Exchange Crypto Survey is designed to assess investor sentiment by allowing participants to scan 30 tokens and decide whether each one should be overweight or underweight. Real Vision Bot, which was created by two independent coders and bolstered by macro master Raoul Pal, conducted the survey.
Mid-week madness? Votes in the @RealVision #cryptocurrency survey over the last 48 hours. #polkadot is leading, follower by #solana and #polygon. #bitcoin where are you?

Don't forget to vote:
Crypto: https://t.co/4xP2AoDSdq
Macro: https://t.co/D0BUbVVcdI pic.twitter.com/RpE7HKysWX— Real Vision Bot (@RealVisionBot) October 13, 2021
Traders choose an overweight portfolio of smart contract platforms Polkadot (DOT) and Solana (SOL), as well as Ethereum scaling solution Polygon, according to vote results from the first two days of this week (MATIC).
Because the price levels have moved higher, the one-day Polygon price analysis predicts an uptrend for the day. This has proven to be quite advantageous for the entire coin worth, since the price has also surpassed $1.45. As more and more pressure is applied from the buyers' side, the bullish wave is becoming stronger.
Crypto Traders Most Bullish on Polkadot, Solana, Polygon and 10 Additional Altcoins: Digital Asset Survey
A new survey unveils that crypto traders are most bullish on 13 altcoins including Polkadot, Solana and Polygon.
The Real Vision Exchange Crypto Survey is designed to track sentiment among investors by allowing participants to scan 30 tokens and choose if they want to have an overweight or underweight allocation for each one. The survey was conducted by Real Vision Bot, which was created by two independent developers and boosted by macro guru Raoul Pal.
Results from voting that happened on the first two days of this week indicate traders prefer an overweight portfolio consisting of smart contract platforms Polkadot (DOT) and Solana (SOL), as well as Ethereum-scaling solution Polygon (MATIC).
The scalable and interoperable ecosystem Cosmos (ATOM) is fourth on the list, and smart contract platforms Terra (LUNA) and Cardano (ADA) appear tied for fifth. Traders also have overweight allocations for decentralized oracle network Chainlink (LINK), Ethereum competitor Avalanche (AVAX), Ethereum-based token Enjin Coin (ENJ) and decentralized exchange Uniswap (UNI) for the sixth, seventh and eighth places, respectively.
Tied in ninth place are cross-border payment solutions Stellar (XLM) and XRP, as well as decentralized storage network (FIL).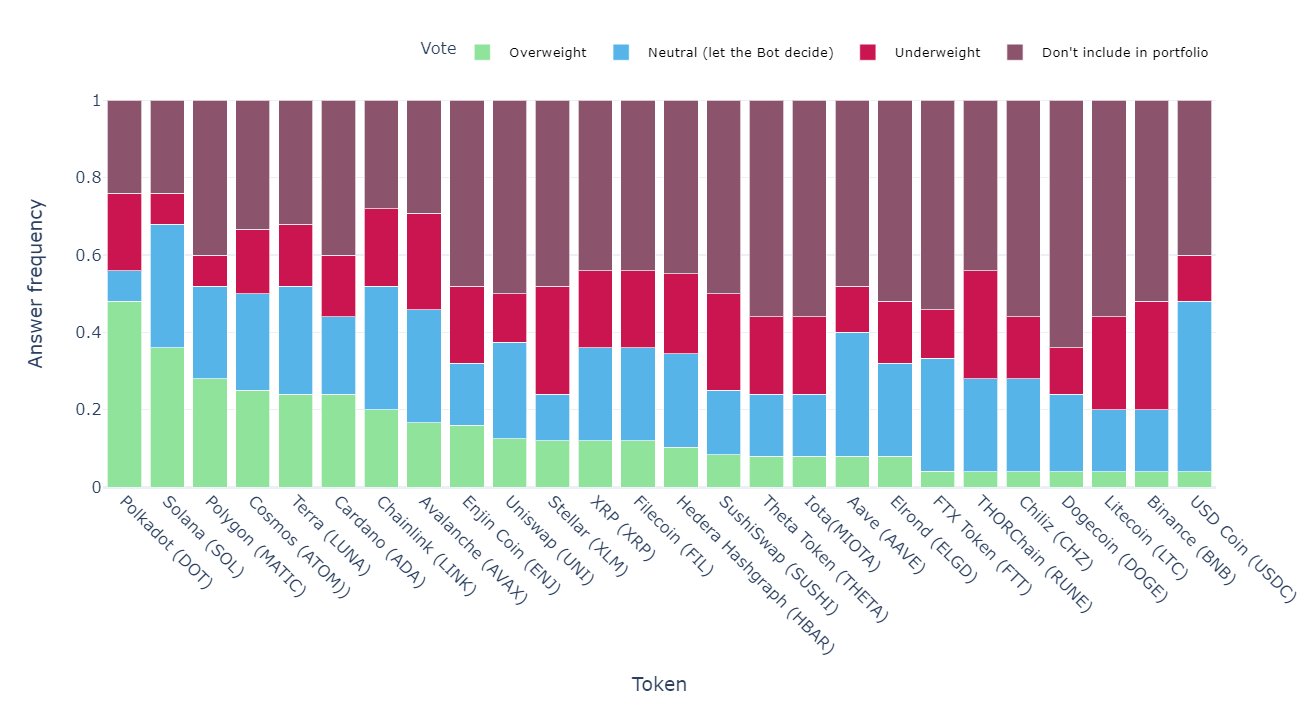 Real Vision Bot clarifies that the participants are not necessarily holding the cryptocurrencies that they voted for.
"They can of course vote according to their own positions, but also just based on their sentiment or forward looking. There are many reasons why the own book might not be 1:1 the preferred allocation."
Bitcoin (BTC) is conspicuously absent from the list. Pal highlights that the community is responsible for that absence.
"It's not us – it's the community who makes the allocation… You guys, to be exact.