Solana Kurs: SOL bald wieder unter 100 Dollar?
Der Solana-Kurs erlebt gerade die erste nennenswerte Korrektur seit seiner 876%-Rallye.
Ein Rutsch unter die Nachfragebarriere bei 119,26 $ würde SOL bis auf 95,94 $ zurückwerfen.
Eine erfolgreiche Rückeroberung des Widerstandsniveaus um 147,55 $ würde die Abwärtsthese entkräften.
Der Solana-Kurs befindet sich seit dem 20. Juli in einem exponentiellen Aufwärtstrend, der sich bis zum Erreichen eines neuen Allzeithochs am 9. September nicht abschwächte. Dieser etwa anderthalb Monate dauernde Anstieg des SOL-Kurses erfährt derzeit einen Pullback, der sich noch weiter nach unten ausdehnen könnte, wenn entscheidende Barrieren durchbrochen werden.
Solana-Kurs vor Entscheidung
Der Solana-Kurs ist seit dem 20. Juli in 51 Tagen um rund 876 % gestiegen. Das Beeindruckendste an diesem Anstieg ist, dass es auf dem Weg dorthin keinen massiven Abschwung gegeben hat. Nachdem er jedoch mit 216 $ ein neues Allzeithoch erreicht hatte, begann sich der SOL-Kurs abzukühlen.
Bislang ist der Altcoin um 44 % gefallen und prallt derzeit am 50 %-Fibonacci-Retracement-Level bei 119,26 $ ab. Dennoch ist es unwahrscheinlich, dass sich dieser Aufwärtstrend fortsetzt, insbesondere in Anbetracht der Marktlage.
Ein möglicher Anstieg des Verkaufsdrucks, der die Marke von 119,26 $ durchbricht, würde den Solana-Preis bis zur unmittelbaren Barriere bei 110,25 $ nach unten ziehen. Diese Marke ist die einzige Unterstützungsuntergrenze, die zwischen einem SOL-Kurs von unter 100 $ und einer starken Korrektur steht.
Wird diese Barriere durchbrochen, rutscht Solana auf das 62%-Fibonacci-Retracement-Level bei 95,94 $ und bei anhaltendem Verkaufsdruck auf das nachfolgende Level bei 79,43 $ ab.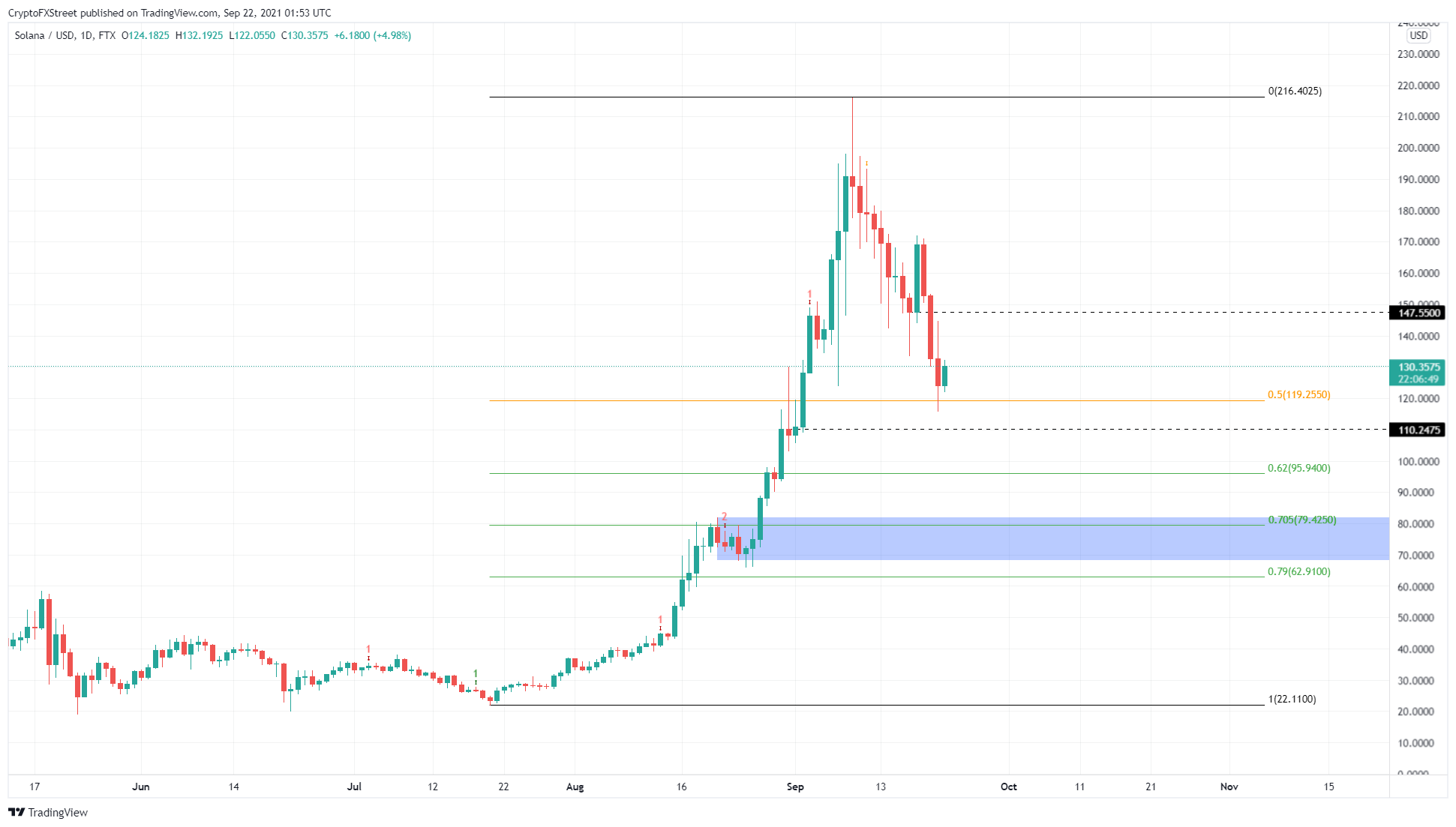 SOL/USD 1-Tageschart
Andererseits könnte dieser Abwärtstrend nach einem erfolgreichen Abprallen vom 50%-Fibonacci-Retracement-Level bei $119,26 enden. In diesem Fall müsste der Solana-Kurs das Widerstandsniveau von $147,50 zurückerobern, um einen Boden zu bilden.
Diese Bewegung würde die Abwärtsthese entkräften und als Plattform für einen weiteren Anstieg auf 169,29 $ dienen.
These Bitcoin, Ethereum and Solana Price Prediction Charts Are Pure Magic, According to Macro Guru Raoul Pal
Macro guru Raoul Pal says three price prediction charts for Bitcoin, Ethereum and Solana are working like "pure magic."
In a new Crypto Banter podcast, the co-founder and chief executive officer of Real Vision compares Bitcoin's current market cycle to that of 2012-13, suggesting a price target of over $250,000 for the end of this bull run.
"I've been using this for over a year, and it's been pure magic…It gives us a pretty clear target, and it's been magic. It gave me the strength through the bear market to keep adding, thinking 'we know how this plays out.'"
The former Goldman Sachs executive then pulls up another chart that compares Ethereum's price trend from 2016 to Bitcoin's from 2011 to 2019.
"And so here's Ethereum VS Bitcoin in 2017. It's been pretty damn good. In fact, I've got this as a real-time chart on my Bloomberg and it almost works to the day right now [because] it's so close."
Lastly, Pal brings up a chart that shows how smart contract platform Solana (SOL) is following the same path Ethereum did in 2016-2017, which if continued would land SOL above $800 in April 2022.
"The Ethereum price now is pretty exactly in line with the Bitcoin price in 2017. And here's Solana at the price as ETH, growing faster as a network, but the chart is identical again. It's crazy."
Is Solana the Fastest Horse? Veteran Crypto Trader Shows Why SOL May Be Set to Outperform Everything
A closely followed trader suggests that smart contract platform Solana (SOL) might be the fastest horse in the crypto bull market.
The trader known as Cantering Clark shares with his 76,000 followers a snapshot of a collection of different cryptos throughout the day.
He notes that even while Bitcoin was receiving all of the attention during its rally past $60,000, SOL quietly outperformed the rest of the market.
"There are so many reasons to have been long SOL to this point. Are you seeing the trend yet? Even on a day where Bitcoin is the main show, Sol is outperforming. Fast horse."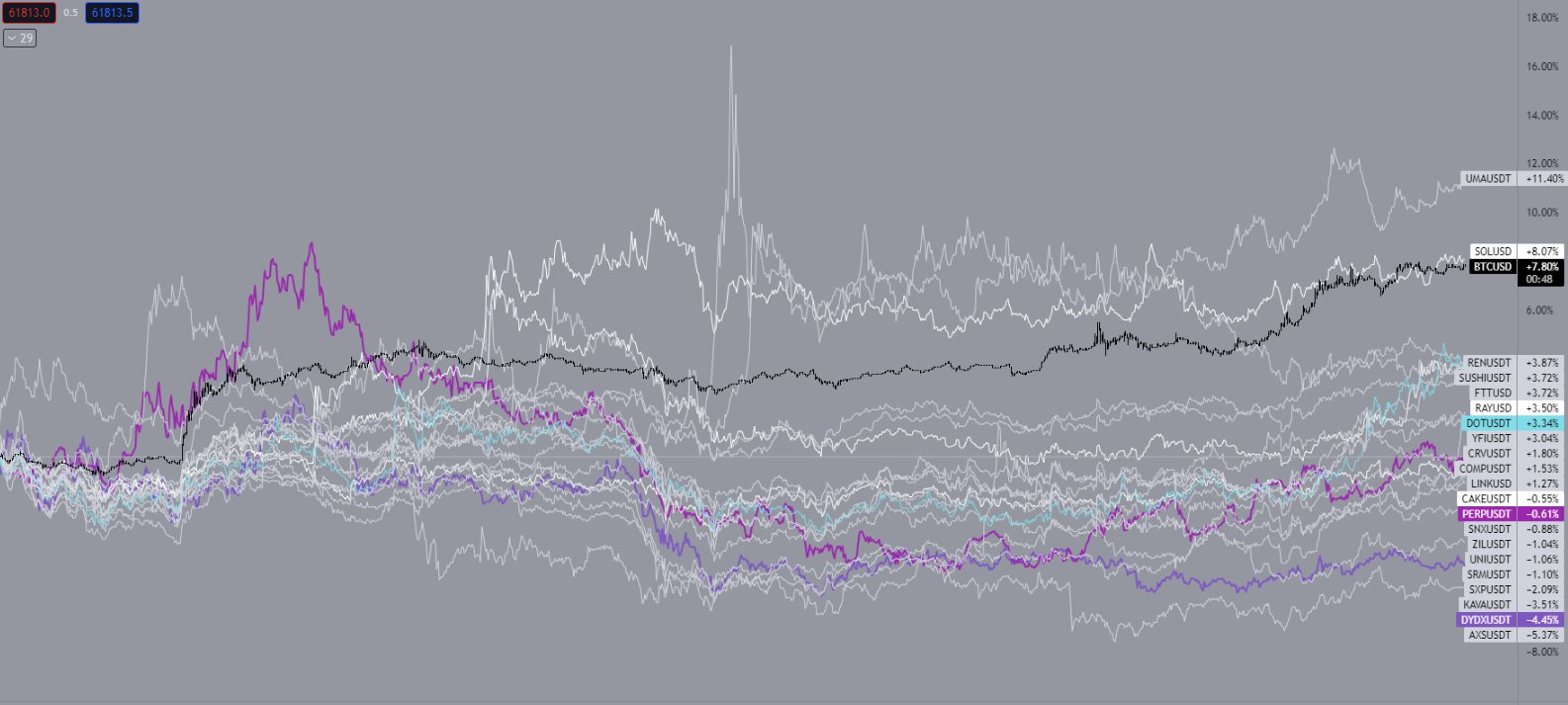 Looking at Bitcoin and the crypto markets in general, the trader says he's keeping his outlook simple. He sees the upcoming launch of a Bitcoin exchange-traded fund (ETF) as a bullish catalyst that should send prices higher.
"How many people are going to get long as hell thinking each confirmation is going to yield a higher result?
I believe in the inefficiency of this market.
ETF = ATH"
According to Canterin Clark, Bitcoin will take the lion's share of capital flows moving into the near term. He says he expects altcoins to underperform compared to BTC.
"If you think Bitcoin is going to break the ATH soon and you are also positioned heavily in alts, maybe rethink that…
Because when Bitcoin breaks the ATH alts are going to get cut down. So yes, the post absolutely makes sense."
Solana Set for New All-Time High While Ethereum Still Has Juice in the Tank – Crypto Analyst
A popular cryptocurrency analyst and trader is outlining the path forward for smart contract platforms Solana (SOL) and Ethereum (ETH).
The cryptocurrency analyst pseudonymously known as Smart Contracter tells his 173,800 Twitter followers that SOL is set to surge to a new record high after a period of accumulation.
"Sol ATH [all-time high] soon anonymous. This re accumulation won't last forever."
Solana, the fifth-largest cryptocurrency by market cap, is trading at $158 at time of writing, according to CoinGecko.
Earlier this week, Smart Contracter predicted that Solana could surge by over 100% against the US dollar (SOL/USD) and Bitcoin (SOL/BTC) after ending wave four of its five-wave uptrend.
"[Wave] four low very close to being put in on SOL/BTC in my opinion. The same low on the USD pair already put in and just in some HTF [high timeframe] re-accumulation. The next move higher will be >100% [in my opinion]."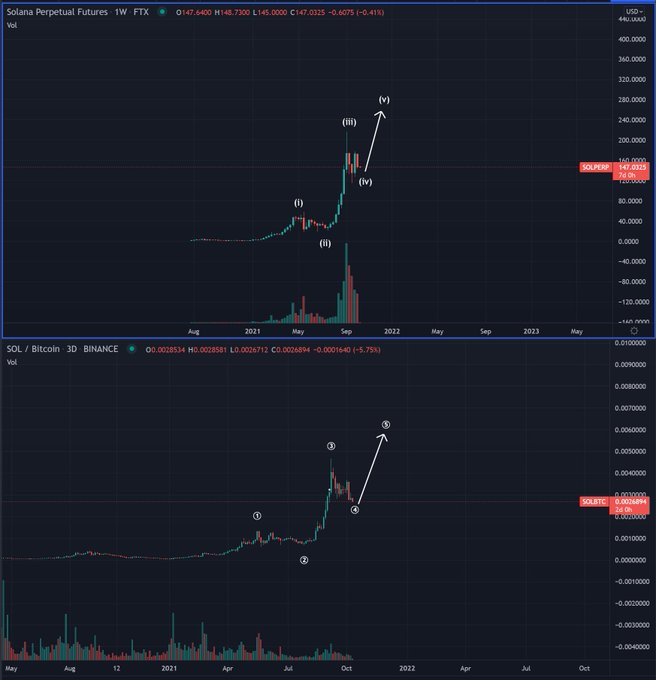 Smart Contract uses the Elliott Wave theory, a technical analysis approach that predicts future price action by following crowd psychology that tends to manifest in waves. According to the theory, Wave four is the final corrective phase before the asset launches the last wave of its cycle.
In the case of ETH, Smart Contracter says that the leading smart contract platform hasn't run out of steam yet after taking out its diagonal resistance at $3,500.
"Solid move. I think there's still some juice in the tank."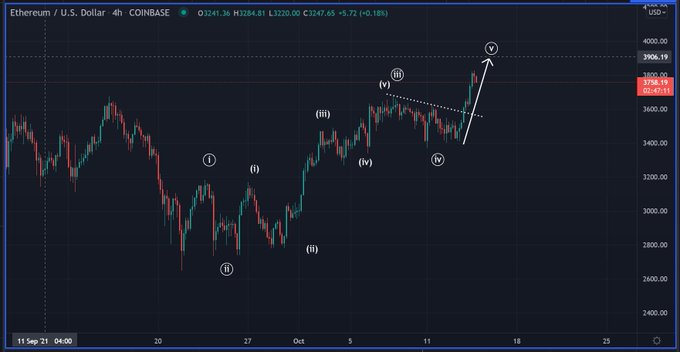 Ethereum is trading at $3,785 at time of trading, according to CoinGecko.
The crypto analyst is also keeping a close eye on Ethereum in its Bitcoin pair (ETH/BTC). According to Smart Contracter, ETH/BTC is currently gearing up for a move to 0.12 BTC ($7,355), representing an upside potential of nearly 100% from its current value of 0.062 BTC, worth $3,800.
"There [are] people out there that actually think ETH/BTC looks bearish."