Top Analyst Updates Outlook on Bitcoin, Ethereum, and Cardano in Wake of Crypto Market Crash
Popular crypto analyst Michaël van de Poppe is updating his analysis on what levels Bitcoin (BTC), Ethereum (ETH), and Cardano (ADA) need to hold in the wake of the crypto market correction this week.
The trader tells his 128,000 YouTube subscribers that the correction is providing traders who want to get into the markets a "very nice entry zone."
"If you go back in history, September is usually a pretty bad month, but October and the rest of the year is usually quite bullish."
Van de Poppe says the critical level for Bitcoin to hold at this stage is a price between $37,500 and $40,000. If BTC loses that level, he says it could retest $28,000.
However, the trader predicts the bull cycle will continue, and he says BTC will continue moving upwards if it bounces back above $44,000.
Bitcoin is trading at $41,038.72 at time of writing, according to CoinGecko.
For Ethereum, Van de Poppe says the critical level to look at is around $2,600. If that holds, he thinks ETH's bull cycle will probably continue.
The analyst predicts ETH will have a "relief bounce" anywhere up to $3,500, then drop down to a higher low, and then continue surging upwards in price. Ethereum is trading at $2,769.86 at time of writing.
Van de Poppe says Cardano (ADA) will need to break through $2.35 to look bullish again. He adds that Cardano is "getting into a massive buy opportunity."
If ADA loses the level around $1.90, he predicts it could then drop all the way to $1.50. The crypto asset is trading at $2.00 at time of writing.
Van de Poppe does also note that he plans to get out of crypto completely after one more run of the bull cycle.
"Am I scared right now? No, but I'm very, very serious about the fact that we might be getting one final run of this bull cycle before the financial crisis starts. Then I don't want to have crypto at all.
Maybe stablecoins, but overall not. So that's when you want to take profits heavily, and that's why you have to be cautious on your entries." 
Coinbase Adds Support for Two Ethereum-Based Altcoins Across All of Its Platforms
Top US crypto giant Coinbase is adding two Ethereum (ETH) powered altcoins to its arsenal of tokens.
After their initial launch on Coinbase Pro, BadgerDAO (BADGER) and Rarible (RARI) are now available to buy, sell, convert, store, send and receive on the company's retail trading platform Coinbase.com and its iOS and Android applications.
BADGER is a decentralized autonomous organization (DAO) with the purpose of building infrastructure and products that help spur Bitcoin's growth as a usable asset across other blockchains.
At time of writing its BADGER governance token is trading at $28.47, down by 7.5% on the day according to CoinGecko.
RARI is the token that powers digital artist and creator community-owned non-fungible token (NFT) marketplace Rarible.
Rarible is a non-custodial platform, meaning users always have control over their tokens, which are not held by Rarible. So far, the Rarible marketplace only supports Ethereum-based cryptos.
At time of writing, RARI is trading at $23.49, down 4.6% on the day according to CoinGecko.
Both altcoins recently surged in price after they were added to Coinbase's professional trading platform.
These Bitcoin, Ethereum and Solana Price Prediction Charts Are Pure Magic, According to Macro Guru Raoul Pal
Macro guru Raoul Pal says three price prediction charts for Bitcoin, Ethereum and Solana are working like "pure magic."
In a new Crypto Banter podcast, the co-founder and chief executive officer of Real Vision compares Bitcoin's current market cycle to that of 2012-13, suggesting a price target of over $250,000 for the end of this bull run.
"I've been using this for over a year, and it's been pure magic…It gives us a pretty clear target, and it's been magic. It gave me the strength through the bear market to keep adding, thinking 'we know how this plays out.'"
The former Goldman Sachs executive then pulls up another chart that compares Ethereum's price trend from 2016 to Bitcoin's from 2011 to 2019.
"And so here's Ethereum VS Bitcoin in 2017. It's been pretty damn good. In fact, I've got this as a real-time chart on my Bloomberg and it almost works to the day right now [because] it's so close."
Lastly, Pal brings up a chart that shows how smart contract platform Solana (SOL) is following the same path Ethereum did in 2016-2017, which if continued would land SOL above $800 in April 2022.
"The Ethereum price now is pretty exactly in line with the Bitcoin price in 2017. And here's Solana at the price as ETH, growing faster as a network, but the chart is identical again. It's crazy."
Ethereum Exchange Reserves Are Draining, Here's What It Means for Market
Deflation and exchange outflows may be main fuel for Ethereum's price action.
While sentiment around the cryptocurrency industry gets more positive each and every day, more Ethereum investors are choosing to withdraw their funds from crypto exchanges and leave them in their wallets, according to CryptoQuant. While this is a positive sign for the market, institutional investors or whale-tier individuals may face some problems with liquidity with the current flow rate.
Current reserves
At press time, Ethereum reserves on exchanges remain at 18.5 million coins, progressively decreasing from August. In recent days, following the rapid price increase on altcoin markets, some exchanges faced slight inflows. Ethereum reserves went from 18.49 million to 18.7 million in only two days.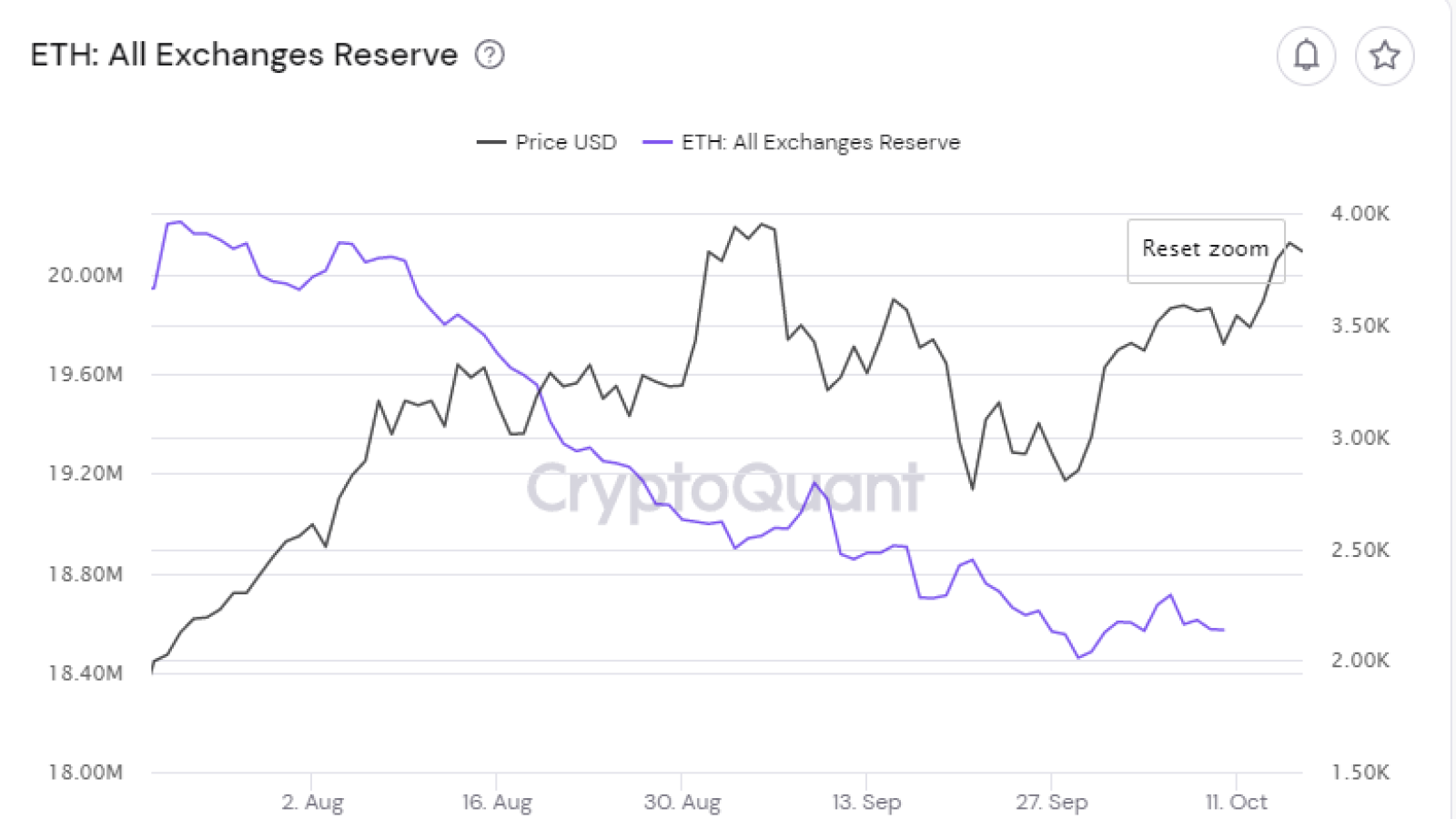 Following increased inflows on exchanges, Ether's price has retraced from $3,500 to $3,415, which indicates the momentary appearance of selling pressure on the market.
Liquidity issues
While the total exchange reserves of Ethereum currently sit at $64 billion, which is around 15% of the current market capitalization of the second-biggest cryptocurrency out there, with the potentially upcoming inflow of funds to the market, some large investors might face liquidity issues.
The main source of the potential fund's inflow is tied to the approval of physically-backed Bitcoin ETFs. While there are no plans for Ethereum ETFs, the fact of the approval will create a precedent that can singlehandedly attract more institutional-grade investors to the market.
In addition to a constant decrease in reserves, Ethereum's circulating supply is also decreasing due to the fee-burning mechanism presented previously. While demand for the DeFi and NFT industries remains high, the Ethereum network will most likely continue to burn more coins than miners and stakers are able to distribute.