Uniswap Price Prediction 2021 – 2022: Market Analysis and Opinions
Uniswap Price Prediction | Introduction
Uniswap price prediction is setting targets for 2021-2022; analysts predict what next for UNI, which seeks to democratize finance by replacing legacy, middlemen. The project, if successful, will disrupt every aspect of banking, lending, and trading. 
At press time, UNI was trading at $21.95, according to data available on CoinMarketCap. In that effect, Uniswap commands an impressive market cap of around $13 billion, of which the fully diluted market cap stands at $21 billion. It ranks 12 on the market. 
With plenty of UNI price prediction floating online and in trading communities, which ones make the most sense. Keep on reading to find out the road ahead for Uniswap. Here's how that might play out.
Uniswap Price Prediction: Technical Analysis
It is not at all unusual for a cryptocurrency to spot a major uptrend followed by a lengthy consolidated period. That is the case of UNI today, and many short-term time frame traders are bound to grow increasingly impatient and sell long before they should. However, a properly employed investment strategy is vital because this consolidating crypto is well worth watching.
Uniswap price prediction crushed from mid-July to mid-August; UNI jumped from $14.6 in July to $31.46 by August. However, this price still falls short of its all-time highs in the $40 neighborhood. Still, UNI managed to skate past the best guesses of top crypto analysts. After posting this better-than-expected price action, we find guidance to estimate where UNI is headed next.
So what happened? For the better part of four weeks, UNI broke past 20-day moving averages in a show of strength, bursting through key resistance levels, but failed to break past the resistance level at $31.2. It just wasn't time for UNI to launch a campaign to break past the historical all-time high. However, it might just be possible that the bearish setup is attempting to test support at $25.4 before rising to make this breakout.
The most frustrating part about UNI is that the bearish descending is growing increasingly strong, judging by the candlestick formation. While the setup is still ripe for correction on the support line, you should proceed with caution. Besides, the broader market is at a positive juncture, and UNI is bound to submit to market momentum.
Notice the price action in the chart above; Uniswap boasts a rate that is proportionately higher than Bitcoin price prediction. Both Bitcoin and Uniswap have been making decent moves, but take note of every time both assets appear to converge and move in synch, it is always followed by a boost of strength on Uniswap. 
Therefore, while the short-term bear movement looks strong, the support line should hold with a false breakout, of course. A bullish reversal is coming on the heels of strong technical and fundamentals. Another major component to boost your confidence in this Uniswap price prediction is the idea that Uniswap is in a strong area of the cryptocurrency market.
The RSI is approaching an all-time low point, currently trending on 30, which is bearish. RSI is near oversold, but it doesn't tell the entire picture. The DMI is also bearish and stays above the ADX and DMI+ lines. Regardless, UNI is all set up to be a supportive environment for the remainder of the year.
Looking at the normal seasonal tendencies and comparing them to actual prices can lead us to spot things, which is where the daily chart shows its importance. If you scroll back just a little, you can see the consolidation pattern repeating itself. End of Year seasons has a solid reputation as a profitable time for cryptocurrencies. This year, that good stuff is likely to wrap itself on Uniswap crypto early in the month and then surprise a bunch of skeptics.
Uniswap Price Prediction: Market Opinions
Cryptocurrency forecasting technologies use computing power and the bulk of easily accessible data to chart the path of your favorite cryptocurrencies. So, what do these AI-powered solutions say about UNI price prediction?
WalletInvestor
WalletInvestor, for starters, is painting a slightly bearish picture of the fate of Uniswap in September 2021. However, its Uniswap price prediction in one year is $58.95, which is double the current trade price of the crypto token. With such an exceptional surge in value, Uniswap could solidify its place as a De-Fi cryptocurrency leader. 
TradingBeast
The price of Uniswap is projected to reach $22.96 by the start of October 2021 and $28 within a year, according to TradingBeast. That's the second short-term bearish forecast given for Uniswap price prediction and the first with a long-term projection, a worrying sign for a cryptocurrency that is at the peak of its significance in the market.  
CoinQuora
The onset of bearish predictions for Uniswap in 2021 continues as CoinQuora also projects a bearish short-term future is projecting $13.9 as the end of year trading price. However, the bearish sentiments should not live long as UNI could soon rise to a trade in a range of $31.5 to $45.3 and perhaps rise to reach $60 based on technical metrics. 
DigitalCoin
It is only a matter of time before Uniswap doubles in value, according to DigitalCoin forecast. The Uniswap price prediction is that UNI will triple its value by 2025 but will drop to $22 by the end of September 2021. By 2022, the chances are that Uniswap could surge up to $45, which is already double what the price might be at the end of the month. 
Gov.Capital
Despite the prominent dip in technical confidence, some forecast services remain optimistic that Uniswap can and will rise again. Gov.Capital, for instance, has its money on UNI surging a tick high by the start of October, kicking things of at $29 to close the year at $36.5. Riding on the same sentiments, Uniswap could rise to $64 within a year. 
The opinion is also divided on Uniswap among the pro-trader community. For starters, Signal Centre breaks down key metrics to support the idea that Uniswap is a mildly bullish bet as it faces the bespoke resistance level at $27.60. However, JF Caldwell is bearish but cautions traders that a bullish outcome is still likely in the long run. These were the market opinions about Uniswap price prediction.
Latest News and Happenings Concerning Uniswap
Starting with some bad news, the SEC is launching a probe into Uniswap. The regulators are looking into the structure and inner workings of the decentralized exchange, which happens to be the largest in the market today. It suggests that users trading on the platform might be avoiding local regulations. 
The probe by the SEC could usher in a new era of SEC enforcement on decentralized platform turf. The outcome of this investigation could charter the road ahead for a decentralized finance application. While this news can be regarded as potentially bad for Uniswap, it only seeks to solidify its position as a market leader for decentralized finance and perhaps a lens upon which industry observers can determine the future of the industry. 
In other news, token holders have a lot to smile about as Uniswap has just crossed $1B generated in fees from liquidity providers. Uniswap is the first decentralized finance protocol to achieve such a milestone, hopefully the first of many milestones for the protocol. The De-Fi-driven surge in activity on Uniswap price prediction is already attracting institutional investors. 
As institutional investors dominated the De-Fi scene in Q2 of 2021, Uniswap is one of the protocols that enjoyed the most attention from big-money players. Despite the interest of SEC in its operations, investors are still bullish on the future of Uniswap as a leading DeFi protocol. While the news still punctured the short-term future of Uniswap, the long-term prospects are still bright, and this is only time to go long.
Uniswap Price Prediction: Verdict
September 2021 might just be a sweet spot for UNI to stage a substantial rally. Now is the time to buy before Uniswap Price Prediction materialize. In this special presentation, we've looked at the best and worst-case scenarios for UNI price prediction. Now, the ball is in your court. 
Uniswap Price Prediction: UNI bulls eye 40% upswing
Uniswap price broke out of a descending parallel channel on October 1 but lacks momentum.
A decisive close above $25.24 could signal the start of an uptrend.
UNI will face $29.43 before hitting the $33.34 resistance barrier.
Uniswap price broke out of its consolidation phase on October 1 but showed no signs of moving. A bounce that pushes it past the immediate resistance level could trigger the start of an uptrend.
Uniswap price prepares for volatile move
Uniswap price set up three lower lows and lower highs since August 18. Connecting these swing points using trend lines results in the formation of a descending parallel channel. While a move above the channel's upper barrier usually indicates a breakout and catalyzes a run-up, UNI seems to be facing a problem.
Since its breakout, Uniswap price has dropped 7%, slicing through the $25.24 support floor. Therefore, UNI needs to gather steam and produce a decisive close above this resistance level to signal the start of an uptrend.
Doing so will allow Uniswap price to embark on a 40% climb to $33.34. However, UNI will face stiff resistance around $29.43, which must be cleared for the bulls to reach their destination.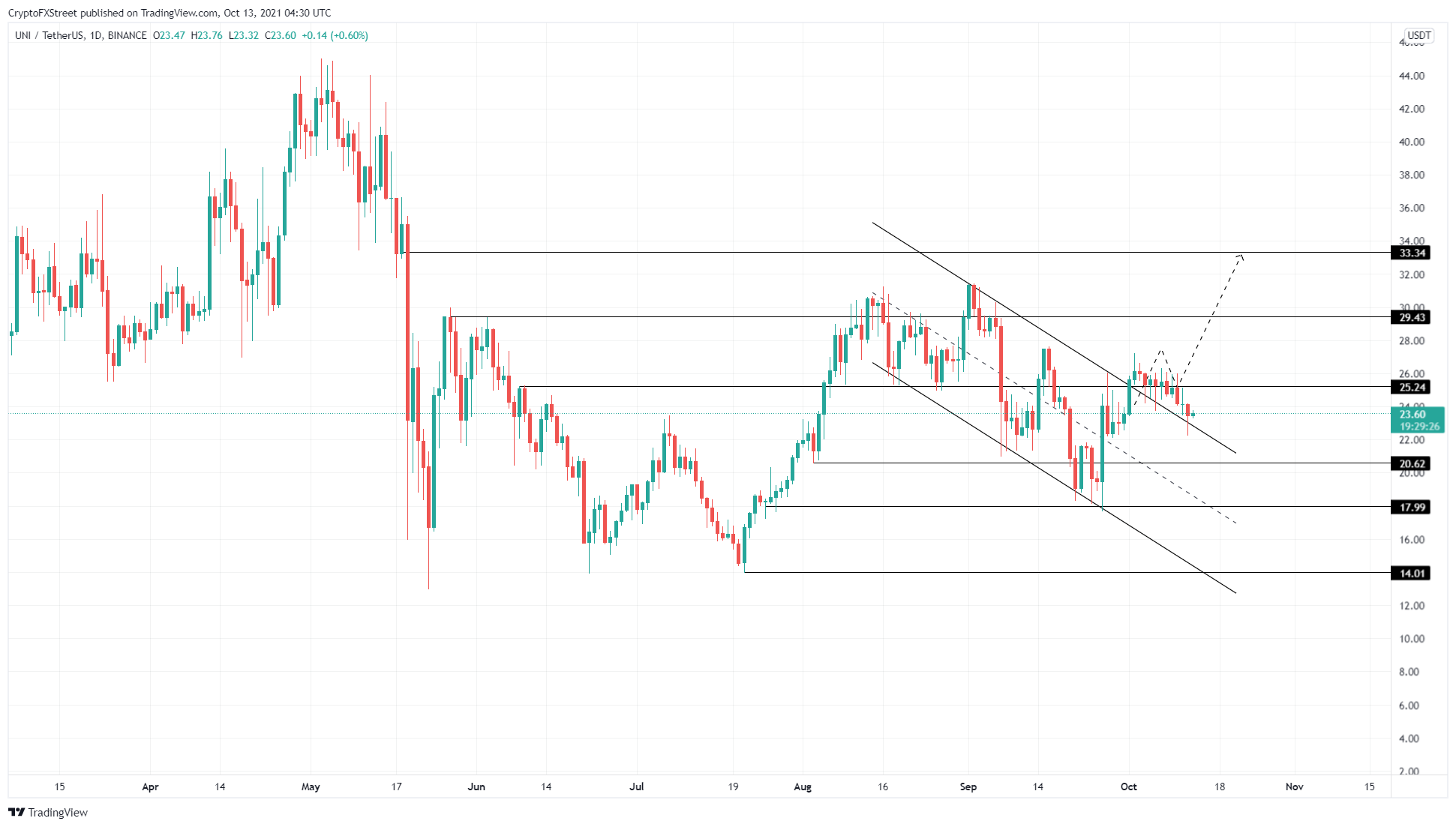 UNI/USDT 1-day chart
Firmly supporting the potential bullish outlook is Santiment's Market Value to Realized Value (MVRV) model. This on-chain metric is used to determine the average profit/loss of investors that purchased UNI over the past year.
Currently, the 365-day MVRV is hovering at -1.21%, suggesting that short-term investors have already sold their holdings and that a sell-off at this stage is unlikely. Moreover, the negative territory is where long-term holders accumulate. Therefore, a potential surge in buying pressure could kick-start a new uptrend.

UNI 365-day MVRV chart
IntoTheBlock's Global In/Out of the Money (GIOM) model supports the cautiously optimistic scenario. This model shows that roughly 31,700 addresses that previously purchased 244.64 million UNI at an average price of $27.29 are "Out of the Money" and are likely to sell if Uniswap price ever rises to this level.
Therefore, the buyers need to overcome this resistance level to have any chances of an upswing.

UNI GIOM chart
While things are not looking so good for Uniswap price, continuing this downswing could lead to a retest of the $20.62 support floor. A breakdown of this barrier will reveal a weakness among the buyers and knock UNI down to $18.
If the bulls fail to defend this level, it will invalidate the bullish thesis and likely knock UNI down to $14.01.
Uniswap price analysis: Price equalizes above $24 after minimal recovery
UNI price has been uplifted to $24.82.
Uniswap price analysis is indicating rise in price.
Support has been stable at $18.828.
The Uniswap price analysis suggests, the UNI/USD price has been unrestrained from the bearish pressure, as slight progress has been reported for today. The price is trying to resettle above $24 after following the downward movement for the past week. Right now, it is present at a $24.82 value as a slight bullish recovery has been detected in the last 24-hours. Although the bears tried to restrict the upward trend, the bulls are trying to proceed with their mission once again.
UNI/USD 1-day price chart: Bullish momentum stimulates as to retrieve price over $24
The one-day Uniswap price analysis is showing signs of bullish recovery as the green candlestick has returned to the price chart. The past few days have proved crucial for the cryptocurrency, as a downward trend has been following. There has been a recurring fall occurring in the coin value, but today its value has been restored to $24.82. The current value is quite close to the moving average (MA) value which is settled at $25.5.
The SMA 20 curve is traveling high again as the bulls are regaining their strength. The Bollinger bands Indicator in the 1-day price chart is pointing out the following values; the upper value at $27.91 while the lower one at $18.82. The Relative Strength Index (RSI) score has improved up to 51.54 as well because of the rise in price.
Uniswap price analysis: UNI faces rejection above $24 after recent drop-off
The price has been traveling low according to the four hours Uniswap price analysis. The recent downturn in price movement has resulted in its decline as it has been lowered to $24.82. Chances of recovery seem minimized as the bearish slide has been proceeding uninterruptedly. The price has gone below the moving average value as well which has been standing at $25.2 position.
As the volatility has slightly increased, the upper Bollinger band is now touching the $26.20 mark whereas the lower Bollinger band is on the $24.35 mark. The RSI curve has descended to the 45.30 mark, confirming the drop in price.
On the contrary, improvement in price has been observed if we overview the situation on a general basis. This is why the technical indicators chart is giving a bullish hint, with 12 indicators on the buying mark, nine indicators on the neutral mark, and five indicators on the selling mark.
The moving averages indicator is confirming the overall bullish lead as well by giving out a buying signal. We can see nine indicators standing on the buying position, with only five indicators on the selling position and one left on the neutral position. The Oscillators are giving a bullish signal as well, and there are eight oscillators on the neutral level, three oscillators on the buying level, and none on the selling level.
Uniswap price analysis conclusion
The bulls are trying to recover once again after a continuous drop in price occurred during the past few days. The UNI/USD price has rejoined the $24.82 level, thus confirming the rise in price. We can expect a downward price movement in the upcoming hours, as the four hours price analysis is dropping bearish hints.
Uniswap Price Analysis: UNI retests $25 as support, will it hold?
Uniswap price analysis is bullish today.
UNI/USD retraced to $25 over the last 24 hours.
Next support at $23. 
Uniswap price analysis is bullish today as a retracement over the last 24 hours took the market towards the previous resistance level of $25 to be retested as support. Therefore, we expect bullish momentum to return later today as a new higher low is likely set.
The overall market traded mostly in the red over the last 24 hours. The market leader, Bitcoin, gained 0.22 percent, while Ethereum lost 1.1 percent. Axie Infinity (AXS) is still the top performer, with a gain of 32 percent.
Uniswap price movement in the last 24 hours: Uniswap rests previous resistance at $25 as a support
UNI/USD traded in a range of $24.91 – $26.61, indicating mild volatility over the last 24 hours. Trading volume has declined by 22.71 percent and totals $398.4 million, while the total market cap trades around $15.65 billion, ranking the coin in 12th place overall.
UNI/USD 4-hour chart: UNI to continue higher?
On the 4-hour chart, we can see the $25 mark preventing further downside, indicating we could see bulls continue higher from there.
Uniswap price action has seen bearish momentum over the past weeks, with large volatile moves taking the market to the $18 low. However, some bullish momentum was seen last week, with a sharp spike higher resulting in the $26 mark reached last Monday.
A retracement to the $22.5 mark followed, where a several-day consolidation was seen during the middle of last week. On Friday, bulls gathered momentum to push higher again, leading UNI/USD to $27 next resistance this time.
Since then, Uniswap price has slowly retraced and reached the $25 support. If any further downside is not seen, we assume a new higher low is set, and UNI/USD will rally higher later this week from there.
Uniswap Price Analysis: Conclusion
Uniswap price analysis is bullish today as a new higher low has likely been set at the $25 mark after a slight retracement over the last 24 hours. Therefore, we expect UNI/USD to continue higher later today as a new higher low is likely set.
While waiting for Uniswap to move further, read our guides on Mycelium Wallet, Next Cryptocurrency to Explode in 2021, as well as our BitMEX review.