Bitcoin and Foxbit market announce zero rate for withdrawals in reais
Bitcoin Market and Foxbit announced this Wednesday (22) that they will no longer charge fees for withdrawals in reais from their customers. Exchanges control a large part of the Brazilian cryptocurrency investment market.
Before announcing the novelty, Foxbit charged a fee of 1.39% per withdrawal plus the amount of R$1.89. The brokerage informed through a statement that it will offer instant withdrawal 24/7: the customer requests the withdrawal and the amount is available in less than five minutes in his bank account.
On the Bitcoin Market side, the company informs that the minimum amount for the withdrawal is R$ 100. To obtain exemption, the company points out that the customer also needs to keep their account data up to date.
Bitcoin market hits 3 million customers
The Bitcoin Market announcement came, according to the company, as a way to celebrate the mark of three million customers with eight years of life.
"This is a very important brand for us, because it shows not only people's growing interest in cryptoactives, but also their confidence in the Bitcoin Market", explains Fabricio Tota, director of New Business at the exchange, in a note.
The 3 million-customer mark comes two months after the company's parent company became a unicorn, a term used to define startups starting at $1 billion. In July, 2TM, the holding company that controls the Bitcoin Market and eight other companies, received an investment of US$ 200 million led by Softbank and reached a valuation of US$ 2.1 billion.
Foxbit will have 35 cryptoactives by the end of the year
Founded in 2014, Foxbit transacted more than R$15 billion by more than 800 thousand registered customers. There are currently five brands and more than 25 products aimed at the business (B2B) and final consumer (B2C).
Foxbit promises more news this year. "There will be more than 10 new cryptos implemented, closing a table of 35 cryptoactives until December, tokenization of attractive real assets with profitability superior to fixed income products that we have today in the traditional market, among other novelties that improve the experience of our customers and products specific products aimed at the B2B market", says Ricardo Dantas, CO-CEO of the company, in the press release.
Top 3 Price Prediction Bitcoin, Ethereum, XRP: Leading cryptos take the back seat
Bitcoin price may experience constricted trading conditions as capital enters the broader altcoin market.
Ethereum price approaches new all-time highs.
XRP extends bullish momentum to the fourth consecutive daily close above the open.
Bitcoin price is likely to face some underperformance against Ethereum, XRP, and the broader altcoin market. Ethereum price action pushes higher during the Tuesday trading session, making another attempt at new all-time highs. XRP price is close to recovering all of the losses it sustained on Black Friday.
Bitcoin price action to consolidate in the interim
Bitcoin price is currently in a horrible place from a technical analysis perspective. It is in its twelfth consecutive day trading inside the Cloud. The Cloud (red and green shaded areas) within the Ichimoku Kinko Hyo system is an area of indecision, volatility and frustration. It's the place where trading accounts go to die. Traders should expect to see sideways activity followed by false breakouts until a clear breakout above or below the Cloud.
Altcoins should catch a bid throughout December, as Bitcoin trades mostly sideways. A trading range between $53,000 as support and $65,000 as resistance is expected. Any breakout above the Cloud will likely see Bitcoin push new all-time highs near the $77,000 value area.
Ethereum charges higher towards new all-time highs
Ethereum price has been somewhat of a surprise given the bearish sentiment and exiting the bear channel. Ethereum is currently just $200 shy of hitting the prior all-time high, showing resilience and outperformance of the broader cryptocurrency market. However, some warning signs should be observed.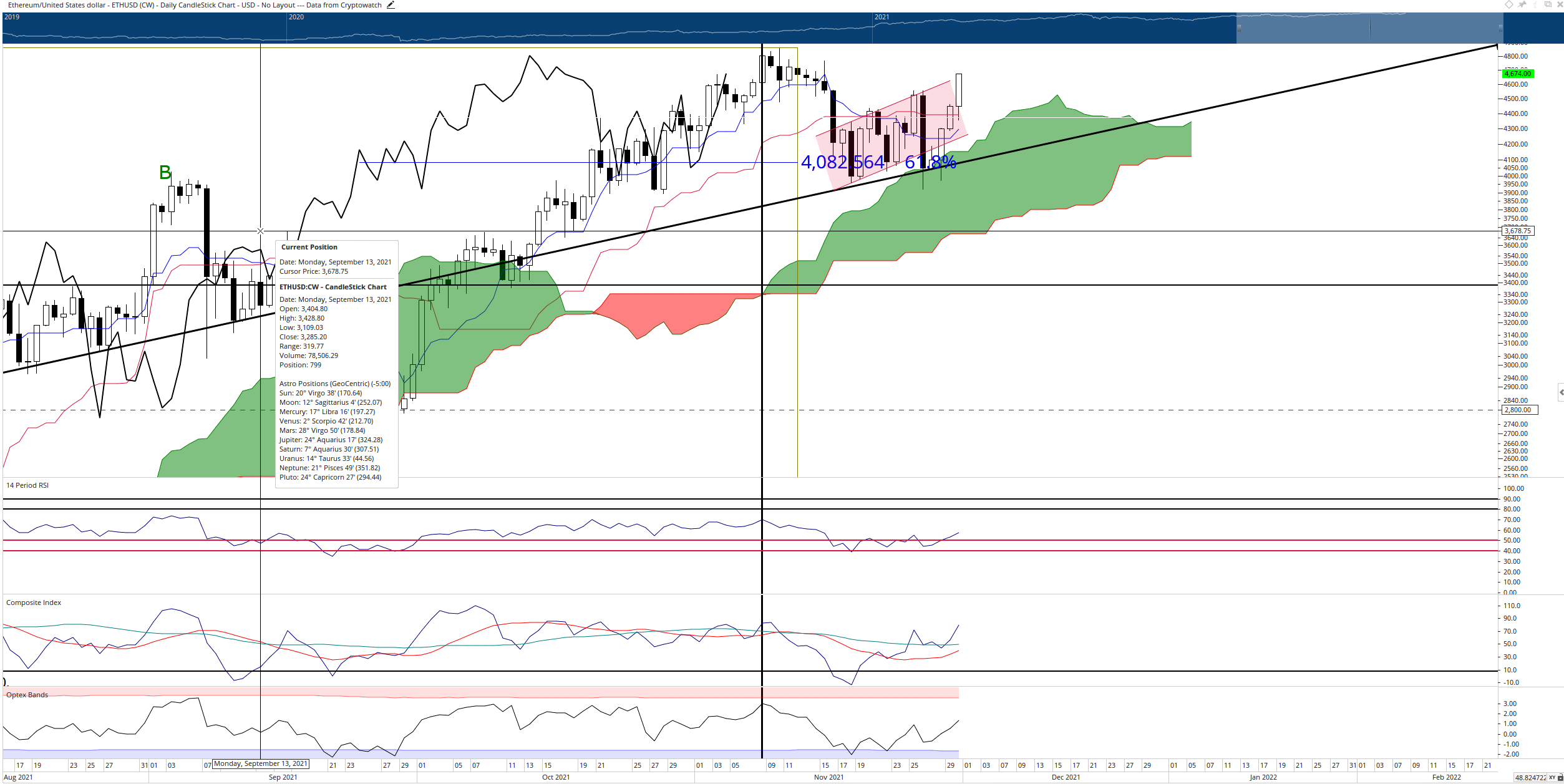 ETH/USD Daily Ichimoku Chart
Ethereum is trading up against the upper trendline of a bear flag. At the same time, the Composite Index has printed a high above November 9th high while the corresponding price levels on those dates show lower highs. This creates a form of divergence known as hidden bearish divergence. It is a warning sign that the current swing higher may not be as honest of a move as it appears.
If Ethereum fails to close above the $4,600 value area on the daily chart, a pullback to $4,000 is likely.
XRP price up over 16% from Sunday lows, looks to extend higher
XRP price may be a barometer for how the rest of the altcoin market may behave in December. XRP's daily Ichimoku chart forms a significant bear trap, which looks very similar to its peers'. Unlike Ethereum's chart, which shows evidence of overbought conditions, XRP's chart shows that a bullish extension is very likely to be sustained.
XRP's behavior over the past two months has been one of epic frustration for bears. There have been nine occasions when XRP has fulfilled all the Ideal Bearish Ichimoku Breakout entry requirements. Unfortunately for the bears, all nine of those occasions have failed to generate any substantive or sustained selling pressure. This repeated failure has undoubtedly trapped a significant number of short-sellers – creating prime conditions for a short squeeze.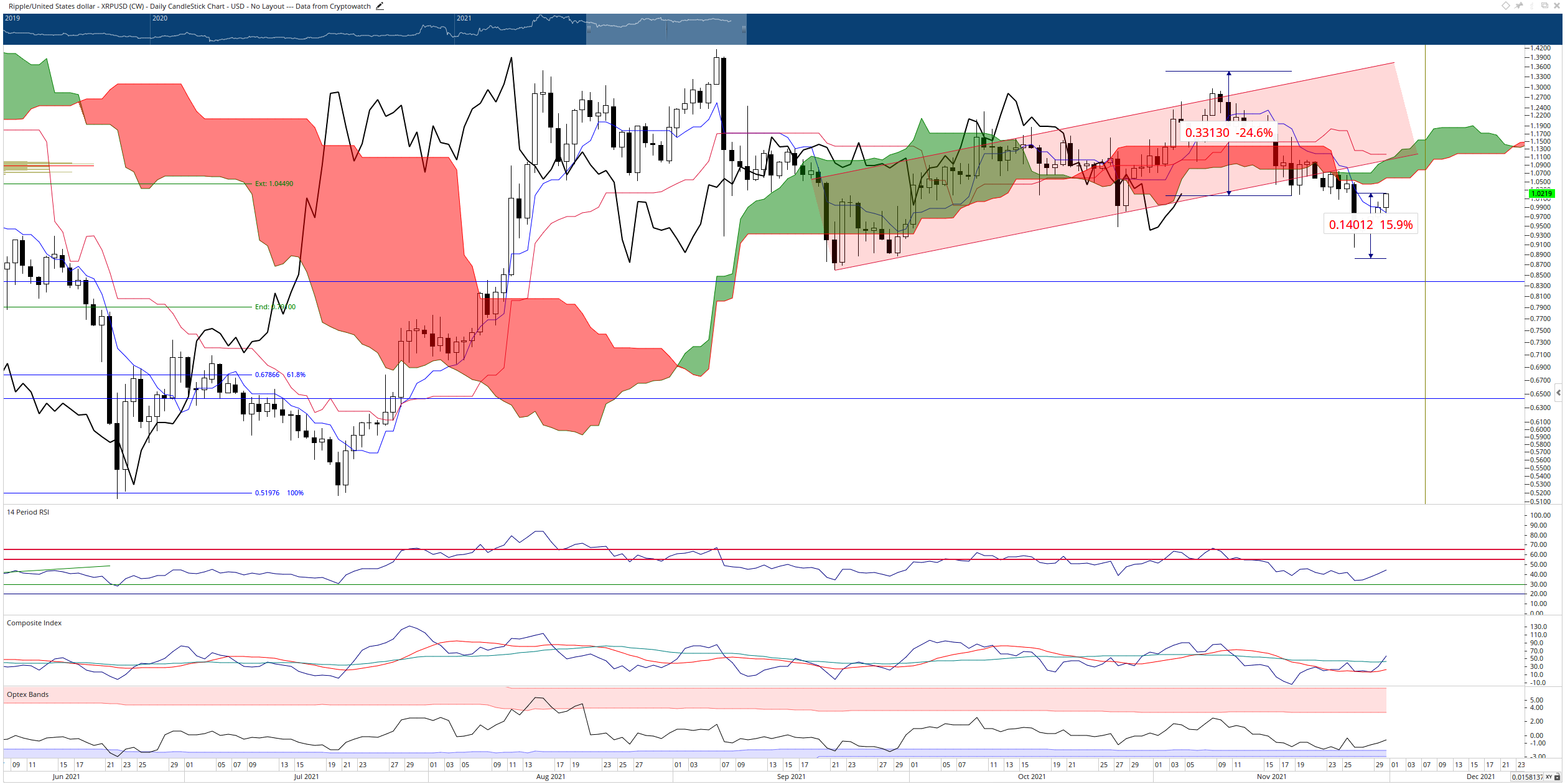 XRP/USDT Daily Ichimoku Chart
The critical price level for XRP to close above is the $1.15 value area. From there, XRP price would be positioned in a favorable bullish Ichimoku entry condition that positions XRP towards the $3.00 value area. Down-side risks remain limited to the $0.65 value area. 
ETH/BTC Ready to Break Higher? Not So Fast, Some Analysts Say
A much-discussed chart among crypto traders in recent days has been the ethereum (ETH)/bitcoin (BTC) chart, with many claiming it looks primed for a sharp move higher. However, some are still betting on an opposite outcome, with investor demand also indicating stronger appetite for bitcoin.
The potential break-out for ETH has gotten a fresh round of attention following strong outperformance of ETH over BTC during the past week. At 11:57 UTC on Tuesday, ETH was up 11% over the past 7 days, while BTC was up 2.5% over the same time period.
The notable difference in performance came at a time when the stock market has tumbled over renewed coronavirus fears, with the US S&P 500 futures currently down by about 2.9% from its all-time high on Monday last week.
And as has been pointed out by many in recent weeks, bitcoin is still behaving more like a risk asset that fluctuates with the stock market, than a safe haven hedge like gold. This relationship has once again been demonstrated in recent days, some crypto traders have argued.
Gm. $BTC and equities are down but $ETH is holding well. Probably nothing..— CoinMamba (@coinmamba) November 30, 2021
The ETH/BTC chart has also been pointed to by Raoul Pal, founder & CEO of Real Vision, who said recently that he sees it as "the most important chart in digital asset markets right now."
"A break higher will lead to more risk seeking into year end," Pal said, suggesting that we may be entering a new bullish period for altcoins.
However, as usual, not everyone agrees with the narrative that ethereum is about to break higher relative to bitcoin. According to the popular crypto trading educator and Crypto-TA.nl founder Crypto_Ed, the ETH/BTC chart is not breaking out yet, and instead may be looking at a move lower.
"I see many tweeting ETHBTC chart looks so good….. All I see is a rising wedge with bearish divergence and it looks more like it's gonna break down," he said, adding that the same also holds true when looking at the same chart with a longer time frame.
So many comments I should look at higher TF…
Well, that's what I taught ~2000 students in past years: "always start at the highest possible TF"

Daily TF: symmetrical triangle, usually in an ABCDE.
E doesn't need to go completely to the bottom but will do a pull back pic.twitter.com/ZpyeI3bGDo— Crypto_Ed_NL (@Crypto_Ed_NL) November 29, 2021
Similar takes were also shared by other traders.
Futs a bit heavy as well, tough conditions thought we were looking better earlier— Depression BTC (@depression2019) November 30, 2021
Growing capital flows
According to last week's Digital Asset Fund Flows report from CoinShares, bitcoin appears to be enjoying greater momentum than ethereum in terms of capital flows into regulated investment vehicles.
As reported, last week, BTC saw the largest inflows in 5 weeks totaling USD 247m (compared with USD 114m a week earlier) following the launch of another investment product in Europe, they added. ETH saw inflows totaling USD 23m last week, compared with around USD 13m a week earlier.
3/ demand – we track weekly investment flows via our @CoinSharesCo report

in the last 11 weeks, we've seen $2.7B of inflows into bitcoin ETPs alone. demand continues unabated, and w $5.5T of dry powder on the sidelines, there's plenty of capacityhttps://t.co/Ivu9apdYqv— Meltem Demir◎rs (@Melt_Dem) November 29, 2021
Moreover, Marcus Sotiriou, a sales trader at the UK-based digital asset broker GlobalBlock, is also demonstrating a bullish stance towards bitcoin.
"Bitcoin appears to be forming a falling wedge pattern which is historically bullish and has a higher probability of breaking to the upside than the downside," the trader wrote in an emailed comment, adding:
"If the down trending line of resistance is broken, bitcoin may be on its way to retest the all-time-high as the technical target is around that region."
At 11:57 UTC, BTC traded at USD 57,600, up 1.4% over the past 24 hours. At the same time, ETH stood at USD 4,581, up 6.3% over the same time period.
Ethereum Price Analysis: ETH gains 20 percent from the Sunday low, peaks at $4,750?
Ethereum price analysis is bearish for the rest of today.
ETH/USD saw further upside above $4,550 previous high.
Resistance is currently found at $4,750.
Ethereum price analysis is bearish today as we expect a retracement to follow after a strong spike higher was seen again today. However, ETH/USD bulls are likely exhausted after reaching $4,750, and we can expect a retracement over the next 24 hours.
The cryptocurrency market has seen bullish momentum continue today. The market leaders, Bitcoin and Ethereum, have gained 2.45 percent, while Ethereum 8.1 percent. Meanwhile, the rest of the top altcoins follow with similar results.
Ethereum price movement in the last 24 hours: Ethereum retests $4,400 as support, spikes to $4,750
ETH/USD traded in a range of $4,332.10 – $4,753.27, indicating strong volatility over the last 24 hours. Trading volume has increased by 37.24 percent, totaling $26.25 billion, while the total market capitalization trades around $555.6 billion, resulting in a market dominance of 20.73 percent.
ETH/USD 4-hour chart: ETH rejects further upside at $4,750
On the 4-hour chart, we can see the Ethereum price reacting after reaching the $4,750 resistance, likely indicating the end of the current rally.
Ethereum price has seen strong bullish momentum return since Sunday. The rally came after a strong drop of almost 15 percent on Friday when Ethereum found support at $3,950 once again.
From there, consolidation followed until another test of the support was seen late in the weekend. Bulls quickly rejected further downside, leading to a swift rally higher over the next 24 hours.
By the start of Today, Ethereum price had already cleared past the $4,400 previous resistance. After a slight retracement, another more upside followed Today, leading ETH to a new high at $4,750.
Ethereum Price Analysis: Conclusion
Ethereum price analysis is bearish today as we saw strong resistance reached at $4,750 after a 20 percent advance over the past days. Therefore, we assume bulls are exhausted, and ETH/USD should be headed for a retracement later today.
While waiting for Ethereum to move further, see our articles on the Best Crypto Wallet 2021, Decred Wallet, and Ripple vs SEC.