Cardano (ADA) Will Moon Shot to $4 by the End of 2021
Cardano is showing strong bullish signs.
The price of ADA will likely hit $4 by 2021 end.
The project has much in store for its community.
Most analysts expect Cardano (ADA) to be one of the big 3 cryptos in the crypto world. The asset is already ranked at number 3 based on market capitalization. Bitcoin and Ethereum hold the top titles and are seen as revolutionary and functional.
Now, with Cardano's latest Alonzo mainnet upgrade, the asset and blockchain are finally a worthy contender set to run with the big leagues. To highlight, Cardano's Alonzo mainnet launch brought smart contract functionality to its network.
This makes the blockchain a massive competitor in the industry. Especially for Ethereum. Ethereum can run smart contracts and hosts many DeFi applications, blockchain games, and more. However, it is limited by its Proof-of-Work (PoW) consensus.
Not to mention, Ethereum is not scalable or interoperable in its current state. Due to this, it faces issues with sustainability, congestion, and high transfer fees. To combat this, Ethereum is launching Ethereum 2.0. Sadly, this launch has been delayed for over six years now and users are still waiting for the promised day.
Meanwhile, Cardano has always used a Proof-of-Stake (PoS) consensus. This makes the platform sustainable and scalable. It also allows staking and brings a greater community role. This is essential for Cardano as the system's penultimate plan is to render decisions to its community after its final upgrade stage.
In detail, Cardano (ADA) has 5 stages for upgrades according to its road map. In order, these stages are known as eras — Byron, Shelley, Goguen, Basho, and Voltaire. Presently, Cardano is in its Goguen era.
Goguen's goal was to bring smart contract functionality onto Cardano's network. To do so, the Alonzo testnet was launched in phases. Starting with Alonzo Blue, then Alonzo White, and Alonzo Purple. The testnet steadily launched simple and later complex smart contract functionality. Alonzo Red and Alonzo Black went quickly to find and fix possible bugs.
During this time of testnet launches, the price of Cardano (ADA) steadily shot up. In fact, it even hit its current ATH of $3.09. At the time of writing, the price of Cardano (ADA) stands at $2.24. This is still significantly higher than its price at the start of 2021 which was $0.18.
Truly, Cardano has been breaking its own price records over and over again in just this year alone. First, it broke through the $1 mark and then $3. Now, many analysts predict that its price will go much higher. Some speculate $5 and others $10.  
In particular, Nigel Green from deVere Group, says that by the end of this year ADA will certainly hit $4. He says that according to the charts, ADA is bullish. In fact, he says it is on a clear upward trajectory and it is very unlikely that it will come to a halt.
As we can see from the Alonzo hard fork, Cardano's price has gone up during every substantial update. Given that the project has many other plans set in motion, there is no doubt that its price will continue to soar. 
Cardano has many things they aim to improve before hitting its final Voltaire era. To name a few, there is the Plutus Core. This is the network's programming language. The team needs to ensure that it is airtight and foolproof.
Once Voltaire comes around, stakers and the Cardano community will be the ones making big decisions on the blockchain. Therefore, Plutus needs to be ready. Another prominent step on the list in Cardano's Layer 2 scalability solution — Hydra. 
Besides these, Ouroboros Genesis also must be in tip-top shape. This is the dynamic distribution system that will work in harmony with the PoS token distribution. Hence, it is crucial to the entire blockchain. Without a steady staking mechanism in place, Cardano cannot reach success.
Finally, the project will also be working with many other partners and notable users on its blockchain. It will also ensure that released projects will gain the attention it needs as well, such as the Yoroi Wallet.
All in all, Cardano (ADA) continues to be a promising project with much to offer. Analysts are surely expecting big things to come from it. Specifically, one analyst even says that ADA mooning is inevitable as the asset will likely hit 500 billion in market cap. Oh well, it seems we will simply have to keep a close eye on Cardano.
Cardano To Explode Very Soon, ADA Price Poised TO Hit $8 Soon!
Cardano after a notable uptrend above $3 adopted a sideways trend for a very prolonged period. And hence, the price was speculated to be stagnant or to be more specific, dead, showcases signs of a major flip ahead. The upcoming rally could lead ADA price towards the immediate target at its ATH initially. 
As the crypto space geared up with the Bitcoin price raising ahead of $60,000, many altcoins followed. However, ADA prices remained away from the crowd by maintaining a narrow trend. And therefore lost its position in the top 3 crypto assets based on the market cap. Yet the traders appear to have not lost their interest in the asset. 
#Cardano is sitting at $2.13 at this time, and traders' interest in the #4 market cap asset appears to be picking up. Traders on #Binance are longing $ADA to a greater degree than usual as #altcoin movement is picking up against $BTC. https://t.co/yF29mEPTd4 pic.twitter.com/BBc1zqQNDC— Santiment (@santimentfeed) October 19, 2021
According to the data from the On-chain analytic platform, Santiment, despite the asset slipping to 4th position, traders continue to long their positions. It could also signify the altcoin momentum gearing up against Bitcoin.
Cardano Price Analysis
Cardano price after smashing its highs in early September continued swinging within a symmetrical triangle. After numerous pumps and dumps, the asset is finally on the verge to explode by breaking the pattern.
As the price explodes after breaking the pattern, it appears poised to smash the immediate resistance level that resides around the ATH. However, once the asset trends are in the discovery phase, reaching new highs could be on the cards. According to an analyst, the asset could reach $8 in the near future. But smashing $5 appears imminent for the ADA price.
Hoskinson's Brief Update: Cardano's Great Year Ahead
Cardano Founder — Charles Hoskinson, speaks to the crypto community.
He catches them up on all things Cardano via a live broadcast.
After the smart contract launch, Cardano will now move to bring scalability.
Founder of Cardano (ADA) — Charles Hoskinson, takes a moment to address the crypto space and catch them up on all things Cardano. Specifically, he did so via a live broadcast.
Brief Update https://t.co/9Tw2zPtVxm— Charles Hoskinson (@IOHK_Charles) October 18, 2021
The broadcast comes from South Africa, as Hoskinson is currently traveling through different parts of Africa. He says there's a lot of potential opportunities here and he is looking forward to learning more during this trip.
In detail, the purpose of this brief update was to dampen the negative and uncertain buzz about the project within the crypto world. Hoskinson wanted to be upfront and transparent about all that's been going on since the Alonzo smart contract update launch last month.
Frankly, he is very puzzled at the rising FUD within the space. He says that so far, Cardano has met every single milestone on its roadmap with no delays and no issues. The network has never collapsed and Cardano's community continues to grow.
Hoping to reassure the naysayers, Hoskinson lays out Cardano's current plans. To begin, he says that most of the concerns he sees seem to be about scalability. The upcoming PAB launch set to come out later this month or early next month will take care of this.
To add on, Goguen's goal was to set the network's programming model. Likewise, Basho's goal is to make the program work on a large scale, and this is where Cardano is heading next. While the PAB will improve scalability, more and more users will join the network.
By the time this number rises, Cardano will be ready to launch its sidechains as well as its Layer-2 solution — Hydra. Besides these, Cardano has a lot of other projects in motion as well. To name a few, Plutus, Mamba Pool, Atala PRISM, Mithral and so much more. In fact, there are 14 teams working to bring 14 different elements within the Cardano ecosystem alone.
On the other side, Cardano is working with dozens of commercial projects that are fully funded and ready to go. Thus, Hoskinson is excited for the next year, as we will see the large-scale commercialization of Cardano.
All in all, he is happy to see that the ecosystem is alive and active, humbled that demand for the project has gotten stronger, and grateful to the community for being here. Finally, he encourages skeptics to read the Cardano whitepaper written back in 2016.
The document shows exactly what the project aimed to bring, and they will see the steady and unwavering progress that has been delivered till now. He ends the broadcast by saying that Cardano is exactly where it needs to be right now and will continue to grow as planned.
Cardano Traders Have Started Longing Again While Funding on Binance Picks Up
Demand for Cardano derivatives is on the rise, according to on-chain and market data
As the altcoin market starts growing again and funding rates are picking up, Cardano traders and investors start to open more long positions, according to data provided by Santiment. In order to track the trader's interest in cryptocurrency, Santiment tracks funding rates on the Binance exchange.
With increased derivatives funding, traders might expect elevated volatility due to the increasing number of leveraged positions. A more leveraged market might help the price action during an uptrend.
The downside of an overleveraged market
The main downside of elevated volatility on the market is the absence of strong support zones that practically have no time to form in the face of the rapidly rising price.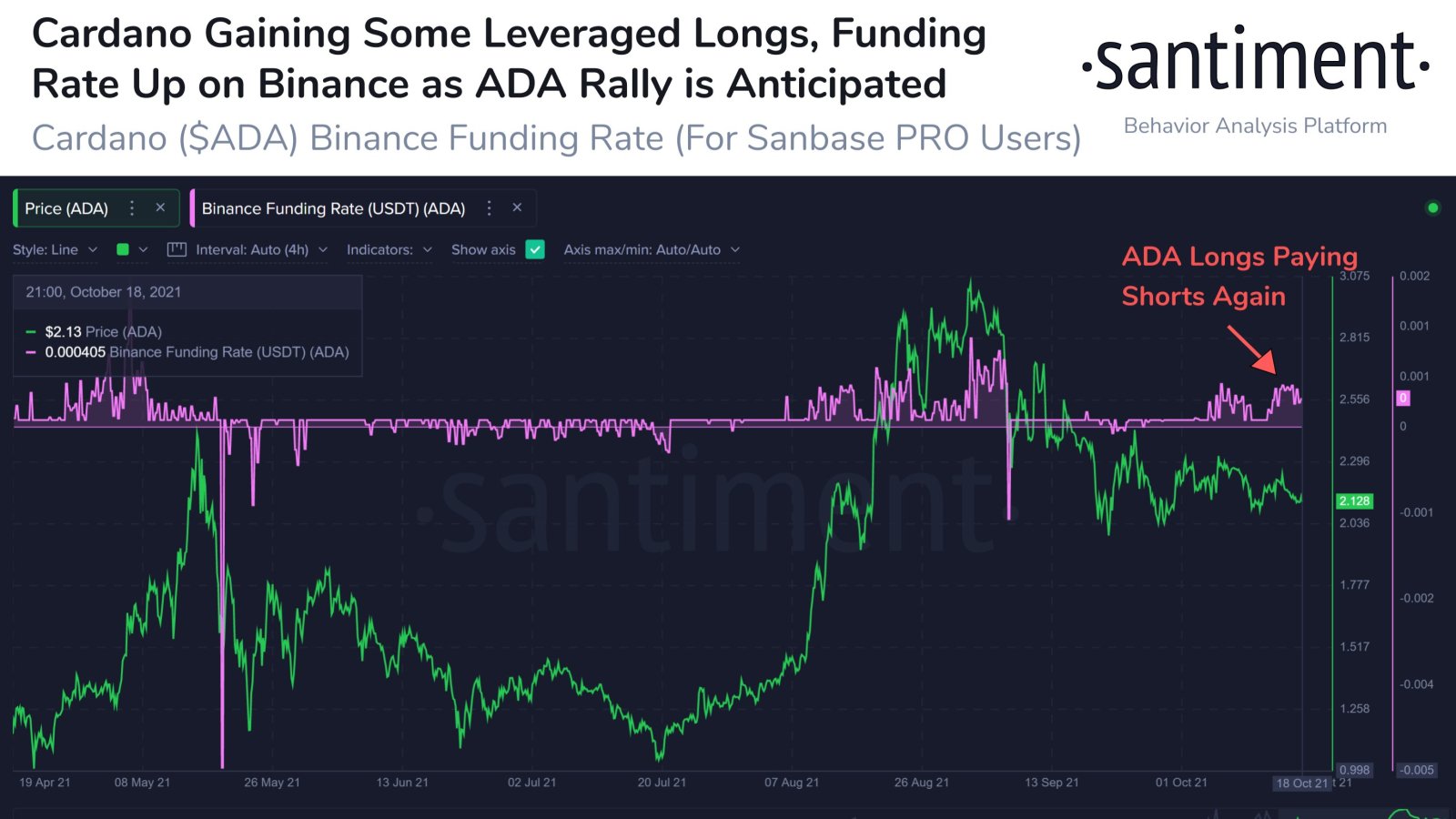 Cardano markets were constantly overleveraged during the previous bull run. Right after the market entered the correction phase, ADA faced a 30% retrace and has not recovered to date.
In the last month, the average weekly volatility on ADA has been staying around 8%, while in the post-smart contract announcement phase, the average volatility has remained at about 20%.
The main advantage for traders
Since current market sentiment for ADA remains neutral, an increase in volatility might lead to both positive and negative outcomes. But according to the data from Binance, there are more longs being opened than shorts. With additional longs funded and the absence of selling pressure, the price of the asset might rise further.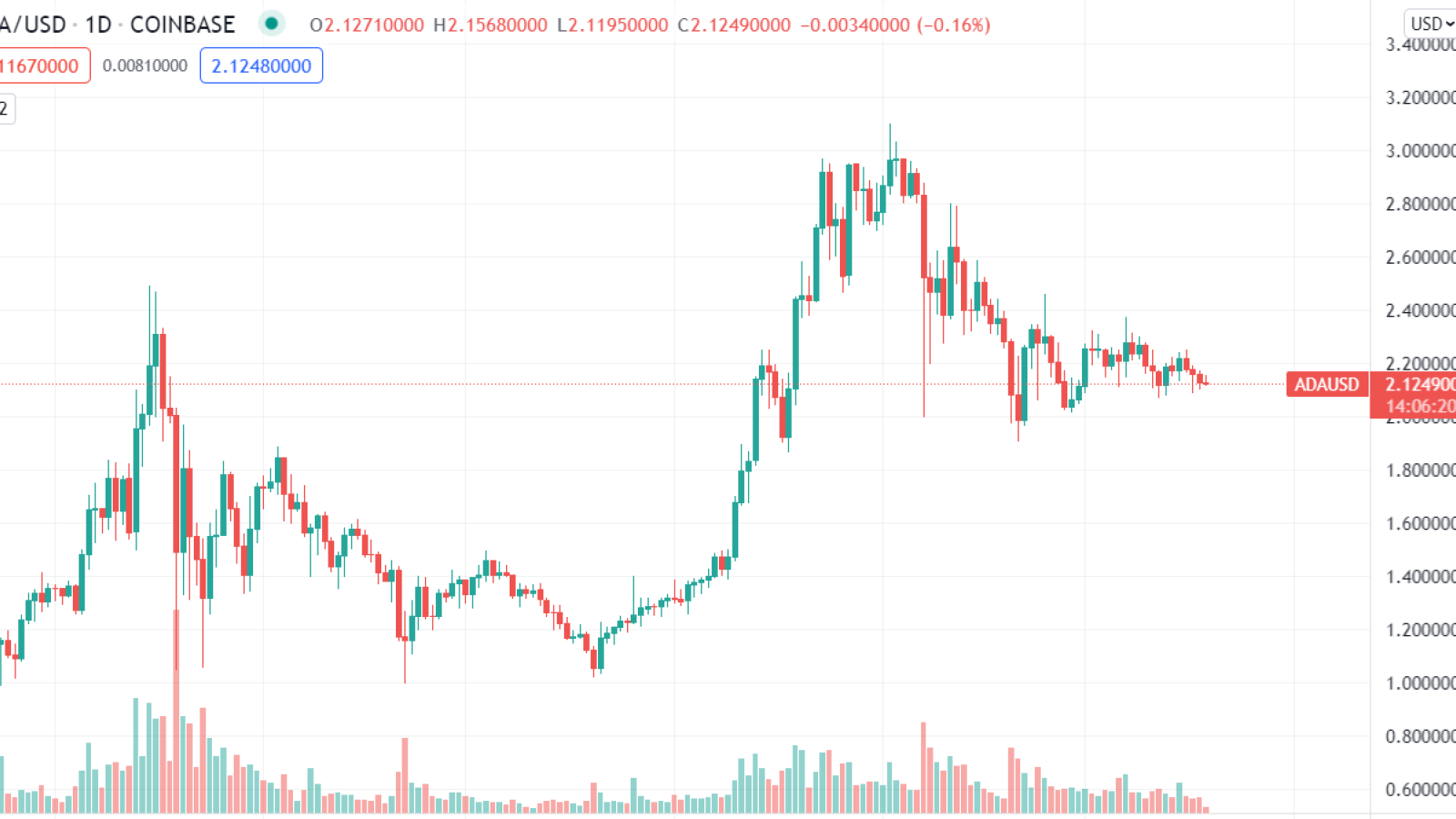 Currently, only 61% of ADA holders remain in profit, which indicates that 40% of all holders have opened their positions for a higher price. On-chain data also suggests that more selling pressure might appear on the market once the price comes close to the previous ATH.