Cardano price flashes major sign of recovery, but ADA bulls have doubts
Cardano price is aiming to recuperate recent losses as bulls gear up for a bounce.
However, the road to recovery may not be easy, as multiple roadblocks have emerged. 
Only a slice above $2.50 could see ADA resume its rally.
Cardano price is gearing up for a recovery after recording a local bottom at $1.90, the lowest point recorded since August 18. A key technical indicator suggests that ADA is ready to reverse the period of underperformance. 
Cardano price struggles with sturdy headwind
Cardano price is preparing to overturn the period of sluggish performance as the Momentum Reversal Indicator (MRI) has printed a bottom signal on September 21 on the 12-hour chart. The indicator also flashed a bottom signal on the September 23 candle on the daily chart, further suggesting that ADA is primed to bounce.
Before the bulls could target bigger aspirations, Cardano price is confronted with several major levels of resistance. The first hurdle for ADA appears to be at the 20 twelve-hour Simple Moving Average (SMA) at $2.30. However, IntoTheBlock's In/Out of the Money Around Price (IOMAP) data shows that this level only acts as a small headwind for the Ethereum killer.
The following obstacle for Cardano price is at $2.36, where the 38.2% Fibonacci retracement level and the 100 twelve-hour SMA meet. Another major hurdle will emerge at $2.44, as indicated by the resistance line given by the MRI.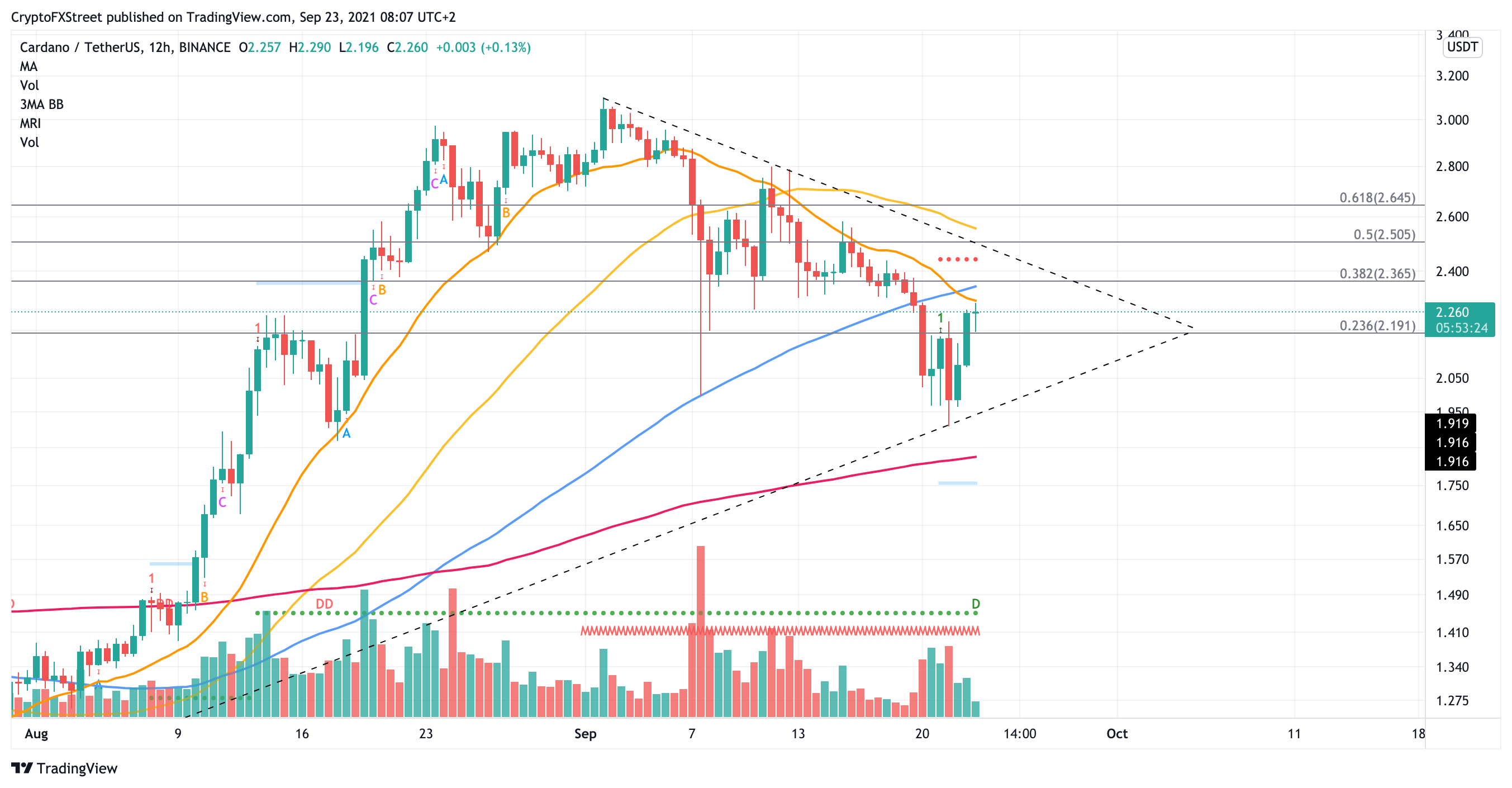 ADA/USDT 12-hour chart
The IOMAP data also shows the aforementioned level appears to be the biggest area of resistance, where 72,340 addresses purchased 1.55 billion ADA at $2.44. Only if Cardano price manages to reach this level, would ADA have the potential to tag the diagonal resistance trend line that extends from its all-time high recorded on September 2.

ADA IOMAP
Only a slice above $2.50, where the 50% Fibonacci retracement level at the diagonal trend line meets, would open up the possibility of ADA rallying and breaking the prevailing downtrend. However, bullish investors should note that this area also seems to be a major area of resistance for Cardano price as indicated by IOMAP data.
Further resistance may appear at the 50 twelve-hour SMA at $2.56 should Cardano price successfully break above the diagonal trend line.
Despite the optimism given by the MRI bottom signals, Cardano price continues to skate on thin ice as breaking below a critical support level could spell trouble for the bulls.
Cardano price would discover immediate support at the 23.6% Fibonacci retracement level at $2.19. Should a spike in sell orders materialize, ADA could fall further to tag the diagonal support trend line at $1.95.
Cardano Price Predicted to Hit $15, While ADA Price Is Still Under Bearish Pressure
The overall cryptocurrency market traded with mixed results over the last 24 hours. The Flagship currency, Bitcoin breached its 60K mark. On the other hand, Ethereum managed to also regain its uptrend and show another bullrun. However, cardano Price Seems to be still dead !
ADA Price Action
The ADA/USD currency pair is presently trading at $2.1, down roughly 13% on the week after a strong increase of around recently. Given that the upside was rejected yesterday after a brief jump above $2.30, Cardano price research shows that this rejection will result in a negative trend.
For weeks, the price of Cardano has been in a downward trend. However, there was a higher low at the end of September, indicating that bullish momentum was growing.
Following that, the market rebounded upward on October 1st, driving ADA/USD to a new low of $2.30. This price activity implies that the market is trading in a tighter range now.
ADA consolidated after a fall to $2.15, when another higher low was made. A technical bullish signal was triggered by yesterday's rise above the previous high of $2.30, signaling that market momentum has turned positive once more.
Cardano Price to hit $15-$20 by year-end?
The most parabolic action is at the end of the cycle. I do believe we can see #Cardano $ADA between $15 – 20 at the very end. I believe it is possible.#ADAGang what can I say? 🤷 pic.twitter.com/JWKjqanoUc— Ben Armstrong (@Bitboy_Crypto) October 9, 2021
Popular crypto Youtuber Ben Armstrong in his recent Youtube session discussed a bullish scenario for ADA. In a tweet that followed he says, he believes ADA will definitely hit the $15-20 range at the end of this bull cycle.
Ravendex, A Cardano-Based Project, Releases its DEX Demo, to start with Tokens Sales soon
Ravendex, a new Cardano project has made a demo version of its first decentralized exchange, having features like Swap Pools, Light & Dark Mode.
While the company continues to make rapid progress after the private token sale started, which has 100 million $RAVE tokens available for the investors, while 82 million $RAVE tokens are already said to be sold out.
Ravendex team is committed to launching a working DEX on the cardano ecosystem before the year ends.
The project will be launched and maintained using funds raised from the sale of $Rave tokens to early investors.
Features Of Ravendex
Ravendex will also have A Staking Platform and also a decentralized lending and borrowing platform, which sets it apart from other Cardano network projects as they are one of the very few projects on the third generation blockchain with the idea conception.
Investors & Liquidity providers can give liquidity to tokens and in return, they will make profit from transaction fees. Alternatively, users can stake their assets on the staking platform and earn a commission and percentage from borrowers' fees.
According to the Ravendex team, their decentralized exchange will include wallet connect features, Asset Price display and transaction list features.
They will also keep their payment fees low and secure. As a matter of fact, Ravendex aspires to be the Cardano network's primary financial hub.
RAVE TOKEN
Ravendex reveals that the total number of $RAVE coins will be limited to one billion.
Investors will be able to stake, provide liquidity, or vote with their tokens on the Cardano network.
The Private Sale Phase is almost filled as the company has already reached 82 percent of its goal of selling 100 million tokens by the end of its first private sale and the pricing places it at 0.00225 ADA per $RAVE token.
The Cardano-based project, on the other hand, intends to hold a total of five sales which can be seen in the sale stages page.
Ravendex, like many other cryptocurrency projects, plans to open its sale to the general public later this year.
200,000,000 $RAVE tokens will be available in the pre-sale phase at a price a little more expensive than the private sale at 0.0027 ADA per coin.
Those who missed out on the first public sale will have another opportunity to purchase $RAVE tokens for 0.0032 ADA each. A total of 100 million tokens will be sold during this stage.
This Medium link provides more information about the Ravendex
About Ravendex
Ravendex is a Cardano-based crypto project that aims to create a decentralized exchange.
Its purpose is to provide a platform that has incredibly minimal fees and allows for quick cross-border transactions.
More importantly, it aspires to include features that will be useful to Cardano supporters. Also, we also look forward to creating a community of active investors who may vote on issues. They can also lend coins or provide liquidity to create a fully functional decentralized exchange.
Cardano Price Prediction: ADA ready to explode to $4
Cardano price returns to bullish conditions, denying further sell-side control
An imminent breakout towards new all-time highs is likely.
Little resistance ahead, but bulls should remain wary.
Cardano price has failed to capitalize on the movement generated by its closest peers, Bitcoin and Ethereum. As a result, very tight and challenging trading ranges have been the norm for Cardano, but that may change here soon.
Cardano price targets a breakout above $2.45
Cardano price has a very bullish set up on its $0.05/3-box reversal Point and Figure chart. If a new column of Xs forms and hits the $2.45 entry, three things happen simultaneously. First, a double-top is broken, confirming an entry signal. Second, the entry confirms a complete Bear Trap Point and Figure pattern. Finally, the entry at $2.45 is a breakout above the dominant bear market angle.
The breakout could be the very beginning of a new bullish expansion phase for Cardano price. The initial target on the breakout is based on the horizontal profit target method in Point and Figure analysis. $4.05 is the initial range and would be a new all-time high.
However, the current trading conditions still have a significant bearish weight. Therefore, Cardano price must remain above the $2.05 value area. If it fails to hold $2.05 as support, a return to the $1.80 trading range is likely.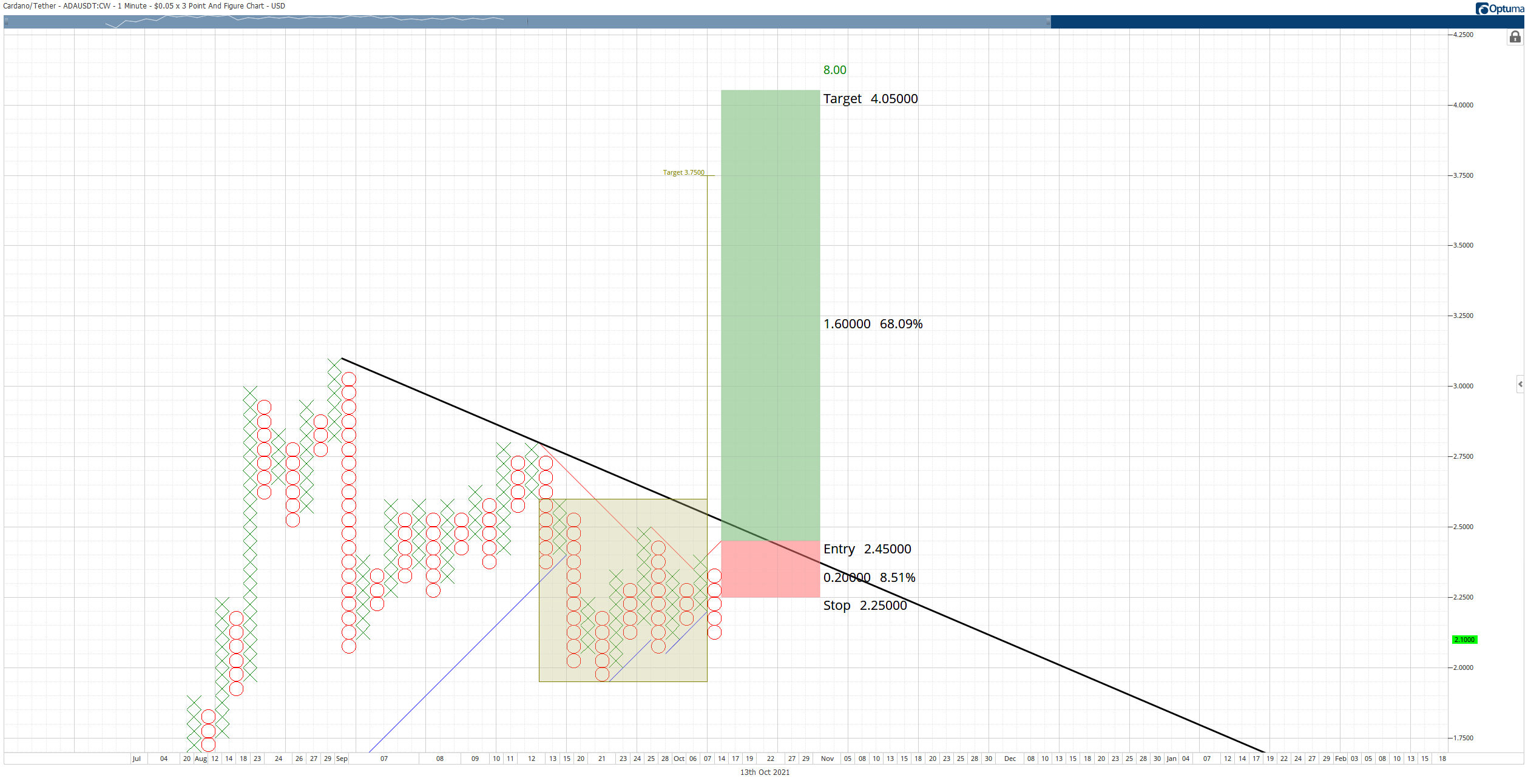 ADA/USD $0.05/3-box Point and Figure Chart
Bulls should also be aware of some resistance on any breakout near the prior swing high and high volume node at $2.80. While the momentum of the breakout may make any near-term resistance moot, $2.80 has been a consistent source of trouble for Cardano, and it would certainly be odd for it not to provide some resistance in the future.