Federal Judge Denies Ripple Request To Access XRP and Crypto Holdings of SEC Employees
A federal judge has denied Ripple's request to compel the U.S. Securities and Exchange Commission (SEC) to reveal whether it previously allowed its employees to trade XRP.
The SEC requires its employees to seek clearance before they trade any security. However, the SEC had not adopted any policy restricting its employees from trading digital assets until January of 2018, according to Ripple.
Ripple says that the SEC's early 2018 policy for employees stated that digital assets could be subject to the SEC's prohibitions against securities transactions, but the agency "neither declared all digital assets to be securities nor addressed whether any particular digital asset is a security in the SEC's view."
Four months after the SEC released its internal policy, the agency added XRP to a "watch list" of entities potentially subject to supplemental ethics rules. The regulator eventually prohibited its employees from trading the crypto asset, but not until March 2019, says Ripple. That's when it issued a "formal order of investigation" on the San Francisco-based payments company.
Earlier this month, Ripple's lawyers argued that the SEC's timeline of internal policies indicates it had not concluded whether sales and offers of XRP were securities transactions until at least January 2018.
The San Francisco-based company asked to see whether any employees requested to trade XRP, Bitcoin, and Ethereum during the period when there wasn't a clear policy on the asset, and what the SEC allowed or didn't allow them to do.
The SEC then promptly asked the court to reject Ripple's motion on the basis that any information regarding their employees' trading history is irrelevant to the case. The regulator also said it would be an invasion of privacy.
U.S. Magistrate Judge Sarah Netburn sided with the SEC on Tuesday, ruling that such information wouldn't provide any clarity on whether XRP is a security or not.
"Because the preclearance process does not consider whether an asset is a security, Defendants have not shown that such individual trading decisions bear on the issues in this case. Although the SEC's policies (or absence of policies) may provide relevant evidence related to fair notice or recklessness, how an Ethics Counsel viewed a trading decision is more likely to cause confusion or create collateral litigation disputes."
Netburn also says the information isn't meaningful enough to justify intruding on the private financial conduct of SEC employees, even in anonymized or aggregated form.
XRP holds key support while indicators point to short-term recovery
Ripple started a recovery wave above a key support level of $1.024.
XRP price started an upside correction as indicators suggest a short-term recovery.
The coin may initiate a fresh downtrend upon a breakout of the $1.024 support level.
XRP is in the process of forming a triple bottom price pattern boding more upside, for the pair priced against the US dollar., XRP price recently found support at the pattern's base during the formation of the third bottom. Now, Ripple is at a crossroads – a spike in selling pressure may drive a bearish breakout, whilst technical indicators signal a bullish reversal. It all depends on whether or not a critical support level holds.
XRP rejected above the triple bottom at $1
XRP has found support above $1.024 and started a bullish recovery similar to peer altcoins. The XRP price has found footing at the $1.024 level for the third time making it a triple bottom pattern.
If there is increased demand at the current price level it will push the XRP price towards its double top level at $1.108. However, the 20 and 50-period exponential moving averages may act as minor hurdles at $1.076 and $1.108.
The MACD has closed the first histogram above the 0 mark, indicating a bullish reversal. While the RSI is still holding at 44, a crossover above 50 may encourage investors to go long. In that case, the XRP price might spike towards $1.165. Additional gains could lift the price towards the next key hurdles at $1.218 or $1.284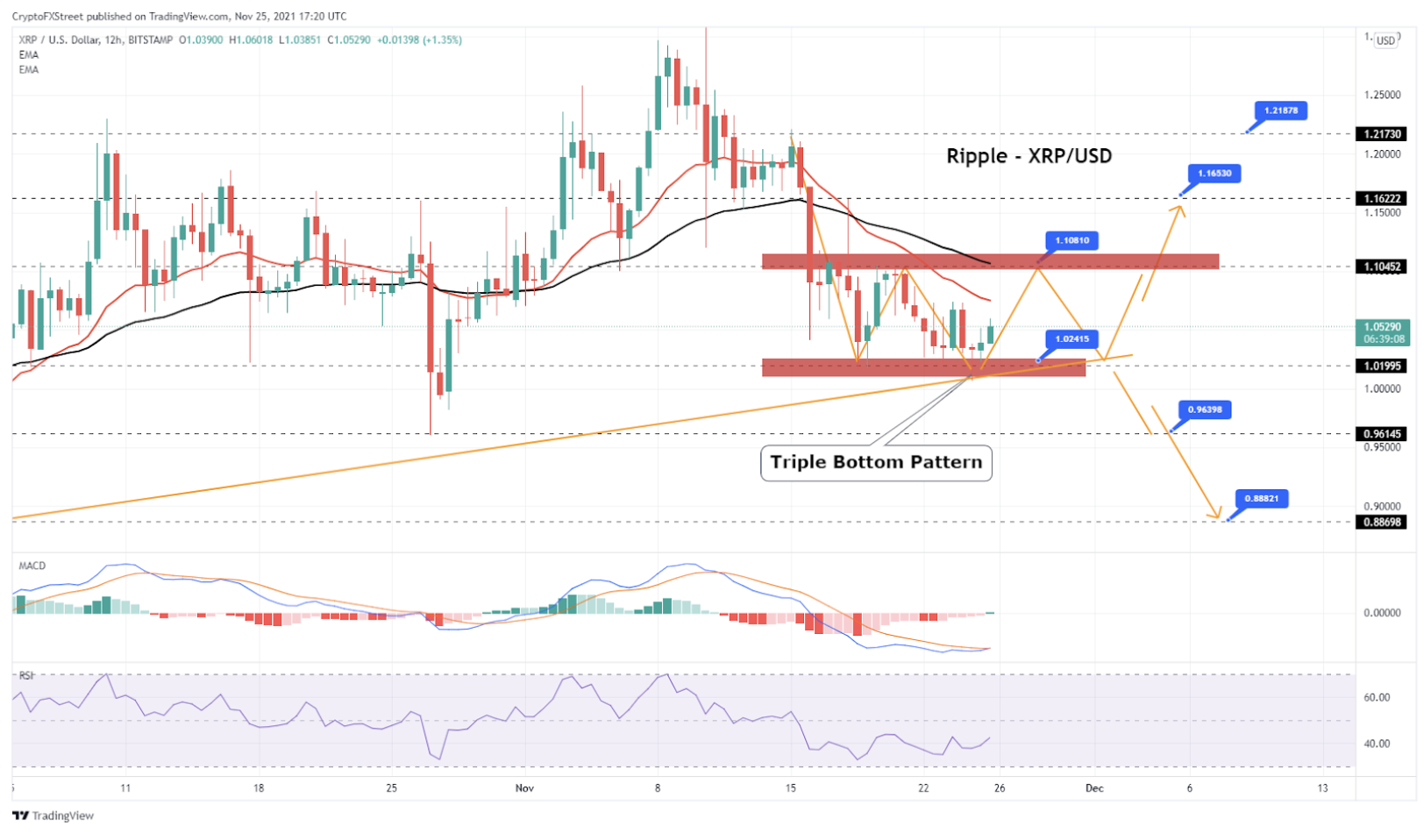 XRP 12-hourly chart – Triple bottom to drive uptrend
If XRP disappoints to start a new spike above the $1.081 level, it could extend losses. Initial support on the downside is near the $1.024 level.
The upward trend that started on September 21 also extends to significant support at the $1.024 mark. Therefore, a break below the $1.024 support level might push the price further down. The next critical support level is near $0.963, below which the price may fall to the $0.888 level.
XRP price consolidates as Ripple bulls eye a 15% run-up
XRP price is hovering above the $1.01 support level, anticipating a potential retest before an upswing originates.
A breakdown of this level could lead to a buy opportunity at $0.98 before Ripple rallies to $1.17.
A daily close below the $0.92 foothold will invalidate the bullish thesis.
XRP price has been on a downtrend for roughly two weeks and shows that a short-term reversal could be near. Market participants need to watch for two immediate support levels that are likely to facilitate this bullish outlook.
XRP price to pull a 180
XRP price has dropped roughly 23% since November 10 to where it currently trades – $1.04. The downswing is likely to retest the $1.01 support floor formed by the November 18 swing low. This will create a triple tap setup, suggesting that a short-term reversal in momentum is likely. 
In this scenario, the XRP price could attempt to retest the 50% retracement level at $1.17. This run-up would constitute a 15% ascent from $1.01.
While this scenario makes sense, a breakdown of the $1.01 support floor will suggest that a further downswing is possible. However, this move does not invalidate the bullish thesis but provides investors with a buy opportunity at $0.98. Investors can expect a bounce off this level to propel XRP price to the same level as before at $1.17. This move would constitute a 19% climb.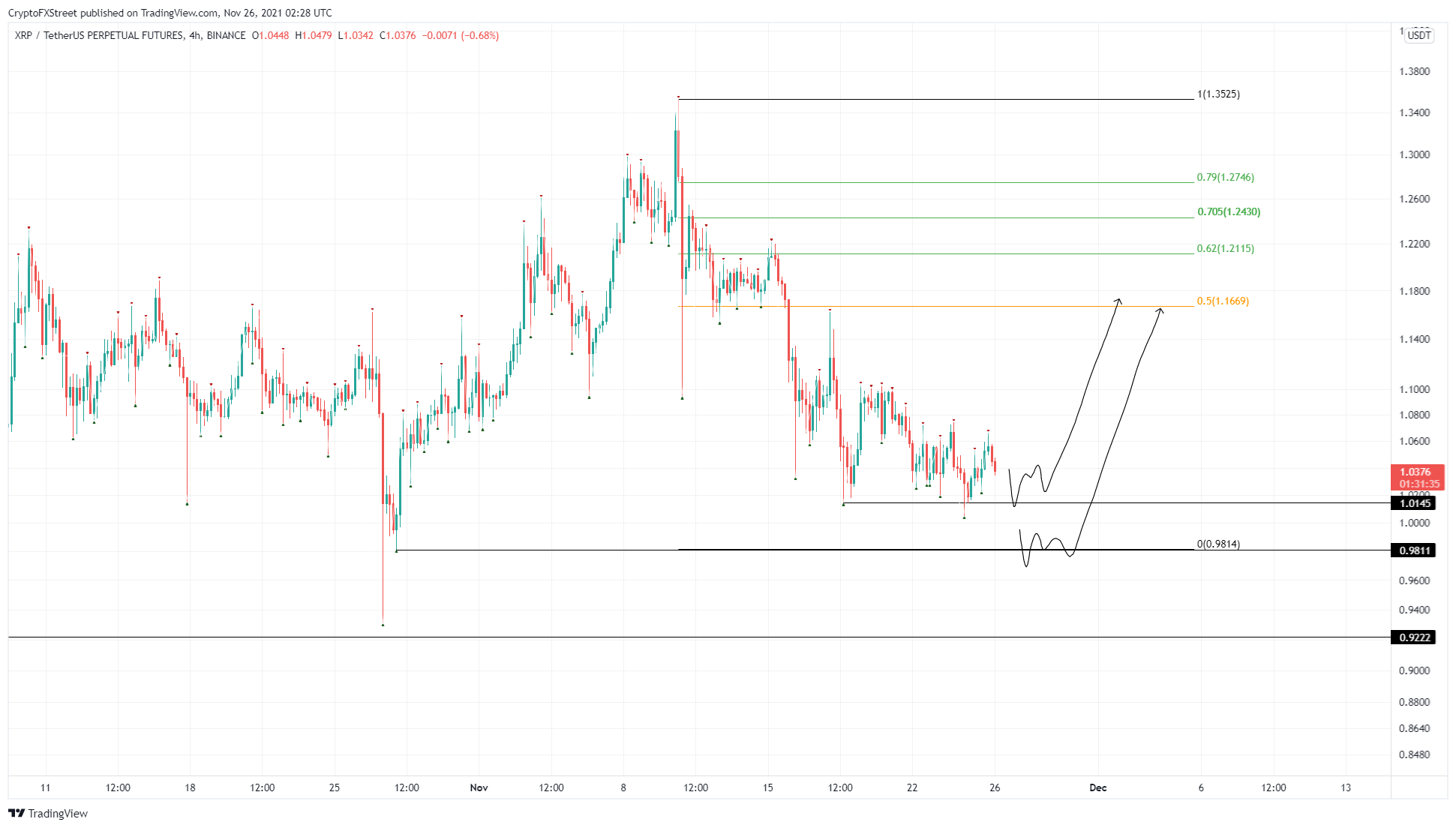 XRP/USDT 4-hour chart
While things are looking up for the remittance token, a breakdown of the $0.98 support level will create a lower low and invalidate the bullish thesis. This move would also suggest a weakness in buying pressure and set the stage for further losses. In this situation, market participants can expect XRP price to drop by about 6% to $0.92.
Abnormal XRP Activity: Someone Transferred 60 Million Coins Between Various Exchanges
Ripple whale moves coins to and from various exchanges, but the price is not reacting
The Whale Alert transaction tracking service has just shared abnormal transaction activity on the Ripple blockchain that indicates that an unknown person has been transferring a large amount of coins between various exchanges.
According to the page, numerous wallets from different exchanges were involved, including relatively small exchanges like Gopax and Bitso and a much larger exchange, Binance.
The transaction was made with an interval of around one hour. The transaction amount starts from 11 million XRP coins, and the largest transaction was 20 million coins. The further use of the coins remains unknown.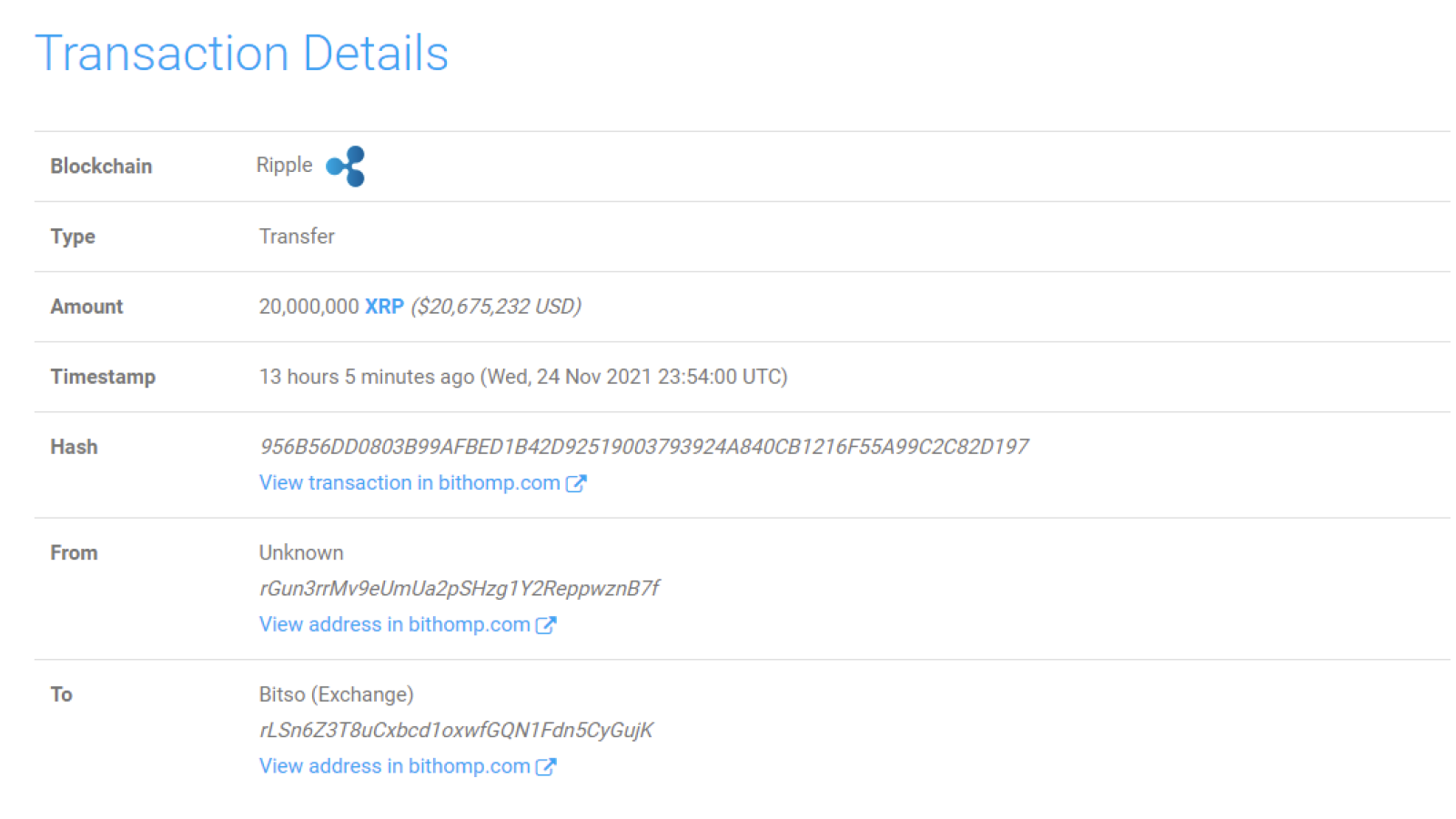 The price of the coin itself has not yet reacted to the large transactional volume on the blockchain. Currently, coins remain on smaller exchanges. All transactions have been made from exchange to exchange wallets, except a transaction worth 20 million XRP coins.
Some users assumed that the multiple transactions are tied to one whale-tier owner who is trying to redistribute his or her assets between various exchanges.
As for the assets' market performance: XRP is still moving in the range formed back on Nov. 17. The coin had multiple tests of the upper border of the rangebound but failed to break out from it. Currently, Ripple is gaining 1.8% to its value following the overall recovery of the altcoin market.