First Permissioned Decentralized Exchange Launch on Solana
Solrise Finance and Civic Technologies launch the first permissioned DEX on Solana.
Solrise DEX Pro allows institutional investors to access Decentralized Finance.
The DEX utilizes the Civic Pass for its KYC identification requirements.
Decentralized fund management and investment protocol Solrise Finance and decentralized identity firm Civic Technologies partnered to launch the first Solana-based decentralized exchange with permissioned access. As regulators continue to eye DeFi, a permissioned DEX allows for more checks within Decentralized Finance (DeFi).
The product, Solrise DEX Pro, will offer a traditional order book experience and a permissioned environment that's suitable for institutional investors. It's built on Project Serum which is a DEX that utilizes Solana's throughput. Aside from this, Civic Pass, Civic Technologies' identity verification for DeFi will be integrated.
In a nutshell, the project enables institutions to jump into DeFi. Under normal circumstances, institutional investors cannot join in because of the need to comply with regulations. However, with the advent of a permissioned DEX, a parallel ecosystem is achieved. This means that they can access DeFi while still meeting regulatory requirements.
The project is also backed by one of the biggest firms in the market. Quantitative trading firm Alameda Research, a key investor in Solana, will also support the project and provide initial liquidity for Solrise DEX Pro.
Filip Dragoslavic, Co-Founder of Solrise, said that as Solana is becoming the DeFi ecosystem for traditional finance, the team expects institutions to jump into the ecosystem.
Dragoslavic added,
This is our way of bridging the world of institutions to DeFi without resorting to centralization, thanks to Civic.
According to Chris Hart, CEO of Civic, a permissioned DEX will make room for new players in DeFi — including institutions. He further explained that the team is building technology that aims to protect individuals' digital identities and new financial systems.
Hart added,
In Solrise, we've found a partner that shares our values and is working with us to set a higher standard that will ultimately benefit the broader industry.News Source
These Bitcoin, Ethereum and Solana Price Prediction Charts Are Pure Magic, According to Macro Guru Raoul Pal
Macro guru Raoul Pal says three price prediction charts for Bitcoin, Ethereum and Solana are working like "pure magic."
In a new Crypto Banter podcast, the co-founder and chief executive officer of Real Vision compares Bitcoin's current market cycle to that of 2012-13, suggesting a price target of over $250,000 for the end of this bull run.
"I've been using this for over a year, and it's been pure magic…It gives us a pretty clear target, and it's been magic. It gave me the strength through the bear market to keep adding, thinking 'we know how this plays out.'"
The former Goldman Sachs executive then pulls up another chart that compares Ethereum's price trend from 2016 to Bitcoin's from 2011 to 2019.
"And so here's Ethereum VS Bitcoin in 2017. It's been pretty damn good. In fact, I've got this as a real-time chart on my Bloomberg and it almost works to the day right now [because] it's so close."
Lastly, Pal brings up a chart that shows how smart contract platform Solana (SOL) is following the same path Ethereum did in 2016-2017, which if continued would land SOL above $800 in April 2022.
"The Ethereum price now is pretty exactly in line with the Bitcoin price in 2017. And here's Solana at the price as ETH, growing faster as a network, but the chart is identical again. It's crazy."
Is Solana the Fastest Horse? Veteran Crypto Trader Shows Why SOL May Be Set to Outperform Everything
A closely followed trader suggests that smart contract platform Solana (SOL) might be the fastest horse in the crypto bull market.
The trader known as Cantering Clark shares with his 76,000 followers a snapshot of a collection of different cryptos throughout the day.
He notes that even while Bitcoin was receiving all of the attention during its rally past $60,000, SOL quietly outperformed the rest of the market.
"There are so many reasons to have been long SOL to this point. Are you seeing the trend yet? Even on a day where Bitcoin is the main show, Sol is outperforming. Fast horse."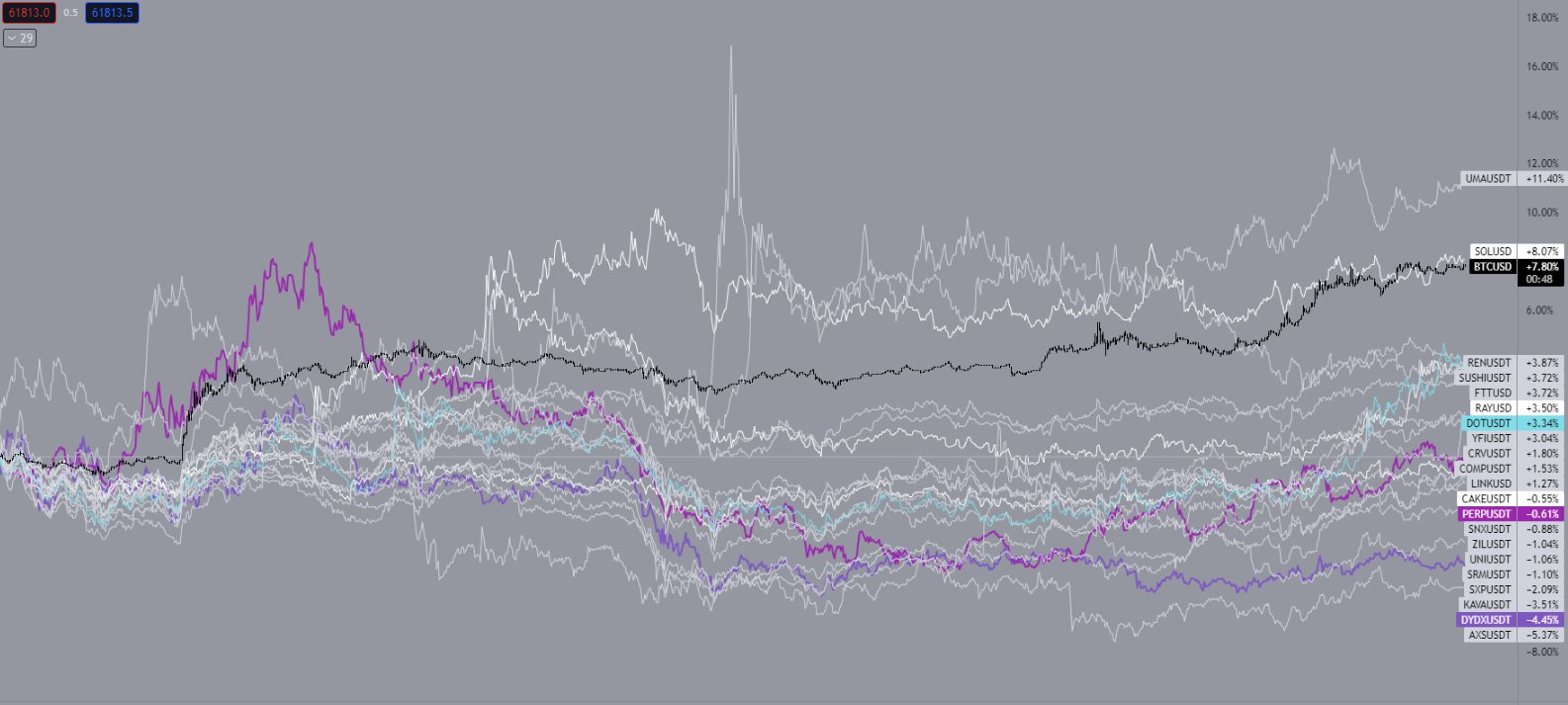 Looking at Bitcoin and the crypto markets in general, the trader says he's keeping his outlook simple. He sees the upcoming launch of a Bitcoin exchange-traded fund (ETF) as a bullish catalyst that should send prices higher.
"How many people are going to get long as hell thinking each confirmation is going to yield a higher result?
I believe in the inefficiency of this market.
ETF = ATH"
According to Canterin Clark, Bitcoin will take the lion's share of capital flows moving into the near term. He says he expects altcoins to underperform compared to BTC.
"If you think Bitcoin is going to break the ATH soon and you are also positioned heavily in alts, maybe rethink that…
Because when Bitcoin breaks the ATH alts are going to get cut down. So yes, the post absolutely makes sense."
Solana Set for New All-Time High While Ethereum Still Has Juice in the Tank – Crypto Analyst
A popular cryptocurrency analyst and trader is outlining the path forward for smart contract platforms Solana (SOL) and Ethereum (ETH).
The cryptocurrency analyst pseudonymously known as Smart Contracter tells his 173,800 Twitter followers that SOL is set to surge to a new record high after a period of accumulation.
"Sol ATH [all-time high] soon anonymous. This re accumulation won't last forever."
Solana, the fifth-largest cryptocurrency by market cap, is trading at $158 at time of writing, according to CoinGecko.
Earlier this week, Smart Contracter predicted that Solana could surge by over 100% against the US dollar (SOL/USD) and Bitcoin (SOL/BTC) after ending wave four of its five-wave uptrend.
"[Wave] four low very close to being put in on SOL/BTC in my opinion. The same low on the USD pair already put in and just in some HTF [high timeframe] re-accumulation. The next move higher will be >100% [in my opinion]."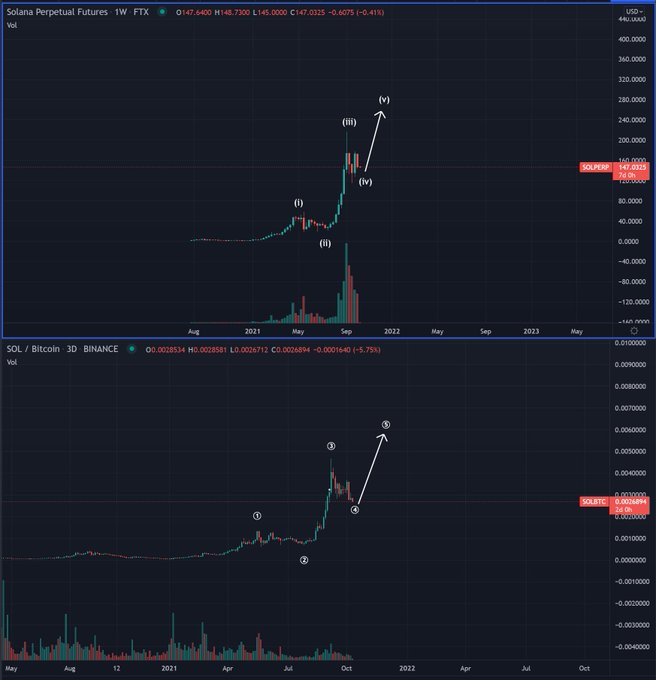 Smart Contract uses the Elliott Wave theory, a technical analysis approach that predicts future price action by following crowd psychology that tends to manifest in waves. According to the theory, Wave four is the final corrective phase before the asset launches the last wave of its cycle.
In the case of ETH, Smart Contracter says that the leading smart contract platform hasn't run out of steam yet after taking out its diagonal resistance at $3,500.
"Solid move. I think there's still some juice in the tank."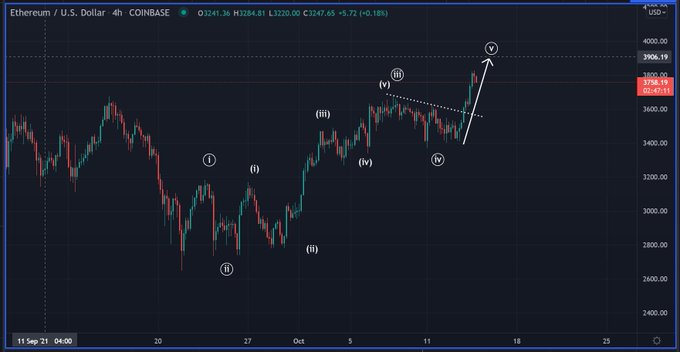 Ethereum is trading at $3,785 at time of trading, according to CoinGecko.
The crypto analyst is also keeping a close eye on Ethereum in its Bitcoin pair (ETH/BTC). According to Smart Contracter, ETH/BTC is currently gearing up for a move to 0.12 BTC ($7,355), representing an upside potential of nearly 100% from its current value of 0.062 BTC, worth $3,800.
"There [are] people out there that actually think ETH/BTC looks bearish."