Almost $2 Billion in ETH Moved to Possible New Ethereum 2.0 and Cardano Rival
An amount of crypto close to $2 billion has been transferred recently in multiple transactions to the Arbitrum platform
Whale Alert spreads the word that, in the past 10 hours, a mind-blowing amount of Ethereum—worth almost $2 billion USD—has been wired by several major exchanges and anonymous whales.
598,174 ETH on the move, part of it goes to Arbitrum
According to the aforementioned blockchain sleuth that tracks large transactions of cryptocurrencies, over the past 10 hours, $1,861,378,457 worth of Ethereum has been shifted by major players of the crypto market.
Twenty-two massive transactions, with the smallest one carrying 10,000 ETH ($31,000,000), have been spotted by Whale Alert. Most of them were made consecutively.
About half of them were made to the Arbitrum crypto platform from Binance and anonymous wallets. Overall, 598,174 ETH have been transferred, which is the equivalent of $1,861,378,457 in fiat.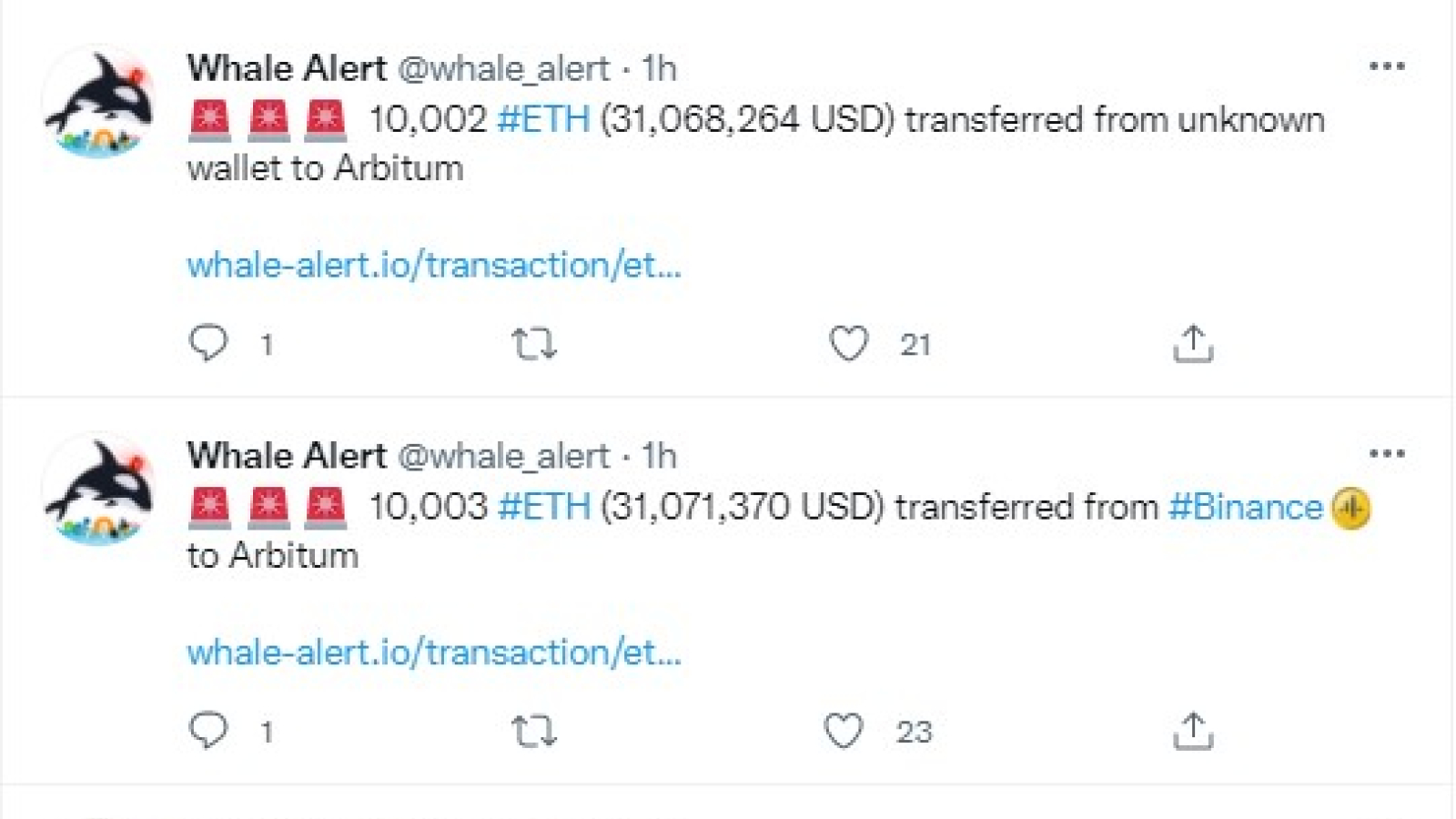 Is Arbitrum a potential rival to ETH 2.0 and Alonzo?
Arbitrum is a new open-source cryptocurrency platform being created by Offchain Labs. It is compatible with Ethereum and runs on top of it. Some now view the platform as a potential competitor of Ethereum 2.0 and Cardano's smart contracts feature launched in the Alonzo hard fork on Sept. 12. Arbitrum has not launched its native token yet.
The largest Ethereum transactions among the ones mentioned above carried 120,699 ETH (371,690,396 USD) to Binance and 50,806 ETH (160,018,010 USD). Some of these transfers, though, were made without Arbitrum as a receiver and were sent by crypto exchanges to anonymous wallets or simply between anonymous crypto addresses.
🚨 🚨 🚨 🚨 🚨 🚨 🚨 🚨 🚨 🚨 120,699 #ETH (371,690,396 USD) transferred from unknown wallet to #Binancehttps://t.co/3LR64BU1jY— Whale Alert (@whale_alert) September 24, 2021
Fourth-Largest Ethereum Whale Pounces on Large-Cap Altcoin, Accumulating $580,000,000 in Crypto
One mega-whale just loaded up on an Ethereum (ETH) token that powers a popular crypto marketplace.
The blockchain-transaction tracker WhaleStats reveals that the unnamed wallet received 14,000,000 FTT, the native token of the FTX exchange. The transaction was worth $581,444,018 at time of sending.
The whale now holds over $1.2 billion worth of FTT with a total value exceeding $3.8 billion and is now ranked fourth on the WhaleStats' list of the top 1000 Ethereum wallets, excluding the ETH cryptocurrency itself.
Popular crypto analyst Smart Contracter is also showing interest in FTT, noting that the Fibonacci ABC spacing between sharp highs and lows on the coin's historical chart offers encouraging signs for future price action.
The trader says in a tweet to his 196,000 followers,
"Been a long while since I played FTT but I actually think a major bottom is in and we go to [all-time highs] from here.
Perfect ABC on super-high timeframes where ABC came below the 0.618 and bull/bear periods are almost 1:1 extension."
In late October news broke that FTX had purchased advertising airtime during the February 2022 Super Bowl as part of a wider push to bring crypto awareness to the mainstream.
Last week FTX also announced the launch of a marketplace for Ethereum-based non-fungible tokens (NFTs).
At time of writing, the FTT token is mostly flat on the day and trading at $42.73.
Top Trader Says Ethereum Looks Exceptionally Bullish, Unveils Targets for Bitcoin and Explosive Altcoin Terra
A popular crypto analyst believes Ethereum (ETH), Bitcoin (BTC) and one altcoin are about to blast off and leave the recent market-wide slump in the dust.
The pseudonymous crypto strategist and trader Kaleo tells his 454,000 Twitter followers that ETH's time to shine has arrived as the "king" of the layer-1 blockchain protocols.
The analyst says,
"ETH is so bullish after the most recent flush it's not even funny.
We've seen a major rotation play among the alt [Layer-1s] the past few months.
It only makes sense that the king of the L1s finally has a chance to suck liquidity from the rest of the market and have a run of its own."
Ethereum is about even on the day, trading for $4,346 at time of writing.
Kaleo next looks at Bitcoin and says he still believes the top crypto will reach at least $100,000 during the current cycle.
"I've said it before and I'll say it again – I still expect to see Bitcoin have a parabolic move to top out at $100K+ this cycle.
I'll gladly start scaling out around $150K. I expect it to go higher, but I'm not concerned with nailing the top. Until then, just keep stacking."

BTC currently sits at $50,900 after having battled back from a flash-crash low around the $43,500 level on December 3rd.
Lastly, the crypto analyst lays out his price prediction for the Terra (LUNA) protocol, whose native token LUNA underpins a suite of decentralized stablecoins.
Kaleo tells his followers that Terra reaching the $100 threshold is inevitable.
"LUNA going to $100 from here is only a matter of time."

LUNA has seen some wild price action in recent days, with the altcoin tumbling from $69.66 to $53.64 late last week before surging to $77.37 on Sunday.
The 10th-ranked crypto has since corrected but is back up 5% on the day to $70.74.
Bitcoin and Ethereum Correct Lower, Key Supports Nearby
Bitcoin price could revisit the USD 48,000 support zone.
Ethereum might find bids near USD 4,200, XRP is struggling to stay above USD 0.80.
XTZ is up over 25% and trading above USD 5.20.
Bitcoin price attempted an upside break above USD 52,000 but failed. BTC started a fresh decline and traded below USD 50,500. It is currently (12:07 PM UTC) declining towards USD 49,000 and it could even test the key USD 48,000 support zone.
Besides, most major altcoins are also moving lower. ETH topped near USD 4,420 and declined below USD 4,300. XRP could accelerate lower if it settles below USD 0.80. ADA might find support near the USD 1.30 level.
Total market capitalization
Bitcoin price
After a failed attempt near USD 52,000, bitcoin price started a fresh decline. BTC traded below the USD 51,200 and USD 50,500 support levels. It even broke the USD 50,000 level and is now down by 4% in a day. An immediate support is near USD 49,000. The next major support is near the USD 48,000 level, below which the price could move into a bearish zone.
On the upside, the price could struggle to climb above USD 50,500. The main resistance is now forming near USD 53,200.
Ethereum price
Ethereum price also followed a similar pattern after it failed to clear the USD 4,420 resistance. ETH is down 3% and traded below the USD 4,300 support. It even spiked towards USD 4,250. On the downside, an initial support is near the USD 4,220 level. The next key support is near the USD 4,200 level, below which the bears might gain strength.
On the upside, the bulls may perhaps struggle above USD 4,350. The next key barrier is now forming near the USD 4,400 level.
ADA, BNB, SOL, SHIB, and XRP price
Cardano (ADA) is down 6% and is trading near the USD 1.355 support level. If ADA slips below USD 1.32, it could move into a negative zone. The next major support could be USD 1.30 or USD 1.288.
Binance coin (BNB) is moving lower towards the USD 565 support. If the bears remain active, the price could decline towards the USD 550 support. If not, there might be a move towards the USD 580 and USD 585 levels.
Solana (SOL) is down 8% and there was a break below USD 190. The price is now testing the USD 185 support. If there is a downside break, the price could decline towards the USD 175 level.
SHIB is also moving lower and trading below the USD 0.0000365 level. The next key support is near the USD 0.0000350 level. Any more losses may perhaps lead the price towards the USD 0.0000335 level.
XRP price struggled to stay above the USD 0.832 level. It is moving lower and testing the USD 0.800 support. If there are more downsides, the price could decline towards the USD 0.780 level. On the upside, the price might face resistance near USD 0.835.
Other altcoins market today
Many altcoins are down over 8%, including LRC, KDA, HNT, MANA, EGLD, BAT, LUNA, QNT, IOTX, GALA, NEXO, and SAND. Out of these, KDA declined 16%, dropping towards USD 10.00. Meanwhile, EOS and XTZ are up 10% and 25%, respectively. EOS is still down 10% in a week, while XTZ trimmed its weekly losses to 5%.
To sum up, bitcoin price is moving lower below the USD 50,000 level. If BTC slides further, the key USD 48,000 support might come into play in the coming sessions.