Golem Network launches Ethereum [ETH] Mining with Polygon payments
Golen Network launched its Windows mining application called Thorg. The mining app has Polygon payment that removes many mining challenges. Golem Network claims that Thorg will make mining easy and fun. Other announced benefits are easy installing and deployment.
In simple terms, Golem tries to make mining on Ethereum easy for everyone. The current version needs good GPU power, but the team says mining with CPU will be available soon.
Another Opportunity for Passive Income?
Cryptocurrency mining has always been an attractive income opportunity for many users. It somehow provides a passive income from computers but has always had challenges in terms of needed hardware and electricity usage. There are still many scrutinizes around Bitcoin mining because of its huge energy usage. Besides, you can't mine Bitcoin with ordinary machines anymore. But there are still many options that make it possible for mainstream users to mine crypto. Golem Network launched one yesterday.
Thorg is the new mining application for Windows users powered by Golem Network. It has an easy user interface with an easy installing process. The design is focused on UX and works in a non-custodial way.
Besides, Thong benefits from layer 2 payments built on Polygon. Users can download and install the application and start mining GLM tokens with their GPU. According to the announcement and the official website, mining with CPU will be possible soon. The install and running process is simple. You just need to download the app from the Thorg.io website and create a wallet.
The mining process in Thorg is simple. It allows Windows users to compute tasks that create "shares." These "shares" are collected and used to mine Ethereum. The GLM token is the native token of the Golem Network. Miners Receive this token based on their contribution to creating "shares." GLM token is used for selling and buying computation on Golem Network. As mentioned above, Thorg uses a Polygon payment driver that makes cheap transactions possible.
Piotr "Viggith" Janiuk says about the new mine app:
"Golem is still an evolving project well-suited to harness more and more use-cases. Thorg is a way for us to show progress in several technical development areas and battle test them by making them available for both end-users and our growing developer community. The Thorg implementation aids as well in improving the Golem market: the mining use-case opens new ways of achieving a healthy and efficient market by providing additional tools for optimizing passive income with Golem."
Users need Windows 10 or above for mining with Thorg. The system should have at least a 6GB graphics card. But mining with CPU will be available soon.
New Ethereum Prediction Is Out – Here's The Latest Forecast On ETH's Price
The crypto market has been seeing some recent corrections, but now things are looking good with most of the important coins trading in the green.
There have been all kinds of bullish predictions out there and the latest one involves the price of Ethereum.
Nicholas Merten drops new ETH price prediction
It's been just revealed that Nicholas Merten says that Ethereum (ETH) may grow another 325% before the current bull cycle comes to an end.
In a new strategy session, he said that he thinks it will take for Ethereum to eventually smash the $20,000 level.
"If everything goes perfect for Ethereum, if we get that opportunity to be able to get ETH to launch properly, people using roll-ups, whether it be zero-knowledge roll-ups or optimistic roll-ups, generally 'layer-2 solutions,' we could see a $20,000 Ethereum this cycle."
He continued and said the following:
"I know it sounds crazy but when you look at the logarithmic chart we've seen these kinds of percentage returns before."
At the moment of writing this article, ETH is trading in the red and the coin is priced at $4,518.
The analyst made sure to explain the fact that if Ethereum maintains solid fundamentals, a rally to the $20,000 may not be too bold.
He notes that such a gain would only be about half of what ETH achieved in the first five months of 2021.
"I think it's very reasonable we could see this kind of price level. Somewhere between our neutral and optimistic target. To play it safe, I would say that we've got a really solid steady stream of price action for Ethereum ahead of us."
He also pointed out the following fact:
"The key thing to understand is that there are periods of this cycle where Ethereum outpaces Bitcoin, which makes these higher targets reasonable."
Ethereum Competitor Becomes Focus of Crypto Firm's New $500,000,000 Investment Fund
A Miami-based venture capital (VC) firm is investing $500 million into an Ethereum (ETH) competitor's ecosystem.
Blockchain VC firm Borderless Capital says the investment will go towards digital assets powering decentralized applications (DApps) built on Algorand (ALGO), a payments and decentralized finance (DeFi)-focused blockchain network.
Borderless Capital previously launched a separate ALGO fund in 2019 that raised $200 million, according to an announcement from the Algorand Foundation.
Says Arul Murugan, founding managing partner at Borderless Capital,
"Algorand is the most efficient next-generation blockchain software in the market right now, and it is the next frontier for investment opportunities and disruption.
Our Borderless ALGO Fund II will continue to be at the forefront of the ecosystem and further ignite the growth by enabling the new innovation that is coming to blockchain."
The Ethereum competitor's native asset ALGO is trading at $1.93 at time of writing, up more than 8% on the day.
The decentralized blockchain network recently partnered with Hivemind Capital Partners, an investment firm founded by Matt Zhang, a 14-year Citigroup Inc veteran.
In October, Algorand also received an endorsement from American financier Anthony Scaramucci, who said the project could breathe new life into the consumer goods sector.
Whales dominate DEXs as high Ethereum fees keep retail investors at bay
Decentralized finance (DeFi) came into existence to democratize finance, much like the internet made content accessible to everyone.
However, according to digital assets data provider Kaiko, the adoption of decentralized exchanges (DEXs) that facilitate peer-to-peer transactions without an intermediary, remains restricted mainly to large traders or whales.
"Average trade sizes have increased on all DEXs over the past few months while the actual number of trades has stayed flat, which suggests that the profile of the average trader now skews more whale," Kaiko said in a weekly research note published on Monday.
The average trade size on Curve Finance ranges from $500,000 to $1 million, while deals on other prominent DEXs like Uniswap V3, Uniswap V2, SushiSwap, and Balancer V1 average between $10,000 – $20,000. That's nearly ten times larger than the average trade size of $2,000 – $4,000 seen on centralized exchanges (CEXs).
However, daily trade count on CEXs tallies into millions while major DEXs process less than 50,000 deals per day, with Curve and Balancer V1 averaging less than 1,000 traders per day.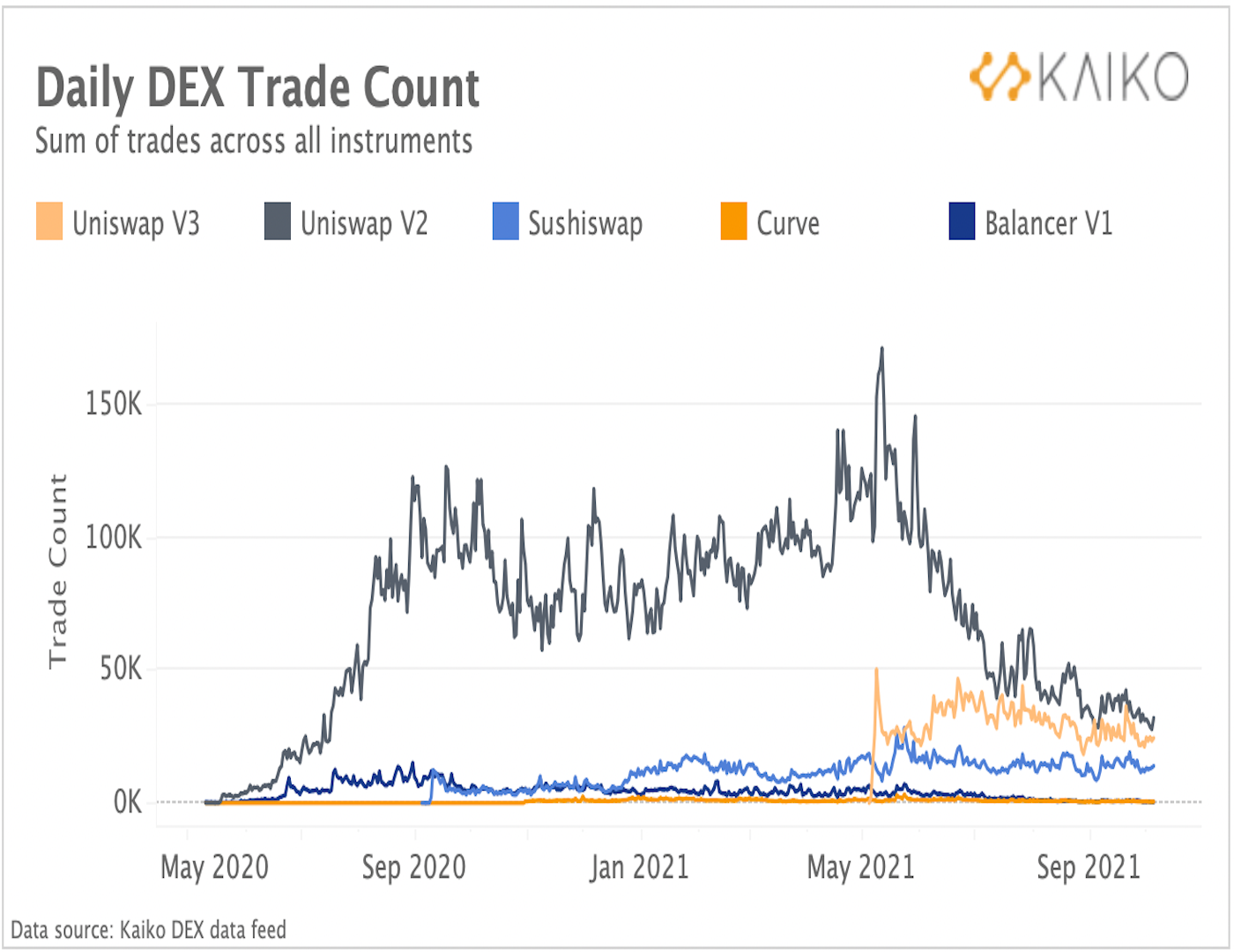 Kaiko analysts attributed whale dominance to high transaction costs on , the world's largest smart contract blockchain.
"The large trades are likely due to Ethereum's high transaction fees, which prevents more retail traders from using DEXs," Kaiko's weekly research note said. "Every trader on a DEX must pay Ethereum transaction fees for each trade, which frequently surpass $100 due to congestion and scalability issues."
According to blockchain analytics firm Chainalysis, DeFi's growing popularity in wealthier countries is the main reason for DEXs processing much larger transactions than centralized platforms.
While several smart contract platforms facilitating cheaper and faster transactions like Binance Chain, Solana, Polkadot, Avalanche have emerged over the past 12 months, Ethereum still leads the pack.