Twitter Launches its Bitcoin Tipping Function for iOS Users
Social media giant is diving further into the world of cryptocurrencies as it has launched a Bitcoin tipping function that will allow users to tip their favorite creators on Twitter using Bitcoin.
According to Esther Crawford, Twitter's product lead for creator monetization, Bitcoin tipping function is initially available only to iPhone users and support for Android is coming in the next few weeks. With this function called Tips, users can now send and receive Bitcoin tips through an address or Lightning-enabled wallet.
The announcement reads:
"We're also adding new payment options and, for the first time, allowing people to send Bitcoin tips through the use of a Bitcoin address or Lightning-enabled wallet."
The company introduced tipping as a test feature back in May. Twitter already allows users to drop their payment profiles in their bios and in their Tweets. But this option is only for fiat currencies using more traditional payment services such as Square's Cash app, PayPal's Venmo, and Patreon.
Tipping feature will combine all this functionality in one button. Users can enable tipping function from their profile setting and when they do, a tipping icon will appear on their profile.
Twitter has also hinted a move forward to the NFT space as on Thursday, September 23, the company also announced that they were experimenting with a feature that would allow users to authenticate and showcase their collections of NFT digital assets on the social network. Not much is revealed about this feature, but the company said that it is another way to support creators who make digital art.
Bitcoin Weekly Forecast December 6 — 10, 2021
Bitcoin BTC/USD ends the trading week at 55380, continues to move within the correction and the bullish channel. Moving averages indicate a bullish trend. Prices are again testing the area between the signal lines, which indicates pressure from buyers of the asset and a potential continuation of the growth of the asset's quotes. At the moment, we should expect an attempt to develop a correction and a test of the support area near the level of 53605. Where can we again expect a rebound and a continuation of the rise in the Bitcoin rate with a potential target above the level of 77255.
Bitcoin Weekly Forecast December 6 — 10, 2021
An additional signal in favor of the growth of BTC/USD quotes in the current trading week December 6 — 10, 2021 will be a rebound from the lower border of the bullish channel. The second signal will be a rebound from the support line on the relative strength index (RSI). Cancellation of the Bitcoin growth option will be a fall and a breakdown of the 46355 area. This will indicate a breakdown of the support area and a continued fall in BTC/USD quotes with a potential target below the level of 40505. Confirmation of the development of the bullish movement will be the breakdown of the resistance area and closing of quotes above the level of 65005.
Bitcoin Weekly Forecast December 6 — 10, 2021 suggests an attempt to support area near the level of 53605. Then, the cryptocurrency will continue to rise to the area above the level of 77255. An additional signal in favor of the growth of the Bitcoin rate in the current trading week will be a test of the trend line on the relative strength index (RSI). Cancellation of the option to raise Bitcoin cryptocurrency quotes will be a fall and a breakdown of the 46355 area. In this case, we should expect a continued decline with a target at 40505.
Ethereum out performs Bitcoin, ETH regains the majority its flash-crash losses
Ethereum price, like the broader cryptocurrency market, suffered a massive flash-crash during the early midnight trading on Saturday.
17% losses at one point were measured.
Throughout the remainder of Saturday, buying pressure wiped out nearly all of the overnight losses.
Ethereum price performance on Saturday has been nothing short of spectacular. Considering that most of the altcoin market is down fifteen to twenty percent, Ethereum's daily close of down only 4% is a testament to its strength.
Ethereum price regains nearly all of its flash-crash loss, handily outperforming the broader market
Ethereum price experienced one of the fastest and deepest flash-crashes since May. The timing of the collapse couldn't have been more perfect: midnight Eastern Standard Time (New York). Bears could push Etheruem to the $3,503 price level before a bullish reversal occurred.
The two primary support levels holding Ethereum price up are Senkou Span B at $3,700 and the third-highest volume node in the 2021 Volume Profile at $3,410. While highly bullish in the short-term, indecision remains and downside risks.
Despite the massive recovery, Ethereum price remains inside the daily Cloud – an area rife with indecision, volatility, and whipsaws. The Cloud is the place where trading accounts go to die. Etheruem needs a daily close at or above the $4,650 price level to convert to a full-blown bull market.
Ethereum price is tilted more bearish here, especially with the Chikou Span below the candlesticks and in open space. Adding to the bearish outlook is the bear flag breakout on the Relative Strength Index. However, the final oversold level at 40 in the Relative Strength Index might yield some support.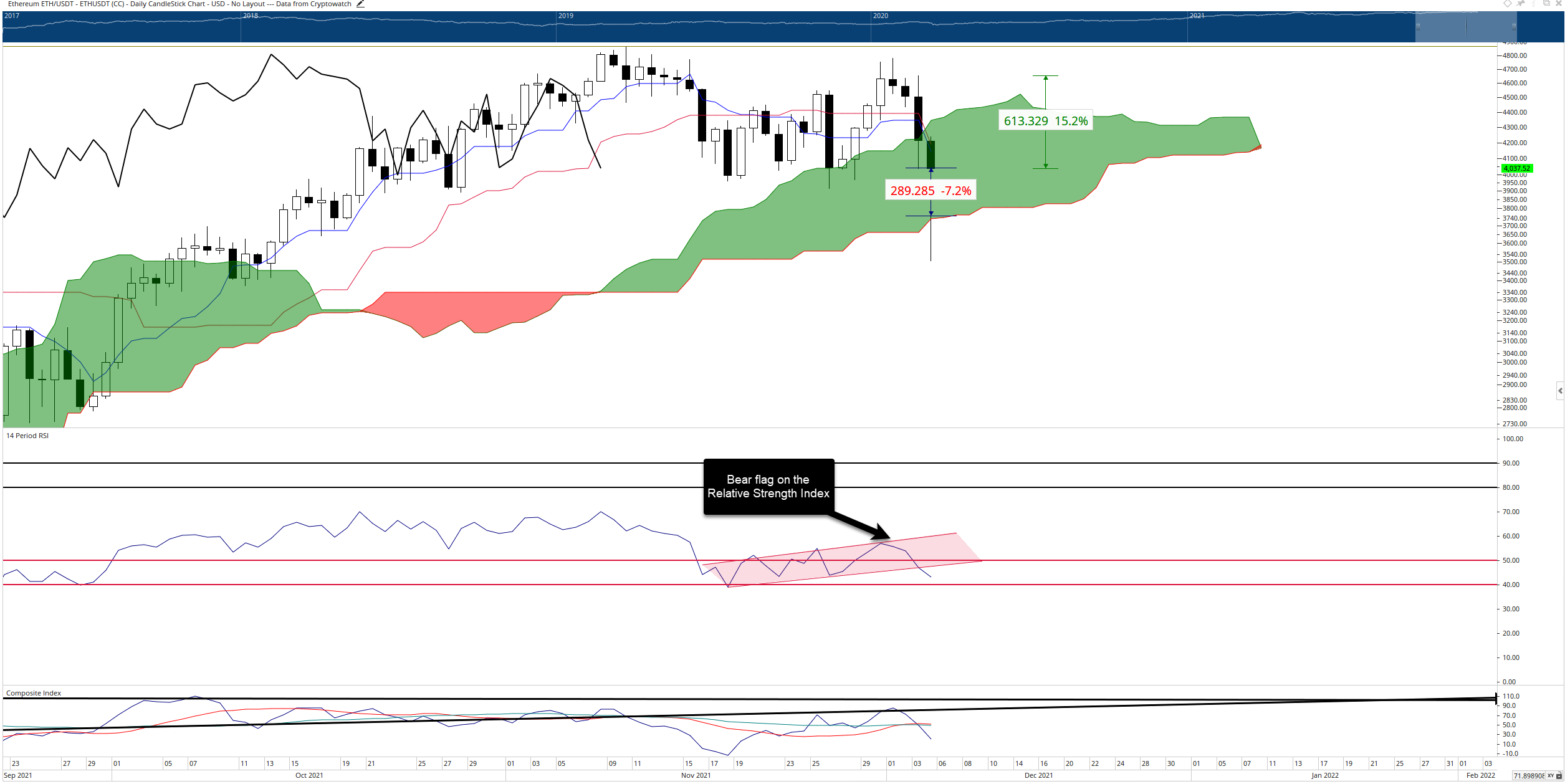 ETH/USD Daily Ichimoku Chart
The threshold that bears need to achieve to convert Ethereum price into a bear market is a much more manageable price range than converting to a bull market. For example, whereas Ethereum needs a 15% move above $4,000 to convert into a bull market, short-sellers only need a 7% move below $4,000 to convert Ethereum into a bear market.
Any daily close at or below $3,700 would position Ethereum below the Cloud and into bear market territory.
Top Analyst Says One Crypto Asset Will Spearhead Bull Market Recovery – And It's Not Bitcoin
A closely followed crypto analyst and trader is naming one altcoin that he believes will reignite the crypto bull market.
Pseudonymous crypto strategist Credible tells his 275,300 Twitter followers in a new video that Ethereum's strong performance against Bitcoin (ETH/BTC) amid the brutal correction is a sign that the markets are still bullish.
"I'm bullish on Ethereum and also in general, as long as we're holding this monthly support 0.075 BTC ($3,662). I want to show you guys on this massive drop that we just saw, Ethereum/Bitcoin is holding up beautifully… This is when alts take the lead, when alts start shining, guys.
If this was a bear market, Ethereum/Bitcoin would not be popping right now when Bitcoin's correcting. It would be dropping very, very hard. It's holding support. We're pushing up – bullish.
I think alts are going to rebound off of this drop harder than Bitcoin. I think, particularly, Ethereum is going to do it exceedingly well."
At time of writing, ETH/BTC is trading at 0.086 ($4,224), up over 11% in the last 24 hours.
Looking at Bitcoin (BTC), Credible is also bullish on the prospects of the king cryptocurrency even after an epic crash that saw it plummet from $52,000 to $43,500 in less than an hour.
According to the crypto strategist, he believes yesterday's deep pullback signalled the end of a macro corrective phase for BTC.
"I believe we're now wrapping up that flat correction. The expectation is that we're putting in a higher low above the lows at $30,000 and everything above that is fine, and I think that is what we're seeing right now."
At time of writing, Bitcoin is exchanging hands at $49,104, down over 7% on the day.