Bitcoin Maintains $42K Amid the China FUD: Cardano the Only Top 10 in Green (Weekend Watch)
Bitcoin has managed to recover around $2,000 since yesterday's low after China reminded once again about its hostile stance against crypto.
Yesterday the crypto markets went through another bloodbath initiated once again by China. Bitcoin dumped by $4,000 in minutes but has managed to complete a partial recovery as of now. Most altcoins suffered even more, and some have failed to bounce off decisively, including ETH, which still stands below $3,000.
Bitcoin's Recovery Attempt
The past few days were actually going well for the primary cryptocurrency. It had recovered from the sub-$40,000 price drop and added several thousand dollars of value.
This culminated in yesterday's retest of $45,000, which became a multi-day high. At this point, though, when the bulls were preparing for another price surge, China's central bank decided to remind the world of its hostile policy against the cryptocurrency industry.
The institution's latest statement, which was reportedly published a few weeks prior, prohibited financial organizations, payment companies, and internet platforms from facilitating cryptocurrency trading.
As it typically happens when China goes after the digital asset space – prices tumble immediately. Bitcoin went down hard as it lost more than $4,000 in an hour.
ProShares Bitcoin Futures ETF Generates $500 Million Trading Volume in First Hour
The first bitcoin futures exchange-traded fund (ETF) listed in the United States, the ProShares Bitcoin Strategy ETF, has generated a trading volume of over $500 million in its first trading hour, making it one of the top ETFs by trading volume on launch day.
According to available data the ProShares Bitcoin Strategy ETF, which was listed on the New York Stock Exchange today, has already seen 14.9 million shares change hands since listing, has already reached a $42.149 high and a $40.07 low.
Bloomberg Senior ETF analyst Eric Balchunas has pointed out on social media that in the first 20 minutes after being listed the ETF, under the ticker BITO, traded $280 million worth of shares, putting in the "top 15 opening day launches of all-time," surpassing ETFs tracking the price of gold and the Nasdaq index.
$BITO officially over half a billion in volume. Almost all of it is small trades. Unknown how much natural vs some flipping. The spread is a penny wide and the price is moving in line with its INAV (which is good). pic.twitter.com/v8r9q7O2AH— Eric Balchunas (@EricBalchunas) October 19, 2021
The analyst pointed out that it's unclear how much of the bitcoin futures ETFs trading volume was natural and how much was from traders making a profit on the opening day's volatility.
When ProShares confirmed the ETF was being listed, its CEO Michael L. Sapir said the firm believes "a multitude of investors have been eagerly awaiting the launch of a bitcoin-linked ETF after years of efforts to launch one,"
Other bitcoin futures ETF applications are hoping to move forward with trading this month, so a second futures-based bitcoin ETF could launch in the near future. A bitcoin ETF being approved in the U.S. is the culmination of a nearly decade-long campaign to list such a product.
Crypto advocates have been looking to list an ETF  ever since Cameron and Tyler Winklevoss, the founder of the Gemini exchange, filed the first Bitcoin ETF application in 2013. Bitcoin's price has moved up significantly on the ETF listing expectations and is now trading close to $63,500.
Bitcoin Tops $63K on Strong ETF Debut and Grayscale Filing
The flagship cryptocurrency is just a hair's breadth away from reclaiming its previous lifetime peak
The Bitcoin price has revisited the $63,000 price level once again, reaching an intraday high of $63,337 on the Bitstamp exchange.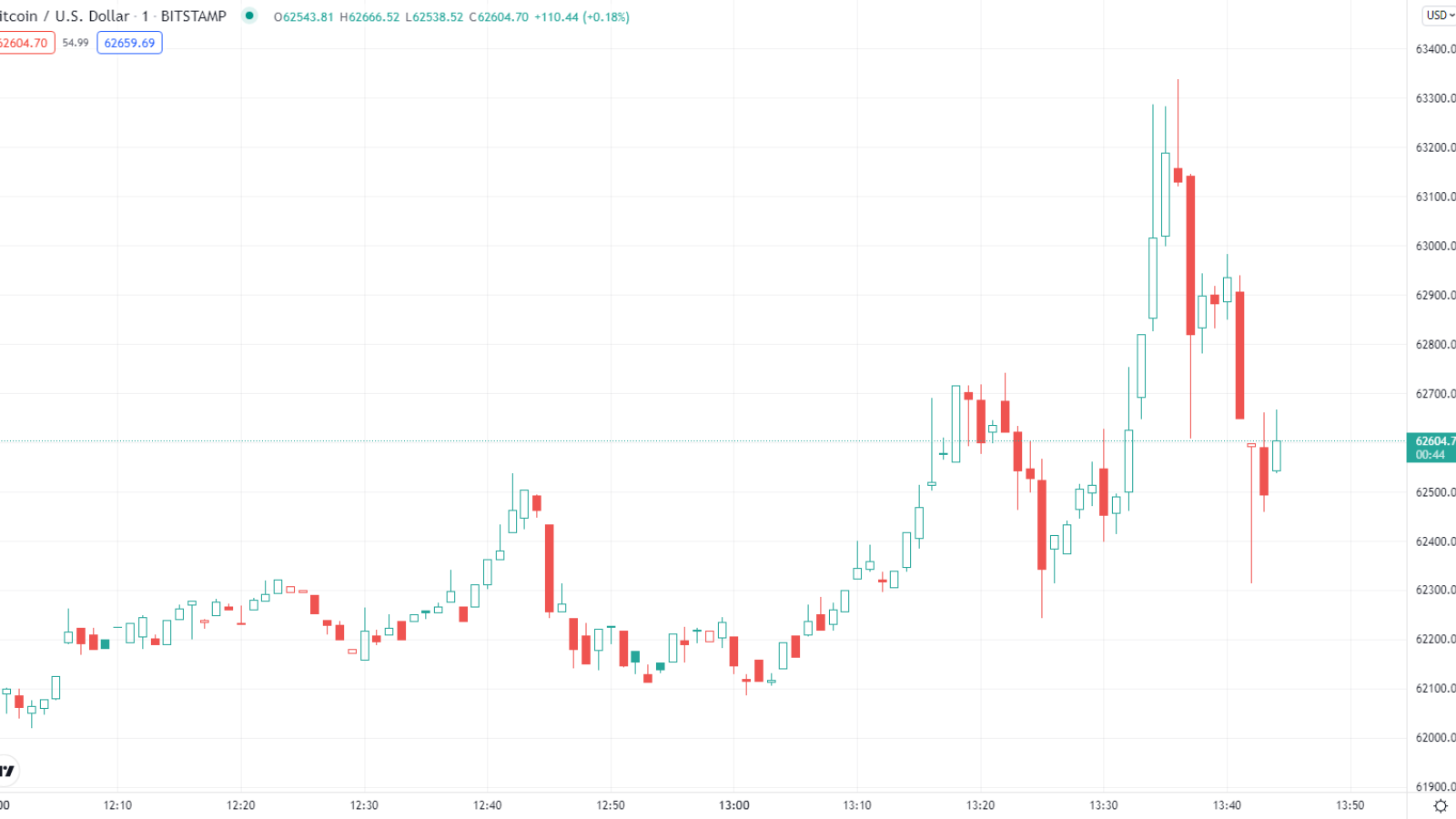 Bitcoin is now roughly 2% away from reclaiming its current all-time high of $64,804 set in mid-April on the day the Coinbase exchange went public.

The world's largest cryptocurrency is stealing the spotlight following the much-anticipated launch of the very first Bitcoin futures exchange-traded fund.

ETF provider ProShares rang the opening bell at the New York Stock Exchange right before the ETF made its debut to much fanfare.
ProShares's futures-based Bitcoin ETF has traded a staggering $320 million during its first 30 minutes of trading. James Seyffart of Bloomberg Intelligence described this level of demand as "insane."
This is insane. We're over $320 million in the first 30 minutes. https://t.co/XByQRKBJHu— James Seyffart (@JSeyff) October 19, 2021
In other news, leading cryptocurrency asset manager Grayscale has officially filed with the U.S. Securities and Commission to convert the world's largest Bitcoin fund into a spot ETF, describing it as the "next natural step."
Related
Facebook Begins Piloting Its Crypto Wallet in U.S.
During his appearance on CNBC, SEC Chair Gary Gensler said that futures-based ETFs benefit from years of oversight. He also cautioned his listeners that Bitcoin is still a highly speculative asset class.
Billionaire CEO of Starwood Capital Group Explains Why He Holds Bitcoin and Ethereum
In a recent interview, American billionaire Barry Sternlicht revealed that his crypto portfolio consists of Bitcoin and Ethereum, saying both assets offer their own significant advantages over the competition. 
According to his bio, Sternlicht is "Chairman & CEO of Starwood Capital Group, the private alternative investment firm he formed in 1991 that is focused on global real estate, hotel management, oil and gas, and energy infrastructure." He also serves as "Chairman of Starwood Property Trust (NYSE: STWD), a leading diversified finance company, as well as Senior Advisor of Invitation Homes (NYSE: INVH), the largest publicly traded investor, owner and operator of single-family homes in the U.S." His firm "currently manages over $95B of assets on behalf of its high net worth and institutional partners."
During an interview with CNBC's "Squawk Box" on October 13, Sternlicht said that he had invested in cryptoassets as a safeguard against the money-printing tactics of governments around the world. 
"Gold is kind of worthless," says Barry Sternlicht. "The reason I own #bitcoin is because the U.S. government and every government in western hemisphere is printing money now to the end of time and this is a finite amount of something and it can be traded globally." pic.twitter.com/72zYQTjF0y— Squawk Box (@SquawkCNBC) October 13, 2021
As reported by The Daily Hodl, Sternlicht said:
The reason I own BTC is because the US government and every government in the Western hemisphere is printing money now until the end of time, And this is a finite amount of something, and it can be traded globally and people have fiat currencies whether it's in Nigeria or… Bolivia or wherever, you can move into something that the world has accepted as a substitute for gold.
Sternlicht also pushed back on the notion that Bitcoin was "worthless" as a store of value asset, particularly referencing comments made by JPMorgan CEO Jamie Dimon. The Starwood Capital CEO argued that applying the same logic to precious metals would find gold and silver worthless as well:
What Jamie Dimon talked about, I mean gold is kind of worthless too, silver [as well], they have some industrial uses, but they're minor.
Sternlicht called Bitcoin "a dumb coin" since it has "no real purpose other than a store of value, and it's a little crazily volatile."
He then explained why he also owns Ethereum ($ETH):
"So Ether, which is right below it, I own some of that. That's a programmable Bitcoin, and then there are tons of other coins that are built off of that system… I've become very interested in blockchain technology as a whole, the digital ledger is going to change everything…"