Can Bitcoin Surpass $6,000,000? Ethereum and Polkadot Creator Details Possible Future of Crypto
Early Bitcoin developer and co-founder of Ethereum and Polkadot, Gavin Andresen, is outlining a future where BTC rises to a staggering $6,000,000 per coin.
Gavin Andresen, who took over as Bitcoin's lead maintainer from founder Satoshi Nakamoto in 2011, just published a new blog post detailing how BTC's theoretical evolution could look.
Andresen describes a "possible" scenario where Bitcoin hits a price tag of $6,000,000 by 2061, transaction fees 326x higher than they are now, and the blockchain is used chiefly by whales.
"Imagine: it is the year 2061. The BTC price is six million US dollars – equal to about a million 2021 dollars because of inflation.
Miners are being rewarded 0.006103515625 BTC per block, plus transaction fees of about 5 BTC for 4,000 or so transactions ($7,500 per transaction).
But most BTC transactions don't happen on the BTC network. Most BTC is locked up in multi-signature outputs secured using multiparty computation and mirrored on another chain as 'wrapped' tokens."
In his scifi scenario, Andresen says those who do remain on Bitcoin's network will be incentivized to keep it alive.
"The transactions that do occur on the main BTC network are high-value, mostly between super-whale-size holders…
These whales maintain the BTC network forever. They are the miners and the transaction creators; they don't care how high transaction fees go, because they receive as many fees as they pay."
However, Andresen says that by 2100, even those users would likely leave the blockchain.
"In the year 2100 the whales notice that the mining reward is basically zero… Eventually, there are zero new BTC being produced on the BTC network, and zero BTC circulating on the BTC network. There is nothing left to secure, and the chain stops."
ProShares debuts trailblazing bitcoin ETF on NYSE
ProShares gets the Security and Exchange Commission's (SEC) nod to launch a Bitcoin (BTC)-linked exchange-traded fund (ETF). The trailblazing ETF will list on the New York Stock Exchange (NYSE) under the $BITO ticker.
SEC's approval falls short of the market that's pushing for a BTC spot-based ETF. The US is lagging in approving these types of products as other countries make strides.
ProShares has confirmed that it is debuting  its much anticipated bitcoin-linked ETF. The trailblazing BTC futures tracking product goes live on the NYSE on Tuesday. It'll trade under the $BITO ticker. 
Its listing follows the SEC's approval of ProShare's application to offer the product. Investors can now access the leading crypto without having to hold it.
Michael L. Sapir, ProShares CEO, says the approval has been a longtime coming. He holds that $BITO will expose BTC enthusiasts to the asset within a regulated environment.
Additionally, they needn't open new accounts with crypto providers. Instead, they can use their existing brokerage ones to trade.
The SEC's nod for the EFT has been in the works for sometime. Its chair, Gary Gensler, has previously let on the regulator's preference for BTC futures ETFs over spot-linked ones. So it isn't a surprise that ProShares got the greenlight now. 
ProShares listing falls short of market expectations
Although positive, the move falls short of many BTC enthusiasts' expectations. A majority of them have been clamouring for BTC spot-based ETFs. But the SEC has been reluctant to approve those citing price manipulation concerns.
This stance has forced some institutional investors to move abroad searching for more accepting markets. Ark Investments, for instance, has listed a BTC spot tracking ETF in Canada.
As the US is lagging in approving BTC-linked spot ETFs, other nations are embracing them. Canada and Brazil have allowed the listing of these products in both BTC and ETH. The crypto community is positive that the US will follow suit.
ProShares' approval and listing is a big win for the budding crypto industry. Ian Balana of Token Metrics says it's the SEC's most important endorsement of crypto. 
Balana says the move is indicative of regulators ceding ground on their objections over the asset class. To him this action opens the floodgates of new capital entering the space.
Other firms are lining up for approval
Upto 10 firms have unsuccessfully sought leave to offer spot-based BTC EFTs. The SEC rejected them though,arguing that they're prone to manipulation.
Besides ProShares, several other BTC futures are coming up for review this October. These include Van Eck, Valkyrie and Invesco. Barring the regulator's objections they'll be able to list seventy five days after completing their paperwork.
Futures based ETFs allow you to directly invest in BTC. In the contract, you agree to trade the asset in the future at a set price. This ETF doesn't track the asset's price rather the asset's cash settlements.
To analysts, ProShares approval sets the pace for acceptance of spot based ETFs. Today, the crypto market has advanced greatly since the initial round of applications.
Bitcoin has responded positively to the development. Following the listing it appreciated by 2% to close at $62,041.84 on Monday. The market waits to see if it'll surpass it's all time high of $ 64,800.
ProShares Bitcoin Futures ETF Generates $500 Million Trading Volume in First Hour
The first bitcoin futures exchange-traded fund (ETF) listed in the United States, the ProShares Bitcoin Strategy ETF, has generated a trading volume of over $500 million in its first trading hour, making it one of the top ETFs by trading volume on launch day.
According to available data the ProShares Bitcoin Strategy ETF, which was listed on the New York Stock Exchange today, has already seen 14.9 million shares change hands since listing, has already reached a $42.149 high and a $40.07 low.
Bloomberg Senior ETF analyst Eric Balchunas has pointed out on social media that in the first 20 minutes after being listed the ETF, under the ticker BITO, traded $280 million worth of shares, putting in the "top 15 opening day launches of all-time," surpassing ETFs tracking the price of gold and the Nasdaq index.
$BITO officially over half a billion in volume. Almost all of it is small trades. Unknown how much natural vs some flipping. The spread is a penny wide and the price is moving in line with its INAV (which is good). pic.twitter.com/v8r9q7O2AH— Eric Balchunas (@EricBalchunas) October 19, 2021
The analyst pointed out that it's unclear how much of the bitcoin futures ETFs trading volume was natural and how much was from traders making a profit on the opening day's volatility.
When ProShares confirmed the ETF was being listed, its CEO Michael L. Sapir said the firm believes "a multitude of investors have been eagerly awaiting the launch of a bitcoin-linked ETF after years of efforts to launch one,"
Other bitcoin futures ETF applications are hoping to move forward with trading this month, so a second futures-based bitcoin ETF could launch in the near future. A bitcoin ETF being approved in the U.S. is the culmination of a nearly decade-long campaign to list such a product.
Crypto advocates have been looking to list an ETF  ever since Cameron and Tyler Winklevoss, the founder of the Gemini exchange, filed the first Bitcoin ETF application in 2013. Bitcoin's price has moved up significantly on the ETF listing expectations and is now trading close to $63,500.
Bitcoin Tops $63K on Strong ETF Debut and Grayscale Filing
The flagship cryptocurrency is just a hair's breadth away from reclaiming its previous lifetime peak
The Bitcoin price has revisited the $63,000 price level once again, reaching an intraday high of $63,337 on the Bitstamp exchange.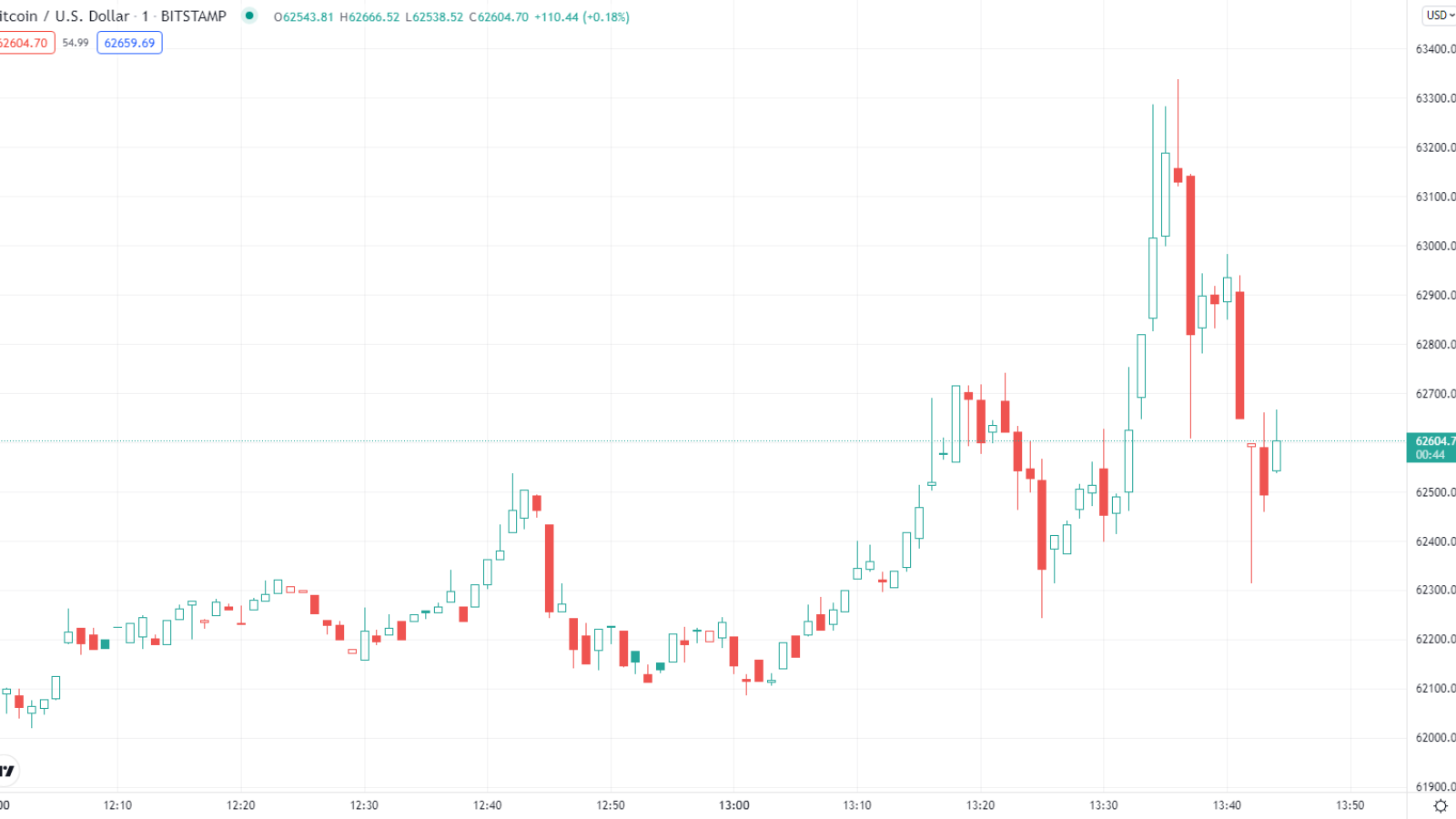 Bitcoin is now roughly 2% away from reclaiming its current all-time high of $64,804 set in mid-April on the day the Coinbase exchange went public.

The world's largest cryptocurrency is stealing the spotlight following the much-anticipated launch of the very first Bitcoin futures exchange-traded fund.

ETF provider ProShares rang the opening bell at the New York Stock Exchange right before the ETF made its debut to much fanfare.
ProShares's futures-based Bitcoin ETF has traded a staggering $320 million during its first 30 minutes of trading. James Seyffart of Bloomberg Intelligence described this level of demand as "insane."
This is insane. We're over $320 million in the first 30 minutes. https://t.co/XByQRKBJHu— James Seyffart (@JSeyff) October 19, 2021
In other news, leading cryptocurrency asset manager Grayscale has officially filed with the U.S. Securities and Commission to convert the world's largest Bitcoin fund into a spot ETF, describing it as the "next natural step."
Related
Facebook Begins Piloting Its Crypto Wallet in U.S.
During his appearance on CNBC, SEC Chair Gary Gensler said that futures-based ETFs benefit from years of oversight. He also cautioned his listeners that Bitcoin is still a highly speculative asset class.