ETH Locked in DeFi on Historic Highs: Details
Total number of Ethers utilized in various decentralized finance protocols spiked over 7.3 million
After a massive plunge in TVL, a decentralized finance ecosystem has recovered to observe some breathtaking metrics.
7,830,000 Ethers locked in DeFi
The net number of Ethers locked in various decentralized finance protocols spiked 12% in the past ten days. On Sept. 15, 2021, this indicator bottomed at a two-month low of about 6.95 million Ethers.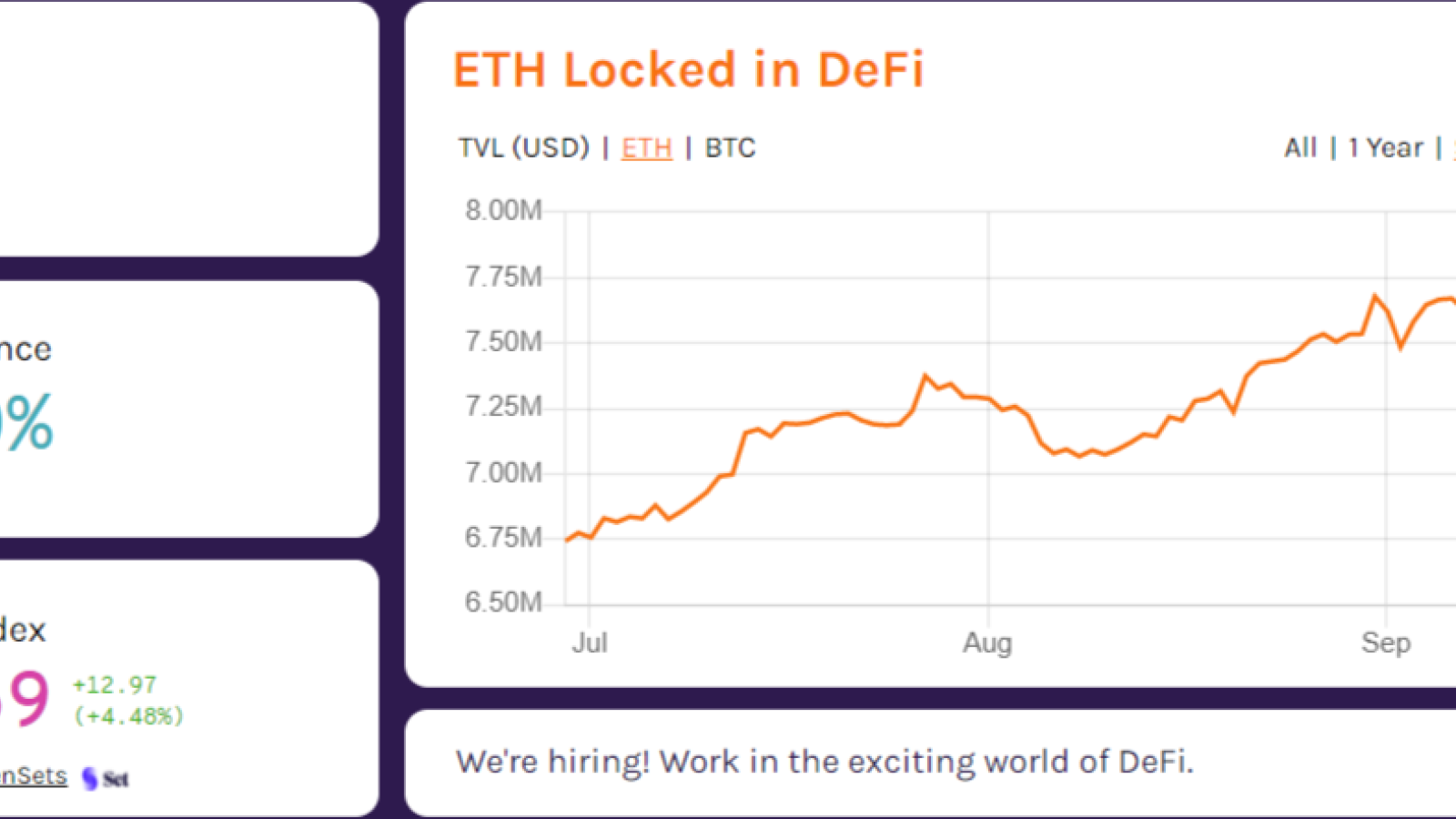 As displayed by mainstream decentralized finances segment tracker DeFi Pulse, the total quantity of Ethers in all indexed protocols nets 7.8 million Ethers.
Aave Finance (AAVE), Compound Finance (COMP), Instadapp, Uniswap (UNI), Curve Finance (CRV) are the most popular protocols in terms of TVL.
The five leading DeFis are responsible for almost 6.9 million Ethers, or 85% of net TVL, tracked by DeFi Pulse.
Yearn.Finance (YFI), Rari Capital (RGT) are on fire
In the last 24 hours, two DeFi protocols, Yearn.Finance (YFI) and Rari Capital (RGT), registered double-digit gains.
At the same time, the Ethereum 2.0 deposit contract targets almost the same numbers. As of Sept. 25, 2021, it has amassed 7.77 million Ethers.
Amid the current Ethereum (ETH) price dip, this massive amount of value is equal to $22.7 billion. To provide context, this sum can be compared to the market capitalization of Telenor, Credit Suisse, Suzuki and Warner Music Group.
Here's What's Next for Ethereum, Solana and Elrond, According to Crypto Trader Michaël van de Poppe
Crypto analyst and trader Michaël van de Poppe is plotting the potential path ahead for smart contract platforms Ethereum and Solana, as well as internet-scale blockchain Elrond.
In a new strategy session, Van de Poppe tells his 135,000 YouTube subscribers that he expects Ethereum (ETH) to respect its immediate resistance at $3,900 one more time before finally breaking out.
"At this stage, we're facing resistance for the third time assuming that we might be getting a rally like this (move to $4,000) before we correct a little bit and continue running after the corrective move has taken place on Bitcoin and ETH. In that case, probably around $4,000 we can still hit."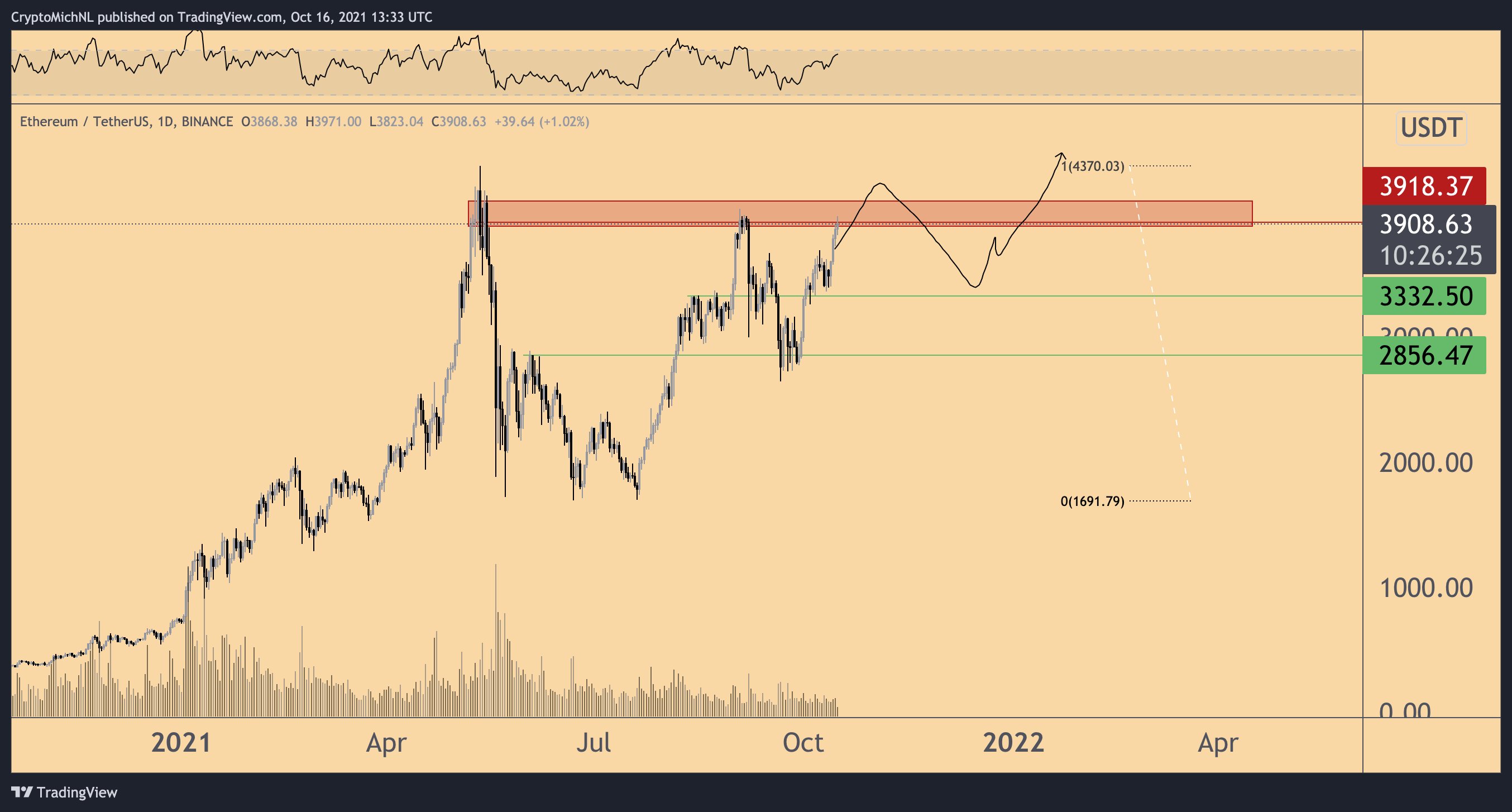 Looking at Solana (SOL), the crypto strategist expects the seventh-largest crypto asset to continue its correction before it could restart its uptrend and print a new all-time high at $240.
"At this stage, jumping into Solana is quite tricky, to be honest. If you're looking at the price action, you want to look at support levels to jump into. So you're looking at those ranges ($122, $97 and $78) to potentially build your position towards the next run as the assumption is that we most likely are going to get run over it in the next phase of this bull cycle."
The last coin on the trader's radar is Elrond against Bitcoin (EGLD/BTC), which he says is poised to print a higher low at its current trading value of 0.0036 BTC, worth $222.87.
"First point of interest hit on EGLD."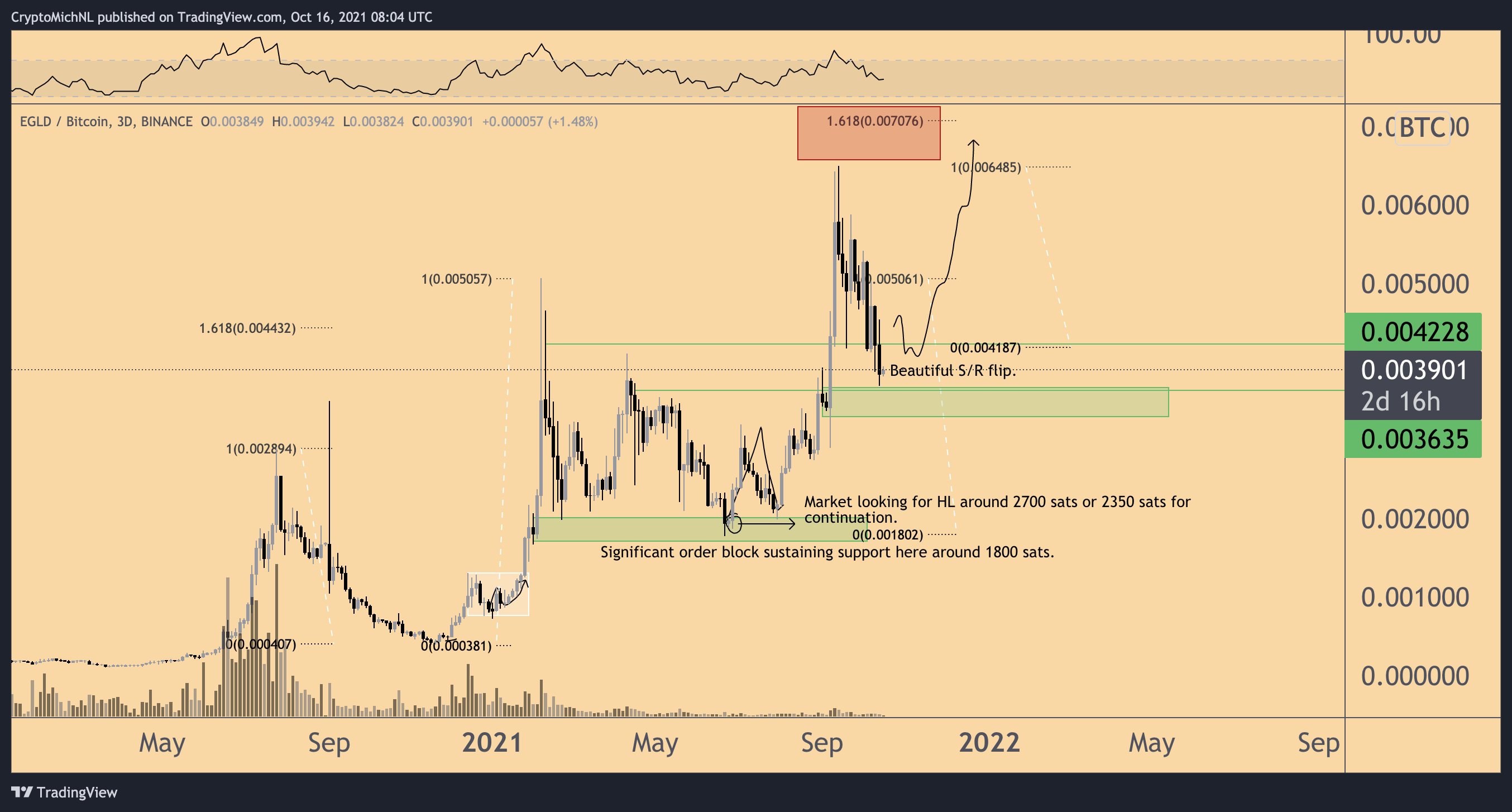 According to the trader's chart, the EGLD/BTC looks ready to ignite a rally to a new all-time at 0.007 BTC ($433.36), marking a potential upside of over 94% from current prices.
Ethereum Forecast and ETH/USD Analysis October 19, 2021
Ethereum are trading at 3808 and continue to move as part of the rise and the downtrend channel. The capitalization of the Ethereum cryptocurrency at the time of the publication of the forecast is $ 449,369,451,688. Moving averages indicate a short-term bullish trend for Ethereum. Prices are again testing the area between the signal lines, which indicates pressure from buyers and a potential continuation of the rise in the asset value from the current levels. At the moment, we should expect an attempt to develop a correction in the value of the coin and a test of the resistance level near the area of ​​3655. Where can we expect a rebound and a continuation of the rise in the Ethereum rate with a potential target above 4505.
Ethereum Forecast and ETH/USD Analysis October 19, 2021
An additional signal in favor of the growth of ETH/USD quotes will be a test of the support line on the relative strength index (RSI). The second signal will be a rebound from the lower border of the bullish channel. Cancellation of the option to raise the cryptocurrency will be a fall and a breakdown of the level of 3325. This will indicate a breakdown of the support area and a continued fall in ETH/USD quotes below 2805. With the breakdown of the resistance area and closing of quotes above the level of 4055, we should expect confirmation of the development of a bullish movement in Ethereum.
Ethereum Forecast and ETH/USD Analysis October 19, 2021 suggests an attempt to correct and test the support area near the level of 3655. Where can we expect a rebound and the continuation of the rise of the ETH/USD cryptocurrency to the area above the level of 4505. An additional signal in favor of the rise of Ethereum will be a test of the line trend on the relative strength index (RSI). Cancellation of the growth option for the digital currency will be a breakdown of the 3325 area. This will indicate a continued fall in the digital currency with a potential target below 2805.
Billionaire Mark Cuban Says Bitcoin Is the Best Store of Value but Likes Ethereum More – Here's Why
Shark Tank star and billionaire Mark Cuban believes Bitcoin is the best store of value in the market but says he likes Ethereum more.
Cuban tells his 8.5 million followers in a tweetstorm that Bitcoin's (BTC) biggest advantage is that it has "zero competition" as a store of value (SOV).
"BTC is what it is. The best SOV on the market… [In my opinion], it's not a cure for any financial system. It's not a hedge to anything. Its utility will be driven more by lightning [network] than anything, and its value will be driven by supply and demand. Nothing wrong with that. Gold folks do the EXACT same thing… [In my opinion], BTC has become like gold, an SOV that is now a religion."
Although Cuban believes that Bitcoin is the top store-of-value asset in the market, he highlights that smart contract platform Ethereum (ETH) and layer-2 (L2) solutions have more utility than BTC. Layer-2 solutions are protocols built on top of blockchains like ETH to increase transactional throughput.
"I like Eth/L2s more, and there is no point arguing the trilemma, halving or inflation. I like it more because I can see an unlimited number of applications that will change the biz/consumer world forever. And to use them you need to buy Eth/L2. BTC doesn't have that demand-pull.
So when I said bananas have more utility than BTC, but BTC was a better gold than gold, I meant it. The BTC play is not utility unless something unexpected happens with Lightning. Bananas vs ETH? ETH has more utility. Want more proof? Jjust look at the transaction fees for BTC."
While Cuban is a big fan of smart contract platforms, he says that in the long run, investors might throw their capital into BTC. The billionaire believes that smart contract platforms are in a struggle to attract decentralized applications and users.
"All the smart contract chains, and really ALL the blockchains are in a DEATH war to win those applications. Many will lose.
That will also be a HUGE WIN for BTC. When multi-billion [dollar] blockchains become near inactive, a lot of people will see BTC and ETH as safe-havens, and the more conservative crypto play will be BTC. The SOV play will accelerate its value. It will be the safe haven of crypto."