Grayscale's Top Executive Joins Robinhood as New Chief Compliance Officer
Robinhood hires a new CCO, the chief compliance officer of Grayscale
Robinhood brokerage app has welcomed Benjamin Melnicki as a new Chief Compliance Officer, who is also the holder of the same position at Grayscale Investments. He joined Grayscale in early January this year.
At the moment, Robinhood's cryptocurrency arm is facing scrutiny from financial regulators. Last year, Robinhood was a target of an investigation connected to anti money laundering and certain cybersecurity problems experiences by its crypto division.
*Robinhood's Crypto Unit Hires New Chief Compliance Officer From Grayscale

*Benjamin Melnicki's Appointment Follows Scott Hershorin's Departure in June

*Appointment Comes as Robinhood's Crypto Unit Faces Regulatory Scrutiny$HOOD— *Walter Bloomberg (@DeItaone) September 24, 2021
As reported by U.Today previously, later this year, the brokerage firm plans to roll out cryptocurrency wallets for its users. The trials of wallets will kick off in October and will allow customers to deposit and withdraw cryptocurrencies to addresses beyond Robinhood seamlessly.
Huobi's Grayscale Rival in Asia Sees 21% Surge with 5 Crypto Trusts Running
Share price of Huobi's Hong Kong company aims to become Asia's Grayscale with five crypto trusts already working for local investors
According to Chinese crypto blogger and journalist Colin Wu, a subsidiary of Huobi—Huobi Tech—sees a rise of its share price by 21% today, aiming to become the largest crypto custody company in Asia, a local rival of Grayscale.
Wu did not name the company directly, but he most likely meant Huobi Tech's Huobi Trust Hong Kong.
Huobi Tech shares soar 21%
Journalist Colin Wu has tweeted that today the share price of Huobi's Hong Kong-listed Huobi Technology Holdings Limited (Huobi Tech) grew 21%.
Huobi's Hong Kong-listed company's share price rose 21% today. It aims to become a grayscale in Asia and has already issued 5 funds. pic.twitter.com/xIQRRVRO5t— Wu Blockchain (@WuBlockchain) October 6, 2021
A press release published about two weeks ago states that the company intends to become the flagship platform for virtual asset services and was working on its crypto trust and custodian business. The services will be provided by Huobi Trust Hong Kong and Huobi Trust US.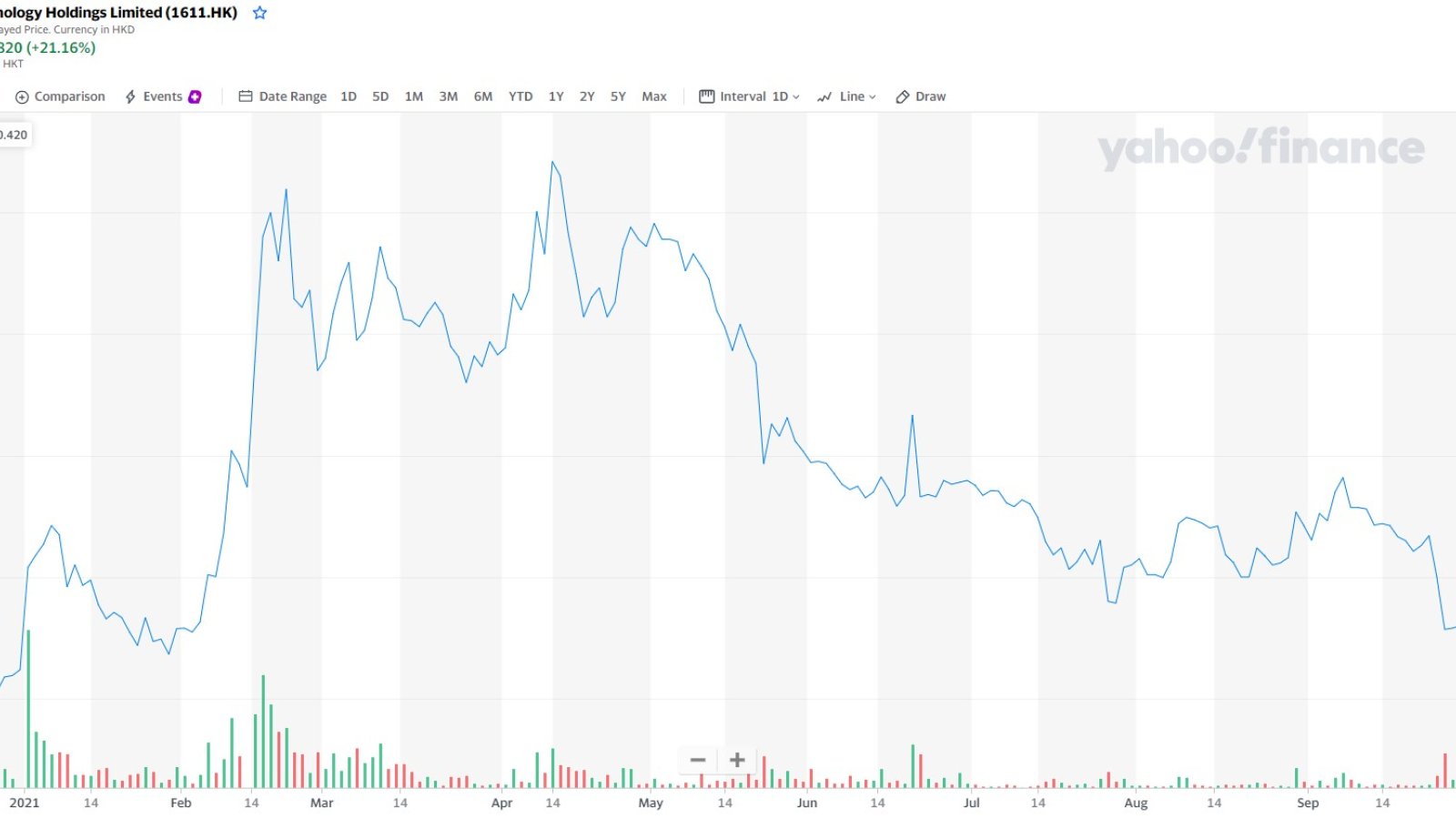 Huobi Trust Hong Kong holds over $1 billion in crypto
Huobi Trust Hong Kong will provide regulation-compliant crypto custody services to Asian investors. In late August, the company held over $1 billion in digital assets.
Huobi Trust Hong Kong was registered in HK on April 29 of this year, gaining the necessary licenses from local regulators.
Colin Wu tweeted that, by now, the company has five cryptocurrency trusts running and intends to become a Grayscale rival in Asia.
Besides, now that Huobi exchange is withdrawing from mainland China and dropping all of its customers in the region, Wu believes that its regulatory-compliant business in Hong Kong may gain more attention.
Grayscale holds $44.8 billion in crypto
According to a tweet published by Grayscale on Oct. 5, the Barry Silbert-affiliated asset management company holds a whopping $44.8 billion worth of cryptocurrencies.
The company offers investors exposure to crypto assets via 13 cryptocurrency trusts. It also runs a DeFi Fund and a Digital Large Cap Fund.
10/05/21 UPDATE: Net Assets Under Management, Holdings per Share, and Market Price per Share for our Investment Products.

Total AUM: $44.8 billion$BTC $BAT $BCH $LINK $MANA $ETH $ETC $FIL $ZEN $LTC $LPT $XLM $ZEC $UNI $AAVE $COMP $CRV $MKR $SUSHI $SNX $YFI $UMA $BNT $ADA $SOL pic.twitter.com/ja0eZp7CdD— Grayscale (@Grayscale) October 5, 2021
Grayscale Doubles the Number of its SEC-Reporting Products With LTC, ETC, and BCH
Three more of Grayscale's cryptocurrency products have become SEC-reporting companies.
The largest digital asset manager – Grayscale Investments – has announced that the Bitcoin Cash Trust, the Ethereum Classic Trust, and the Litecoin Trust have become SEC reporting products. Thus, the total number grew to six.
Speaking to Forbes, Grayscale's CEO – Michael Sonnenshein – indicated that the company's portfolio of funds reporting to the Securities and Exchange Commission has doubled.
He specified that those funds were the Grayscale Bitcoin Cash Trust (BCHG), the Grayscale Ethereum Classic Trust (ETCG), and the Grayscale Litecoin Trust (LTCN).
Having to report to the country's securities regulator means that these products will need to provide the Commission with regular financial statements and disclosures.
"This is something that investors not only have expressed wanting, but something that we feel they deserve." – commented Sonnenshein. The creation of SEC reporting companies has "opened Grayscale to a wider audience of investors who are typically used to seeing that [type of reporting] when they think about making investments."
The necessary lock-up period for investments in the aforementioned funds has been reduced from 12 to 6 months. The same transition occurred when the first three Grayscale trusts became SEC reporting entities. Namely, those are the Bitcoin Trust, the Ethereum Trust, and the Digital Large Cap Fund.
Grayscale's assets under management have grown significantly in the past few years. As of yesterday, the amount was $43 billion, with GBTC having more than $30 billion.
It's worth noting that the company is striving to convert its largest trust into an exchange-traded fund tracking the performance of the primary cryptocurrency. Its latest push on this matter came a few months ago when it hired a new Global Head of ETFs.