Polkadot price at make-or-break point as DOT awaits a range breakout
Polkadot price spots a potential symmetric triangle pattern on the 1D chart.
RSI stands neutral at 50.00, suggesting a lack of clear directional bias.
21-DMA offers immediate resistance, 50-DMA guards the downside.
Having faced rejection just shy of the $34 mark on a couple of occasions, Polkadot (DOT) bears are tightening their grip, as a fateful week draws to an end.
Polkadot price is set to book a second consecutive week of losses, as the crypto market sentiment remains undermined by the latest PBOC crackdown, a potential default story of China Evergrande property developer group and Fed's tapering signal.
DOT price is shedding 1.75% on the day, currently trading at $30.33. Polkadot is down about 15% on a weekly basis.
Polkadot bears are testing the bullish commitments
On the daily chart, Polkadot price is traversing in a three-week-old symmetrical triangle formation, with DOT bulls having failed to find acceptance above the falling trendline resistance just below the $34.
Daily closing above the latter is critical to reverse the recent downturn, as it would validate a symmetrical triangle upside breakout, fuelling a fresh upswing towards the $40 threshold.
However, DOT buyers will first need to crack the immediate resistance aligned at the 21-Daily Moving Average (DMA) at $32.33 for any meaningful turnaround.
The 14-day Relative Strength Index (RSI) trades listlessly at the midline, suggesting that DOT price could yield a range breakout in either direction.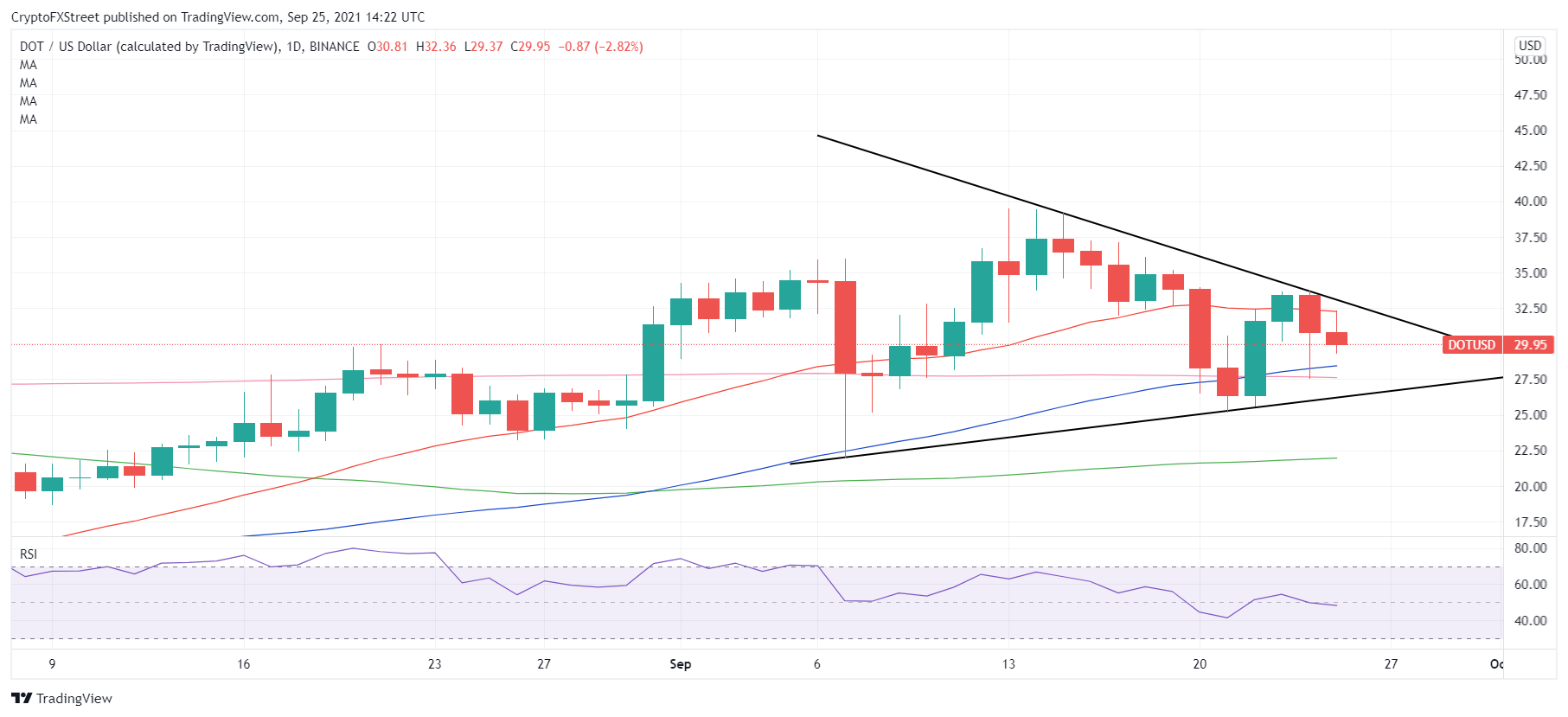 DOT/USD daily chart
If the 21-DMA barrier continues to guard the upside, then DOT price could extend the pullback towards the ascending 50-DMA at $28.38, which will offer an immediate cushion to DOT bulls.
Sellers would then aim for the horizontal 200-DMA support at $27.70. The last line of defense for DOT bulls is seen at the rising trendline (triangle) support at $26.33.
A sustained break below the latter would confirm a triangle breakdown, calling for a sharp drop towards the mildly bullish 100-DMA at $22.08.
Polkadot Price Analysis: DOT finds support at $24.35 after heavy selloff overnight
Polkadot price analysis is bullish today.
DOT/USD dropped over 35 percent since the last high.
Support was found at $24.35 this morning.
Polkadot price analysis is bullish today as we expect recovery to follow after a quick reaction higher from the newly found swing low. Therefore, we expect DOT/USD to move higher later today and look to retest previous support as resistance at $33.
The crypto market overall saw strong selling pressure over the last 24 hours. The market leader, Bitcoin, declined by 16.54 percent, while Ethereum 13.81 percent. Meanwhile, the rest of the top altcoins follow with an even bigger loss.
Polkadot price movement in the last 24 hours: Polkadot continues to decline, spikes below $25
DOT/USD traded in a range of $24.72 – $36.49, indicating strong volatility over the last 24 hours. Trading volume has spiked by 207 percent, totaling $2.83 billion. Meanwhile, the total market cap trades around $27.83 billion, ranking the coin in 9th place overall.
DOT/USD 4-hour chart: DOT starts to react higher
On the 4-hour chart, we can see the Polkadot price action finding strong support at $24.35 this morning, likely leading to swift recovery over the next 24 hours.
Polkadot price has seen a steady decline over the past weeks. After the previous low at $33 was reached on the 28th of November, DOT/USD slowly retraced higher.
Another lower high was set around $39, leading to a slow decline again during the first days of December. After some consolidation on Thursday, DOT started to rapidly move lower Yesterday.
The previous low at $33 was quickly reached and clearly broken, opening the way for a lot more downside. Overnight, strong selling pressure continued, taking the Polkadot price to a new low at $24.35. However, buying pressure has quickly returned since, likely leading DOT/USD to recover most of the loss over the weekend.
Polkadot Price Analysis: Conclusion
Polkadot price analysis is bullish today as we saw a strong decline end with a quick rejection from the $24.35 mark. Therefore, we expect DOT/USD to regain the loss and move towards the previous low around $33 next.
While waiting for Polkadot to move further, see our articles on the Best Crypto Wallet 2021, Decred Wallet, and Ripple vs SEC.
Solana (SOL) vs Polkadot (DOT): Features and Perspectives
Decentralized applications (dApps) have found their application in different directions: online games and virtual casinos to financial projects. A common problem for developers and users is the speed of the network bandwidth. The most common blockchain for dApps is Ethereum. However, the increased demand is overwhelming the platform. The race for performance leads to the emergence of new projects. Among such projects, Solana and Polkadot are the most popular. Let's compare these projects and Polkadot with the DOT token vs. Solana with the SOL token.
Distinguishing Features of Solana and Polkadot
Solana cryptocurrency has many features that make it stand out among hundreds of other digital assets:
The architecture is theoretically capable of processing up to 710,000 transactions per second. So far, a result of 60,000 operations has been achieved. But even this figure makes it one of the fastest videos to use.
The network is designed so that it can easily handle growing workloads. Several technological innovations, including the original Proof-of-History protocol, make this platform a flexible and highly scalable tool.
The project has made savings in audience size. In 2021, several hundred thousand users will be using the Solana network in November. Thanks to this, it was possible to maintain a low price for transactions within the system and in decentralized applications on the site's platform.
A high degree of compatibility is achieved by eliminating the need for users to deal with shards or second-level systems. Solana can interact with other crypto platforms as well.
Polkadot features that make this project stand out in the cryptocurrency market:
Fast transaction processing by distributing operations across parallel parachains.
It is based on a completely decentralized network—user control.
Simplified creation and connection of DeFi services.
High interoperability. It is possible to interact with all parachains that are included in the network. Free transfer of assets and any data is carried out.
No need to hard forks to implement updates.
Providing complete security for all blockchain projects connected to the network.
The Future and Prospects of SOL and DOT
Serious partners believe in the Solana project. For example, in early June 2021, Solana raised more than $ 314 million through a private token sale. Significant investments followed from Andreessen Horowitz. This firm once invested in other well-known projects (Skype, Facebook and Twitter).
Time will help to understand the platform's applicability. As of July 2021, the system works in test mode, which does not cause failures. For example, the incorrect operation of the blockchain eight months ago led to the stoppage of all services for 6 hours.
Polkadot is a promising digital currency that has not yet reached its maximum price because the project is under active development. In 2021, according to the Roadmap, ideas and services will be implemented that will positively affect the course. Large companies and developers will start buying tokens for free "slots" on parachains to become part of the decentralized ecosystem. This can lead to the growth of the system.
The outlook for dot vs solana depends on the amount of blockchain used. The number of their partners is growing. But so far, the projects remain at the level of a startup with good potential.
Polkadot price to rally as Astar Network wins third parachain auction
Astar Network won the third parachain slot auction with over 27,100 contributions.
Polkadot reveals that the first five parachain winners will launch on December 17.
Binance US announced Polkadot's listing on its exchange platform today.
Analysts have a bullish outlook on Polkadot price in the short-term, set price target at $50.
Polkadot's third parachain slot auction ended today, with Astar Network's win. December 17 is a key milestone for Polkadot as that is when the first five parachains launch on the platform.
Polkadot price awaits trigger, first five parachains to launch on December 17
The third parachain slot auction concluded today.
Astar Network, a multi-chain Polkadot dApp hub, formerly known as Plasm network, won the parachain slot. The protocol has received 27,100 contributions. The Polkadot native dApp hub supports Ethereum, WebAssembly, dApp staking and layer-2 solutions. 
Congratulations to @AstarNetwork on winning Polkadot's third auction!

Astar will be onboarded at block #8179200 [Dec. 18] at the beginning of lease 6 with the other first 5 auction winners. Over 27.1K network stakeholders locked up DOT in favor!https://t.co/ZFSzeAhc4x pic.twitter.com/mABXLeRnKh— Polkadot (@Polkadot) December 2, 2021
December 17 is an important date for Polkadot holders as the first five parachain slot winners launch their project on the altcoin's platform. Proponents expect the event to have a bullish impact on Polkadot price.
Binance, the world's largest cryptocurrency exchange, listed Polkadot on its US platform.
Polkadot network has attained 'sharding' or the existence of parallel blockchains in its network to increase speed and efficiency. This has fueled the altcoin's adoption among users. Despite Polkadot's rising adoption and popularity, proponents are of the opinion that the altcoin is unlikely to displace Ethereum as the number one altcoin. 
Ethereum is unlikely to lose the scaling war in the long term. Brad Laurie, a cryptocurrency educator, believes that layer-2 platforms will interconnect. Metaverse protocols like Polkadot will bind blockchains in layer-1. 
Longterm, @ethereum won't lose the so-called 'scaling' race. Know why?
It's not a race at all.
MANY TOP QUALITY #crypto platforms WILL interconnect. #Ethereum is a key L1.
Certain #metaprotocols WILL bind #blockchains
( $DOT, #IBC etc) & in the L1 space, $ETH will make it too— Brad Laurie (@Brad_Laurie) December 1, 2021
A cryptocurrency analyst on "Huefin News" has set a bullish target of $50 for Polkadot price. The analyst expects a bullish divergence in the altcoin's price, unlike the trend in the month of November 2021.