The World Comes Together on Cardano Summit 2021 from Sydney to Vancouver
Cardano community have to state that from Sydney to Vancouver, via Perth – we're bringing the world together around Cardano for the Summit.
Bringing the Cardano Summit 2021 to VANCOUVER! Celebrate discussing blockchain capabilities and mingling with fellow Cardano Community members.
Regional promotions and calls are viral everywhere on Twitter pages and social media networks:
Calling all Perth based Cardanians. We're hosting the #Cardano Summit Perth event this Sunday, 26 Sep from 2pm-9pm!
Who's in Johannesburg? Have you registered for the Cardano Summit 2021? Only a few days to go and only a few spots available – sign-up now to save a seat.
Join the Cardano Summit 2021in Kumasi to learn about the emerging cryptocurrency revolution, blockchain technology and digital finance.
If you're in or near Accra, Ghana, register for the event below to be part of the Cardano Summit 2021 – the biggest Cardano event ever.
Great lineup of speakers for the Cardano Summit India. SPOs, Projects, DApps, community engagement activities and more.
Cardano Summit 2021 Lagos Nigeria will be held on September 26, 2021. At Eko Hotel and Suites there will be free T-Shirts, Hoodies, and water bottles for early attendees. Stay tuned for further updates or call.
It's going to be the BIGGEST, BADDEST Cardano event there ever was! 40 Community-led events 32 Countries, 60 Community hosts, and 7 Main summit events.
For those who are new, Cardano is an excellent blockchain technology that serves as the face of a secure and sustainable blockchain facilitating ground-breaking use cases.
Cardano focuses on tackling issues faced during blockchain adoption on a large scale. Cardano seeks to reign issues like scalability, interoperability, and sustainability through the development of design principles and engineering best practices.
The world comes together on Cardano. One week from now, IOHK and Cardano teams and the global community will gather for the biggest blockchain event ever for a mix of virtual and live events from around the world.
Initially Cardano was able to deal with 10 transactions per second. However with Hydra Layer 2 scaling arrangement Cardano will be able to handle more than 1,000,000 transactions per second.
Ouroboros a chain-based PoS protocol relies on randomly chosen leaders to approve blocks. Just like other blockchains, the node that adds the next block receives a reward for its efforts.
Cardano is energy efficient, Cardano: 6-gigawatt hours; Bitcoin: 130 terawatt-hours; Ethereum: 50 terawatt-hours.
Community response: Pump Cardano. I am so excited about it.
Hoskinson's Brief Update: Cardano's Great Year Ahead
Cardano Founder — Charles Hoskinson, speaks to the crypto community.
He catches them up on all things Cardano via a live broadcast.
After the smart contract launch, Cardano will now move to bring scalability.
Founder of Cardano (ADA) — Charles Hoskinson, takes a moment to address the crypto space and catch them up on all things Cardano. Specifically, he did so via a live broadcast.
Brief Update https://t.co/9Tw2zPtVxm— Charles Hoskinson (@IOHK_Charles) October 18, 2021
The broadcast comes from South Africa, as Hoskinson is currently traveling through different parts of Africa. He says there's a lot of potential opportunities here and he is looking forward to learning more during this trip.
In detail, the purpose of this brief update was to dampen the negative and uncertain buzz about the project within the crypto world. Hoskinson wanted to be upfront and transparent about all that's been going on since the Alonzo smart contract update launch last month.
Frankly, he is very puzzled at the rising FUD within the space. He says that so far, Cardano has met every single milestone on its roadmap with no delays and no issues. The network has never collapsed and Cardano's community continues to grow.
Hoping to reassure the naysayers, Hoskinson lays out Cardano's current plans. To begin, he says that most of the concerns he sees seem to be about scalability. The upcoming PAB launch set to come out later this month or early next month will take care of this.
To add on, Goguen's goal was to set the network's programming model. Likewise, Basho's goal is to make the program work on a large scale, and this is where Cardano is heading next. While the PAB will improve scalability, more and more users will join the network.
By the time this number rises, Cardano will be ready to launch its sidechains as well as its Layer-2 solution — Hydra. Besides these, Cardano has a lot of other projects in motion as well. To name a few, Plutus, Mamba Pool, Atala PRISM, Mithral and so much more. In fact, there are 14 teams working to bring 14 different elements within the Cardano ecosystem alone.
On the other side, Cardano is working with dozens of commercial projects that are fully funded and ready to go. Thus, Hoskinson is excited for the next year, as we will see the large-scale commercialization of Cardano.
All in all, he is happy to see that the ecosystem is alive and active, humbled that demand for the project has gotten stronger, and grateful to the community for being here. Finally, he encourages skeptics to read the Cardano whitepaper written back in 2016.
The document shows exactly what the project aimed to bring, and they will see the steady and unwavering progress that has been delivered till now. He ends the broadcast by saying that Cardano is exactly where it needs to be right now and will continue to grow as planned.
Cardano Traders Have Started Longing Again While Funding on Binance Picks Up
Demand for Cardano derivatives is on the rise, according to on-chain and market data
As the altcoin market starts growing again and funding rates are picking up, Cardano traders and investors start to open more long positions, according to data provided by Santiment. In order to track the trader's interest in cryptocurrency, Santiment tracks funding rates on the Binance exchange.
With increased derivatives funding, traders might expect elevated volatility due to the increasing number of leveraged positions. A more leveraged market might help the price action during an uptrend.
The downside of an overleveraged market
The main downside of elevated volatility on the market is the absence of strong support zones that practically have no time to form in the face of the rapidly rising price.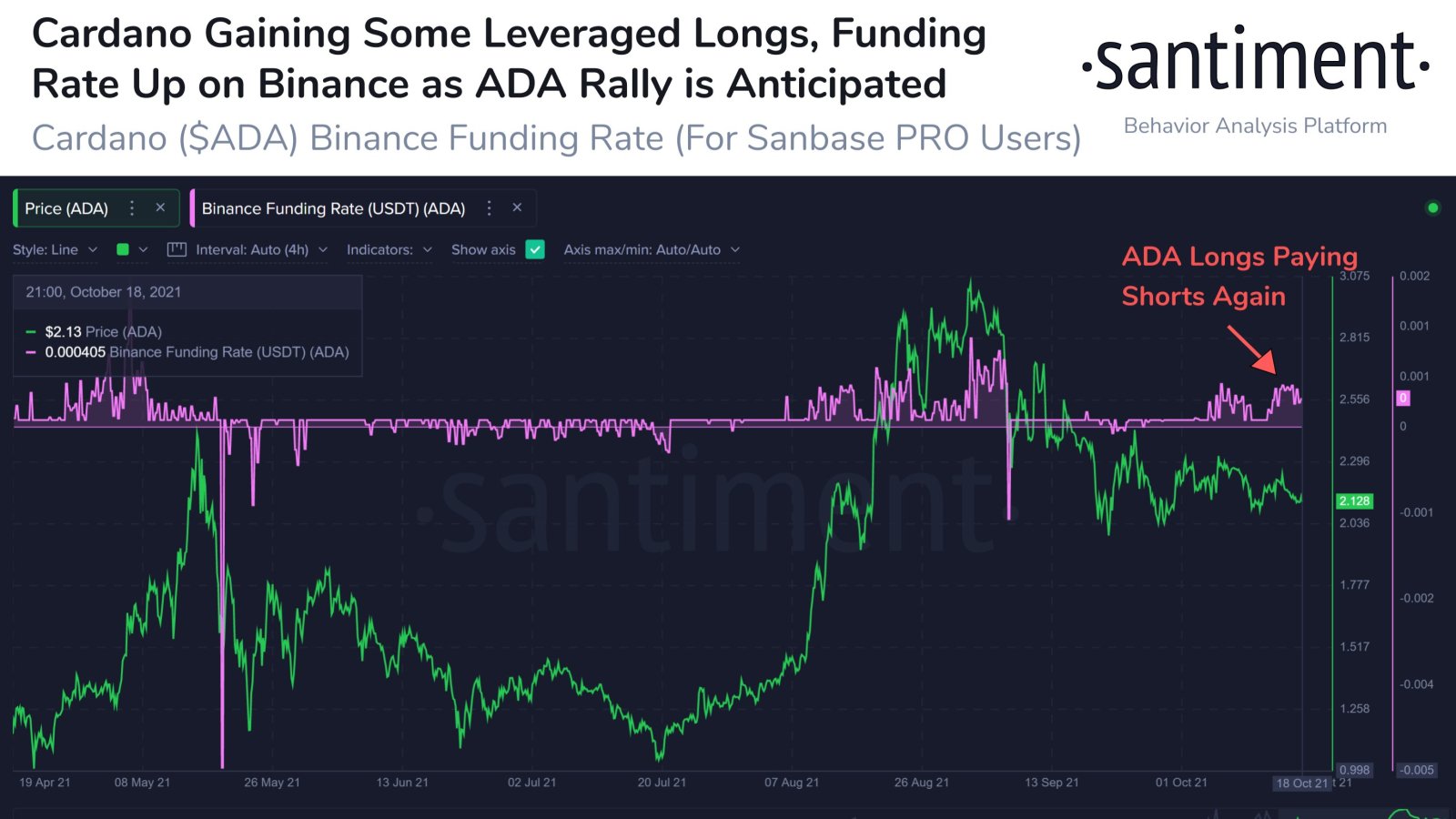 Cardano markets were constantly overleveraged during the previous bull run. Right after the market entered the correction phase, ADA faced a 30% retrace and has not recovered to date.
In the last month, the average weekly volatility on ADA has been staying around 8%, while in the post-smart contract announcement phase, the average volatility has remained at about 20%.
The main advantage for traders
Since current market sentiment for ADA remains neutral, an increase in volatility might lead to both positive and negative outcomes. But according to the data from Binance, there are more longs being opened than shorts. With additional longs funded and the absence of selling pressure, the price of the asset might rise further.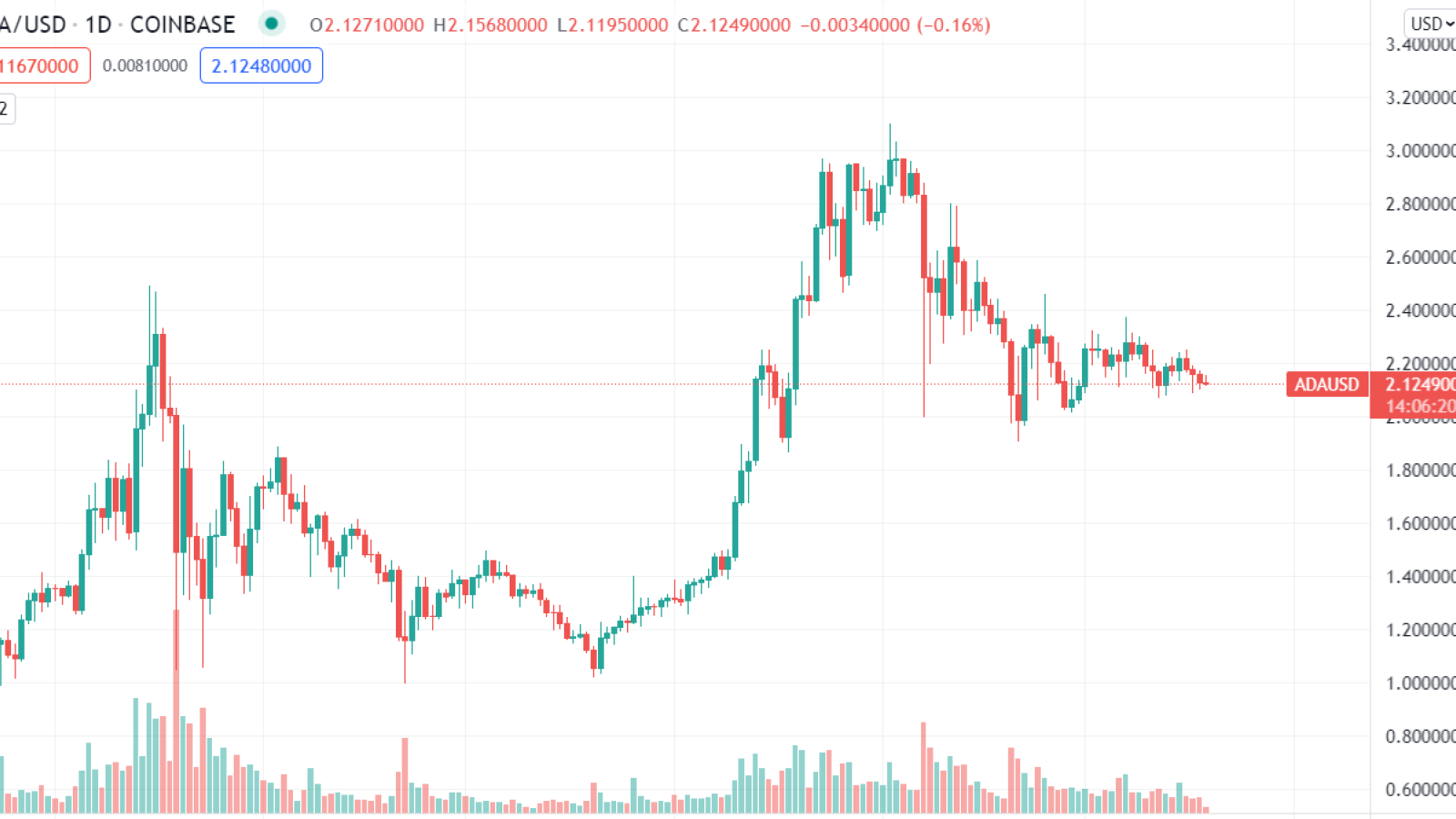 Currently, only 61% of ADA holders remain in profit, which indicates that 40% of all holders have opened their positions for a higher price. On-chain data also suggests that more selling pressure might appear on the market once the price comes close to the previous ATH.
Charles Hoskinson Addresses FUD About Upcoming PAB Upgrade, Here's What He Says
IOG chief executive and founder addresses Twitter FUD about upcoming Cardano upgrade in update from Cardano's "pan-African tour," responds to FUD about PAB integration
CEO of Input Output Global and founder of the Cardano blockchain platform, Charles Hoskinson, went on the air from Africa to give the ADA community a brief update on Cardano's current "pan-African" tour. He also addressed the big flow of FUD he has recently seen on Twitter about Cardano's coming integration of PAB—Plutus Application Backend, which is due in November.
Brief Update https://t.co/9Tw2zPtVxm— Charles Hoskinson (@IOHK_Charles) October 18, 2021
Update from Cardano African tour
Hoskinson shared with the community how Cardano's African tour has been going. He mentioned multiple meetings, including dinner with the CEO of the ShopRite retail giant and the company's innovation team.
Over the weekend, on Saturday, Oct. 16, the Cardano chief gave a speech at the Cape Town Innovation Hub as part of the CiTi event ("Cape Innovations and Tech Initiative")—a "fireside chat" with Hoskinson.
He jokingly refers to this long trip around Africa as a "pan-African tour." It started in Cape Town in South Africa and will continue heading north to other nearby regions: Zanzibar, Burundi, Kenya, Ethiopia and ending up in Egypt.
Hoskinson shared that there are three heads of state in the queue to meet, as well as "tons of other meetings" scheduled.
Hoskinson addresses more FUD about scalability and TPS on Cardano
Mr. Hoskinson also addressed the extremely large amount of FUD (fear, uncertainty, doubt) that he bumped into on Twitter in the past few days regarding the upcoming small upgrade on Cardano due in late October but most likely to appear in early November: PAB.
PAB stands for Plutus Application Backend. It is one of the tools offered by the platform after the Alonzo hardfork implemented in September. It helps developers building on Cardano to use smart contracts.
According to a Cardano explanation, PAB is "an off-chain, backend service for managing and handling the requirements of the application instance throughout its lifecycle."
Hoskinson stated that he has bumped into lots of "usual FUD" regarding Cardano's ecosystem, mentioning in particular scalability and TPS issues. He said that the platform continues to evolve and devs are learning as they go (and they have a lot to learn with Cardano). However, overall, the Cardano ecosystem is strong and secure at the moment, and they have never seen so much demand.
Hoskinson added that there are a lot of commercial products being prepared on Cardano too. He reminded the community and those spreading FUD that a lot of new technologies will be rolled out on this blockchain in the next three to nine months.