XRP, Chainlink and This Crypto Project Launching Bitcoin Smart Contracts Are 'About To Go Crazy', Says Altcoin Daily
Altcoin Daily host Austin Arnold is listing three altcoins that he says are "about to go crazy".
In a new video, Austin tells his one million YouTube subscribers that the altcoins in question are Dfinity Foundation's Internet Computer (ICP), the bridge currency XRP, and blockchain oracle network Chainlink (LINK).
Kicking off the list with Internet Computer, Austin says that the crypto project focused on becoming a decentralized global computing platform, is planning to introduce smart contract functionality to Bitcoin.
"Internet Computer smart contracts will gain access to Bitcoin liquidity and Bitcoin will gain powerful new smart contract functionality without the need for insecure and cumbersome trusted bridging services.
So this could be big – a DeFi [Decentralized Finance] ecosystem for Bitcoin is a major industry initiative. It would mean the world's most popular cryptocurrency, Bitcoin, could be used for lending, yield farming, derivatives, liquidity pools and more."
Turning to XRP, Austin says the developer Ripple Labs has encountered a setback in the lawsuit filed against it by the U.S. Securities and Exchange Commission (SEC).
"…Ripple filed a motion back in August 27th requesting information about whether SEC employees had purchased and traded Bitcoin, Ethereum and XRP. The United States Magistrate Judge Sarah Netburn rejected this motion on Tuesday…
…so what this means to you as a potential XRP holder is that Ripple will have to find another way to prove to the SEC that XRP is not a security. That's of course the SEC's point of view. They're the ones that are suing Ripple and the case is heating up."
In the case of Chainlink, Austin says that the blockchain oracle network's recent integration with decentralized cold storage aggregator Coldstack is bullish.
"…big green flag for LINK holders. Here's the reason Chainlink was chosen – because in their [Coldstack] words 'Chainlink is the industry standard in blockchain oracles'."
Austin also quotes Coldstack's CEO Alexander Shishow showering praise on Chainlink.
"In a direct quote from Coldstack CEO… 'There really isn't any substitute for Chainlink – if we want to provide the best data storage solutions for our users, then it makes sense to use the best oracle service provider in the industry.'"
Whales Accumulate Huge Chunk of LINK! A Massive Chainlink Price Action Awaits!
Chainlink Whales Stock Up LINK Amid Strong Bullish Sentiments!
The ongoing quarter of 2021 is looking historically bullish for the entire crypto space. With a display of a significant number of green candles, the broader crypto market reclaimed the $2.5 trillion market cap. Meanwhile, Chainlink's recovery has been consistent over the last month, as whales have accumulated a huge chunk of LINK tokens. With groundbreaking collaborations, the altcoin is preparing for massive price action ahead!
Chainlink Whales Busy Accumulating!
According to the recent reports of Santiment, large wallet addresses with 1 million to 10 million have bought 167.7 million tokens worth $431 million. Hence, 25% of the total circulating supply is locked by whales now. Despite the LINK price being highly volatile over the last 4 months, whale traders have accumulated ATH of 16.8% of the total link supply during the recent price drop. Increasing scarcity in the asset will uplift the price momentum in the coming days.
🔗🐳 #Chainlink sits at a modest $25.70, but whale traders are staying busy & adding to their bags. Addresses with 1M to 10M $LINK now own 167.7M tokens worth $431M. In the last 4 months, through this volatility, these whales have added 15.2% more $LINK. https://t.co/MJcXwUTvz0 pic.twitter.com/N8xqjE240s— Santiment (@santimentfeed) October 19, 2021
On the other hand, the altcoin is working on more collaborations and upgrades to further boost the price action. In the past 24 hours, the platform has collaborated with three prestigious tech firms.
Chainlink partnered with POCOLAND to help traders to purchase characters, items, and types of equipment in its digital market space.
Dreams Quest announced its collaborations with multiple Chainlink services to integrate its dynamic NFT gaming experience. 
On the same day, Chainlink partnered with BaconDAO. This integration will facilitate a verifiably tamper-proof source of randomness on-chain. 
Chainlink Price Analysis:
The Chainlink price is trading at $25.90 with 0.96% gains in the last 24 hours. Observing the 4-hour chart, the altcoin formed an M-shaped pattern and is on the verge of breaking down. However, in September 2021, the altcoin twice formed a W pattern. But, the asset failed to breakout to the next level. Hence, as RSI and MACD factors are indicating bullish signals, the asset could consolidate for some time now before starting with an uptrend.
Collectively, with an increase in bullish sentiments, the price could surpass the crucial resistance above $33 to make its way for the new ATH. On the contrary, if the pattern continues the altcoin could settle at $21.24 levels.  Overall with a surge in whale accumulation and reduction in sell-off pressure the altcoin could boom to new milestones soon. 
Chainlink Whales Now Hold $431 Million in LINK, Having Bought Dip: Details
Recent on-chain data shows that large holders of crypto have added 15.2% of LINK supply to their holdings, buying on the dip.
Santiment on-chain data vendor has taken to Twitter to share that crypto whales continue to acquire LINK on the dip, adding over 15% of the LINK supply to their holdings in the past several months.
"Whale traders are staying busy"
The Santiment team has tweeted that while the 17th-biggest cryptocurrency, Chainlink, is trading at the $25.70 low, large cryptocurrency investors and traders, known as whales, have been buying the dip.
Over the past four months, they have purchased 15.2% of the LINK supply, despite the volatility demonstrated by the coin. The highest peak reached by LINK in this period was $34.78 on Sept. 6 and the lowest level hit by the token was $13.78 on July 13.
Now, wallets with 1-10 million LINK own a whopping 167.7 million tokens. That is the equivalent of $431 million. Overall, these wallets now hold 16.8% of the LINK supply.
🔗🐳 #Chainlink sits at a modest $25.70, but whale traders are staying busy & adding to their bags. Addresses with 1M to 10M $LINK now own 167.7M tokens worth $431M. In the last 4 months, through this volatility, these whales have added 15.2% more $LINK. https://t.co/MJcXwUTvz0 pic.twitter.com/N8xqjE240s— Santiment (@santimentfeed) October 19, 2021
Top 10 LINK whales hold 62.7% of supply
Earlier, Santiment reported that the top 10 Chainlink whales were unwilling to hold their crypto riches for a long time and kept redistributing their LINK stashes to investors with smaller wallets.
LINK is around 51% below its all-time high of $52 reached in May of this year, trading at $25.70 at the moment. As it happened, LINK dropped 73.72%, declining to a $13.70 low in June.
On Sept. 15, a partnership between Chainlink and Cardano was announced during Cardano Summit 2021. The largest proof-of-stake (PoS) blockchain plans to leverage Chainlink oracles for building advanced smart contracts.
However, that did not have any effect on the LINK price.
Chainlink price to explode by 55% as VRF receives another integration
Chainlink price has been hovering below a crucial resistance level at $28.20 for the past two weeks.
A decisive close above this barrier will likely propel LINK up by 55% to $41.35.
If the bears produce a decisive close below the $21.65 support level, it will invalidate the bullish thesis.
Chainlink price has been consolidating for over two weeks without any signs of a breakout. However, as a crucial resistance barrier weakens, investors can expect LINK to shatter through it and set higher highs.
Fireworks Games integrates Chainlink VRF
Chainlink has been the go-to oracle in the cryptocurrency ecosystem and its subsets. With a majority of the applications and platforms connected to the oracles, LINK seems to be the glue holding the space together.
In a recent announcement, Firework Games: Spark Era Trilogy revealed that it integrated Chainlink's Verifiable Random Function (VRF) on the Polygon mainnet. The tamper-proof and auditable source of randomness is needed to empower the loot box system and all in-game mechanics that require randomness.
Since Chainlink features are transparent, it allows a good gaming experience and a fair "Play-to-Earn" gaming environment.
The CEO of Firework Games stated,
I believe that Chainlink is one of the most famous projects in the crypto space. By using Chainlink VRF, our players will have more confidence in terms of fair gameplay and help our community grow exponentially.
This integration is not the first time Chainlink VRF has been used. Many NFT projects or gaming platforms use VRF to randomly drop loots or crates for in-game users. Leveraging the randomness of VRF will help make the games fair and more enjoyable.
In addition, Chainlink recently implemented high-quality XAU/USD and JPY/USD market data that the projects in the cryptocurrency space can use to build products.
Chainlink price struggles but is ready for a massive uptrend
Chainlink price has been trying to breach the $28.20 resistance barrier for over two weeks but has failed. The recent rejection has pushed LINK down by 8.7% to where it currently stands. From September 21, Chainlink price has set up three higher lows, indicating an uptrend. As long as the overall structure of LINK remains intact, investors can expect Chainlink price to retest the overhead barrier at $28.20 and breach it.
Producing a decisive close above this will not only scare the bears, but it will allow the buyers to jump on the bandwagon. This move will serve as a thrust, kick-starting a new uptrend for LINK.
In this case, Chainlink price can rally 55% to tag the 70.5% Fibonacci retracement level at $41.35.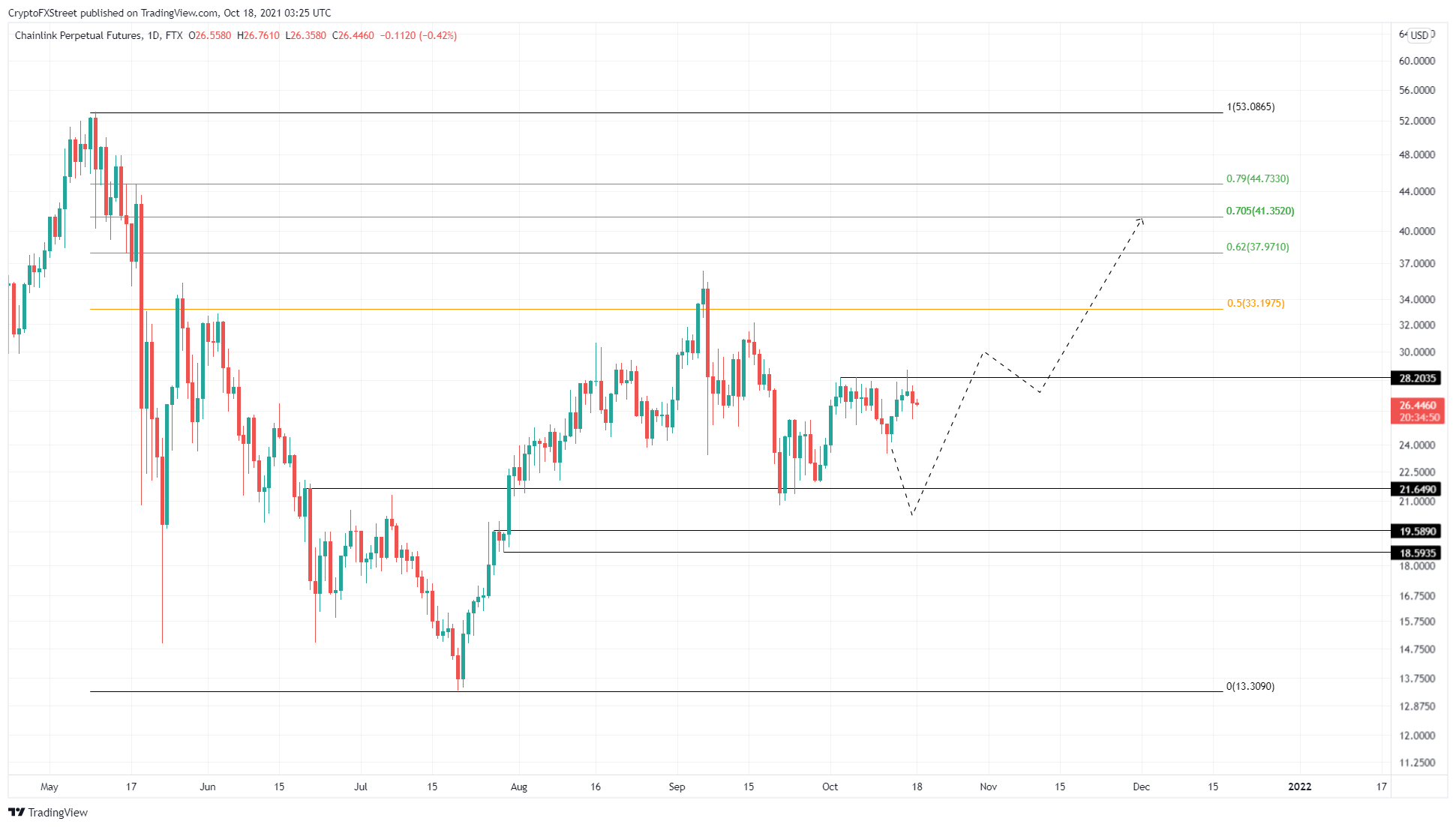 LINK/USDT 1-day chart
Chainlink price needs to shatter the $28.20 barrier to kick-start an uptrend. However, failing to do so will either delay the move higher or prevent the upswing altogether. A pullback here is likely to knock LINK down to $21.65, a breakdown of which will create a lower low, invalidating the bullish thesis.
Failing to recover above this barrier quickly will drag the oracle token to the $19.59 or $18.59 support floors.