Good News! EMURGO Invests $100 Million in Cardano (ADA) DeFi Ecosystem
EMURGO just announced that it will invest over $100 million in Cardano.
EMURGO's CEO says the goal is to accelerate Cardano's DeFi and NFT solutions.
In a tweet, EMURGO's CEO announced that it will invest $100 million in the Cardano. The official announcement was made last Sunday at the Cardano Summit 2021.
📣Just announced 🎉 EMURGO to invest $100M in @Cardano ecosystem to accelerate #DeFi, #NFT solutions and #blockchain education! – EMURGO CEO, @KenKodama_Biz @emurgo_io#CardanoSummit2021 $ADA pic.twitter.com/Gx4fbw556x— EMURGO (@emurgo_io) September 26, 2021
This investment, according to Ken Kodama, EMURGO's CEO, aims to boost the Cardano (ADA) DeFi ecosystem. In addition, he says that this will help accelerate not only the DeFi but Cardano's NFT solutions as well, and blockchain education in general.
Kodama also added,
We will create a dedicated operation from 2022.
To clarify, EMURGO is a blockchain solutions company — the commercial arm of Cardano. According to EMURGO's Twitter account, its new Cardano ecosystem ventures have already made seed investments in Cardano's projects. From which, the public is eager to know about.
EMURGO's new @Cardano ecosystem investment vehicles ('EMURGO Africa' and 'EMURGO Ventures') have already made seed investments in #Cardano focused projects 🏆

✨Adanian Labs (@AdanianLabs)
✨Adaverse
✨Milkomeda (@dcspark_io) pic.twitter.com/UZNjsAlV7y— EMURGO (@emurgo_io) September 26, 2021
Everyone Wants DeFi!
DeFi or decentralized finance is an innovative technology that has given the financial sector an upgrade. Through DeFi, the sector now uses smart contracts and advanced codes that enables peer-to-peer financial services to users.
Presently, most of the DeFi activities happen in the Ethereum blockchain — followed by Solana, Avalanche, and others. Now, Cardano is finally solidifying its DeFi adoption. In fact, Cardano recently launched its Alonzo mainnet, which allows smart contract functionality.
To conclude, this venture from both EMURGO and Cardano gained praise, especially from the Twitter community where Kodama tweeted about it. The public is excited to see what's going to happen next. What's more, some even say they can't wait to see what the future holds.
Can Cardano ever compete with Ethereum on the smart contracts front
The lack of trust while engaging with different parties is one of the biggest challenges that people outside the "smart world" face. Due to the lack of transparency, people end up spending a lot of time and money on intermediaries, before finalizing an agreement.
Smart contracts, on the other hand, provide a solution to the aforementioned problem by eliminating intermediaries and making the system even more transparent.
The Ethereum-Cardano dilemma
Now, Ethereum has been in the space since its inception. It is, arguably, the uncrowned prince of the smart contract space. With time, however, competition has been on the rise, with Cardano being one of the latest ones to step into the arena.
Ethereum's soaring gas fee has always been a major cause of concern for people from the community. This week alone, the fee has crossed 250 gwei and 350 gwei a couple of times.
In fact, when compared to the weekly average, the fee, at the time of writing, was at a fairly higher level.
In effect, Cardano-based smart contracts can take advantage of the aforementioned vulnerability of Ethereum. If it successfully manages to do so, then smart contract clients wouldn't hesitate to swap their networks.
Well, Cardano is obviously new to this space and as they say – New utility means new adoption. However, there's hardly anything for Cardano to show yet. The number of contracts executed has been quite low.
As per Statista's chart, the rounded transactional volume did witness a massive spike post the Alonzo hard fork. However, it hasn't been able to sustain those levels. In fact, it has been falling sharply over the past few days.
Nevertheless, it should be noted that Cardano has entered this space at the right time. It can leisurely experiment and see what works and what doesn't because it has the luxury of time that other platforms might not necessarily have when they decide to join later.
Cardano is the first blockchain to be developed using peer-reviewed research and evidence-based methodologies. In effect, several analysts have already started claiming that its output efficiency is higher and better than that of Ethereum.
Now, a new bridge is being built from Ethereum to Cardano. Using this bridge, NFT creators will be allowed to easily move their non-fungible tokens from the energy-intensive Ethereum blockchain to Cardano. In retrospect, this would be great for the latter network's adoption.
Another X-factor
Development activity is another key yardstick that can be used to assess where different networks/protocols stand.
Well, Cardano has been able to maintain fairly high levels on the development activity chart, relative to Ethereum. Even at the time of writing, Cardano had an upper hand when compared to its counterpart.
Thus, going forward, Cardano does have a golden chance to give Ethereum neck-to-neck competition.
However, to emerge as a winner, Cardano would have to provide top-notch cross-chain interoperability, fast transactions, and predictable fees, among other services and facilities.
It has started off in the right direction, but only time will tell if it can surpass Ethereum's popularity.
Cardano price at make-or-break point while ADA remains indecisive
Cardano price is traversing a symmetrical triangle pattern, suggesting that a 16% explosive move is likely.
A decisive close above the setup's lower trend line will knock ADA down to the $1.99 to $2.10 demand zone.
Transactional data shows that the resistance barriers are hogging the bulls' path.
Cardano price has been on a tight consolidative move for more than a month. However, this coiling up is a precursor to an explosive move. While on-chain metrics are all hinting at a bearish outlook, technicals suggest that there is hope.
Cardano price shows lack of buyer interest
Cardano price has set up three distinctive lower highs and five higher lows since September 21. Connecting these trend lines shows that the price action is squeezed and reveals the formation of a symmetrical triangle.
Since this pattern has no directional bias, it could break out either way. The target for this technical formation is obtained by adding the distance between the first swing high and swing low to the breakout point.
While the situation might seem black and white, it is not. Investors can expect Cardano price to breach the lower trend line first and enter the demand zone ranging from $1.99 to $2.10.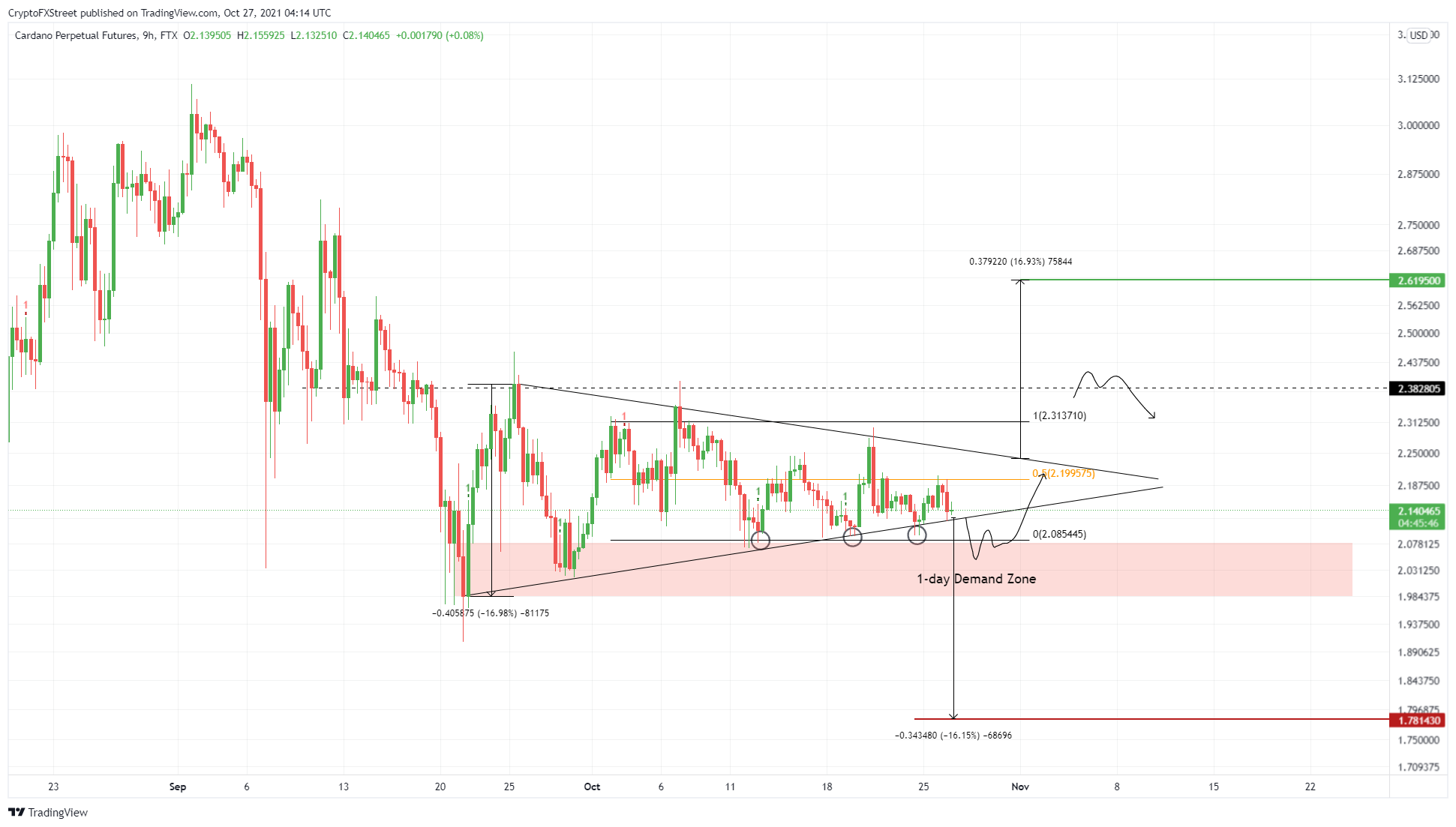 ADA/USDT 9-hour chart
IntoTheBlock's Global In/Out of the Money (GIOM) model shows that the immediate yet stable support level is $2.11, where roughly 147,87 addresses purchased a whopping 2.85 billion ADA.
Although the bullish move assumes that ADA bounces off the $1.99 to $2.10 demand zone, a decisive close below this area will put these investors "Out of the Money," further increasing the selling pressure and invalidating the bullish thesis.
In this case, ADA might continue its descent and head toward its intended target at $1.78.

ADA GIOM chart
Further adding credence to the bearish outlook is the 60.7% decline in the number of large transactions worth $100,000 or more.
This on-chain metric serves as a proxy of high-net-worth individuals and can often help spot bullish trends. However, over the past six months, the number of such transactions has dropped from $3,500 to $1,370, indicating a reduction in institutional money flows.

ADA large transaction chart
While things are looking gloomy for the Ethereum killer, the demand zone ranging from $1.99 to $2.10 could be the salvation for bulls.
If the buying pressure increases, pushing ADA to re-enter the symmetrical triangle, there is still a chance that Cardano price will make a run at the upper trend line. A decisive close above $2.24 will put an end to the bearish thesis and indicate a bullish breakout from the symmetrical triangle, propelling ADA by 16% to $2.62.
Cardano Projects Say Success Comes With Interconnectivity
Cardano projects assemble to share their experiences on the blockchain.
Four projects talk about the switch from Haskell to Plutus and much more.
Almost all agree that the next hard fork should come with a read-only UTXO feature.
Cardano's project leaders have a chat. In detail, five powerhouse projects on the Cardano (ADA) ecosystem exchange thoughts and share their experiences over the time spent on the blockchain.
In particular, CTO and Co-Founder of DCSpark — Sebastien Guillemot leads the discussion. He talks with leaders from four projects on the Cardano blockchain. Specifically, these include Pi Lanningham of Sundae Swap Labs, Ben Hart of MLabs, Ilya Oskin of ErgoDex, and Dewayne Cameron of Liqwid Finance.
How will #Cardano evolve now that #SmartContracts are here? @liqwidfinance, @SundaeSwap, @ErgoDex and @MLabs10 discuss Haskell and Plutus, and their role in #DeFi.

Watch the video from the #CardanoSummit2021
👇https://t.co/37zlUOATCV— Cardano Foundation (@CardanoStiftung) October 26, 2021
Together the titans swap stories about how far they've come on this ecosystem. One of the points of discussion is the transition from developing with Haskell to Plutus. Another core topic of discussion was the importance of a larger Cardano community in order to see growth.
The talk ended with possible improvements these developers and project leaders would like to see in perhaps Cardano's next hard fork. Let's dive in and see how these conversations went. The talk first began with a quick round of introductions.
Meet the Leaders of Cardano's Active Projects
First up is Ben, he is a partner and Plutus consultant at MLabs, he is also the director of Cardano operations at MLabs. Ben has worked very closely with Plutus over the last 8 months along with many other different applications on the network.
Next is Pi, the CIO of Sundawe Swap Labs, his goal is to build a decentralized exchange that will serve the very core of DeFi. To him, it's very simple: provide someone with a token to access the means to gain another token.
On the other side, there is Ilya, he is the lead core developer on ErgoDex. Lastly, Dewayne is the CEO and co-founder of Liqwid. He has been in the Cardano ecosystem for a long time. His journey began when he joined a catalyst project in early 2018. Since then, he has come a long way.
All four experts come from different backgrounds but one thing they have in common is the fact that they're all familiar with developing and coding. On that note, Sebastien asked the four what their experience was like with the move from Haskell to Plutus coding.
On this matter, there was a pretty unanimous reply. Ben says that Haskell and Plutus have an interesting relationship. He says this is because of the way Plutus is built. Thus, it is a simple switch for users to swap out Haskell for Plutus. In addition, he adds that Cardano uses eUTXO, this makes it a different model from blockchains like Ethereum and is the first to do so.
Ilya expresses that the difference was more towards learning specifics rather than learning a whole new code. Likewise Pi also agrees on how there wasn't much to unlearn but rather more to add on to their existing knowledge. Dewayne says that it was more of tailoring to a new design pattern which was easy enough to get once you get going.
Cardano Is Set to Grow With Its Community
Next Sebastien brings up a pretty interesting point, he says that for all four projects it is imperative for the community to grow in order for the projects to succeed. Thus, he asks the party what steps they are taking in order to secure that success.
No doubt, all four say that this is evident to their projects but it is in fact the spirit of decentralization that shines through. For instance, with a DEX, stablecoins could offer liquidity to the exchange. This is why ErgoDex offers a software development kit for developers to build on top of it.
Likewise, Pi says that it takes a village to raise a child. Cardano is still in its infancy, and it is up to the community as a whole to bring it to the top. As a firm believer in interconnectivity and cooperation, Pi stresses the imperative nature of inclusion and trust for true growth. With this model in place, all sides of an agreement can benefit together and find value.
Meanwhile, Dewayne says that composability is the name of the game here. By building partnerships, projects can come together to create new functionalities. In turn, this could create new value, which not only offers value to users and partners but also to the blockchain as a whole.
Finally, Ben adds his two pence. He says that with DeFi and NFTs booming recently, the only way to go is up. There are always new and interesting ways to elevate a project. In fact, he says that once the first layer of DeFi projects is underway, it will get a lot more interesting to see what builds on top of that layer.  
Lastly, Sebastien asks, what is the most important thing that these developers would like to see roll out in the next Cardano hard fork? On this the answer was almost unanimous, 3/4 chose read-only inputs for UTXO.
In conclusion, the assembly certainly led to some interesting conversation. The highlight according to this reader would be the very clear dedication and support that reverberates off of these leaders. Like any blockchain, one of the main points of success comes through the community-driven faith in the project.
Clearly, the Cardano community is in good hands. It is very nice to see that leaders within the community are here for the long haul. Much like the founder of Cardano himself — Charles Hoskinson, the drive is to support one another, build, grow, and expand until the final barriers are broken through.
Just recently, Hoskinson addressed the greater crypto-verse in order to shake the FUD out of nay-sayers. He said that Cardano is just getting started and is still very much working towards meeting every milestone on its roadmap. The next phase of Cardano will soon be here and the road ahead looks very promising. So, stay tuned to see what Cardano will bring next.