The story of the creator of Solana (SOL), the cryptocurrency that shot 7700% in 2021
With just over a year in circulation, Solana (SOL) has become the 7th most valuable cryptocurrency in the world, with a market value of US$43 billion. The SOL is the Top 10 coin that accumulates the highest appreciation of the year of 7,700% — if on January 1st the coin was worth US$1.60, nine months later the SOL reached an all-time high of US$214.
Solana's success can be attributed to its founder Anatoly Yakovenko, an American developer who has more than ten years of experience building high-performance operating systems.
For three years Yakovenko worked on Solana's protocol to make it one of the most scalable networks in the crypto industry, with a capacity to process 65,000 transactions per second—a much higher rate than Bitcoin's 7 transactions per second and Ethereum's 15 .
Yakovenko majored in computer science at the University of Illinois in 2003 and, in college, was building Linux systems with some friends from something that resembled Google Voice.
"Kind of boring, but kind of cool because that was 2003," he said during an interview with FTX. Even though the project with friends didn't work out in the end, he managed to get the attention of Qualcomm, a global supplier of semiconductors for cell phones, and soon after graduation, he moved to San Francisco (USA) to work as a software engineer at the company. .
By participating in Bloomberg's Odd Lots podcast, the developer told about the beginning of his professional journey:
"I spent most of my career at Qualcomm. I got there in 2003 at the time of the flip phones, when there were only these small devices and when it came out in 2015, my team was optimizing augmented reality on a supercomputer. So I've seen these big improvements in hardware in just 10 years."
When he left Qualcomm, Yakovenko worked as a software developer at companies such as Dropbox and Mesosphere between 2016 and 2017.
Solana's Vision
In 2017, Anatoly Yakovenko had a side project with a friend to create hardware focused on deep learning. Before bringing the service to market, he mined cryptocurrencies with the machines to raise funds to buy more hardware.
"I was interested in deep learning and crypto was more on the side. But I started thinking about the proof of work, because it was so slow and if it really was a necessary technology. That was kind of the red pill for me and the beginning of everything, from then on I started thinking about how to solve these problems", he told the FTX podcast.
With several ideas in mind, Yakovenko founded Solana in October 2017 to solve the following challenge: build a system that could process messages, cryptographic signatures and checks, and relay them to the world as quickly as possible.
"That's what we intended to solve. We had some really smart insides, like using the verifiable delay function as a time source, and using GPUs and a bunch of hardware optimizations to improve the way the runtime worked. A lot of these things are more engineering challenges than computer science problems," Yakovenko explained to Bloomberg.
It was precisely the experience that Yakovenko gained in hardware throughout his career that he created Solana's scalability solution and one of the protocol's most important innovations: the history proof consensus (Proof of History – PoH).
"The idea we had back there at the beginning using a verifiable delay function or proof of history, was to create a clock that is out of consensus and turns a 'knob' of when any block producer can stream a block and does it in a very predictable and very, very fast way."
The developer said that understanding how to create such solutions was "basically what I had to learn years ago to get into Qualcomm." "This idea of ​​writing a lot of code and changing the world is something I believe in," concluded Yakovenko during the FTX interview that can be watched below:
Beyond the hype: Solana's [SOL] incredible price action sustainable or not?
Solana [SOL] joined the new high-club after smashing past the previously established peak. The major rally was spurred by the monumental debut of ProShares' Bitcoin ETF on Wall Street that marked the resumption of the second bullish wave this year.
On the other hand, Solana has not only managed to catch up to the uptrend but also extend the rally even as other top cryptocurrencies took a breather. Over the past week, SOL registered over 33% gains and was still up by nearly 10% in the last 24-hours. At a whopping $202, SOL is at a new ATH. The following charts reveal some interesting patterns.
Solana's [SOL] buying pressure is not exhausting anytime soon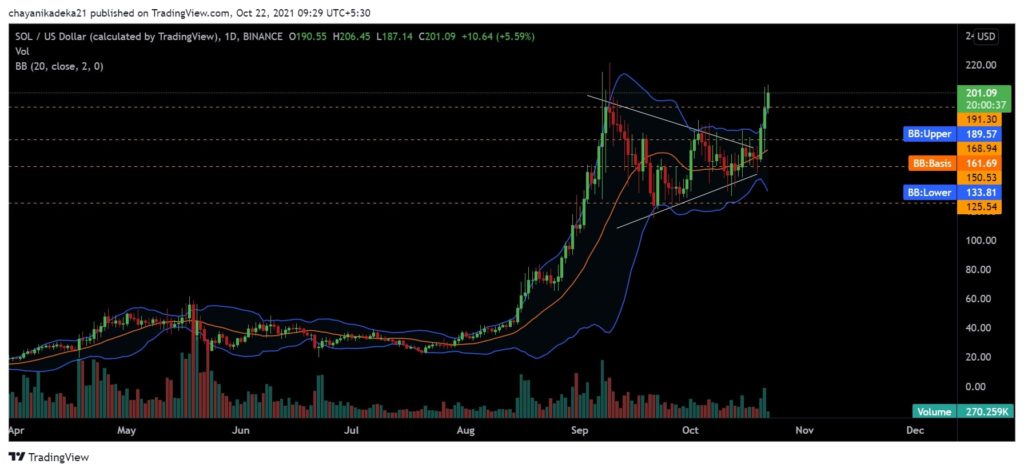 The last few weeks have been quite rough for Solana has been tough as it made lower highs after the late August ATH. The market lull can be attributed to the major network outage that pointed to serious security risks that was enough to shake the traders' confidence.
As a result, the price action was mostly confined within a symmetrical triangle that indicated a breakout in either direction. However, the latest uptrend has sparked a new high for asset after a subsequent bullish breakout.
The diverging Bollinger Bands [BB] depicted a period of high volatility in the SOL market while the increasing trading volume offered substantial backing to its price action.
What's the next price target for SOL?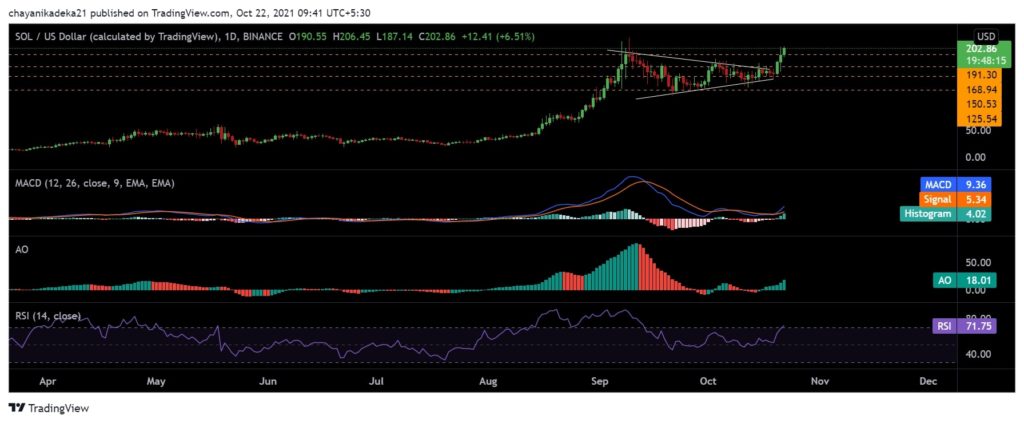 The MACD also aligned with the bulls, however it is yet to soar to levels seen during its previous all-time high. The Awesome Oscillator [AO] also depicted a similar sentiment as bullish momentum engulfed the market. The daily Relative Strength Index [RSI] is slowly climbing up and is closing in on the overbought territory, meaning there's more upside potential.
The above charts indicated an optimistic outlook as market players' interest with respect to Solana has evidently been picking up. The resistance level that the investors need to look out is $216. It is also important to note that SOL has followed a classic bullish continuation structure following September's tumble. Hence, a profit target of $250 may also come into play before the asset hits a consolidation phase.
Another bullish factor that may play an important role in determining SOL's growth structure is its performance against the USD over the last two days which has been way than the Bitcoin. This trend evidenced traders rotated capital out of the BTC market to enter the SOL market. 
Top Crypto Trader Says Ethereum Rival Solana Will Outshine Both Bitcoin and ETH – Here's His Target
A leading crypto trader and analyst says an Ethereum (ETH) competitor appears ready to surge by more than four times its current levels.
The trader pseudonymously named Smart Contracter tells his 174,900 Twitter followers that Solana (SOL) will outshine both ETH and Bitcoin (BTC).
His target price is now $900 – an appreciation of more than 360% from SOL's current value.
The trader, who primarily relies on Elliot Wave theory, says Solana is bullish when paired against Ethereum, which is itself bullish when paired against Bitcoin.
Elliot Wave theory is a method of identifying where assets are heading using crowd psychology, which tends to manifest itself on charts in a series of waves.
"Monthly reminder $900 Solana (SOL) is not a joke, it's gonna happen…
ETH/BTC looks bullish, SOL/BTC looks bullish, but SOL/ETH also looks bullish, so naturally SOL is my largest bag and I believe it outperforms BTC and ETH."
According to CoinGecko, Solana is trading at $192 at the time of writing, down about 10% from its September all-time high.
Smart Contracter says he believes Solana's recent resurgence is in its early days after the altcoin rose above two key levels of resistance.
"Got SOL low key breaking downtrends of two different degrees, this bad boy runs hard when it gets going and it's only just getting started here."
The top crypto trader says that last month Solana began displaying similar chart behavior to Binance Coin (BNB), which surged by over 1,600% to a record high between January and May this year.
He says that if Solana replicates BNB's pattern, a price of $900 is in the cards.
"Same vibes, same narrative…
If SOL follows the run BNB had it can go to $900."
Solana to Outperform Bitcoin and Ethereum! SOL Price to Hit $900 with 360% Upswing
The cryptocurrency market traded with mixed results as the market leaders Bitcoin and Ethereum retraced, leading to a loss of 3.45 and 1.18 percent, respectively. Meanwhile, Solana is among the top performers.
The SOL Price surged more than 7% in the past 24 hours approaching its all-time high. Currently, It is trading at $204, which is slightly below its all-time high of $214. This uptrend took its market capitalization to more than $61 billion, making it the 6th cryptocurrency in the world.
SOL Price to Break $215 ATH Anytime Soon!
In the last 24 hours, the SOL/USD price traded within the range of $178.75 – $207.87 reflecting strong volatility.
SOL Price was on the verge of reaching its ATH, but due to a minor downside correction near $208, the price pulled pack to $204. However, the altcoin will now test the $208 resistance and Hit ATH on successful breakout which is quite possible.
Further, traders need to watch out for the resistance level at $216. SOL has followed a classic bullish continuation structure following September's tumble. Thus, traders need to know that a profit target of $250 may also come into play before the asset hits a consolidation phase.
If it reaches a new all-time high, which looks likely, the next resistance could be found at $277.
Solana Price Eyeing Massive Surge of 360%
Popular crypto trader and analyst with pseudonymously named Smart Contracter believe that Solana price appears ready to surge by more than 4x its current levels. As per the analyst  Solana (SOL) will outshine both Ethereum and Bitcoin (BTC).
eth/btc looks bullish, sol/btc looks bullish, but sol/eth also looks bullish, so naturally $sol is my largest bag and i believe it outperforms btc and eth. pic.twitter.com/gCSFAICpYk— Bluntz (@SmartContracter) October 20, 2021
As per the chart, the SOL/ETH pair is signaling bullish, which is itself bullish when paired against Bitcoin.
monthly reminder $900 sol is not a joke, it's gonna happen https://t.co/h9zN4DSxpP— Bluntz (@SmartContracter) October 21, 2021
The crypto trader says that previously the ethereum killer displayed similar chart behavior like Binance Coin (BNB), which soared nearly 1,600% to a record high between January and May this year. He says that if Solana replicates BNB's pattern, a price of $900 is in the cards.
His target price is now $900 – an appreciation of more than 360% from SOL's current value.